The Independent's journalism is supported by our readers. When you purchase through links on our site, we may earn commission.
14 best Christmas cake alternatives
From festive French fancies to chocolate cabins, here's our selection of substitute Yuletide puds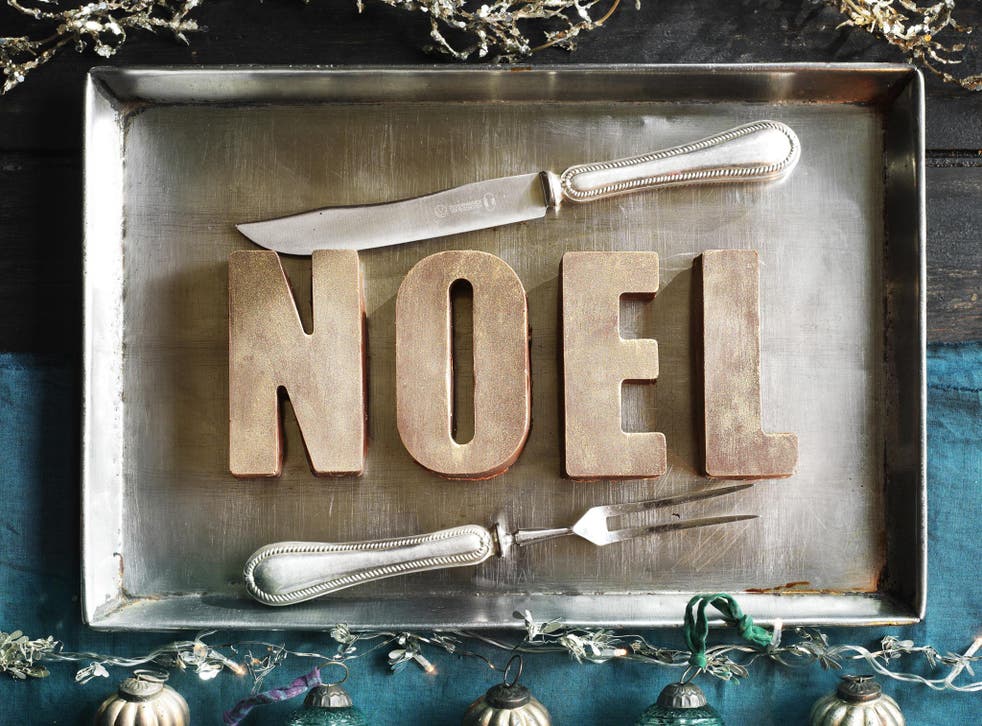 Traditional fruit cake isn't everyone's cup of tea. But that doesn't mean you have to decline all offers for a slice of seasonal cake this December. Indeed, there have never been so many unconventional yuletide offerings for cake lovers, with many looking and tasting delicious. Our round-up brings you the best of them, from the decadent French fancies to chocolate and salted caramel cakes.
1. Aldi Exquisite Yule Log Cake, 1.42kg: £9.99, Aldi
Not only does this rich chocolate cake taste homemade, but it stays moist for several days after cutting into it. It looks fabulous, thanks to the hand-piping, and it's huge. The buttercream icing running through each of the three logs is a nice touch too. Serves 18.
2. Bettys Snowman Chocolate Cake, 1.2kg: £26.95, Bettys
Shop-bought chocolate cakes can be hit and miss, but this moist and rich offering from Bettys tastes home-made and it looks great too. Made from grand cru chocolate, with chocolate buttercream and raspberry jam, we found smaller slices were sufficient, making this easily stretch to 20 people.
3. Sainsbury's Taste the Difference Belgian Chocolate Noel Tiffin Cake, 600g: £12, Sainsbury's
This is as good as any tiffin we've ever tried and it looks fabulous. Seriously, you could tell your guests it came from Harrods and they'd believe you. Filled with shortbread pieces with dried cranberries and raisins, all nestling within rich chocolate – it's very, very moreish. Serves 12.
4. Tesco Igloo Cake Cake Kit, 425g: £3, Tesco
You'll have to sing for your supper with this one as it comes as a cake kit, but we found children loved it all the more for that. And as it's a microwavable cake, it's a doddle to make – and quick to cook too, in less than four minutes. The sponge is light and goes well with the rich buttercream. Once assembled, it will cater for eight people.
5. Carluccio's Panettone Alla Crema Di Prosecco, 900g: £19.95, Carluccio's
If you love both prosecco and cake, then you have a lot to get excited about with this brand new offering from Carluccio's, in which Venetian bakers have cleverly combined local fizz with a light custard, which is piped into a traditional panettone. It's both decadent and different. Serves eight
6. Marks & Spencer Belgian Chocolate and Salted Caramel Present Cake, 960g: £20, Marks & Spencer
We thought this layered rich Belgian chocolate cake would be one to save for the grown-ups due to the salted caramel buttercream, but it was actually a hit with all ages, even tiny tots. Enough for 12 people, it's surrounded by decorated milk chocolate (a lot of it) and ribbon loops, the result looks stunning.
7. Brand Castle Gingerbread Train Kit, 631g: £9.99, Ocado
There are lots of gingerbread kits on the market, and none of them are as easy to make as the packet would suggest, which often leads to a pile of broken biscuits and crying children. This one has a plastic moulded base to prevent that happening, plus loads of goodies to stick on. It's great fun and looks lovely as a centrepiece. Although it says it serves 32, we'd say more like 12-15 unless they only get a bite-sized piece each.
8. Bettys Christmas Fondant Fancy Party Cake, 950g: £29.95, Bettys
This makes quite a centrepiece and is actually made up of 16 mini cakes, saving you the need for a cake knife. A world away from those cheap and nasty fondant fancies you might remember from the 1970s, these are made from top-notch sponge cake, marzipan and fondant icing.
9. Fortnum & Mason Salted Peanut Butter Chocolate Yule Log, 580g: £16, Fortum & Mason
Some of our testers turned their nose up at this when we told them it had peanut butter in. But we all agreed that the salt and nuttiness perfectly balances the richness and sweetness of the chocolate, and we even liked the peanut butter centre. It really works well against the light chocolate sponge. This yule log caters for eight.
10. Waitrose Red Velvet Yule Trunk, 978g: £12, Waitrose
Everyone will assume this gorgeous looking cake – with its detailed woodland theme – is chocolate, but it's actually made up of four layers of red velvet sponge, which are filled and finished with Belgian chocolate buttercream. Catering for 12, we thought it was delicious, but don't leave it out too long as it can turn dry.
11. Marks & Spencer Christmas Cabin, 1.3kg: £20, Marks & Spencer
This is a sight to behold – the children we showed it to literally gasped when they saw it. And the detailing isn't just on the outside, with a hidden green Christmas tree running throughout the centre of this scrummy chocolate cake. Not the easiest to cut (for up to 12 people), due to the hard chocolate exterior, but worth the effort.
12. Lidl Snowy Lodge Yule Lodge with Bronze Curls, 476g: £2.99, Lidl
This is a steal for a really tasty yule log that's hand finished with opulent-looking white chocolate curls and a shimmery bronze finish. Essentially a posh chocolate Swiss role covered in chocolate icing, it comes in under three quid. Serves 10.
13. Sainsbury's Taste the Difference Hidden Star Ring Cake, 850g: £10, Sainsbury's
This tasty Madeira cake for 12 people has a chocolate sponge star running right round the whole cake, making each slice look great on the plate. And it's finished with sugar stars and a drizzling of chocolate ganache and caramel, which makes the cake as a whole look impressive too.
14. Selfridges Salted Caramel Panettone, 1kg: £24.99, Selfridges
Here's another twist on a traditional, seasonal Italian cake. This one, for eight people, has scrumptious salted caramel swirls throughout. Plus, the best bit of all is the sticky golden centre because it's richer and sweeter than the original. Be sure to cut smaller slices.
The Verdict: Christmas cake alternatives
Bettys' Fondant Fancy Party cake is unbelievably tasty and despite there being a whopping 16 generous portions beautifully displayed on the board, our tasters polished them off in no time. Sainsbury's tiffin cake was also hugely popular – it's practically impossible not to go back for more. For the fun factor, Tesco's Igloo cake and Brand's Castle Gingerbread Train Kit win hands down, while the award for aesthetics has to go to Marks & Spencer's Christmas Cabin. But for overall excellence, our top recommendation this year goes to Aldi's yule log cake – the quality is as good as anything home-made, while the cake itself looks beautiful.
Register for free to continue reading
Registration is a free and easy way to support our truly independent journalism
By registering, you will also enjoy limited access to Premium articles, exclusive newsletters, commenting, and virtual events with our leading journalists
Already have an account? sign in