The Independent's journalism is supported by our readers. When you purchase through links on our site, we may earn commission.
7 best faux-fur pom poms
Add some colour to tired accessories with a furry clip-on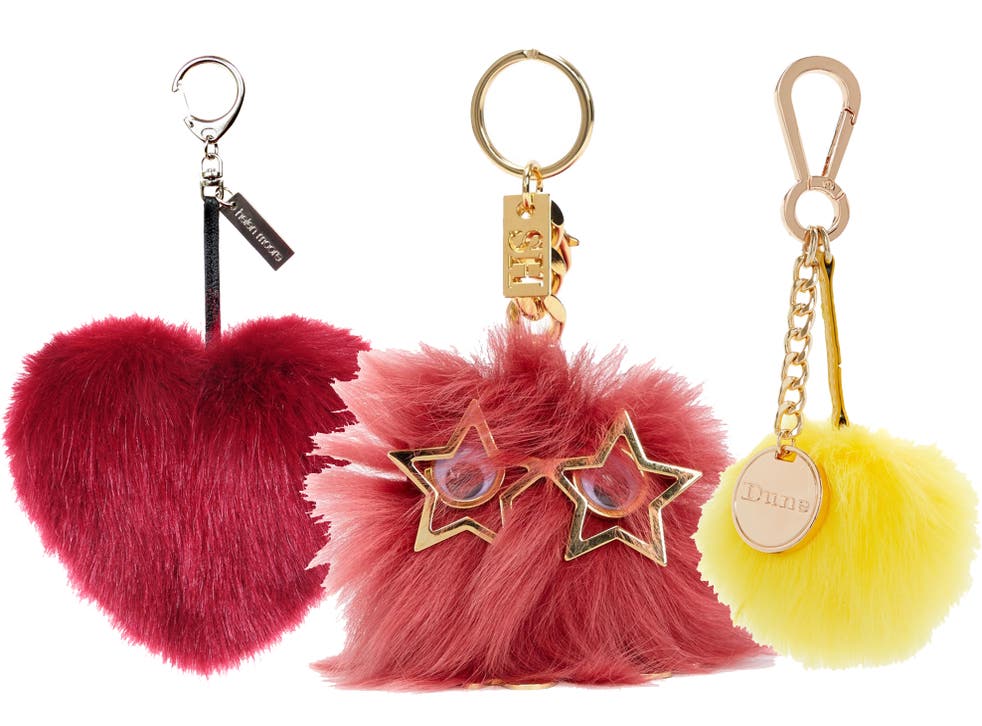 Pom Pom charms are the ultimate accessories in the fashion world that update your handbags –and shoes- by adding some colour and texture. There's a wide selection of faux fur styles in the market from luxe fashion houses and high-street shops, and these are our picks from both worlds.
1. Green and Orange Split Pom Pom Keyring: £7, riverisland.com
Colour-blocking has been trending in the fashion world for a while now and this contrasting combination of bright hues will add a bold touch to your handbag. The fur is acrylic and it has a gold-tone chain with a small clasp to attach it to your chosen accessory.
2. Sophie Hulme Large Raspberry Pom Pom Keyring: £150, harveynichols.com
Sophie Hulme is a super-cool British designer, better known for her signature tote bags and quirky jewellery. This furry keychain is our fun pick from her current collection. It has googly eyes, feet, star-shaped glasses and brand tag – all in gold-tone. It also has a clasp and a ring fastening so you can choose which best suits.
3. Candy Puff Pom Pom Shoe Clips: £35, cleob.com
Transform your shoes and handbags with this pair of pom poms in pink and purple faux fur from the London-based footwear label. Unlike the other pieces on the list, these have got metal clips, which attach securely to trainers, stilettos, clutches or tote bags, rather than a clasp. Available in other colours, too.
4. Crimson Faux Fur Personalised Heart Key Ring: £26, helenmoore.com
Helen Moore is a big name in the faux fur world; her colourful pieces, which are designed and made in the UK, have a celebrity following including Fearne Cotton and Alexa Chung. This heart-shaped style makes a perfect gift as you can personalise it with a silver-plated initial charm of your choice. Available in hot pink, too.
5. Jaffa Yellow: £15, dunelondon.com
Add a splash of colour to your bag with this yellow faux fur keyring from the high-street shoe label. It's got a branded disc charm (about the size of a £2 coin), which gives it a more luxe look. Available in other five bright colours.
6. Cat Keyring: £6, topshop.com
Attention cat lovers: embrace your feline spirit with this black furry style with ears and green eyes. It has a gold-tone chain with a tiny clasp to attach it to your house keys or bag zip.
7. MCM Rabbit Motif Keychain: £365.98, farfetch.com
If you prefer a designer name – and can afford it – our pick is this cool metallic rabbit hidden in a ball of navy faux fur, from the luxe German fashion house. The bunny ears have black blanket stitching and a futuristic metal strap, encrusted with pink crystals, covers what would be its eyes.
Verdict:
Dune's number is a winner: the faux fur feels top quality and we love the choice of bright colours, though this sunny yellow is our pick. If you can afford the luxe price tag, Sophie Hulme's fun furry charm with star-shaped glasses is uber-cool.
Register for free to continue reading
Registration is a free and easy way to support our truly independent journalism
By registering, you will also enjoy limited access to Premium articles, exclusive newsletters, commenting, and virtual events with our leading journalists
Already have an account? sign in
Register for free to continue reading
Registration is a free and easy way to support our truly independent journalism
By registering, you will also enjoy limited access to Premium articles, exclusive newsletters, commenting, and virtual events with our leading journalists
Already have an account? sign in