The Independent's journalism is supported by our readers. When you purchase through links on our site, we may earn commission.
National Hair Loss Month: The expert-recommended products that can help
We've consulted trichologists and stylists to find solutions for all hair types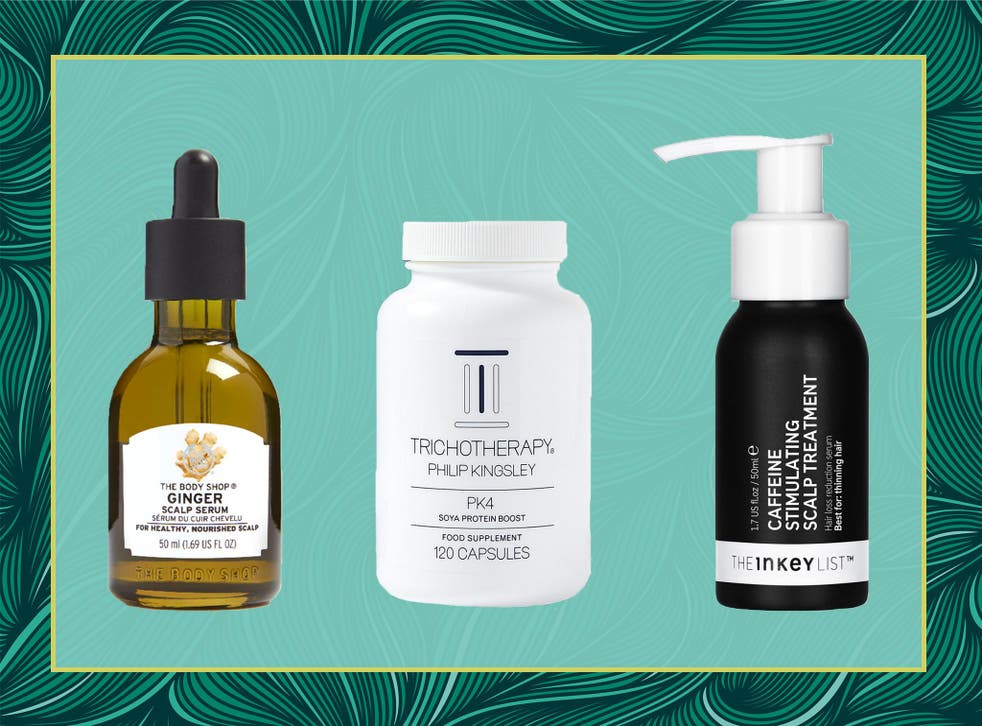 August is National Hair Loss Month, an event that aims to raise awareness around the causes and solutions to a condition that affects millions of people each year.
According to the NHS, 70 per cent of women over the age of 70 experience female-pattern baldness, while male patterned baldness affects around half of all men by the age of 50, typically starting in the late twenties to early thirties.
We've consulted the experts, from trichologists to hairstylists to find out exactly what may be causing your hair loss and the preventative steps and treatments you can use to see improvement.
It's a multifaceted approach too, as hair loss can be the result of a number of lifestyle factors, ranging from diet to stress.
"Your body views hair as non-essential to survival, so it is the first thing to take a hit when your general health, lifestyle and or diet is not up to scratch," explains Anabel Kingsley, consultant trichologist and brand president of the Philip Kingsley hair clinics. Ahead is everything you've ever wanted to know about hair loss.
You can trust our independent round-ups. We may earn commission from some of the retailers, but we never allow this to influence selections. This revenue helps us to fund journalism across The Independent.
What are the different types of hair loss?
According to Kingsley, one of the most common types of hair loss in women is androgenic alopecia, or reduced hair volume."This is a slow, gradual and progressive reduction in hair density where hair follicles become smaller, and hairs become finer with each hair growth cycle," she says, adding it is often simply down to genes.
Another type of hair loss, which can happen to anyone, is telogen effluvium (TE), also known as daily hair shedding.
Kingsley explains that it results in a sudden and large number of hairs moving from the growth to the shedding phase of your hair cycle. Your hair cycle is from the beginning of growth (from the root) to hair shedding, and according to the Phillip Kingsley clinic, is made of three stages; anagen, catagen and telogen. Each person's hair cycle varies.
In the telogen phase strands may fall out and shed – approximately 80 to 100 hairs a day from a healthy head of hair – but if your growth cycle is disrupted, you can experience hair loss and thinning triggered by metabolic imbalances, illness or improper nutrition.
Nicola Smart, consultant trichologist at Smart Hair Clinic, tells The Independent that the most common type of hair loss for black women is central centrifugal cicatricial alopecia (CCCA), resulting from extreme hairdressing practices such as chemical burns from styling tools and traction alopecia, which happens after repeatedly pulling on hair when creating tight ponytails, bun or braids.
What can cause hair loss?
Kingsley says that the most common causes for TE include a lack of protein and complex carbohydrates and calories in your diet, crash dieting, vitamin D, B12, iron or zinc deficiency, stress, a shift in hormones (particularly around the menopause) and pregnancy with postpartum hair loss.
Aside from these causes, she explains that stress is also a major factor when it comes to hair loss, as it can increase androgen (male hormone) levels. As your scalp tries to regulate male hormone levels, hair follicles become more sensitive, which often results in hair loss. Stress can also impact how your body absorbs nutrients. This, alongside skipping meals or eating foods with little nutritional value, can cause a nutrient deficiency, a common cause of hair loss.
"Stress hormones can also disrupt the skin's barrier function, and trigger skin irritation and inflammation. This is why you may find that your scalp gets itchy, flaky and overly sensitive and greasy when you are going through a stressful period," Kingsley says.
The effects of stress aren't always immediate either. Adam Reed, hair stylist and brand expert for Viviscal, says: "If you do find that you are stressed, then make sure you are looking after your hair because the effects don't happen instantly. A lot of people find they have gone through a stressful time and then six weeks later, their hair starts to fall out."
What lifestyle changes can you make?
Kingsley stresses how important a healthy diet is to hair health: "As hair is a non-essential tissue, and hair cells are the second-fastest-growing cells your body makes, its nutritional requirements are very high. In fact, even a small deficiency can cause hair loss."
For small changes you can make in your next trip to the supermarket, Reed advises incorporating omega-3s, flaxseed and linseed into your diet. "I also recommend lentils, pulses, beans and oily fish along with exercising which is also important," he says.
Smart explains that afro-textured hair types are naturally very fragile and dry due to their elliptical follicle shape and curly hair shaft that is susceptible to damage at every turn of a kink, coil or curl, so she advises treating hair gently at all times. "Detangling should be gentle, styling kept to a minimal and moisture should be at the forefront of every hair care regime to maintain the elasticity and integrity of each hair. This approach can help to minimise tangling, breakage and traction hair loss where possible."
Which products can help?
According to Kingsley, there is no "one size fits all" approach to hair loss as your genetic profile, lifestyle and diet may be very different from a friend who is also experiencing hair loss. However, there are things that can help.
"Protein is particularly essential as it is what your hair is made of, I always suggest my clients take our PK4 protein boost supplement (LookFantastic, £30), as hardly anyone eats enough protein – at least from a hair growth standpoint."
She advocates the use of supplements as a helping hand, as days when you're in a rush or don't have time to eat a proper lunch of good nutritional value can take a toll on your hair strands.
Or try the Viviscal hair growth programme 60 tablets (Holland & Barrett, £51.99) which contain vitamin C, niacin, iron, and millet seed, which, when taken with a healthy diet, will aid with hair growth and help alleviate the damage done by over-styling and poor nutrition.
"As your hair is the last thing that your body looks after, taking a supplement such as Viviscal can help support your hair health," says Reed.
While you may think to reach for a new shampoo, Kingsley recommends steering clear. "Shampoos will not cure or treat hair loss as they are not left on the scalp long enough for the ingredients to penetrate. Plus, any useful ingredients in the shampoo will be so diluted with water they wouldn't work anyway," she says.
Instead, she suggests investing in scalp serums or drops, which will stay on the scalp and be absorbed.
One of our favourites is this Body Shop ginger scalp serum (The Body Shop, £15). It helps to rebalance your scalp, whether it's producing excess or is dry and flaky in between washes.
It's infused with ginger essential oil, white willow and birch extract which will keep hair in tip-top condition. Apply directly onto your scalp and massage in three times a week, in between washes, until it's fully absorbed.
She also recommends using a weekly scalp mask to repair damaged or breaking strands, as a healthy scalp encourages healthy hair growth.
We love this Inkey List caffeine stimulating scalp treatment (£14.99) that can help with hair that's moulting or feeling thin.
To apply the overnight treatment, shake four to six drops into your palms and rub into your scalp, then wash your hair in the morning. It contains caffeine powder to boost struggling hair follicles and redensyl which supplements growth and helps minimise fallout.
She also suggests using a weekly pre-shampoo conditioning treatment to restore strength and elasticity. In our guide to the best hair masks we loved this 3 More Inches lifesaver hair mask (Van Clarke, £29).
According to our reviewer: "With regular use, you can expect thicker, smoother hair with more swing and shine. We tested it for just a few weeks and found it definitely started to deliver results."
It contains high concentration cashmere proteins which will repair broken bonds in the hair shaft, thus reducing thinning and breakage.
To apply, soak the hair, coating every strand, and leave for 45 minutes or overnight, then rinse it well and follow with a conditioner. If you're using it as an overnight treatment, just be sure to apply at least an hour before bedtime to avoid a wet pillowcase.
When styling your hair, try this Living Proof full thickening cream (Feel Unique, £24), a treatment that can work wonders on thinning hair.
Suitable for coloured hair too, simply run it through tresses after your usual shampoo and conditioner, then style to finish.
The formula deposits thickening dots on each strand to leave you with voluminous, full locks.
IndyBest product reviews are unbiased, independent advice you can trust. On some occasions, we earn revenue if you click the links and buy the products, but we never allow this to bias our coverage. The reviews are compiled through a mix of expert opinion and real-world testing.
Register for free to continue reading
Registration is a free and easy way to support our truly independent journalism
By registering, you will also enjoy limited access to Premium articles, exclusive newsletters, commenting, and virtual events with our leading journalists
Already have an account? sign in