10 best men's waterproof festival jackets that will keep you dry and comfortable during every set
If the heavens open above the main stage, these are the weather-ready jackets you'll need to stay dry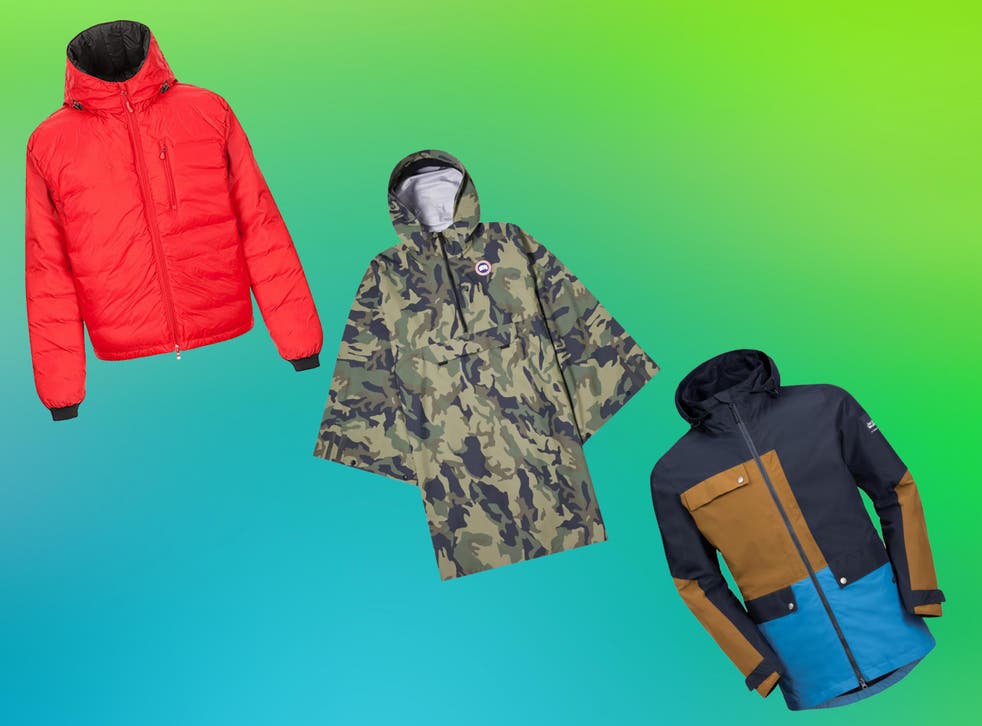 You may have been having too much of a good time to notice, but it rains quite a lot at music festivals in the UK.
In August, at the zenith of festival season, an average of 2.7 inches of rain falls each year. Meanwhile, Scotland and Wales both revel in 4.2 inches of precipitation over the same period.
A bit of rain can be a great and memorable thing at a festival – especially if you're dressed for it.
To that end, we've reviewed a range of festival-appropriate men's waterproof jackets to find the best around.
Some of you will be looking for a thrifty jacket that you won't be too worried about taking to a festival. Others will want to invest in a higher-end option to wear year-round.
We've included jackets across a very broad range of prices, so there should be something for pretty much every festival-goer.
Columbia inner limits tapestry/pilsner jacket: £71.99, Impericon
Here it is: the headliner and undisputed star of our festival-friendly waterproofs list. The Columbia inner limits jacket has earned our devotion for all sorts of reasons. For a start, it's really comfy, and provides a decent level of warmth as well as excellent waterproofing, aided by its high-collar design. Second, it comes in a lovely array of colourways, including our favourite, the inventively named "tapestry/pilsner" shown above. It's also highly versatile, with adjusters on the cuffs and waist, plus a host of pockets to keep your things handy. A brilliant jacket, whether you're at a festival, on your commute or out for a hike.
Mountain Warehouse cirrus men's waterproof jacket: £24.99, Mountain Warehouse
Cirrus clouds can indicate the approach of warm weather fronts and rain. In other words, they are bona fide emblems of the festival season. Mountain Warehouse's jacket of the same name is a fine affordable solution to get you through the chilly nights and rain-doused days that sometimes come with the festive territory. Its bold, bright design is nice enough, and the quality is good considering the jacket's low price. We wore it out and about in the rain and stayed perfectly dry underneath, using the adjusters around the hood to achieve an impervious fit.
Easy Camp PVC poncho: £1.69, Camping World
Are you likely to lose or incur damage to your waterproof jacket while at a festival? If the answer is yes, this is the waterproof for you. At £1.69, Easy Camp's poncho costs approximately 0.5 per cent the price of an alcoholic drink at a music festival (that's our best estimate). It's simple and effective: just remove from its packaging, slip it over your head and get considerably less wet when it rains. This is a one-size fits all option, so do bear that in mind if you tend to wear particularly large or small clothes.
Salewa faloria rain hardshell men's jacket: £63, Salewa
Here's one of our favourite festival-friendly waterproof jackets, from a distinctly stylish outdoorsy label some of you may not have encountered. Italian brand Salewa is a go-to maker of waterproof jackets for some of the most hardcore trekkers and adventurers around. You, dear reveller, probably just want something that'll keep you relatively comfortable as you mill around in a field near Reading, and we are therefore recommending you try this relatively affordable example, which brings the low weight (256g), pleasing design and much of the waterproofness of some of Salewa's higher-end jackets.
The faloria feels great, looks cool and packs down incredibly small when not in use. Please note that this jacket is much better for keeping you dry than keeping you warm.
Jack Wolfskin 365 influencer jacket: £158.36, Alpinetrek
The 365 influencer jacket is a strong and stylish option, courtesy of Jack Wolfskin. The material feels lovely: high-quality, dense and impermeable, yet light and breathable. It looks great, with smart metal buttons on its pockets and a bold, colour-blocked design that looks quite unlike any of its competitors, especially in the colourway shown above, with its splash of sky blue. The eco-conscious among you will be glad to hear this jacket is made of PFC-free, recycled material.
Peregrine oversized kagoule: £165, Wolf & Badger
Here's something with a very different aesthetic, and in our opinion, a very stylish one. Peregrine's kagoule is charmingly androgynous and a little nostalgic – an effect that's probably down to the fact it sort of swamps you, like coats you wore as a child. Of course, this is far better than being swamped by rain at a festival – and we found the oversized kagolue kept us perfectly dry during testing. The brushed cotton lining on the hood is really comfy – just the sort of thing you'll appreciate on a chilly August night, towards the end of festival season.
Canada Goose field poncho: £575, END
Sound the high-fashion klaxon! Canada Goose's field poncho is stylish as they come – something we can see performers wearing on stage, as well as fashion-forward festival-goers wearing in the crowd. It will keep you remarkably dry, with an all-enveloping silhouette and a plethora of high-performance features, including "tri-durance" (three-layered) fabric, a waterproof half zip closure and a clinch hood that can be closed snug around the neck. Wearing a poncho can take a bit of getting used to, and this might be a factor in your buying decision. Good examples like this one are uniquely well equipped to keep your whole body dry – but they can be a bit tricky to dance around in.
Stutterheim stockholm unisex raincoat: £179, Stutterheim
While us Brits are famed for loving a chat about the weather, Swedes have a reputation for dealing with it. One of the best products of this cultural phenomenon is Stutterheim's beautiful unisex raincoat, which offers a cool, relaxed silhouette in a striking selection of over twenty colours.
The rubberised PVC coating provides both waterproofing and a retro aesthetic – both of which we appreciate. A drawstring on the hood gives scope to tighten the fit and keep out wet and cold. Based on designer Alex Stutterheim's grandfather's raincoat, the Stockholm is a bit of a classic. Buy it for festival season and keep it for generations.
The North Face impendor apex flex light jacket: £215, The North Face
"The impendor apex flex" sounds pretty hardcore, does it not? The North Face's jacket is indeed a serious piece of kit, capable of far more than simply keeping you dry at a festival. It does work very well for that purpose, however, with a nimble, lightweight design and stretchy fabric that'll make it easy to move around on the dancefloor, in the mosh pit or on the long march to the portaloo.
Offering the convenience of Salewa's jacket with some of the warmth and comfort provided by the likes of the Columbia inner limits, this jacket is an excellent choice for those willing to pay a little extra.
Canada Goose lodge hoody: £525, Selfridges
This feels like wearing a cloud. Canada Goose's lodge hoody is not something we'd wear to a wild and unhinged festival – but if you like to take things a little steadier, you might consider this as your potential jacket for life, not just for festivals. Quilted with duck down, this is the cosiest and comfiest jacket of its type we have ever encountered. We love it in this bright, bold red colour, though if you fancy a plainer style, it is also available in black.
The lodge hoody is quite an investment, but if you're confident you can keep it in good nick, we'd rate it as a very good one.
Verdict: Men's waterproof festival jackets
Thanks to its range of jazzy colourways, practical design and decent, mid-range price, we're naming the Columbia inner limits jacket our best buy.
IndyBest product reviews are unbiased, independent advice you can trust. On some occasions, we earn revenue if you click the links and buy the products, but we never allow this to bias our coverage. The reviews are compiled through a mix of expert opinion and real-world testing.