The Independent's journalism is supported by our readers. When you purchase through links on our site, we may earn commission. Why trust us?
15 best hydrating face masks that are soothing, brightening and moisturising
From honey infused creams to Hungarian thermal water, we've got skincare to suit your needs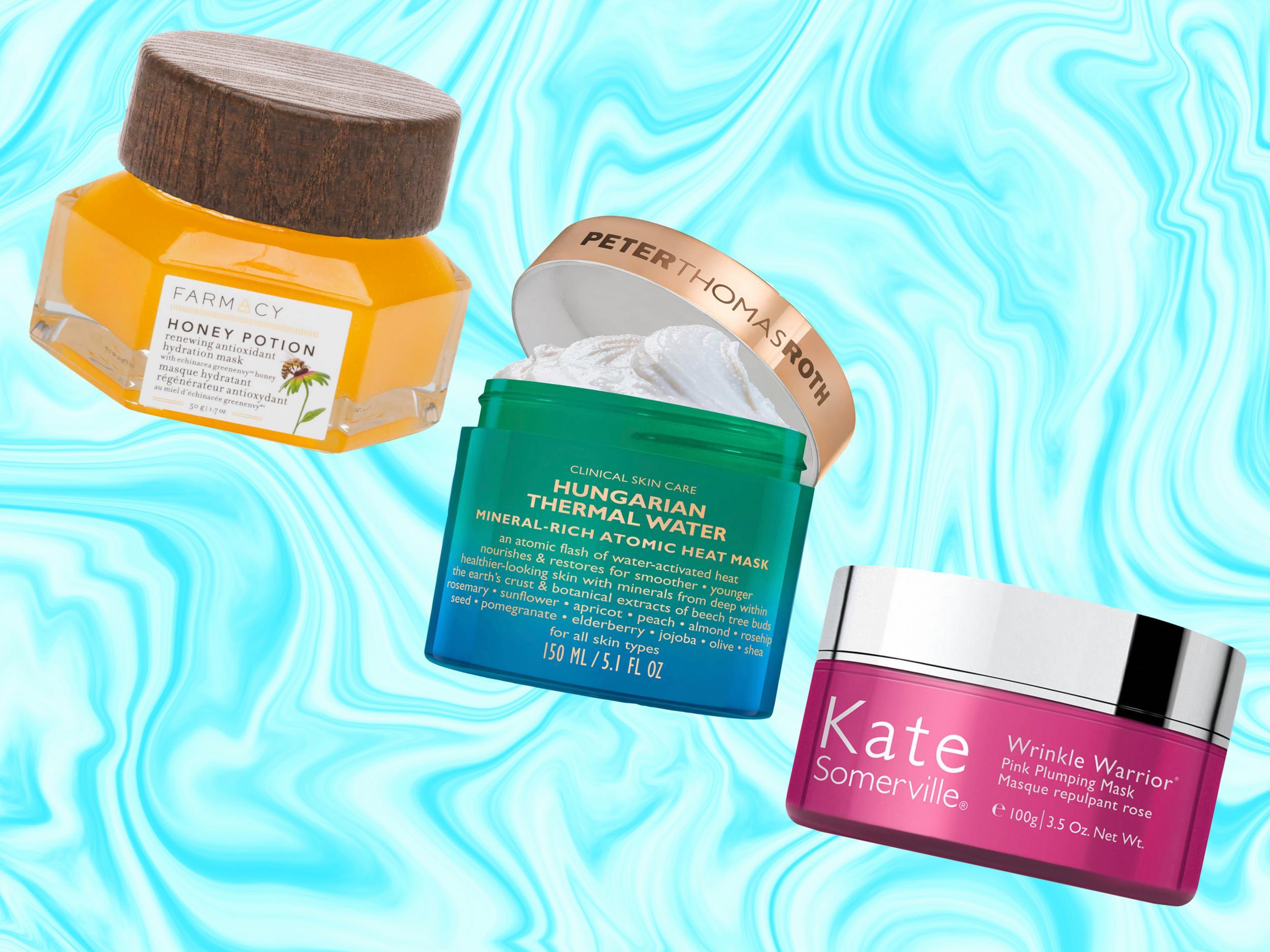 There's nothing worse than your skin feeling like you're in a Wallace and Gromit sketch. You know, that tight, stretched, just had a leaf blower pointed at your face for a laugh type of feeling. Luckily, the humble face mask as an antidote has come a long way from the days of having mushed-up banana squished against your cheeks with a couple of cucumber slices over your eyes.
In particular, the hydrating category has a plethora of skin perfecting additions under its belt with varying ingredients for added benefits.
Even in this rather haphazard summer, it's imperative to keep your skin sufficiently watered. Sweaty certainly doesn't mean hydrated; quite the opposite. Imagine these gems as the facial equivalent of that big bottle of water you fill every morning and keep promising yourself you'll finish everyday.
Hyaluronic acid is every hydrator's go-to ingredient and most of the products featured here include it. How they're derived, sourced and formulated can have an impact on how they perform so have a quick peruse through our top picks to find what might work for you and your mood.
We've clambered through our favourite masks on the market for all skin types, from products that are perfect pre-make to those sumptuous before slumber. From honey infused to cannabis clad, there's something here for everyone.
You can trust our independent reviews. We may earn commission from some of the retailers , but we never allow this to influence selections, which are formed from real-world testing and expert advice. This revenue helps to fund journalism across The Independent.
Farmacy honey potion, 50g: £36, Cult Beauty
It could be said that honey potion put American cult brand Farmacy on the map and after scrupulously testing it, it's easy to see why. Gorgeously housed in a clear jar with a magnetic metal spatula, honey potion is an impressively thick amber mask that transforms from a syrup to cream when massaged into freshly cleansed skin.
This warms up quite considerably upon application, feeling comforting and giving a priceless spa at home feeling. This isn't just skintertainment though, these ingredients mean business. Echinacea "green envy" honey is sourced from Farmacy's own farm and is naturally brimming with antioxidants to maintain skin function while also having repairing and protective qualities too.
A hefty dose of glycerin attracts and retains moisture while ginger root extract improves circulation. As this mask warms the pores open it allows the ingredients to shimmy beneath the surface; you will go from parched to plumped in 20 minutes. A new staple awaits.
Kypris cerulean soothing hydration recovery mask, 46 ml: £242, Naturismo
In the immortal words from The Devil Wears Prada – "It's not just blue or lapis, it's actually cerulean". This beauty from Kypris can be described as equally inimitable. An organic goldmine with a whopping 36 natural active ingredients, this blue gel is perfect for this rather stuffy summer we're experiencing. It's basically like the sea washed up all its goodness and thwacked a wave across your face.
Algae and differing seaweed extracts enhance and hydrate skin for a happier complexion, cherry blossom kisses sun-scorched skin and silver ear mushroom aids in the softening department. We kept ours in the fridge and then left it on overnight to drench ourselves in the goodies on offer. The gorgeous cooling was a sensation after a busy day out and regardless of all that's in it, it's wonderfully light in texture. Particularly good if you're not interested in rich creams or anything too overwhelming on the skin. Pricey, but then so is Prada.
Milk cannabis hydrating face mask, 30g: £21, Cult Beauty
If you steer clear of giving yourself a bit of TLC mostly because you can't be bothered, this innovative stick mask from super-sharp Milk is the answer to all your lazy prayers. It's infused with hemp derived cannabis oil and glycerin to hydrate but also features kaolin clay to draw out any excess impurities for an extra cleansing benefit.
We added this to our morning routine which worked a treat. Cleanse and pop this on targeted areas where you need some extra care. Or just use it everywhere by all means. Leave on for ten minutes and wash off in the shower. Super easy, no faff and does what it says on the stick.
Dr Roebuck's iceberg's hydrating mask, 50ml: £25, Space NK
This might be as close as you can get to Bondi Beach's Icebergs pool this summer sadly, but at the very least your skin can have a holiday. What we love about this is that it's a no nonsense, clean hydrator for a parched visage. Everyone's favourite, hyaluronic acid is here to plump you up while aloe vera calms down any irritations, with hints of red algae and cucumber to soothe along the way. Cruelty-free and vegan, with no silicones or harmful chemicals – this is a delicious go-to if you want no small talk and decent results.
Tata Harper hydrating floral mask, 30ml: £83, Naturismo
No one quite does green beauty like Tata Harper. Not only does she have a 1200 acre farm in Vermont where the recycled green jars are jam packed with organic and sustainable goodness, you can even track when your product was made and by who on the site via its batch number. There are over a thousand different sized molecules of hyaluronic acid in this little gem, along with a 13 flower complex to quell stressed skin.
If you can handle richer products, we would definitely suggest trading in your nighttime moisturiser once a week with this mega hydra-booster. Otherwise, don't rinse off and take off gently after ten minutes with a spritzed cotton pad. An unmissable yet delicate affair.
Seed to Skin the golden dew, 50ml: £105, Liberty
Another sultry selection to transport you to more seductive environments, Seed to Skin's Tuscan promise continues with its newest addition to the range. Launched in July, golden dew lives up to its name not just by housing the smallest, naturally derived molecules of hyaluronic acid possible but also a newly incorporated marine ferment that acts in the same way. Calendula and glycerin are calming humectants here too.
Rosehip oil and lush fatty acids add extra antioxidant benefit. It's all very serene on the Seed to Skin scale so if you want a pamper but also gold star results, this is what you want to add in your trophy spot for your beauty cupboard. Add this once a week to your routine for an all round enviable glow.
Omorovicza gold hydralifting mask, 50ml: £120, Look Fantastic
Hungarian heroes at Omorovicza have a new hydrating mask to add to its luxury line up. The result is a rich light pink cream that instantly soothes stressed out skin. Colloidal gold works as a key ingredient to assist skin renewal while bio polymers blur surface imperfections. A healthy dose of hyaluronic acid plumps fine lines while the brands patented healing concentrate leaves the skin more supple and youthful looking.
For a finer canvas we suggest using this after an acid or retinol so that the calming, hydrating ingredients can dig a bit deeper. For those with dry skin you may wish to leave this on overnight. While this treatment is super emollient it sinks in nicely without a fuss.
Glossier moisturising moon mask, 89ml: £18, Glossier
It's another home run for American brand Glossier with this uber decadent "creamy dreamy" moon mask. Apply a generous layer over damp, freshly cleansed skin and sit back while the magic happens. Sweet almond oil and hyaluronic acid work as an effective tag team to ensure the driest of complexions get a good seeing to.
Liquorice root instantly brightens while honey and aloe work on soothing the skin too. The formula feels impressively luxe (more so than any other masks in this price range). We found that fanning the face after felt delightfully cooling, which was most welcome in the recent heat wave.
You really need to cleanse this off though as the mask sets to a soft jellyish texture, so maybe invest in a soft cloth for removal. The skin is left feeling calm, comfortable and at its peak. We found this was the perfect pre-treatment before doing a full beat. Make-up wore noticeably better without sinking into the usual creases.
Kate Somerville wrinkle warrior pink plumping mask, 100ml: £48, Kate Somerville
The wrinkle warrior line by Kate Somerville has been heralded as beauty's best kept secret in the ongoing battle for a firmer face.
This pink, gel formula is a potent powerhouse of ingredients, containing three forms of hyaluronic acid that work on reducing the appearance of crow's feet, fine lines and deep set wrinkles. Apple fruit acts as the primary antioxidant here to protect skin while red algae provides long lasting moisture.
We used this twice a week, applying a thin even layer to freshly cleansed skin. This mask feels much more lightweight than some of the aforementioned but don't be fooled – after towelling this off, stubborn dry patches were a thing of the past, overall texture improved and skin felt much more supple.
Peter Thomas Roth Hungarian thermal water mineral-rich atomic heat mask, 150ml: £50, Cult Beauty
Hungarian thermal water gets much deserved airtime due its mineral rich properties found in Europe's deepest valleys. Peter Thomas Roth has crammed its goodness into this luxurious heating mask. It's a rich paste that should be spread generously onto the skin and left for a few minutes. Then wet the fingertips and massage gently for a glorious flash of heat. Once this subsides, rinse off for a fresher face.
Peach, almond, pomegranate and olive extracts make up this mask for a cocktail of epic proportions. The quick flush of heat when activated helps open pores to give you maximum absorption of all the wonders it has to offer. A terrific one to keep on standby for when winter comes too. A true all round favourite of ours.
Perricone MD multi-action overnight intensive firming mask, 59ml: £79, Feel Unique
If you want something specifically geared towards overnight hydration, as well as anti-ageing properties, this from Perricone MD is a good choice. Topped with fatty acids to help plump you up with coconut oil to deeply hydrate, it's a great weekly treatment to add alongside your normal routine. It's a rich mix so steer clear if you're on the oilier side but for those with normal to dry skin, it's a silky, emollient and squalene-centric booster. Skin hangovers be gone.
MGC Derma CBD active firming anti-ageing mask, 50ml: £49, Look Fantastic
The second cannabis-infused entry on our roundup is this from MGC. Not only does it harness the power of the skin-reviving cannabidiol, it has green clay to attack impurities so if you have blemish-prone skin, this is probably more your speed. There's also a bunch of proteins and calming agents like green tea to balance out the bacteria busting clay so you can rest assured this multitasker won't just strip you then leave you without comfort. We experienced a firmer, more revitalised skin tone after committing to it twice a week. Perfect for combination skin.
Aromatherapy Associates rose hydrating face mask, 100ml: £43, Space NK
Sitting alongside its iconic oils collection, Aromatherapy Associates have a few nifty skincare bits up their sleeve too. This mask in particular fits nicely in the hydrating category. It's a great relaxing offering with its rose water-infused blend of hyaluronic acid and aloe vera. If you're feeling particularly dry, slather this on overnight or use as a quick ten minute treatment if you want a pre-event perk up.
It's a really easy, simple yet effective go-to for those who like a little extra zhush with its floral flourish. Plenty of natural humectants are here to help you put your best face forward. Marrying this with the rest of the range makes napping in the daytime a necessity rather than a luxury.
Goldfaden MD skin balancing mask, 60ml: £68, Net-a-Porter
This rich gel mask from delicious derma Dr. Goldfaden is a triple threat. Not only is it a hydrating ditty but it also houses malic acid to help refine pores and make skin feel a bit fuller. Malic acid isn't as aggressive as its fellow AHAs, so it will leave you feeling more refined refined rather than exfoliated. Ginseng and jojoba work in tandem here to balance and smooth out skin texture.
A good few goes, only ten minutes a pop, left us feeling refreshed, moisturised and super fresh. It's marketed for problem skin but reassured anyone can benefit from this one. Great if you're want to bring some harmony to the skin.
Too Cool For School egg mousse pack, 150ml: £18, Boots
It wouldn't be right without adding a bit of K-beauty to our list and this from Too Cool for School doesn't just have the fun factor, it's a pretty eggcellent (wahay!) companion for any dry skin patches.
Egg yolk acts as a great water binding agent, locking moisture into the skin with all its good fats. The texture of this is perfect if you don't want anything too sticky or rich. It's a light, meringue foam that sits delicately on the skin to soften and hydrate, its primary ingredient betaine acts as a gentle hydrator for surface skin.
The egg white extract also brightens skin so it will save you whipping up a froth in the kitchen for those under eye quick fixes. Simply massage into the skin and rinse off. We found it helps absorb product post-application so is great before make-up especially. Get this on for something eggs-tra special.
The verdict: Hydrating face masks
Honey, honey...sugar, sugar. We love Farmacy's take on hydration with its perfecting potion for all skin types. Aromatherapy Associates give you a relaxing take on the staple while Peter Thomas Roth will see you through the whole year.