8 best sonic skincare tools
From super-efficient cleansers to all-body buffers, these are the products you need to supercharge your routine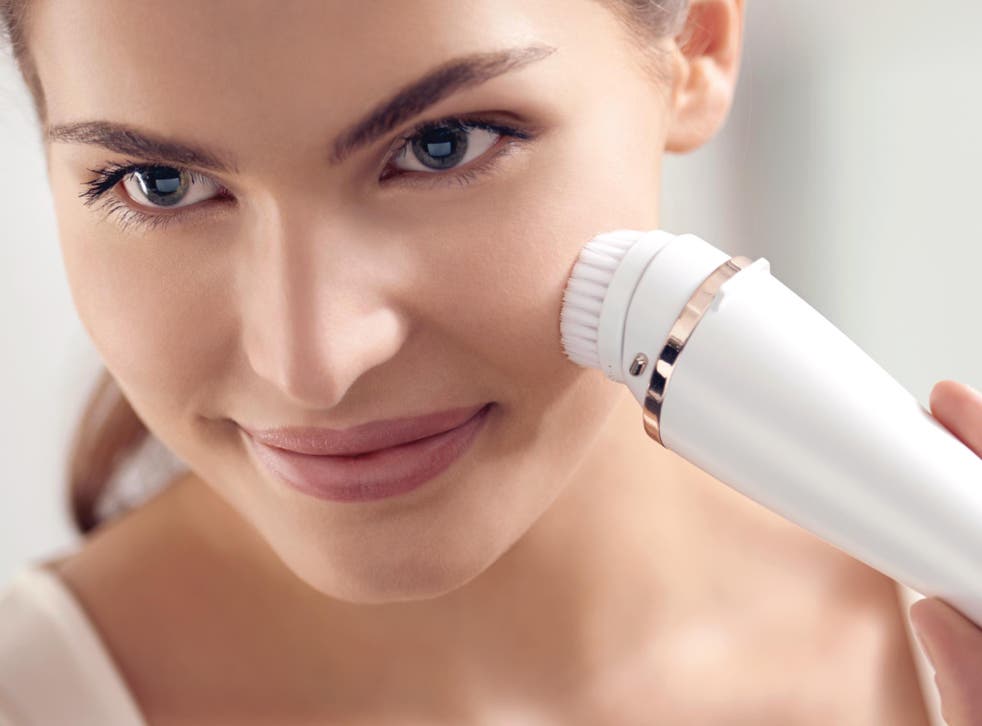 Whether you're looking to reduce fine lines or wrinkles, tackle spot-prone skin or just want your face to look softer and brighter, there's a huge choice of skincare tools out there which claim they can fulfil all of these requirements.
Some come with multiple attachments and can be used every day, while others are designed for use on your whole body and work best when used once a week. There is a lot of conflicting advice surrounding skincare and everyone is different, so we've rounded up the best tools on the market to help you make the decision as to which product is best suited to your skin and price point.
While testing the skincare brushes we looked out for several key features: ease of use, how it felt while using the tool, if it was good value for money, how the brushes fit into our daily routine, and if our skin actually improved at all and in what ways after regular use.
1. Magnitone The Full Monty Vibrasonic Daily Skincare Brush: £130, Look Fantastic
Available in electric blue and grey, this product from the London-based brand was our favourite brush and best value for money. We really liked that it can be used on your entire body, with three heads: one for the face, one to exfoliate your body and one which buffs dry skin from your feet. Each of these worked really well and we found the bristles to be very soft. This, coupled with the fact that you have five modes to choose from (three for the face, one for the body and one for feet), means you can really personalise your cleansing routine depending on your skin type. It's easy to use every day in the shower as it is fully waterproof, and it only took a couple of uses to see a difference in our tester's face and body – expect brighter, softer, exfoliated skin. It charges via a USB.
2. No7 Beautiful Skin Cleansing Brush: £25, Boots
If you're not quite ready to commit to an electronic skincare routine, this is the perfect brush to just give it a go with. It was the cheapest brush we tried out and also one of the best. Incredibly convenient to use as it is battery operated, you can begin using it as soon as you take it out of the box (after reading a few simple instructions), instead of waiting around for it to charge. As you would expect at this price, it only has two modes of speed and you simply massage your face with the brush. We could really feel the brush working after using it for around 45 seconds each day. It did leave our skin feeling like it had undergone a deep clean. The bristles were a bit rougher than others we tested so we wouldn't recommend this product if your skin is on the sensitive side.
3. Babyliss True Glow Sonic Skincare Cleansing System: £80, Boots
If your skin can be a bit temperamental, this sonic brush would be a good fit for you as it has two facial head attachments: one for normal and one for sensitive skin. You can also choose from three different speed settings, which means you can really customise your use of the brush depending on your skin type, but still benefit from the deep cleansing. Our tester had sensitive skin and did not experience any irritation after using the cleansing brush every other day for 60 seconds on their face and the exfoliating brush for several minutes on their body. It features an entirely separate brush head designed for exfoliating your body which is great to use in the shower, and we also liked that it comes with a handy storage pouch and a soft hairband to keep your hair well away from the brush. Considering all of its features, it provides great value for money. Comes with a charging base.
4. Clinique Sonic System Purifying Cleansing Brush: £79, Clinique
We loved this cleansing brush, which was developed by dermatologists. The main difference to the others we tested was its design. The brush head is made up of two types of bristles – the bigger area of white bristles is for use on your cheeks, and the top, smaller area of green, firmer bristles is designed for use on your T-Zone. You can really feel the difference between the two types of bristles and this avoided any faffing around changing brush heads for different skin areas which was a definite plus. We used it once daily for around a minute and found our skin felt very refreshed afterwards - it was particularly good for the T-zone, deep cleaning blocked pores. We particularly liked the shape of the brush which was light and very easy to hold in comparison to some of the others we tested. It's waterproof, so you can easily use it in the shower and it comes with a charging base, USB plug and adapter.
5. Philips VisaPure Advanced: £199.99, Philips
This sonic skincare brush felt like a premium product, and we loved the design of it – from its sleek holding and charging stand to the rose gold touches on the brush itself, it was definitely the most attractive product we tested. With two intensity settings and three heads, it provides gentle cleansing and facial massage, with a specialist ceramic head designed purely for massaging your eyes. The cleansing brush was very soft and felt gentle on our skin, and we liked that it was really easy to clean after use. The two massage heads were our favourite feature, they felt very luxurious and left our skin feeling smooth and refreshed after use, although we do advise keeping your hair well away from the tool as it can easily get caught. It also has "Intelligent Head Recognition", which basically means each time you swap from a brush head to a massage head, the tool recognises it and adjusts the timer and intensity accordingly – a great plus if you don't want to be referring back to the instructions every time you use it. We would recommend using the massage setting for two minutes first thing in the morning for a great start to your day.
6. PMD Personal Microderm Pro: £199, PMD
This is a next-level skincare tool, coming from the American skin care brand PMD. In a nutshell, it's a microdermabrasion treatment – removing dead skin cells – that you can do yourself at home without going to a clinic. It looks a little scary when you first take it out of the box and start to read the instructions (you also watch an instructional video). However, after using the training disk on your arm first, it doesn't take long to get the hang of it. It comes with several interchangeable disks which are handily colour coded ranging from "very sensitive" to "very coarse" so you can customise your treatment. Each disk comes in two sizes, the smaller designed for use on your face and the larger disk for your body. Our tester was best suited to "sensitive" and found after just three uses skin looked much brighter, softer, and best of all, their large pores were significantly reduced. It is advised that you use this tool once a week for twelve weeks to see a significant difference in your skin such as reduced wrinkles and even skin tone, so we recommend this if you're ready to make a long term investment in your skin and want serious results. Charges via USB.
7. Lancer Microcurrent Power Boost: £250, Harrods
Created by trusted skincare brand Lancer, this attractive-looking microcurrent wand is designed to rejuvenate cells and stimulate fluid around your brow and jaw area, resulting in tighter and firmer skin. We found the wand really easy to operate and to charge, with its slim and small size which makes it easy to take with you when travelling. This did leave our face muscles more relaxed, elastic and firm, however we felt it requires consistent use on a daily basis to notice changes and retain them. Charges via USB.
8. Clarisonic Mia Fit White Cleansing Brush: £170, Boots
One of the best features of this sonic cleansing brush is that it is really compact and lightweight, making it an ideal choice if you often travel. The brush was simple to operate, with two speeds settings – the first designed as a shorter, delicate cleanse for everyday use and the second as a longer, power cleanse for post workout use or if you have been wearing heavy make-up. It was easily packed into our tester's bag and did leave them feeling refreshed after a long gym session but, they found it would be easier to hold if it had a longer handle. For everyday use, it did leave skin looking much smoother and brighter, and it wasn't too hard on sensitive skin. Although this brush is at the higher end of the price scale, it does have a two-year warranty which is reassuring. We also thought it was a nice touch that the brush comes with sample size cleanser. Available in both white and pink. Charges via USB.
The Verdict: Sonic skincare tools
If you want the best value for money and a great cleansing experience for your whole body, choose the Full Monty Face & Body Brush from Magnitone. For skin that is quite temperamental or scarred which you really want to improve, go for the PMD Microderm Pro. If you're still not sure about investing in a sonic cleansing brush, we recommend you try out the No7 Beautiful Skin cleansing brush for a hassle-free, cheap alternative.
IndyBest product reviews are unbiased, independent advice you can trust. On some occasions, we earn revenue if you click the links and buy the products, but we never allow this to bias our coverage. The reviews are compiled through a mix of expert opinion and real-world testing.