The Independent's journalism is supported by our readers. When you purchase through links on our site, we may earn commission.
The best skincare routine for combination skin: A step-by-step guide
If you struggle with an oily T-zone and dry cheeks, then follow this guide and reap the benefits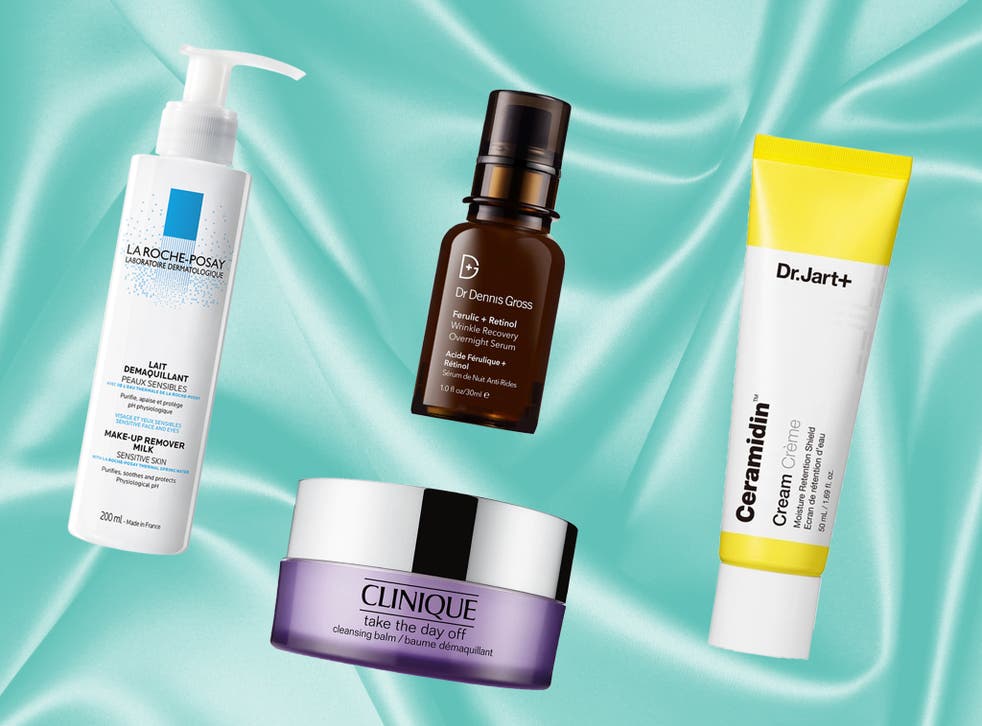 Combination skin means you have two skin types – an oily T-zone across the forehead, nose and chin, combined with dry cheeks.
Balancing both can be tricky, as you're constantly on the lookout for products that will treat excessive oil production and dryness, without exacerbating one or the other.
Figuring out your skin type can be difficult, but there are a few ways to establish whether you have combination skin. Dr Anjali Mahto, consultant dermatologist at 55 Harley Street, explains that your pore size will appear average with no obvious dry or flaky patches, but a slightly more oily T-zone on the forehead, nose and chin is common, in comparison to other facial areas.
According to Dr Adil Sheraz, consultant dermatologist and British Skin Foundation spokesperson, it's the most common skin type. "The amount of oil your skin produces is dependent mostly on genetics, people with this skin type will often find that their skin is oilier in the summer and drier in the winter," he told The Independent.
He also advises that hormones play a role in the amount of oil your skin produces, with breakouts being common during your menstrual cycle, which is predominantly linked to increased testosterone production.
Fine-tuning a skincare routine to address your concerns can take time, so before you overhaul your current products, it's important to identify what ingredients will work to keep excess oil, dryness and breakouts at bay.
As skincare is subjective and what works for one might not work for another, there is no one-size-fits all solution. But in order to help you make the most informed choices for your skin type, we've consulted the experts to curate the best routine for combination skin, with essential product recommendations to help treat skin safely and see results.
You can trust our independent round-ups. We may earn commission from some of the retailers, but we never allow this to influence selections. This revenue helps us to fund journalism across The Independent.
Cleansing
Regardless of what skin type you have, the first step in any skincare routine is cleansing, which should be done every morning and evening.
Washing your face in the morning removes any sweat and oil you have produced while you slept and for combination skin, Dr Sheraz recommends avoiding alcohol-based cleansers and bar soaps which can be too harsh.
He says: "It is important not to use harsh products or strong acids on the face. It can be tempting, for example, to use a strong salicylic acid-based product to reduce the oil from the T-zone. However, this, unfortunately, will only make the dry portions drier and will often result in the oilier T-zone compensating and overproducing oil to replace what you have stripped off."
In our guide to best cleansers for combination skin, we were most impressed with the La Roche-Posay makeup remover milk (Look Fantastic, £12.50), which while marketed for dry skin, is gentle and hydrating.
It doesn't leave a noticeable residue that might exacerbate oily areas, and it gives the feeling of properly cleansing the skin to avoid breakouts. It's a great option for something simple that does what it says on the tin, at a very affordable price.
Dr Mahto recommends double cleansing at night. This means using a rich balm or oil cleanser first to breakdown make-up and dirt, followed by a milk or gel cleanser to thoroughly cleanse the skin.
"Oil production peaks mid-afternoon and ensuring sunscreen, sebum, dirt, sweat, grime and pollution are thoroughly removed from the skin surface is important," she explains.
The Clinique take the day off cleansing balm (John Lewis & Partners, £25) is a great all-rounder. It's fragrance-free (a known skin irritant) and once massaged onto a dry face, melts down all make-up, even the most stubborn of mascaras. Simply remove with a lukewarm flannel before doing your second cleanse.
If you're budget-conscious, the La Roche-Posay make-up remover milk works just as well as a morning or second cleanse, making it a great option if you want to streamline your skincare and go for one product that can do it all.
Retinols and AHAs
If you're looking to apply any acids, serums or retinols, the best time to do so is after you have cleansed but before you apply moisturiser.
According to Dr Mahto, keeping your routine simple is key: "Combination skin types are usually lucky and can tolerate most skincare ingredients without too many issues. I would always exercise caution with every skin type, however, and recommend that less is more.
"Layering of multiple different products in the morning and evening is rarely necessary and can lead to problems with dryness and irritation if care isn't taken," she says.
"If you're concerned about skin ageing or improving skin tone or texture, then combination skin can benefit from an AHA or retinol at night," says Dr Mahto.
Retinol is widely considered to be the gold-standard anti-ageing ingredient. Dermatologist Dr Howard Murad explained to The Independent that it dramatically improves all key signs of ageing, minimising the look of wrinkles and crow's feet while lifting and firming skin. "But the benefits go beyond anti-ageing: it visibly brightens dark circles, reduces dullness and even helps to fight acne," he added.
Retinol is available over-the-counter but it's vital it's used correctly to minimise irritation. It's recommended to start with smaller doses once to twice a week and gradually build up tolerance over time. Find out more in our skincare glossary here.
In our guide to the best retinol, we found the Dr Dennis Gross ferulic and retinol wrinkle recovery overnight serum (Cult Beauty, £89) to be a firm favourite. Skin texture and elasticity were visibly improved after just a week's use, as were sunspots and long-standing forehead lines. Our tester's skin was also softer, smoother and brighter.
It also contains ferulic acid, which penetrates deep into the lower levels of the skin, boosting the effectiveness of the retinol and helping to keep it stable. Ferulic acid has powers of its own, too, protecting against environmental damage and improving dark spots, elasticity and texture.
Alpha hydroxy acids, commonly known as AHAs, are water-soluble exfoliants that break down bonds between dead skin cells and clear out your pores. The result? Brighter, smoother skin.
The glycolic acid-based Pixi glow tonic (Look Fantastic, £18) has a cult following for good reason.
It sloughs off dead skin cells, minimises the appearances of pores and stimulates cell turnover for clearer skin alongside soothing aloe vera. To apply, saturate a cotton wool pad and sweep over skin.
If you are seeking a targeted spot treatment to specifically tackle acne, blemishes and scarring, then we would recommend the Kate Somerville eradikate acne treatment (Cult Beauty, £22)
It contains the highest concentration of sulphur that's legally available in skincare – an ingredient that absorbs excess oil that can clog pores and lead to breakouts – as well as camphor, zinc oxide and salicylic acid. We found it particularly effective in preventing spots brewing under the surface from developing further.
To apply, dip a cotton bud into the silt at the bottom of the bottle (don't shake) and apply to spots. We'd recommend using this before bed, unless you plan on spending the day inside, as it leaves a pink residue as it dries.
Moisturiser
A common misconception about combination skin is that a moisturiser will worsen the oiliness in your T-zone, but Dr Sheraz stresses that this is not true, and advises that all good skincare regimens should include a moisturiser.
"During the day you may want to use a thin water-based moisturiser or gel form, something that will last the day and not too greasy or thick to clog the pores. At night you can get away with something that is thicker and more luxurious, which will feel greasier on the skin but will provide the hydration you need overnight."
This Dr Jart+ ceramidin cream (Asos, £35.50) topped our reviews of moisturisers for combination skin and works for both morning and evening use, so while not the cheapest, it's a great all-rounder. The cream contains five ceramides, making the skin feel instantly softer and calmer, but we found it sinks in quickly so it can be used in the morning before make-up – even in place of a primer.
It's a thick consistency but doesn't leave any greasy residue or exacerbate oily areas. It feels like it keeps working within the skin, plumping and hydrating from the inside.
It works equally well as a day and night cream and is packaged in a handy squeezy tube – the new version is also plastic rather than metal, making it much easier to squeeze every last drop out.
SPF
It's a mistake to think a moisturiser is the last step of a skincare routine. Both Dr Mahto and Dr Sheraz advocate for using sunscreen in the morning for all skin types. Not only does it protect you from harmful UVA and UVB rays, it also plays an important role in preventing hyperpigmentation and onset ageing which are increased with prolonged sun exposure.
For combination skin, Dr Sheraz recommends a gel formulation or one with matte-finish. As SPF is worn during the day, and often under make-up, the lighter the texture, the less greasy the finish, which will result in a less oily T-zone.
Another way to minimise oil production is to use an oil-free formula as it won't add extra shine.
This Heliocare 360 oil-free gel SPF50​ (Sknclinics, £30) is a mattifying, non-comedogenic formula that doesn't leave a greasy film on your skin, nor increase breakouts.
We were also impressed with Clinique's SPF50 mineral sunscreen fluid (Boots, £17.60) for the face, (also available in SPF30), which is also oil-free and gentle enough to use around the eyes.
The liquid left our reviewer's skin soft, while giving that pore blurring effect we all know and love. There is a lack of extra antioxidants in this one so there really are no bells and whistles as such. But it's a great fragrance-free option if you want a no fuss, effective option for combination skin.
Register for free to continue reading
Registration is a free and easy way to support our truly independent journalism
By registering, you will also enjoy limited access to Premium articles, exclusive newsletters, commenting, and virtual events with our leading journalists
Already have an account? sign in
Register for free to continue reading
Registration is a free and easy way to support our truly independent journalism
By registering, you will also enjoy limited access to Premium articles, exclusive newsletters, commenting, and virtual events with our leading journalists
Already have an account? sign in