The Independent's journalism is supported by our readers. When you purchase through links on our site, we may earn commission.
We tried TikTok's favourite silk exfoliating glove to find out if it's worth the hype
The latest product to go viral on the app promises to remove dead skin without any product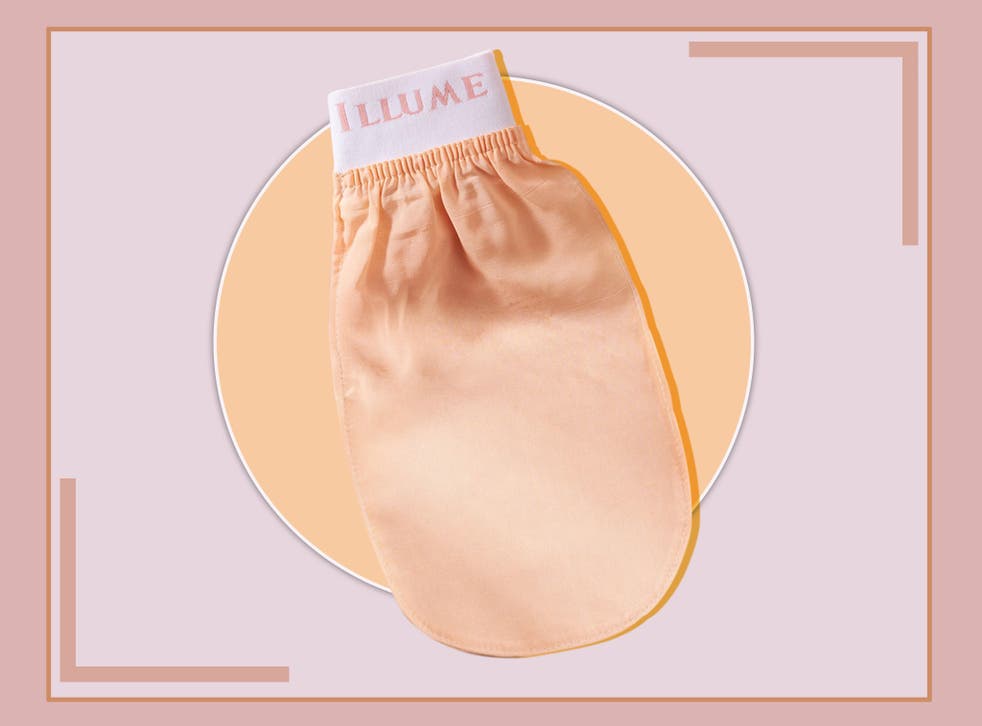 TikTok is the perfect app to pass the time in lockdown and there are many times we've fallen down a rabbit hole of make-up tutorials, dance challenges and cute animal videos.
It's also a great place to find under-rated beauty products that can be gamechangers for your routine, such as the Dr Jart colour correcting cream that conceals redness or the Nyx cosmetics shine loud lip colour that doesn't budge.
Read more: This colour correcting cream has gone viral on TikTok, but does it actually work?
One video we came across recently is from No1 Illume, an independent brand that makes a silk exfoliating glove to leave skin soft and smooth – but is it worth ditching your loofah for?
Costing £15.99 and having amassed more than 137,000 likes on TikTok, we wanted to see if it was worth the hype.
The glove promises to remove the build-up of dry skin, prevent ingrown hairs, improve elasticity, remove fake tan, reduce the appearance of scarring and cellulite and leave skin looking luminous.
There's plenty of products that have earned a cult following off the back of TikTok, and while some are just clickbait, others have taken a spot in our beauty routines, so we had high hopes for this.
Ahead is everything you need to know about the product and if we think it's worth your money.
You can trust our independent reviews. We may earn commission from some of the retailers, but we never allow this to influence selections. This revenue helps us to fund journalism across The Independent.
What is it?
When we opened the box, the glove looked more like a mitten with an elasticated band to keep it securely in place while you buff the skin.
It's made from woven silk viscose derived from wood pulp, an artificial fibre that looks like silk but feels like cotton.
It's not quite what we were expecting – as soon as we heard the word silk we were expecting the slippery soft fabric usually found in luxurious scarves and pyjamas.
Instead, it's a slightly rougher texture that allows you to exfoliate the skin without the need for soap or body wash.
Does it work?
According to the instructions enclosed with the glove, you need to soak skin under warm water in the bath or shower for 10 to 15 minutes, rinse the glove, turn off the water and move it in sweeping motions across the skin.
As instructed, we began buffing the skin, focusing on drier areas such as the knees, elbows and ankles without using any product.
It feels as thin as a muslin cloth with a more abrasive texture, but not as rough as a loofah, providing gentle exfoliation that was painless and fuss-free.
Easy enough to get to grips with, we spent five minutes rigorously rubbing. Unlike in the viral TikTok video, we didn't see any of the skin peeling we were hoping for, although the brand says that this is normal should it occur. Then we squeezed the water out, hung it up to dry from the tie loop and rinsed off.
When we stepped out of the shower our skin was baby soft and smooth, further aided by a generous application of body moisturiser – our current favourite is L'Occitane's ultra-rich body cream (£35, Loccitane.com).
The product is easy to get to grips with and leaves no mess, and we found that it had fully dried overnight. It is effective, even if we didn't see quite the drastic peeling that was featured in the viral video.
As far as luminosity goes, we didn't see much difference in terms of radiance, and we think we'll still be looking to body creams for a glow.
The verdict: No1 Illume 100% silk exfoliating glove
Overall the silk exfoliating glove does a decent job at sloughing off dead skin cells to leave you feeling pampered and smooth, though on this occasion we think the results seen on the TikTok video are a little exaggerated.
It outperforms our loofah, which often drips for ages after we're finished with it, and this is a much tidier way to exfoliate without the need for soap or shower gel. It dries quickly and the elasticated wristband means it doesn't slide off, helping you to reach all areas, particularly around the elbows and knees.
For more beauty reviews, read our guide to the TikTok-famous beauty products that are actually worth buying
Register for free to continue reading
Registration is a free and easy way to support our truly independent journalism
By registering, you will also enjoy limited access to Premium articles, exclusive newsletters, commenting, and virtual events with our leading journalists
Already have an account? sign in