The Independent's journalism is supported by our readers. When you purchase through links on our site, we may earn commission.
7 best leather cross-body bags that will become an outfit staple
From high street gems to designer buys, we find hands-free accessories to see you through summer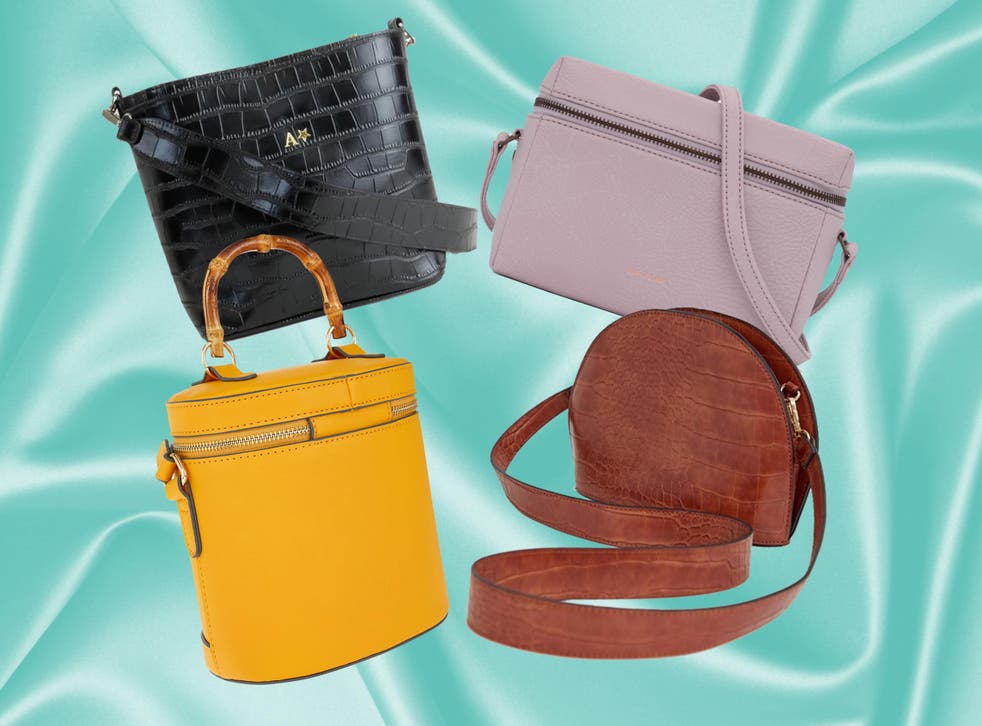 The humble crossbody bag offers the perfect balance between fashion and function: through it's very design it becomes more of an intrinsic part of your outfit than a clutch or handbag, and for that reason it needs to be versatile enough to take you from the perils of your morning commute to a fancy evening do.
From the summer/spring 2018 catwalks, designers brought us the chic circle bag trend, while bucket bags are still all the rage and mini bags that just about fit your phone inside are a new favourite.
A necessity for any bag is that it must be roomy enough to fit all of your essentials but not big enough to feel uncomfortable or cumbersome.
But cross-body bags pose other particular challenges: Is the strap long enough? Is the shape flattering? Is the fastening secure?
We've considered all of these caveats to find you the perfect accessories for every outfit.
So whether you're looking for a fun carrier that will see you through the festival season, or a sturdy everyday option that will work with any outfit, we've found some brilliant bags to suit all occasions, with different styles that are sure to complete your look this summer.
Azurina black croc multi-way cross body bag: £70, Azurina
We're pretty obsessed with Azurina's bespoke accessories, and this real leather cross-body bag is no exception. The croc finish adds an extra something to your outfit while being versatile enough to wear everyday, and we loved the bucket-style and found it flattering to wear across the body despite it being larger than the other bags we tested. This independent brand gives you the option to monogram all of its pieces, so we had our initials embossed in gold and felt like a real Instagram influencer. The chunky strap is sturdy and inside the bag is roomy enough for your essentials and then some. The bag also comes with a separate wrist strap that will take you from the office to drinks. A chic, versatile favourite.
Matt & Nat dwell collection vixen bag in whisper: £70, Matt & Nat
Ok so it's not leather, but it's vegan leather. It's actually made from polyurethane and polyvinylchloride and the lining is made from 100 per cent recycled plastic bottles (around 21 per bag) – the brand recycles an average of 6 million of those pesky single use bottles a year, so it scores eco points all-round. Designed by the brand's Montreal team, we love the boxy style of this bag, especially as it comes in our favourite colour of the season, lilac. The zip pull is also a lovely ergonomically designed shape and if features a slim adjustable strap, an inside mini zipped pocket and comes in a black dust bag, too.
Black croc ring handle circle cross body bag: £28, River Island
Last year's spring/summer catwalks saw the rise of the circle bag trend, where designers such as Chloé and Saint Laurent inspired high street brands to follow suit. This circular number from River Island has some lovely features, including the gold round handles, studs and a chain across the front. We love the classic combination of croc print and gold details and would wear it with a floral summer dress to add some biker-chic, or with jeans and cowboy boots. The nature of the bag's shape means that it's pretty slim for storage, but we appreciated the inside pocket and it's definitely big enough for your essentials. Our only complaint is that the strap is quite thin, but it's a good length so sits well across the body.
French Connection trace recycled leather crossbody bag: £99, French Connection
We love that the brand is thinking about it's eco-credentials here by using recycled leather for this bag. The large circular bag is lined with two wide and slim pockets on either side of the bag to put cards in. Size wise, it has a good depth and can carry all our essentials , and the strap is removable so the bag can be used with just it's top handle too, which we think looks very chic. It comes in three colours: cognac, black and our favourite, perla, which is a lovely light grey.
Asos Design large croc half moon cross body bag: £18, Asos
If you're looking for an affordable summer staple bag, then this is it. We love the half moon shape of this option from ASOS' own collection, it reminds us of the countless cowgirl-chic outfits we saw at Coachella. The chunky gold zip works like a treat (none of that annoying snagging you can sometimes get with cheaper bags) and it's a great size – we managed to fit our purse, lipstick, phone and even a small water bottle inside. This is a great buy for festivals or summer holidays, the chunky strap feels secure and we love the classic deep tan shade.
Accessorize Sierra bucket bag: £27.50, Accessorize
Looking like an old school camera bag – just a very bright and summery version – this bold yellow offering from Accessorize is a good enough size to hold plenty of things, from an umbrella (a British essential) to a decent sized portable charger and even an average size water bottle which we love as many crossbody bags just don't stretch to all of that. But our favourite part of this gorgeous bag is the bamboo-style curved handle. The inside is lined with a very slim pocket and the double zips are very easy to use.
Mango croc-effect mini bag: £35.99, Mango
Definitely not the most practical purchase on our list, but certainly the most fun – this mini cross-body bag from Mango reminds us of lemon sorbet on a hot day. Be warned, the small column shape means it's only good for those of us who pack light, we just about fit an iPhone 7 inside with little room left for much else. But it's great for adding a fun touch to an evening outfit if all you need is your lipstick and cards. The magnetic fastening is surprisingly sturdy and we love the chain strap. Our tester is on the bustier side and noted that it came up short on her when worn across the body, but liked it just as much worn on her arm. The bag has inner lining and also comes in a lilac shade.
The Verdict: Leather cross-body bags
We love Azurina's croc-effect bucket bag for it's versatility, decent size and lovely personalised detailing – we can't stop wearing it. We also love the French Connection trace recycled leather crossbody bag for it's eco credentials, great size and chic colour and style.
Register for free to continue reading
Registration is a free and easy way to support our truly independent journalism
By registering, you will also enjoy limited access to Premium articles, exclusive newsletters, commenting, and virtual events with our leading journalists
Already have an account? sign in
Register for free to continue reading
Registration is a free and easy way to support our truly independent journalism
By registering, you will also enjoy limited access to Premium articles, exclusive newsletters, commenting, and virtual events with our leading journalists
Already have an account? sign in