The Independent's journalism is supported by our readers. When you purchase through links on our site, we may earn commission.
12 best vegan shoes for women
Step out in style with our pick of the best vegan shoes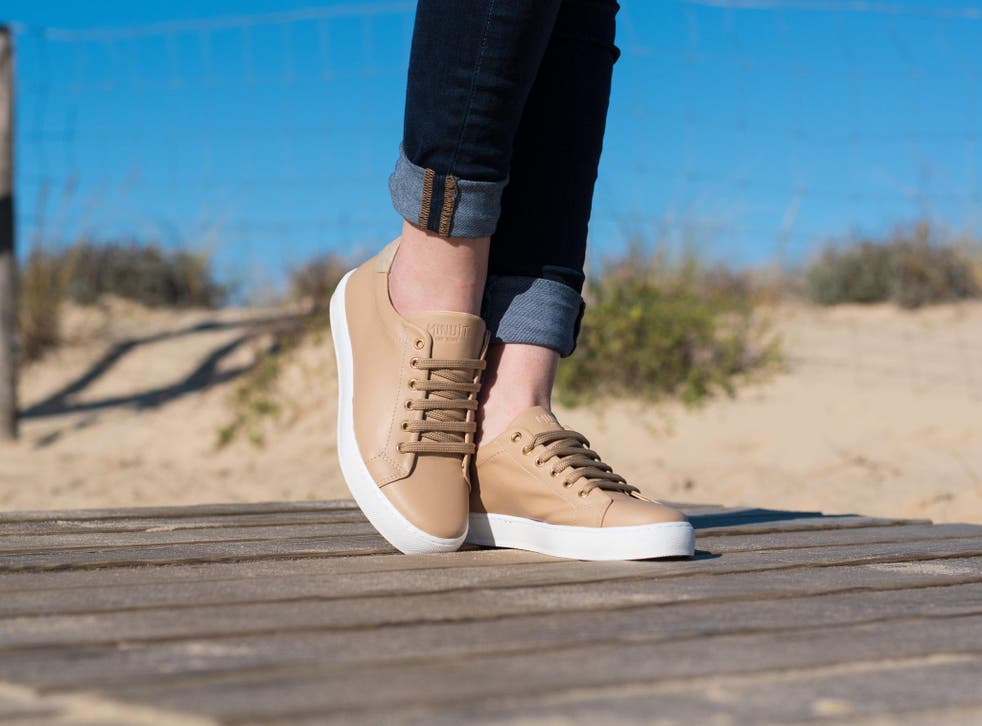 It's still January, which means that many of you might have been giving #Veganuary a go to see whether going vegan is an avenue you could pursue long-term.
Be it in the name of the environment, fears about animal cruelty, health reasons or a mix of all three, more and more people are eliminating animal products from their diet and lifestyle.
Today, more than 3.5 million Brits identify as vegan – that's 7 per cent of the population, and a huge increase from 2016 figures from The Vegan Society, which put the number of vegans over the age of 15 at roughly half a million.
When considering going vegan, most people's first thoughts turn to food ("what, no cheese!"), but there's more to it than that. Namely, you're going to need to reassess your makeup bag and wardrobe.
Leather, suede, wool, silk, mohair, cashmere are all no-gos. Ditto real fur and crocodile skin, obviously, but who wears those in 2019 anyway? Crucially, you also need to pay attention to the adhesives used on bags and shoes, as many glues are made from collagen taken from hooves and bones.
Luckily – and unsurprisingly – well-known brands have been increasing their vegan offerings to meet the rapidly growing demand. Similarly, new fully-vegan companies are springing up with the aim of proving that it's possible to shop ethically without compromising your personal style.
Manufacturers are experimenting with new materials, from faux furs and plant-derived wools to imitation leathers made from high-quality plastics and even pineapple leaf fibres. Lots of these materials perform much better in wet conditions than those you are used to, not spoiling or staining, and tend to be easier to clean too. Information about the materials are commonly found under the tongue of the shoe, and online.
There can be a tension between being vegan and trying to limit your plastic use, but there are many brands which make the best possible use of recycled waste, as well as aiming to cut down on pollution and treating employees fairly. You might want to consider spending more on a really well-made pair of shoes that will last, so as to minimise your contribution to landfill.
If in doubt about a brand's vegan credentials, look for Peta or The Vegan Society logos, or get in touch with the manufacturer directly to ask the question. Not all of the shoes listed here are made by all-vegan companies, though several are – it's up to you to decide how much that matters.
Our roundup consists of a diverse range of footwear, all tried and tested by ourselves or recommended by vegan friends. We considered how comfortable they are to wear, how well they fit, the quality of the materials, their durability and, of course, how much we rated their look. From sneakers to stilettos, loafers to brogues, you're sure to find your new favourite pair…
You can trust our independent reviews. We may earn commission from some of the retailers, but we never allow this to influence selections, which are formed from real-world testing and expert advice. This revenue helps to fund journalism across The Independent.
Toms turquoise corduroy women's carmel sneakers: £33, Toms
Size range: 3-10
Roll back to the Seventies with these laid-back corduroy kicks from Californian footwear favourite Toms. Though not a vegan brand per se, the company offers an extensive range of shoes that are. These sneakers, inspired by the Sunshine State's seaside towns, shot straight to the top of our "must have" list as they tick our three boxes: ethical, comfortable and cool. They're also not like any shoes we've spotted elsewhere, so expect compliments from admiring strangers on the street. Though blissfully lightweight to wear with a cushioned insole, they're also sturdy thanks to a rubber sole. Our faves are the turquoise, but the spicy red ones are hot too. Catch 'em while they're 40 per cent off in the sale and you could even justify buying both, especially as for every pair sold, Toms gives another to an underprivileged child. Go for your usual size.
M&S Collection metal trim loafers: £25, M&S
Size range: 3-8
M&S deserves a shout-out as a high street store with a huge range of vegan shoes that aren't just kind to animals, but well-made and chic too. We were drawn to these metal trim loafers, which come in cheery cherry red or classic black and offer women with broader feet a "wide fit" option. The man-made material mimics suede (so be careful in rainy weather) and has an elegant check lining. They're an absolute steal at just £25 a pair, and so comfy you'll forget to take them off when you get home from a long day's slog. The only downside is that there are no half sizes – if in doubt size up and grab some insoles.
Beyond Skin lexie black faux leather vegan stilettos: £99, Beyond Skin
Size range: 3-8
Every woman needs a reliable pair of black stiletto heels, be it for work, play or both. These faux leather beauties from Brighton-based vegan footwear brand Beyond Skin were recommended to us by a vegan pal who was overjoyed to find some plastic-made shoes that didn't rub and give her blisters (it doesn't give as well as leather does, though). Handmade in Spain, they have pointed toes, a breathable faux leather lining made from recycled materials and a heel of roughly 9cm. Peta has given them the thumbs up, so you can strut down the corridor feeling ethically awesome. No wonder Oscar-winning actor Natalie Portman is one of many famous fans. Some sizes may be out of stock online but we've been assured that they'll be back in shortly, with pre-orders sent out in early March – so don't panic!
Matt & Nat kalista black: £84, Matt & Nat
Size range: 3-8
Canadian accessories brand Matt & Nat totally shun all animal-derived materials, so you can shop conscience-free (sorry, reader's bank balance). These 3-inch block heeled Chelsea boots caught our eye, and certainly do away with any preconceptions that vegan shoes can't be ethical, comfortable and stylish. In fact, the company's motto is "live beautifully", in more ways than one. The Peta-approved Kalistas have a sophisticated pointed toe and are made from black imitation leather, which you'd never know wasn't the real deal. They pull on easily thanks to a smart elasticated ankle panel and came up true to size, while the gum rubber sole is hard-wearing enough to see you through those long days dashing between meetings – and finally to the pub afterwards!
Dr Martens vegan 1461 Oxford brush: £115, Dr Martens
Size range: 3-13
Have you lusted after this classic three-eye shoe with its trademark yellow stitching for years while bemoaning its lack of vegan credentials? Well, good things come to those who wait. The iconic 1461s from heritage Midlands brand Dr Martens are now also being made in a super shiny synthetic material that mimics patent leather, so that everybody – men included! – can bring a touch of rockstar to their footwear. The inner sole is worth paying that bit for – it's air-cushioned and resistant to oil, meaning no slipping and blisters. We were relieved to find that these didn't need to be "broken in" like other Docs do – they were comfy from the first day of wearing them and looked slick with trousers/leggings or a grungy dress. Colour-wise, you can choose from black, the cherry red (seen here), silver chrome or rose gold chrome.
VivoBarefoot ababa canvas dots Womens: £70, VivoBarefoot
Size range: 3-8
Go back to basics with some canvas shoes specially designed by minimalist British shoe company VivoBarefoot to mimic the sensation of being barefoot and free. These dotty delights are handmade in Ethiopia in partnership with social enterprise, Soul of Africa, which supports education projects for disadvantaged kids. Even the print – choose from black or natural – has been designed in collaboration with local painters.
They've got an ultra-thin yet surprisingly hardy rubber outsole but no cushioning or heel ("they impede the natural movement of your foot and were designed for riding horses", apparently) and are entirely free from animal products. They won't be what you're used to aesthetically – they're purposefully much wider than most shoes to reflect the natural shape of your feet, meaning no more cramped toes. If this all sounds consciously charming but you're dubious about how sturdy and comfy they are to wear, the 100-day free trial should help tempt you to give them a try – no likey, just return them at any point.
Collection & Co porto black lace up brogues: £120, Collection & Co
Size range: 2-8
For something that bit edgier, check out the new, fully vegan, Bristol-based footwear brand Collection & Co, who are doing all sorts of cool things with waste materials in an effort to be more sustainable. We fell in love with these lace-up brogues, which come in jet black or rusty orange. They're made in small, ethically-run Portuguese factories from soft faux leather, with faux suede side panels to add textural interest to the design. They slip on and off and have padded insoles for extra comfort, while rubber soles will withstand a pounding of the streets on a shopping mission. The 4cm block heels add a glam bit of height, although shoe lovers with wider feet might want to go for a size up as these are a bit on the narrow side. Oh, and they've got Peta's seal of approval, too.
Birkenstock mayari vegan birko-flor: £60, Birkenstock
Size range: 2.5-11.5
What we love about Birks is that you're offered the choice between regular width (on the wide side) and narrow width, meaning everyone can find a pair of sandals to live in next summer, regardless of the shape of their feet. These have criss-crossed straps that are more slender than the classic design you might be used to. They're made from "Birko-Flor" – essentially PVC with a breathable fleece-like lining. Its look mimics leather's two-tone effect and feels just as gentle on the skin while being easier to clean. It's win-win. The footbed, meanwhile, is the German footwear giant's standard cork with arch support, only it's lined with microfibre, not suede. The sole is made from an elastic material with excellent cushioning. Our pick of the three colours is the cream (pair it with any summer dress imaginable), but we might have to splurge on the dark grey and rose too. Here's hoping they offer a vegan version of the yellow ones soon.
Merrell all out crush 2 gore-tex: £120, Merrell
Size range: 2.5-8.5
For the more active vegans among you, trustworthy trainers are a must-buy. US brand Merrell often pops up as a go-to brand for its small but reliable range of versatile shoes and after trying a pair for ourselves, we can see why. This lightweight pair of colourful kicks are built from Gore-Tex, a synthetic material, which is breathable and waterproof so will protect your feet in all running conditions. The heel is lined with lycra to help prevent rubbing and the sole boasts an impressive grip, even through slippy mud. In fact, these were designed especially with Tough Mudder-type challenges in mind. Expect your arches to feel well-supported, with plenty of room for broader feet. They come in black too, but why go boring when you can go jazzy with these bright blue, pink and coral dazzlers? Half sizes are also available.
Will's Vegan Store Oxford brogues: £78, Will's Vegan Store
Size range: 3-8
For the height of vegan sophistication, no-one does brogues better than Will's Vegan Store in London. Made with a kind of Italian faux leather created from plants and organic bio oil, they are fully decked out with the traditional brogue trim. Our top colour pick is the tan – it shows up all that intricate stitching beautifully – but they come in black or dark brown too. The durable rubber soles offer strong grip, the comfy insoles are made with recycled rubber and there's a small block heel for added suave. Sizing is regular though if you normally look for halves, go one up. The Vegan Society has given this entire range the green light, and Will's is a carbon neutral company that only uses plastic-free packaging, making this the ultimate in ethical browsing.
Po-Zu squadron low-cut sneakers: £45, Po-Zu
Size range: 3-9
Firstly, yes, these are Star Wars-themed trainers (think rubber Rebel Alliance badge, Star Wars logo and galactic silver colouring), so if you're not a fan of the movie space saga, they might not be for you. If you or a friend are, however, they'll make the perfect affordable footwear gift. They slip on and are fantastically comfortable from the off. The outer is made with linen and Pinatex (a fibre made from pineapple leaves), the lining is organic cotton canvas and the insole is made from cork and natural latex, which moulds to your natural foot shape. Islington-born brand Po-Zu (meaning "to pause" in Japanese) is not entirely vegan, but much of its offering is, and all shoes are ethically produced in Portuguese or Sri Lankan factories using sustainable materials.
The Verdict: Vegan shoes for women
We can't count the number of times we've been asked where our Toms Corduroy Sneakers come from, and they're such a pleasure to wear that we quite literally live in them. Add the fantastic value price tag into the mix and it's easy to see why they're our best buy. For something fancier, Free People's mustard vegan heels are a new wardrobe favourite, too.
Register for free to continue reading
Registration is a free and easy way to support our truly independent journalism
By registering, you will also enjoy limited access to Premium articles, exclusive newsletters, commenting, and virtual events with our leading journalists
Already have an account? sign in
Register for free to continue reading
Registration is a free and easy way to support our truly independent journalism
By registering, you will also enjoy limited access to Premium articles, exclusive newsletters, commenting, and virtual events with our leading journalists
Already have an account? sign in