The Independent's journalism is supported by our readers. When you purchase through links on our site, we may earn commission.
8 best bikinis: Make a statement with these bold two-pieces
If your holiday has been cancelled this summer, show off your new swimwear in your back garden with these on-trend styles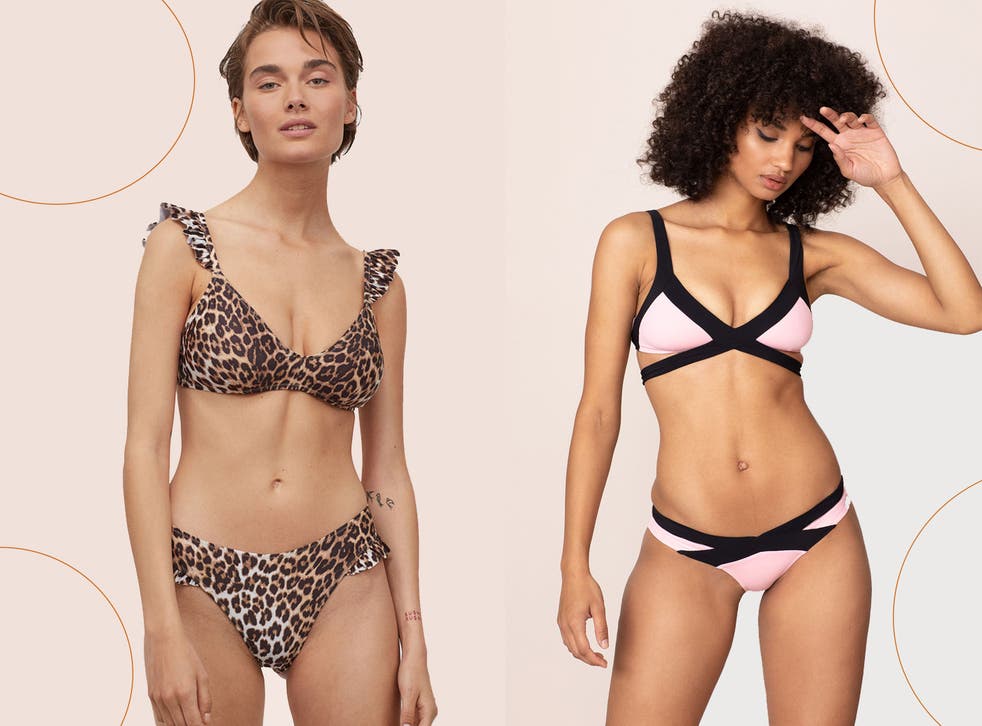 When it comes to clothes, few items conjure up feelings of dread quite like that of the humble bikini. Two simple – often small – pieces of fabric, one giant step for women everywhere.
It shouldn't be, of course, but in a society that has conditioned women to view their bodies as their social currency, bearing it all for the world to see can prompt all sorts of anxieties.
We scrutinise everything and ask ourselves ridiculous questions, like: "What if this strap squeezes this part too much?", and: "How do I position my bottom in a way that will look good on Instagram?".
The thing is, bikinis may mask themselves as sartorial Satans, but if you find one that fits you well and complements your figure, wearing it can do wonders to your confidence. It might even make you feel empowered: "I am woman, see my body in a bikini".
It helps if the pattern is playful, the cut is flattering and the colour is vibrant. Hence, the statement bikini was born, with brands like Ganni, Hunza G and Triangl leading the way in terms of trend-driven swimwear that heralds attention without compromising on style or fit, much like any other good statement item of clothing.
What's more, a lot of these brands are champions of sustainable fashion, meaning your statement swimwear can be just as eco-friendly as it is trend-driven.
Here's our pick of the best statement bikinis to shop now.
You can trust our independent reviews. We may earn commission from some of the retailers, but we never allow this to influence selections. This revenue helps us to fund journalism across The Independent.
Ganni recycled printed bikini top and bottoms: £95 and £65, Ganni
This bikini ticks every box. Sprightly pattern? Check. Flattering fit that complements every curve? Check. Made from 100 per cent recycled materials? Check. This cult Scandinavian brand is better known for its floaty floral dresses than its swimwear, but recent collections have proven its worth in the latter. This latest blue floral design conjures up a nostalgic aesthetic that transports you right back to the French Riviera in the 1950s. The high-rise briefs are very comfortable, too, and hug your hips in all the right places. And the top offers sufficient coverage and support with thick straps and a central clasp. The bikini is also made from recycled polyester, which reduces the dependence on petroleum as a raw material and can also prevent plastic from clogging up landfills. It's a showstopper in every way.
Agent Provocateur mazzy bikini top and bottoms: £110 and £85, Agent Provocateur
This might just be the most flattering bikini ever made. The staple from Agent Provocateur is renowned for its sexy straps and criss-cross fit. The top is suited to small-breasted women and will create a cleavage for almost anyone. The bottoms offer just enough coverage for them not to make you feel like you're exposing yourself, but the fit is, shall we say, cheekier than most. The one problem with this bikini is that, despite its high price tag, it won't stand the test of time with plenty of wear. Save it for special occasions, and for the love of god do not put it in the washing machine. Preserve this beauty and it will serve you well.
Triangl Avah tangerine floral set: £70, Triangl
The winning feature of this bikini is its vibrant colour. It's a bright shade of egg yolk that will make even the most sun-deprived of bodies look like they're in rude health. The cupped bikini top is a little on the small side, so don't expect a huge amount of coverage, but it's fitted in a way that complements the figure. Embrace it.As for the bikini bottoms, you can order them in a full or "cheeky" cut. The former being for more coverage while the latter is for less. The neoprene material is incredibly long-lasting, too. So while the price tag is steep, in this case, it's totally worth it. You can wear a Triangl bikini time and time again each summer and it will still look just as good five years on. This is a worthy investment.
Ayla Swim sweetheart bikini top and bottoms, risso print: £85 and £65, Ayla Swim
The top of this bikini is brilliant for larger breasted women. The thick straps offer full support and you can create added shape thanks to the central elasticated tie. It's a rare shape, but the design is truly glorious, particularly when paired with the full briefs. The pattern is a joyful starry-eyed one – even though they are actually flowers– whose pink shade offsets the deep blue just perfectly. It will also accentuate your waist. This is another sustainable choice, too, given that Ayla prides itself on making swimwear from entirely recycled materials. You can also buy a matching mini skirt in the same pattern, which would make a cute co-ord when paired with the bikini top.
Rixo Jessica polka dot bikini set: £140, Rixo
This polka dot bikini comes with an underwired bra that feels very supportive. We love fabulously frilly straps, but they can easily be pulled downif you're concerned about tan lines. The bottoms come with a neat side-tie and fit comfortably. The polka dot print offers instant glamour, but you can elevate this particular bikini by pairing it with the matching polka dot ankle-length skirt, a giant sun hat and some oversized round sunglasses. Think Grace Kelly in To Catch a Thief.
& Other Stories Seersucker bandeau bikini top and bottoms: £27 and £23, & Other Stories
Gingham is a failsafe pattern for summer – and it looks particularly joyful when splattered across swimwear. In this instance, the top is in a bandeau fit and comes with simple slim straps that you can adjust. The bottoms are low-rise and come in an underwear-style and offer full coverage. It's not the most sustainable of choices, and it won't last you many summers, but this pattern packs a punch and we love the fit.
H&M padded bikini top and bottoms: £14.99 and £9.99, H&M
It wouldn't be a statement bikini round-up without a splash of leopard print. This one, courtesy of H&M, fits the bill perfectly. The ruffled straps on the top offer some texture while the deep V-neck adds a girlish charm. The ruffles come on the bottoms too, which flatter the hips and can be pulled up high to give a retro Baywatch-era look. This bikini is also very affordable, and while the material isn't exactly durable, it will last you through the summer.
Hunza G Jean bikini set: £135, Hunza G
This British brand has become famed for its crinkly bikinis that squeeze your body in all the right places. This classic design is a winner for all body types. The top is comfortable and doesn't fall off when you jump into the pool – a rarity among strapless designs – and the bottoms make every derrière look perky. This bikini claims to be one-size-fits-all, but will actually only fit UK sizes 6-14. That's good news if you fall into that category as you can avoid the hassle of returns, but we'd like to see an extended range. Yes, they are expensive. But the brand's crinkly material really is one-of-a-kind, and it's the kind that will last decades.
The verdict: Bikinis
When you take all things into consideration –style, fit, pattern, sustainability – the Ganni bikini wins hands down. It has a wonderful retro feel to it but is somehow still timeless in its design. It's also comfortable and flattering on all body types. But best of all, it's one of the most sustainable options here given it's made entirely from recycled materials. Snap it up now before it sells out.
Register for free to continue reading
Registration is a free and easy way to support our truly independent journalism
By registering, you will also enjoy limited access to Premium articles, exclusive newsletters, commenting, and virtual events with our leading journalists
Already have an account? sign in
Register for free to continue reading
Registration is a free and easy way to support our truly independent journalism
By registering, you will also enjoy limited access to Premium articles, exclusive newsletters, commenting, and virtual events with our leading journalists
Already have an account? sign in