The Independent's journalism is supported by our readers. When you purchase through links on our site, we may earn commission.
10 best record players
Join the vinyl party with a stylish machine. IndyBest turns up the volume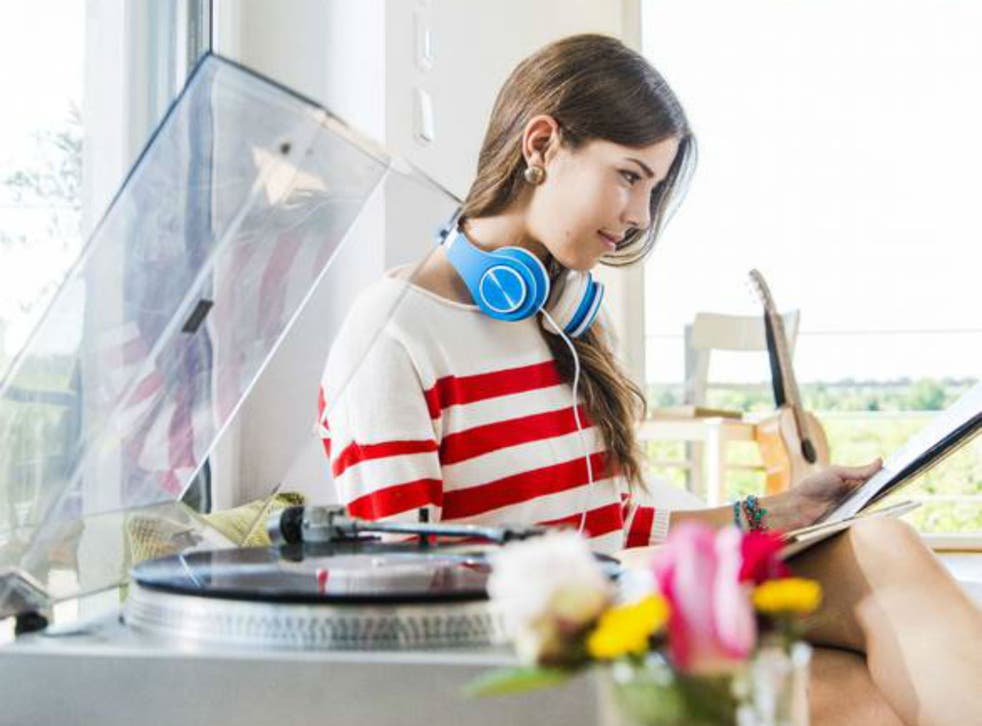 Vinyl is having a resurgence. Sales reached 1.3 million in the UK last year and this week, Tesco became the first UK supermarket to stock the format with the release of Iron Maiden's The Book of Souls (though we'd still prefer to shop in our local independent record store). Specialist players are now readily available - and there are a plethora of options; from retro-styled ones to make a statement to slick-looking, super-modern machines.
These all-in-one vinyl-playing stereos avoid the messy world of turntables, pre-amps, belt or non-belt driven machines and actuators. Some come with CD players and radio tuners, others with USB ports and Bluetooth connectivity to play your digitally stored music. We had a listen to a range to bring you user-friendly gadgets that offer great sound in a good-looking package - for a fair price.
1. Crosley Keepsake Deluxe: £147.66, amazon.co.uk
This one's for fans of retro-looking players and it's super-simple to use. With just two switches - on/off and volume - it's hard to go wrong, and the line in and line out allows you to play your mp3 player or connect the turntable to extra speakers.
Buy now
2. UO X Dansette Bermuda: £250, urbanoutfitters.com
With classic sixties' styling, this free-standing machine - a collaboration between Urban Outfitters and Crosley - is a cool piece of furniture in its own right. It's an easy-to-use turntable, and can also play music from your MP3 player. Sound-wise, it's most effective in a bedroom or smaller sitting rooms. The legs are removable.
Buy now
3. Soundmaster Vintage Gramophone: £226.73, amazon.co.uk
Here's a new record player with a vintage-looking, conversation-starting funnel speaker. It's not all style over substance though - it sounds as good as it looks and the stereo also plays radio, CDs and cassettes.
Buy now
4. Crosley CR6010: £119.99, amazon.co.uk
With a stylish briefcase design, this compact player is one for fans of 45s. Its large full-face speaker grill makes it ideal for a bedroom sound system. Though it can play LPs when its lid is taken off, its forte is as a singles player.
Buy now
5. Auna 388-BT: £144.90, hifi-tower.co.uk
The two speakers and USB MP3-playing and recording functions, make this our favourite party player. The hi-fi has a radio, CD and a cassette player and can play MP3s through its Bluetooth interface, too.
6. Auna Belle Epoque 1908: £159.90, hifi-tower.co.uk
Loud speakers on this solid machine make it suited to a communal space. It doesn't scrimp on tech either; its USB output means you can can convert vinyls into MP3s, as well as listen to radio, CDs and cassettes.
Buy now
7. Ion Max LP: £78.99, ebuyer.com
This understated all-in-one will convert your records into digital files using the brand's efficient software. The natural wood finish makes it more inconspicuous in a room than some on the list, if that's what you're after.
8. Steepletone ST926: £44.99, amazon.co.uk
This sleek-looking, all-in-one turntable is one of the best-sounding and idiot-proof players we found. Just pull the arm over the record and you're good to go. We'd suggest using the internal speakers over the external output system, though.
Buy now

9. Auna Jerry Lee Retro: £52.90, auna-multimedia.co.uk
This briefcase-style record player is built for easy carrying. With internal speakers, it's compact and ideal for a student heading off to a halls of residence. It can also be powered by USB and can transfer music to a computer.
Buy now
10. Teac LP-P1000: £289, audiovisualonline.co.uk
For a vinyl lover, this beautiful-looking stereo does everything you need . The CD, radio and Bluetooth-supported design is a easy to work - and a pleasure to listen to. Comes in black or with a cherry wood finish
Verdict:
If you're after a portable player, Auna's feature-heavy, stylish Jerry Lee Retro player is our pick. The Teac LP-P1000 gets our vote out of the stay-at-home record players, with its Bluetooth interface and smart design.
Register for free to continue reading
Registration is a free and easy way to support our truly independent journalism
By registering, you will also enjoy limited access to Premium articles, exclusive newsletters, commenting, and virtual events with our leading journalists
Already have an account? sign in
Register for free to continue reading
Registration is a free and easy way to support our truly independent journalism
By registering, you will also enjoy limited access to Premium articles, exclusive newsletters, commenting, and virtual events with our leading journalists
Already have an account? sign in