10 best Yorkshire beers
God's Own Country is home to some divine booze. Here are the breweries to take your taste buds to hoppy heaven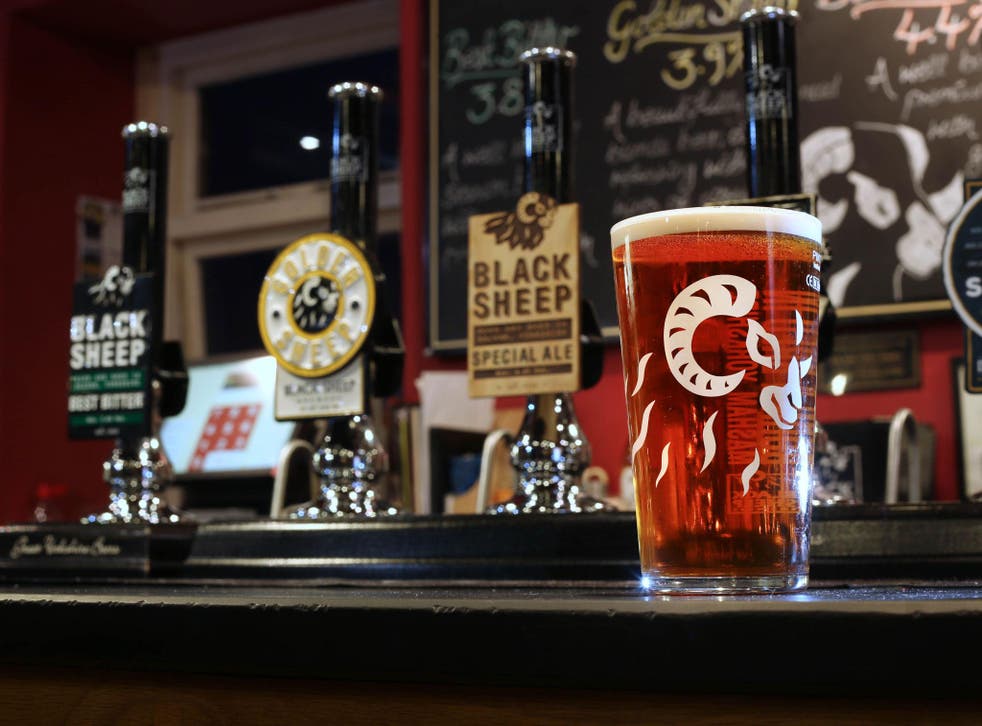 Ask a Yorkshire native where the best beer comes from, and they'll likely answer: "Yorkshire."
And although you'll probably get the same response from any question beginning "where does the best…" with beer, at least, there's a fair case to argue.
Throughout the region, local producers are quenching Yorkshire drinkers' thirsts with almost any style you care to imagine. Breweries such as Samuel Smith and Theakston have been serving up pints of popular beers for decades. Knaresborough's excellent Roosters can claim to be one of the first British breweries to embrace American hops (seek out Baby Faced Assassin for a taste of how it's done). And newer breweries are conjuring up beers that continue in the British tradition for real ale (check out Great Newsome's Frothigham Best or keep up with the ever-evolving contemporary brewing scene – see Vocation and BAD Co for some modern brewing excellence.
We've taken our taste buds on a tour of region that locals call "God's own" and have suggested this list of 10 to represent the best of its brewing output.
1. Magic Rock Rapture, 4.6%: £1.99 for 330ml, Beers of Europe
We've picked Magic Rock's popular red ale for this list, but everything that leaves its Huddersfield HQ is of exceptional quality, so load up on a mixed case while you're at it. The brewery is known for producing highly hopped beers, but in this one the six hop varieties have been joined by five different types of malt used. This gives the beer's body a rich complexity of soft, grainy flavours – fruit, dough and toasty caramel among them – while a pine and orange hoppiness brightens the brew before serving up a satisfyingly long, dry finish.
2. Ilkley Brewery Notorious F.I.G., 7.5%: £3.29 for 300ml, Beer Hawk
Ilkley Brewery is one of the most consistently brilliant in the land, turning out almost any beer style with confidence. Want an American Amber ale? Seek out Rombald, full of tangy citrus flavour. Interested in trying a white chocolate stout? Then pick Westwood, brewed in collaboration with BrewDog Leeds. Or how about Notorious F.I.G, a Belgian-style dubbel. But it's not any old dubbel: this one has been infused with figs. It has a subtle, mature sourness – evident on the nose from the outset – and a very rich fruity flavour. You would do well to guess figs were responsible without prior knowledge, perhaps picking out sharp, juicy plums instead, and there's also a brown-sugar sweetness with a slightly chalky dry finish that comes with a hint of roasted coffee. A great beer that keeps the Ilkley reputation rolling.
3. Hop Studio India, 5%: £2 for 330ml, Eebria
This session-strength IPA is like a Yorkshire golden bitter that has been given an American makeover. It may be full of modern hop flavours, but beneath them all is a solid body built of bready malt and yeast that is distinctively British. The hop quartet of Cascade, Centennial, Columbus and Chinook provide fruity and bitter flavours, with grapefruit the most prominent among them and some grassiness developing towards the finish. Although it has a modern hop bitterness, it shows just enough restraint to persuade any Yorkshire ale traditionalists that it's well worth investigating…
4. Black Sheep Riggwelter, 5.7%: £1.65 for 500ml, Morrisons
Riggwelter is a traditional Yorkshire ale, a strong, dark-hued brew, rammed with espresso, liquorice and the hint of ripe banana. It pours the colour of burnt sienna with a rich, creamy head, smelling of sweet malty molasses with a long, dry, refreshing finish. In case you were wondering, a "Riggwelter" is a pregnant sheep that has become marooned on its back, legs in the air. If you should stumble across such a beast while up mountain or down dale, return it to the upright position and send it on its way. So now ewe know.
5. Bad Seed Brewery Cascadian Dark Ale, 5%: £2.65 for 330ml, Eebria
Malton's Bad Seed Brewery has a plethora of fine, flavoursome boozes on its books, but this resinous, experimental ale is our top, hoppy pick. It's a dark, brooding booze of Heathcliff-ian proportions – it pours with a fine, upstanding head of froth but underneath the surface, the dark swarthy liquid swirls with piney hops and dank malt flavours. There are roasted malts and a touch of vanilla on the nose, with a delicious, melancholic bitter bite on the finish. For best results, drink on the rocks – rain-lashed granite rocks.
6. Saltaire Triple Chocaholic, 4.8%: £2.10 for 500ml, Waitrose
Saltaire's multi-award winning Triple Chocaholic is an easy-drinking stout. It's toasty without being overly dry-roasted; it has a bitterness that teases the palette rather than destroy it; and it's smooth and creamy without being too thick to glug. Best of all, it's full of chocolate flavours imparted from both brewing malts and real chocolate additions. Not too sweet, not too dry, simply beer and chocolate perfection.
7. North Brewing Co Piñata, 4.5%: £2.50 for 330ml, Eebria
The trend for ales loaded with fruit has reached Yorkshire, and Leeds-based North Brewing Co has already cracked the style. Not content with raiding Yorkshire's rhubarb triangle for "Volta", its excellent blood orange and rhubarb sour, it's also plundered warmer locations for this murky-looking mango and guava pale ale. Although tropical flavours are immediately apparent, this is no boozy fruit juice: the more familiar beer ingredients still dominate with a punchy, resinous hop bitterness bursting through the exotic fruits. Expertly done.
8. Brass Castle Bad Kitty, 5.5%: £2.50 for 330ml, Eebria
Here's another Malton-based brewery, and another beermaker shunning filtration to produce characterful, flavour-packed beers. Bad Kitty is a gutsy vanilla porter, an unabashed boozy number with a smooth, slinky mouthfeel that's dangerously moreish. It makes a fine fireside sipper, but is also great straight from the fridge to accompany a meaty, summertime BBQ feast. Excellent.
9. Northern Monk Eternal, 4.1%: £2.29 for 330ml, Beer Hawk
Northern Monk has some impressive boozy beers in its line-up, such as the 10% abv Double Heathen, but we've opted for its crowd-pleasing classic, Eternal, a modern session IPA that ticks all the style boxes. It's light and innocent to look at but comes armed with modern hop power, full of pithy citrus bitterness and a long finish. A great post-work thirst quencher: that hoppy finish will stay with you through supper, just fading in time for the evening session to begin.
10. Timothy Taylor's Landlord, 4.3%: £1.65 for 500ml, Morrisons
There was a time when Landlord scooped up every brewing gong the industry cared to hand out, helping maintain Yorkshire's – and Britain's – reputation as a centre of brewing excellence. These days competition is much fiercer, but Landlord is still a highly sought-after pint. It's a pale ale with a faintly sweet, malty base and is brewed with three hops – Styrian Goldings, Goldings and Fuggles. These give the beer more flowery and summer berry notes than you find in contemporary American hopped ales, but they also provide satisfying levels of bitterness and the type of dry finish that makes you turn a sip into a mouthful. Classic stuff.
The Verdict: Yorkshire beers
Black Sheep's Riggwelter is a traditional taste of Yorkshire, but the likes of Magic Rock are helping to win over new audiences for the region's beer, with Rapture just one of its many excellent hoppy ales worth sampling.
Nick Moyle and Richard Hood are the Two Thirsty Gardeners. Their book, Brew it Yourself, is out now
IndyBest product reviews are unbiased, independent advice you can trust. On some occasions, we earn revenue if you click the links and buy the products, but we never allow this to bias our coverage. The reviews are compiled through a mix of expert opinion and real-world testing.