The Independent's journalism is supported by our readers. When you purchase through links on our site, we may earn commission.
10 best London beers
Ahead of London Beer Week, we treat ourselves to the best offerings brewed in the capital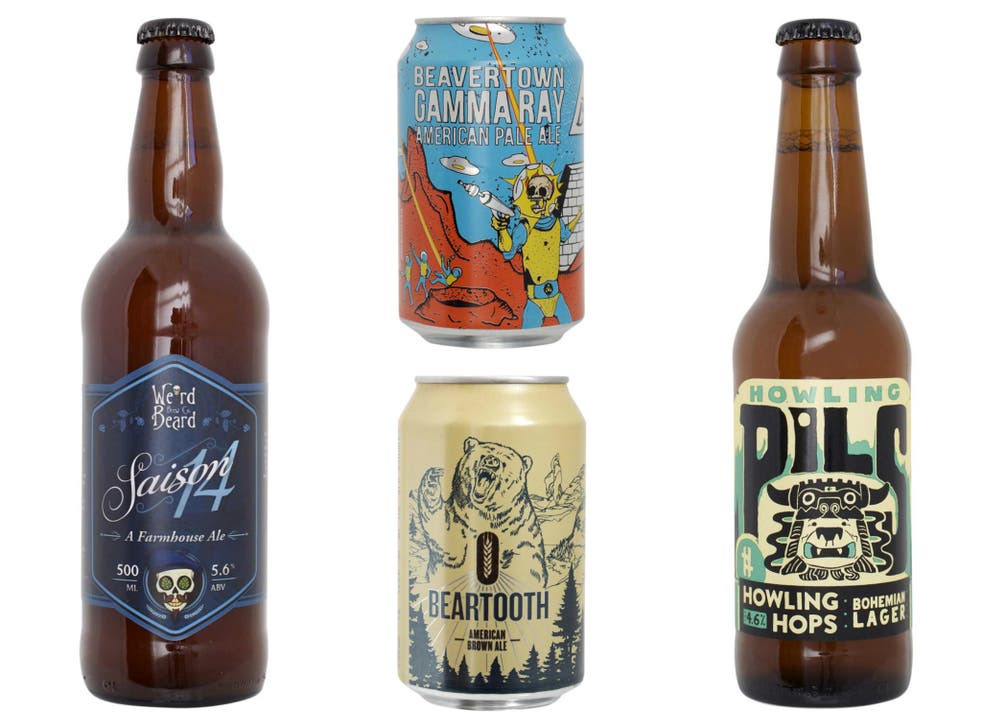 London Beer Week is a chance for the city to celebrate its enormous contribution to the current British beer revolution, with a seemingly endless stream of entrepreneurial hop-heads re-establishing London's place on the top table of brewing locations.
There were only two breweries in the capital as recently as 2006, but some areas of the city, notably Bermondsey and Hackney, are now so dense with active fermenters that the air increasingly smells of malt and hops.
There are hundreds of great beers to choose from, but we've whittled them down to ten contemporary classics. Once these have passed your lips, explore the beery delights from other London breweries such as Partizan, Brockley, Redchurch, Meantime, Brew by Numbers, Camden, Hammerton and a whole lot more…
1. Beavertown, Gamma Ray, 5.4%: £2.50 for 330ml, Beer Merchants
If beer didn't already exist you suspect Beavertown would've invented it, such is the ease at which it churns out exciting new brews. Before embarking on their more unusual flavour combinations (such as sea salt and sour cherry) check out their American Pale Ale, a class act laden with fresh hop goodness.
2. Fuller's, London Porter, 5.4%: £1.80 for 500ml, Sainsbury's
The city's most famous beer style, as interpreted by its most famous brewer, this London Porter has become a standard setter. A touch of sweetness accompanies roasted coffee and chocolate flavours, with a gentle hop bitterness lingering in the background. The taste of London.
3. Anspach & Hobday, The Smoked Brown, 6%: £3.50 for 330ml, Beer Merchants
Inspired by an age when London's brewers dried their malts in flame-heated kilns, this beer has a subtle smokiness permeating the flavour and aroma. A fruity bitterness is underpinned by an oak dryness, creating an unusual beer full of intrigue and complexity.
4. The Kernel Brewery, India Pale Ale (Mosaic, Summit, Citra), 6.8%: £3.25 for 330ml, Beer Merchants
The Kernel Brewery has built a reputation for producing some of the finest IPAs in the land, bottle-conditioned and bursting with flavour. Using different combinations of hops ensures there's always something new to tempt the taste buds – such as the gently bitter grapefruit and tangerine teased from the hop medley in this bottle.
5. Crate Brewery, Stout, 5.8%: £2.80 for 330ml, EeBria
Crate is a pizzeria, bar and brewery in Hackney Wick brewing a core range of classic styles alongside the occasional maverick creation. Their stout displays a good dose of roasted malt and rich fruit flavours. Well-balanced and effortlessly drinkable.
6. Howling Hops, Pils, 4.5%: £2.60 for 330ml, EeBria
Pilsner fans will be howling with delight – the precision brewing techniques required for Bohemian lagers have been mastered by a British brewery. A smooth drink with a sun-scorched grassy hop aftertaste makes this the coolest choice in the heat of the city.
7. Fourpure, Beartooth, 5.3%: £2 for 330ml, Fourpure
Fourpure is a canned beer innovator, creating an impressive range of fresh and flavoursome beers. Beartooth is an American-styled brown ale bristling with coffee and zesty pine aromas. There's a bitter malt bite, softened with a touch of sweet cocoa. Rip-roaringly good.
8. Weird Beard, Saison 14, 5.6%: £3.10 for 500ml, Beer Merchants
A West London trading estate may seem a world away from the fields of Belgium, but that hasn't stopped Weird Beard from brewing up a fine farmhouse-style saison. Crackling with yeasty spices and lemon fresh hops it's best served cold with a good dose of sun.
9. Pressure Drop, Pale Fire, 4.8%: £2.85 for 330ml, Beer Merchants
A delicate malt sweetness, tropical fruit aroma and subtle bitterness make this hazy amber liquid the perfect session ale. Brewed with different hops each time, it's an ever-evolving work of art worthy of revisiting on a regular basis.
10. The Five Points Brewing Co, London Smoke, 7.8%: £2.99 for 330ml, Beers of Europe
Some serious alcohol lurks behind the luxurious flavours in this imperial porter. Liquorice and chocolate pamper the palette while a waft of smoke and leather provides olfactory satisfaction. London beer at its most majestic.
Verdict
Fuller's London Porter may be the traditional taste of the city, but Beavertown is leading the charge of the new wave of brewers and Gamma Ray is a standout creation. The toast of London.
Nick Moyle is one of the Two Thirsty Gardeners and will be providing tutored tastings and home brew advice at Craft Beer Rising, part of the London Beer Week celebrations. For more information visit craftbeerrising.co.uk
Register for free to continue reading
Registration is a free and easy way to support our truly independent journalism
By registering, you will also enjoy limited access to Premium articles, exclusive newsletters, commenting, and virtual events with our leading journalists
Already have an account? sign in
Register for free to continue reading
Registration is a free and easy way to support our truly independent journalism
By registering, you will also enjoy limited access to Premium articles, exclusive newsletters, commenting, and virtual events with our leading journalists
Already have an account? sign in