The Independent's journalism is supported by our readers. When you purchase through links on our site, we may earn commission. Why trust us?
10 best ethical chocolate brands that go the extra mile
Chocolate is a luxury and, as consumers, we should be paying a fairer price for it. Here's our selection of the best companies who are looking after far more than just their own profits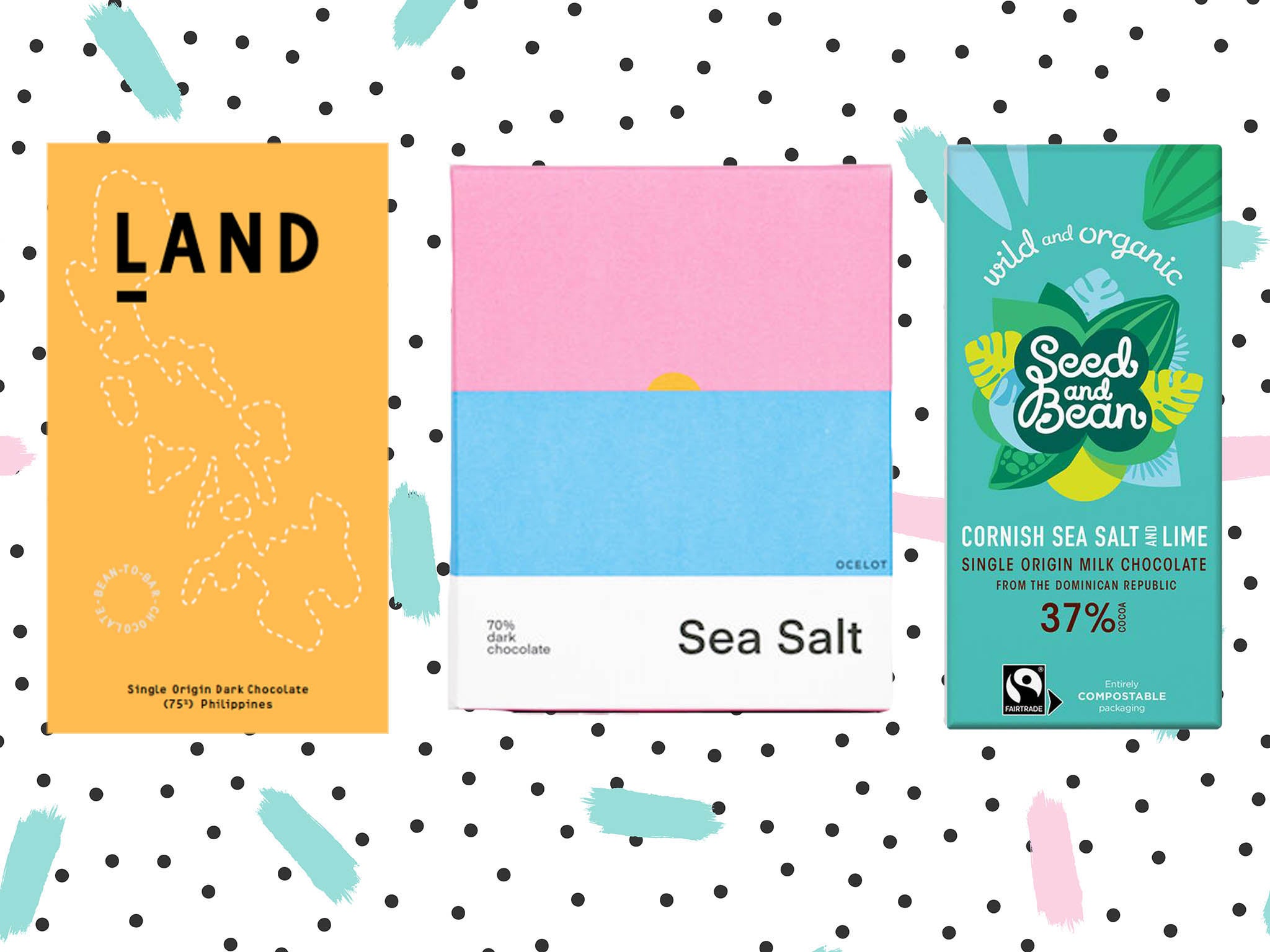 For thousands of smallholder producers around the world, the Fairtrade minimum price is a safety net that supports the unfairly paid at the bottom of the supply chain.
Farmers who benefit are paid a fair price that is set based on a consultative process with workers and traders to ensure the sum covers what it costs to grow their crop.
Importantly, the money is guaranteed to never drop below market price. It also includes second premium payments to help farmers invest in their own community programmes.
Despite this all sounding promising, consumers will more than likely assume the product they're buying with the Fairtrade mark is 100 per cent Fairtrade.
But that's not the case. In 2011, the Fairtrade Foundation changed its rules so that in order for a product to receive Fairtrade status, only 20 per cent of the product's ingredients need to meet Fairtrade standards, instead of the previous 50 per cent.
This means that farmers are not benefiting from the price of the entire product, as consumers would think they are.
When it comes to finding an ethical chocolate bar, it's even better to look beyond the Fairtrade mark and research ethical brands that go beyond what Fairtrade pays, and ultimately is investing in improving their produce.
As Phil Landers, founder of Land Chocolate, says: "The most important question to ask is, how much of that 60p from a corner shop chocolate bar goes back to the farmer". Here, we have tested each bar for sustainable practices, taste, value and recyclability.
You can trust our independent reviews. We may earn commission from some of the retailers, but we never allow this to influence selections, which are formed from real-world testing and expert advice. This revenue helps to fund journalism across The Independent.
Tony's Chocolonely milk chocolate bar: £3.49 for 180g, Waitrose
This brand burst onto the UK scene to huge fanfare because the ethos behind the Dutch company is to fully eradicate child slavery in chocolate production. It sees itself as an "impact" company that makes chocolate, rather than just simply a chocolate producer. It openly shares the details of its supply chain and follows these five main principles: being able to trace where all its ingredients come from, paying higher prices to farmers, improving farmers' productivity and encouraging them to adopt modern practices and diversify their crops, and investing in long-term commitment and farm cooperatives to empower farmers to work together.
The sugar, cocoa butter, cocoa mass (actual chocolate) and honey are all Fairtrade and all comes from one of the five cooperatives on Ghana's Ivory Coast. The brand pays farmers a living wage that is relevant to the size of their farms and families and is made up of the "Tony's premium" combined with the Fairtrade price. When you open the bar, you'll notice the pieces of chocolate are not in perfectly formed squares, and this is to represent how the money made from cocoa is unevenly divided. The milk chocolate bar is creamy and a substantial size that warrents sharing.
Seed and Bean organic dark 66% chocolate with Cornish sea salt and lime: £2.99 for 85g, Planet Organic
Started in 2005 by Stephen Rudkin with the intention of being an ethical brand, that uses organic and small scale suppliers, Seed and Bean pays above market price for their cacao, the company only uses FLO certified chocolate (the certification for Fairtrade Standards) and none of it is mixed with conventional chocolate – that's not Fairtrade – meaning farmers benefit from the Fairtrade premium from 100 per cent of the bar.
It's made in small batches of 45l instead of 10,000l that large brands use. Of the list of 23 bars, our favourite is the Cornish sea salt and lime that gives a citric tang to the classic flavour. The packaging was recently changed to be 100 per cent compostable, including the inner foil, which is made from eucalyptus tree pulp.
Willie's Cacao milk of the stars: £2.15 for 80g, Amazon
Founder of this brand Willie Harcourt-Cooze bought his own farm in Venezuela in the mid-Nineties but has since moved production to the less troubled countryside of Devon. You may recognise him from the 2008 Channel 4 documentary, Willie's Wonky Chocolate Factory, but it's not all jokes because he's serious about ethics. Instead of labelling itself as Fairtrade, the company practises direct trade: buying straight from the farmers and paying a premium of at least $500 (£400) per tonne, which is around $300 more than Fairtrade prices.
Although there's no certification of organic, Willie only sources cacao from farmers who don't use chemicals, which he visits himself to check. If that's not enough, the beans are also tested when they get back to the factory by external laboratories. The brand is best known for its dark bars that use beans from around the world, but we really like the milk of the stars bar, which uses 54 per cent cacao from Indonesia, it's creamy but not overly milky and retains its high quality.
Ocelot sea salt dark chocolate: £5 for 75g, Ocelot
We know you shouldn't judge a book by its cover, but each of the seven flavours in Ocelot's range has its own hand-drawn design by Edinburgh based co-owners Matt and Ish, which we love. And the inside is just as good: a delicate and silky, organic square slab of high-grade chocolate, made with cocoa from ethical brand Original Beans that's blended with organic cocoa butter and sugar. Ocelot plan to produce its own chocolate soon too.
The brand is part of the Direct Cacao organisation for bean to bar makers, buying directly from farmers for a higher price than the Fairtrade standard and also pays a fair living wage to workers. The external FSC cardboard box can be recycled and uses water-based inks, and the inner plastic is compostable. Our favourite flavour is the sea salt, made with 70 per cent chocolate from sustainably grown beans in Virunga National Park with a dash of salt from the Isle of Skye.
Land 75% Philippines chocolate bar: £5.50 for 60g, Land
The one man band, Phil Landers, behind this single-origin brand does everything from roasting the beans to wrapping his bars by hand all in the same workshop in east London. He pays between two and three times more than the Fairtrade price, working as directly with farmers as possible. He worked with the chocolatier Paul A Young and later the Mast Brothers in 2015 as a maker, and set up his own business the following year after working on a cocoa farm in Central America, which inspired him to make his own chocolate.
He now makes six varieties of small-batch bars that are flavoured by country, from the Philippines (our favourite and the newest) to the 70 per cent Honduras bar. All the packaging is recyclable.
Eat Your Hat organic 95% dark chocolate from Sao Tome: £3.16 for 91g, Eat Your Hat
After launching in 2019, Eat Your Hat bills itself as doing the incredible: being organic, sustainable, fair and delicious. And it actually is all three, so you can eat your hat if you thought it wasn't possible... or just the chocolate. Created by Traidcraft, a company that's pioneered fair trade since 1979, the chocolate is also World Fair Trade Organisation certified, which insists on a minimum Fairtrade percentage at 60 per cent.
All its cocoa and sugar is Fairtrade and is never mixed with anything else. The cacao comes from Sao Tome in Central Africa from smallholder farms and the organic sugar comes from the Philippines. The inside packaging, which at first glance looks like a foiled plastic wrapper, is plant-based and completely compostable; made from wood pulp, it will break down within a year. There's seven flavours, and our favourite is the turmeric and black pepper, which gives an elegant spice to its beautifully smooth 75 per cent dark chocolate.
Chocolate And Love pomegranate 70%: £3.29 for 80g, Chocolate And Love
Created by Danish couple Scot Richard O'Connor and Birgitte Hovmand (who decided to move to an organic diet while Birgitte was pregnant), the brand's aim is to make quality, organic and ethical chocolate at an affordable price. All the ingredients come from sustainable sources, including cacao from Panama, Madagascar, Peru and the Dominican Republic and are sourced from small, family-run farms with an average size of five acres.
Our favourite is the newest addition, pomegranate 70 per cent. The outer wrapping is 100 per cent FSC and the inner wrapper is also biodegradable; made from sustainably harvested wood. The brand has planted 28,000 trees in Ethiopia since 2010 that helps offset the production of the paper wrapper.
Cacao Crudo dark lemon zest chocolate: £2.60 for 30g, Cacao Crudo
This Italian artisan organic product has a transparent supply chain and focuses on sustainability and the environment, while not using any animal products, so it's pretty much the whole deal for the conscientious eater. Behind it all is Daniele Dell'Orco, an anthropologist and food researcher, who uses small and medium-sized farms. The chocolate is raw and uses only criollo cacao (the variety used for luxury chocolate), grown in the Amazon rainforest.
We like the dark lemon zest flavour, which has just a little bite. The inside packaging looks like a non-recyclable foiled plastic but is made from 100 per cent recycled straw and can be composted within three to six months. It only uses vegetable inks, so you're not putting any chemicals into the earth while doing it either.
Divine Fairtrade milk chocolate: £2.20 for 90g, Divine
Founded 20 years ago, what sets Divine apart from the rest is its co-owned model, which is split between a British company and Kuapa Kokoo, a Ghanaian cocoa farmers' cooperative (made up of 85,000 farmers) who own 44 per cent of it. This means the farmers also earn part of the profit and thus command a stronger voice in the industry, as well as a guaranteed price for their produce. The company was awarded 84/100 by the ECI and all of Divine's chocolate bars are Fairtrade.
They are made with pure cocoa butter, sugar from Malawi and vanilla from Madagascar, which are Fairtrade and free of GM, while other ingredients such as almonds, mangos and coconut used in the flavoured bars are Fairtrade too. We like the creaminess of these, especially the smooth milk ones, like the toffee and sea salt bar. There's also a 100 per cent organic range, with biodegradable packaging as well.
Cox & Co coconut and chia bar: £4 for 70g, Cox & Co
This single origin brand is the most recently launched on the list and comes from founder Gavin Cox, who spent most of his childhood in South America and wanted to use cacao from the area he loved as a child. The responsibly sourced chocolate comes from the CasaLuker estate in Colombia, which has been going for 110 years. The estate has been working with the Granja Luker school since 1962 to help train the farmers they work with directly in sustainable practices, and to educate them and their families in growing the best crops possible. Although it's not certified as organic, all the crops used are GM-free. It's small scale, currently available in only four flavours – our favourite is the coconut and chia bar – and comes in totally recyclable packaging.
The verdict: Ethical chocolate brands
Tony's Chocolonely has taken the market by storm with its ethos, design and wonderful flavours, as well as its support to farmers. We really like that Seed & Bean are committed to being organic, small scale and ethical as well as its range of innovative flavours and the fact that its packaging is 100 per cent compostable and doesn't use any plastic is a real plus. We also really like Willie's cacao for its founder's passion and expertise in dark chocolate. From the newcomers to the market, our favourite is Ocelot from the husband and wife team for its delicate flavours and commitment to going beyond Fairtrade standards while still working on a small scale.