The Independent's journalism is supported by our readers. When you purchase through links on our site, we may earn commission.
11 best Fairtrade food and drink
Celebrate Fairtrade Fortnight by trying our pick of the most delicious ethically-sourced products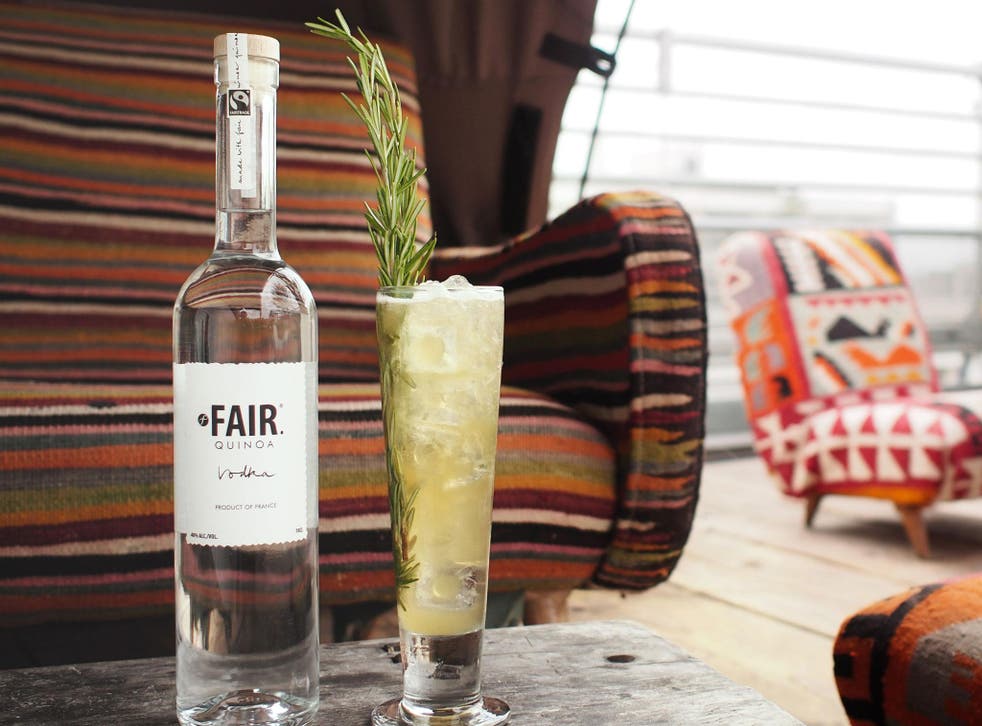 To celebrate Fairtrade Fortnight 2017, we have a delicious round-up of food and drink that all carry the Fairtrade seal of approval. Although bananas tend to spring to mind when thinking about Fairtrade, these days there's an ethical option for almost everything. From chocolate to vodka, these products are some of the best in their category, making it easy to spend with a clear conscience.
So what exactly is Fairtrade? When a product is labelled Fairtrade – look out for the logo on the packaging – you can be sure that a fair portion of sales is going directly back to the farmer, producer or village, giving them a better deal than if there was a greedy middle man taking a cut. You'll often pay no more for the ethical version, as the money is simply distributed in a kinder, fairer way – just as it should be.
Today, more than 1.65 million people – farmers and workers – across more than 74 developing countries benefit from the international Fairtrade system. The team at Crummbs has first-hand experience of visiting a farm benefiting from the Fairtrade model, so we've seen the profound impact it has on communities reliant on international trade. Not only does the extra money improve the current working conditions and practices, it also promises a better future for everyone involved. Join thousands of others coming together this Fairtrade Fortnight and make a change.
1. T2 Fair Trade Certified Organic English Breakfast Loose Leaf Gift Cube, 100g: From £6, T2 Tea
As a nation, we're getting far more experimental with our tea but you just can't beat a good cup of English breakfast. This cheerful cube from Australian tea specialist T2 is a traditional blend of organic black tea from India. You'll enjoy each fragrant sip that little bit more knowing it's been certified Fairtrade too. It will leave you feeling chipper in the morning, or will make a great gift for a friend that could do with a little cheering up.
2. Fair Quinoa Vodka, 40%: £33.75 for 70cl, The Whisky Exchange
This French independent spirits brand has rewritten the rule book when it comes to vodka. Made from sustainably sourced quinoa from the Andean mountains, the result is a super-smooth, clean, bright vodka that also happens to be gluten-free and vegan-friendly. As the world's first Fairtrade spirit brand to market, these guys ensure they adhere to over 200 rules to keep their farmers happy. Workers are paid a fair living wage that enables them to educate their children and build schools. The elegant, thin bottle is sure to be a talking point at your next drinks party too.
3. Divine 70% Dark Chocolate Women's Sharing Bar: £2.39, Divine
To celebrate International Women's Day on 8 March, Divine Chocolate – the Fairtrade and farmer owned chocolate company – has launched this delicious bar of dark chocolate featuring an illustration of a female cocoa farmer. Together Divine and Kuapa (a cocoa farmers' cooperative in Ghana) empowers women with access to adult literacy classes and model farming schemes. The other ingredients in the bar are carefully sourced from Fairtrade growing communities around the world – with Fairtrade sugar from Malawi and Fairtrade vanilla from Madagascar – for a treat as delicious as it is rewarding. Read more about the inspiring women inside the limited edition bars.
4. Waitrose Fairtrade Merlot South African Red Wine, 75cl: £5.99, Waitrose
This inexpensive Merlot is a great mid-week bottle of wine. The smooth, easy-to-drink red has a vibrancy and depth to it that defies the price. Pair yours with a good chargrilled steak or rich tomato dish to bring out the red fruit flavours. Made from grapes grown in a Fairtrade vineyard in the Western Cape, South Africa, the Waitrose foundation partnership was created in 2005 to help farms and their employees improve their standard of living by passing a percentage of the profit back to the community to fund social projects.
5. Karma Cola Fairtrade Karma Cola: £1.59, Waitrose
Boasting both organic and Fairtrade credentials, this natural cola uses real cola nut from Sierra Leone, vanilla bean from the Forest Garden Growers Association in Sri Lanka and Fairtrade organic cane sugar from the Suminter Organic Farmers Cooperative in Bhimanagar, India. Not only does this thirst-quencher taste great, it's also doing so much for these communities. Profits have already helped build a bridge to help children get to school and installed a rice hulling plant – crucial in ensuring villagers are self-sufficient. We also love the other flavours in the range – Gingerella and Lemony Lemonade.
6. Lucy Bee Extra Virgin Raw Organic Coconut Oil, 300ml: £5.48, Amazon
Lean in 15 author and cheeky chappy Joe Wicks is a huge fan, using this brand of coconut oil in many of his 15 minute meals. We use it in a variety of ways ourselves, including savoury stir fries and curries, healthy baking and even as a face treatment (just try not to lick your lips). For more ways to use it, check out Lucy Bee's very own book, chronicling the myriad of ways in which to use this versatile product. Lucy's Coconut Oil is produced in the Philippines, the Solomon Islands and Sri Lanka, and is FairTSA certified. This ensures all workers are paid a fair wage and have employment contracts, so that they can't be exploited. There is no child labour and no animal cruelty in the process of making it either.
7. Ben & Jerry's Ice Cream One Sweet World, 500ml: £4, Sainsbury's
Guilt-free ice-cream you say? Well, nearly. Although the calories are still present, rest assured that every flavour in the Ben & Jerry's range carries the Fairtrade seal of approval. We love all three new flavours but this one just pips the others to the post. A blend of Fairtrade coffee and caramel ice cream with chewy marshmallow and chunky chocolate, this flavour helps fund various projects for local communities.
8. Sainsbury's Fairtrade Colombian Coffee Taste the Difference, 227g: £3.50, Sainsbury's
After the oil sector, coffee is the largest international commodity. But because of the extraordinary demand for it in the West, the coffee bean industry is one of the worst for forced labour and child slavery around the world. Rest assured that you'll be starting your day right with this Colombian Fairtrade roast and ground coffee though, made from 100 per cent arabica beans. It's a great value morning pick-me-up with a well-rounded, smooth flavour. Sainsbury's is currently the world's largest retailer for Fairtrade products and was the first retailer to introduce Fairtrade products 20 years ago. All of its own-brand tea and coffee carries the Fairtrade seal too.
9. Steenbergs Organic Fairtrade Vanilla Extract, 100ml: £7.99, Planet Organic
This family run company, based in North Yorkshire, is passionate about providing great tasting organic products with a provenance you can trust. We always have this excellent extract in our cupboard and use it in everything from cookies to smoothies. A little goes a long way too, you'll only need a drop for a real burst of flavour and to experience its wonderful aroma. Steenbergs was Europe's first organic Fairtrade vanilla extract, sourcing from cooperatives around the world. This vanilla comes from Fairtrade farms in Madagascar.
10. The Jelly Bean Factory Fairtrade Jelly Beans: £1.35, Tradecraft Shop
Get the kids involved this Fairtrade Fortnight with these super-fun sweet treats from The Jelly Bean Factory. With 36 flavours in one pack, every mouthful is a welcome surprise. Obviously each pack is high in sugar though, so be sure to enjoy these in moderation. Our favourite flavours include strawberry smoothie, granny smith apple and candy floss. With a plethora of flavours in each pack, ingredients are sourced from far and wide, so the Fairtrade stamp ensures communities are being treated fairly the world over.
11. King Soba Organic Basmati Brown Rice Noodles: £2.29, King Soba
An excellent staple to have in your cupboard, these versatile noodles can be added to stir fries, soups or used instead of pasta. Brown rice is rich in B vitamins and has a low Glycaemic Index (GI), meaning you'll feel satisfied for longer. This pack also happens to be gluten-free and vegan-friendly, making it ideal for special diets too. Buying this Fairtrade product enables the improvement of working and living conditions of producers in developing countries and encourages environmental protection.
The Verdict: Fairtrade food and drink
If you're looking for a daily dose of Fairtrade, we'd suggest starting the day with T2's English breakfast, or Sainsbury's great value Fairtrade Colombian coffee. Add a bar of Divine's dark chocolate for an indulgent mid-afternoon pick-me-up. But for something a little more special, the Fair quinoa vodka makes great espresso martinis.
IndyBest product reviews are unbiased, independent advice you can trust. On some occasions, we earn revenue if you click the links and buy the products, but we never allow this to bias our coverage. The reviews are compiled through a mix of expert opinion and real-world testing.