The Independent's journalism is supported by our readers. When you purchase through links on our site, we may earn commission. Why trust us?
10 best sakes of all styles to inspire your inner koji connoisseur
From sparkling delights to heady infusions, it's time to get to know one of Japan's finest exports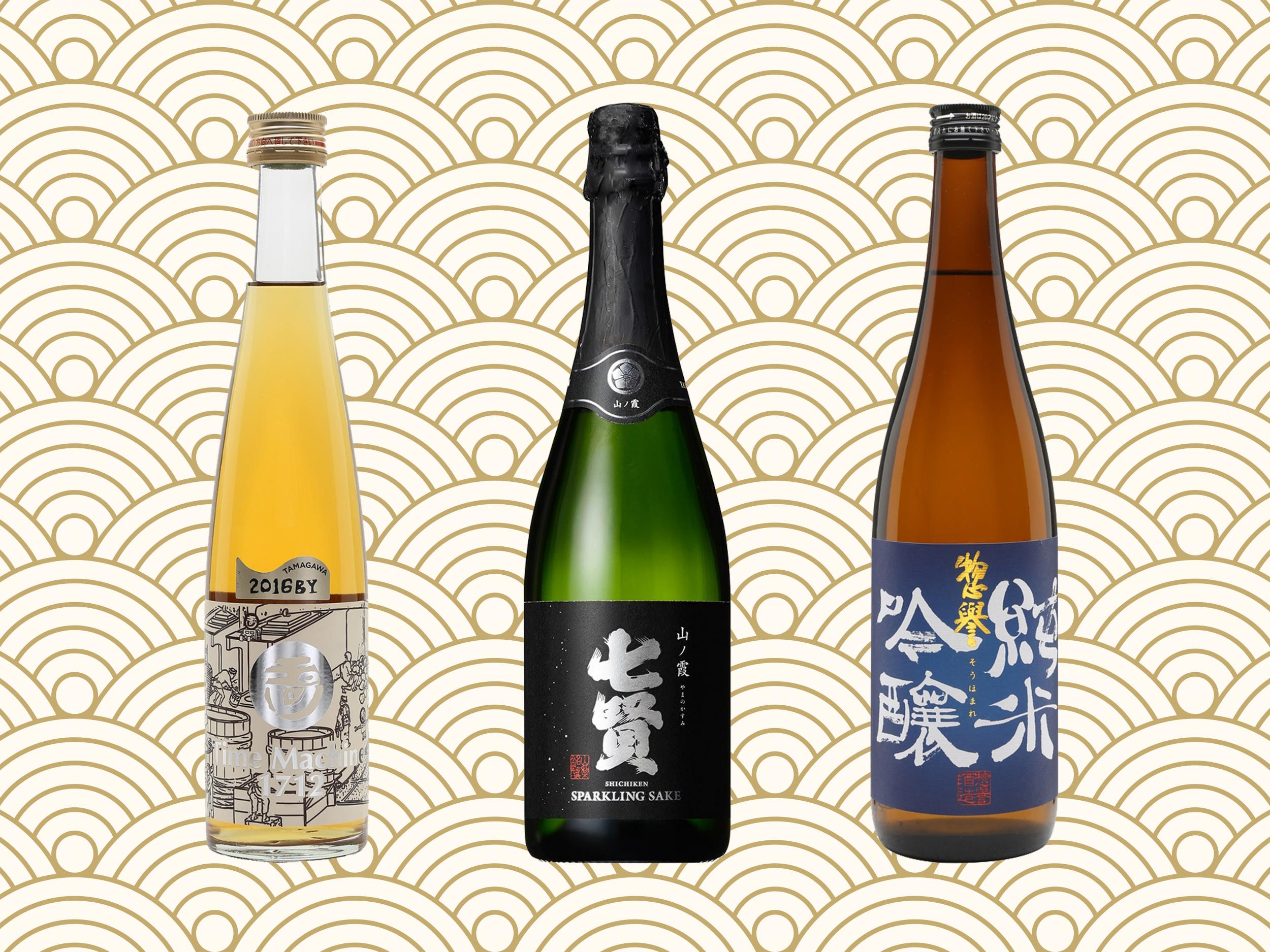 For the western palate, sake's unique mix of sweet and fruity, floral flavours with savoury hints of soy can be a challenging experience, but get to know this highly-prized, rice-based booze and you'll discover a drink spanning a huge flavour spectrum, and one that is almost unrivalled in its food pairing abilities.
Before we plunge headlong into the wonderful world of sake though, it's worth getting to grips with the basics.
Sake is made in a similar way to beer – polished rice is washed, steamed and cooled before the addition of koji, a mould culture that breaks down the enzyme-rich rice into fermentable sugars.
It also drives that all important umami flavour. The quality of sake is determined by the polishing ratio of the rice used.
The polishing (or milling) process removes the husk and outer portion of the rice kernel – part of the grain that can produce undesirable flavours in the finished brew.
Generally speaking, a sake made from a highly polished grain will be of a higher quality, and subsequently sold for a higher premium.
Sake styles manifest in many forms, and bottle labels can be confusing for the aspiring koji connoisseur. Here's what to look for...
Daiginjo: A super-premium sake with minimum 50 per cent polishing ratio. This style is often bolstered by the addition of a small amount of distilled alcohol to enhance the floral, fruity flavours. Best served chilled.
Ginjo: A premium fragrant sake with minimum 40 per cent polishing ratio. Best served chilled.
Honjozo: A light, mildly fragrant premium sake polished to a minimum of 70 per cent with a small amount of distilled alcohol added to extract aroma and flavour. Can be served chilled or warm. (Heat gently to 45-50C)
Junmai: Sake made without additions and with no minimum polishing ratio. Can be served chilled or warm, (heat gently to 45-50C). A Junmai followed with either daiginjo and ginjo means that no alcohol has been added.
There's a sake out there for all tastes – here's ten of the best.
You can trust our independent reviews. We may earn commission from some of the retailers, but we never allow this to influence selections, which are formed from real-world testing and expert advice. This revenue helps to fund journalism across The Independent.
Akashi-Tai shiraume ginjo umeshu, 14%, 500ml: £17.50, Amazon
Breathe in the sherry-like aroma of this super sake and you'll immediately get an inkling of its dessert wine qualities. The initial honey hit is balanced by the gentle acidity from the plum and finishes with subtle notes of soy. Serve it as an accompaniment to rich toffee puddings and fruit cake. Its cocktail game is pretty strong too – try using it as a vermouth replacement and mix with a Japanese blended whisky for a mighty fine Manhattan.
Yauemon Snow Blossom daiginjo muroka nama genshu, 16%, 720ml: £32, Tengu Sake
This premium daiginjo is a namazake, a sake left in its natural state, unsullied by the potential flavour-inhibiting preservation process of pasteurisation. Yauemon Snow Blossom is a vibrant and lively drink, with a distinct robust sharpness enhancing the flavours of melon, apple and pineapple. Just remember that an unpasteurised brew such as this has limited shelf life, so keep it in the fridge and drink it quick.
Akashi-Tai ginjo yuzushu, 10%, 500ml: £20.83, Amazon
This citrus, fruit forward sake has been infused with macerated yuzu, bringing with it maximum mouth-puckering tartness and a cloudy lemon hue. Serve it neat – straight from the fridge – or mix it with soda water for a thirst quenching, low ABV super summer spritzer.
Gekkeikan nouvelle junmai ginjo, 15-16%, 720ml: £34.50, The Japan Centre
This accessible, well-balanced sake hails from Japan's hugely popular Gekkeikan brewery.
It's light, bright and flinty with a rice-forward flavour and gentle acidity, perfect for food pairing. The quality of this sake is no surprise – Gekkeikan have been brewing sake since 1637; they've had a long time to perfect their technique.
Dassai 50 junmai daiginjo, 16%, 300ml: £20.25, Amazon
The family owned Dassai brewery regularly scoop up prizes for their superior range of sakes. Dassai 50 is our pick of the crop – it's a fruity, easy drinking number, perfect for sake novices who want to dip a tentative toe into the world of rice-based booze. You can gently warm this brew for supping on cooler evenings, but to fully appreciate the nuanced flavours of red berries and anise, it's a drink best served cold.
Sohomare junmai ginjo, 15%, 720ml: £35.95, The Whisky Exchange
Sohomare's junami ginjo is a premium, grain-forward sake, made using the "kimoto method". The sake and koji (rice mould) are stirred with long poles to encourage lactic acid to form naturally – a process that almost doubles the brewing time. The fruits of this labour intensive process is an extremely mellow, smooth sipping brew with gentle floral notes and moreish minerality.
Hanatomoe sugi barrel,15%, 720ml: £42, Japan Gourmet
The Hanatomoe brewery are known for their modern, complex sakes made with traditional brewing methods. Hanatomoe sugi (or "cedar") is made by using the yamahai method – a part wild ferment sped up by the early introduction of lactic acid. The sake is then left to mature in cedar barrels, imparting spicy hints of sandalwood and green tea to the smooth, characterful brew.
Shichiken sparkling dry, 11%, 720ml: £46, Japan Gourmet
Fancy some fizz but bored of brut? This dry, sparkling treat is made using the traditional method, where live yeast is left in the bottle to give the sake secondary ferment. The result is a light, peachy sake with a beautifully soft mouthfeel and delicate bready finish. Just be aware that when you pop the cap, your previously clear, bottle-bourne booze will turn cloudy when the bubbles are released and hit the yeast.
Tamagawa Time Machine, 14%, 360ml: £23.25, Berry Bros. & Rudd
Made from a 300 year old recipe (hence the time machine tag) this thick, viscous sake delivers umami by the bucket-load. Big mouthfuls of savoury soy meld with sweet rich molasses and tropical fruits. It's not to everyone's palate but is the closest you probably get to experiencing the true taste of an ancient Japanese brew.
The verdict: Sakes
There's a sake for everyone. Fruit-forward fans, reach for the Akashi-Tai shiraume ginjo umeshu. Fearless sake warriors who want to challenge their taste buds should pour themselves a Tamagawa time machine and prepare to ride sweet waves of soy.