The Independent's journalism is supported by our readers. When you purchase through links on our site, we may earn commission. Why trust us?
10 best smart home devices that make life easier, from speakers to cameras
Switch on a light or water the plants by raising your voice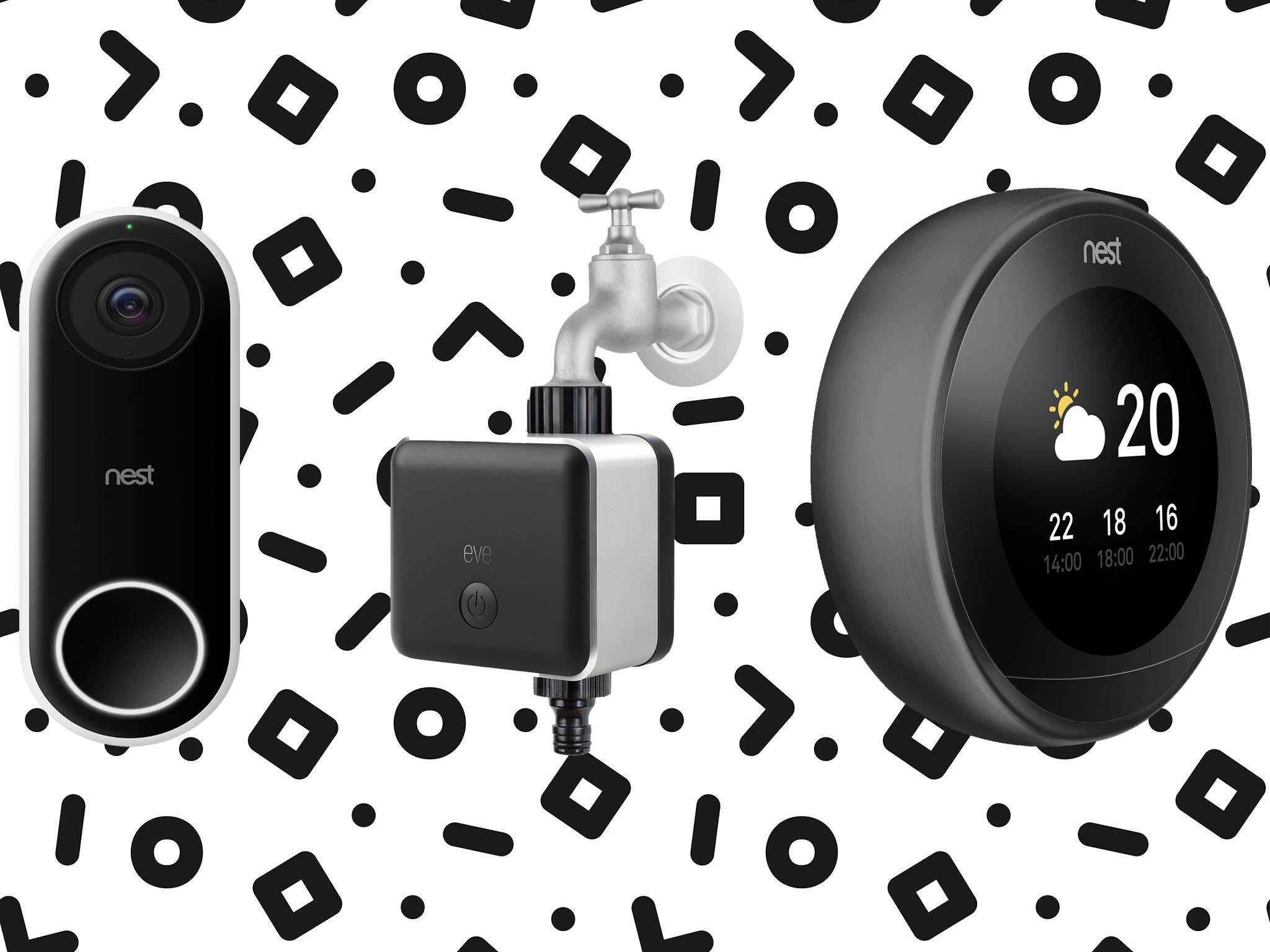 The smart home is designed to make things easier, to add features or to help when you forget something. So, your smart home lighting can be switched on from your mobile phone, even if you only remember the porch light needs to be on when you arrive at the airport.
There are times when it's easier to use the conventional methods: the time taken to connect the bedroom light to the smart system may be more than the time saved in, you know, actually pressing a switch.
But it's satisfying to say, "Hey, Siri, it's movie night" and watch as the lights dim, the blinds slide closed and the TV switches on.
Voice control mostly comes from three sources: Apple's HomeKit, which includes Siri, Google's Assistant and Amazon's Alexa.
Of the three, Alexa, found in Amazon's Echo devices and elsewhere, can control the most smart home gizmos, but all have their own benefits and there's more to the smart home than voice commands.
There's also a system called IFTTT, short for IF This Then That, which connects different smart home devices and is controlled by a smartphone app.
In every case, there is a dedicated smartphone app available. We've considered ease of set-up, effectiveness of the devices and sheer basic practicality of whether they're worth doing in the first place.
You can trust our independent reviews. We may earn commission from some of the retailers, but we never allow this to influence selections, which are formed from real-world testing and expert advice. This revenue helps to fund journalism across The Independent.
Google Nest Hello doorbell: £229, Google
Works with: Google Assistant
This is a video doorbell. When someone rings it, it rings normally but also alerts your smartphone that someone's at the door. You can answer from the app, because there's a speaker and microphone on the Hello. There are even pre-recorded messages to tell your caller to leave the parcel, for instance. Video quality is good and it streams what it can see continuously, so you can go to the Nest website to replay footage – whether they rang the bell or not. It can save recordings online, though there's a subscription for that, which costs from £4 a month.
Amazon Echo Show 5: £49.99, Amazon
Works with: Amazon Alexa
Amazon makes a big range of Echo devices, all with the company's own virtual personal assistant, Alexa, built in. You can catch her attention by saying her name and then ask questions about the weather, the news, choose a recipe, get her to play music or ask her to tell you a joke. The Echo Show 5 has a 5.5-inch display so you can see the weather forecast as well as hearing it, and the small size of the device makes it perfect as a bedside table gadget. It works as an alarm clock, too. There's a camera on board for video calls to other Echo users, for instance, but a physical shutter ensures privacy. Audio playback is not hi-fi quality but it's pretty good, enough to make this a fun music player.
Google Nest learning thermostat: £169, Google
Works with: Amazon Alexa, Google Assistant
The learning thermostat was the first product from Nest, though it's had a lot of refinements over the years. This model looks chic and is highly capable. It learns your preferences in terms of temperature and is smart enough to turn the heating off automatically after 48 hours when you go away, even if you forget. And you can turn it on again from your smartphone – perfect for when you're on your way home after a week away. It's superbly easy to use and works like a dream. By learning your habits, it claims to save energy and therefore money. A professional installer is suggested, though there's also a slightly more affordable model, the thermostat E, designed to be installed by you.
Eve Aqua smart water controller: £99.99, Amazon
Works with: Apple HomeKit
Watering the garden when you're away usually means asking a friend or neighbour to help – and a panicked call from overseas when you learn there's a sudden heatwave at home. Eve, a skilful smart gadget company with a wide variety of great problem-solving devices, has this clever tap attachment. With it in place, you can set the tap to turn on according to an easily configurable schedule, or boost with extra watering for a few minutes whenever you want, all from the iPhone or iPad app or from online. It looks good, is discreet and works brilliantly.
Arlo Ultra smart home security camera: £439.85, Amazon
Works with: Amazon Alexa, Google Assistant
This home security camera system comes with one camera, but you can add more or choose a multi-camera version from the start. It has an extremely high-resolution camera which even offers colour night vision, two-way audio with noise-cancelling for extra quality and a wide-angle view. Unlike some rivals, this one has a spotlight built in to surprise loiterers and there is a siren which you can activate, for instance, from your smartphone. It is smart enough to track movement within its field of vision.
Eve Room indoor air quality monitor: £89.95, Amazon
Works with: Apple HomeKit
Air quality is important, and the beautifully designed Eve Room is tiny and entirely portable. It tracks air quality in terms of volatile organic compounds (VOCs) in the air which can be emitted from everything from cleaning products to toys. It also monitors the temperature in the room, which can be important in a child's bedroom, for instance, along with humidity which in extreme cases can cause health issues. Details are shown on the e-ink display or you can ask Siri to tell you the latest air quality.
Withings Sleep automation pad: £99.95, Amazon
Works with: Apple and Android phones, using IFTTT
Good sleep is important and understanding how you're sleeping can be a good start. The Withings Sleep is a pad which stretches across the area where one person sleeps. Every time you move, it notices this and can deduce whether you're in deep sleep, light sleep or awake. It has a microphone which can tell if you're snoring or not. This doesn't store any audio recordings but you can turn it off if you prefer. (Especially if you fear your insistence that you never snore, thank you very much, might be exposed.) It also tracks your heart rate. You can use it in conjunction with smart home gadgets to create shortcuts. For instance, when the pad senses you're getting up it can turn on the lights, or compatible heating.
Nuki smart lock 2.0: £199, Amazon
Works with: Apple and Android phones
This is a smart lock that attaches to the back of an external door. It's very quick to attach by mounting over the existing cylinder lock and key. As you walk towards the front door, the lock senses the smartphone in your pocket and unlocks automatically. It's true, you'd have to be careful if you go back to the door to pick up a last bag to load in the car, for instance. You can also unlock it from the app – handy if you want to let the dog walker in, or someone trusted. The Nuki app also confirms whether the door is open or closed, too. The connection is via Bluetooth but you can extend this with a Nuki Bridge to control it via app or online.
Amazon Echo wall clock: £29.99, Amazon
Works with: Amazon Alexa
At first glance, it's just a battery-powered analogue wall clock. But, if you talk to an Amazon Echo device nearby, the clock responds. So, you can set a timer on the Echo and it will count down on the clock. You can even set multiple timers which count down together. As soon as you've connected it to the Echo (all Echo gadgets are compatible), it will set the time automatically. It also updates when daylight saving starts or ends.
Google Nest Cam IQ indoor camera: £299, Google
Works with: Google Assistant, Amazon Alexa
The cute Nest Cam IQ is very powerful and effective, with two-way audio so you can surprise an intruder or tell the dog to get off the sofa. Like the Arlo, there's very high quality video which can zoom in on areas of movement when someone is spotted. It alerts you when it spots movement and facial recognition means it can see if it's a familiar face or not – there's a subscription charge for this. That's called Nest Aware and it also means all footage is automatically transmitted to a remote server, so a burglar nicking the camera won't save them. You can set it so that when you walk through the door, the camera switches off when it recognises your smartphone.
The verdict: Smart home gadgets
Google Nest has a series of products that offer real peace of mind when it comes to home security and Amazon's huge range of Echo devices, including the Echo Show 5, can genuinely make home life easier, quicker and more fun. Outdoors, the Eve Aqua tap controller is a real boon.
Read more on home security systems