The Independent's journalism is supported by our readers. When you purchase through links on our site, we may earn commission.
10 best BBQ beers
We picked out the most mouth-watering booze 'n' food pairings for the bibulous barbecuer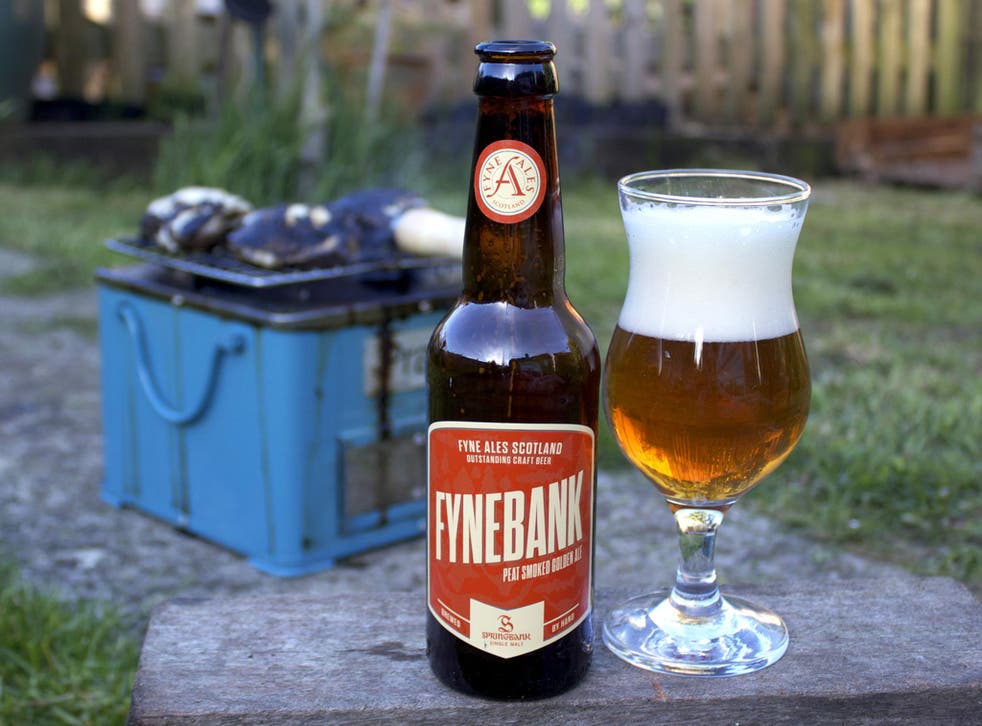 Stocking up on food for the barbecue? If you've gone to the supermarket then, when it comes to choosing your drinks, the temptation is to load up on a large box of discounted lager, stick it in the fridge and guzzle it from the moment you light the coals until long after the embers have flickered and died. But that easy option would be a huge disservice to the tasty charred foods you've spent all afternoon sweating over.
"If you're going to all the effort of having a barbecue, just picking up a multi-pack of lager to drink with it is lazy – and foolish," says beer sommelier Sophie Atherton. "The flavours that a barbecue brings to food makes it the perfect occasion to be adventurous with beer."
Barbecue-loving beer and food blogger Matt Chinnery agrees: "While standing in front of a hot grill, drinking beers like Five Points Pils, straight from a cold can, is a perfect way to keep you fresh and hydrated. But when it comes to sitting down with your meal there are so many more possibilities. Beer cuts through those fatty, smoky, spicy flavours that you associate with a BBQ and certain types of beer can also reset the palate, which is helpful when eating lots of different types of meat."
So what beers to pick instead? Thirst-quenching pale ales with refreshing citrus hops help bring out the juicy flavours of meaty feasts; saisons with crisp, dry spicy notes cope effortlessly with strong flavoured grilling; and darker ales with sweet, roasted malt bases can help round off the flavour of well-caramalised (or burnt) foodstuffs. Even more adventurous brews, such as chilli beer, can elevate your burgers and bangers to new heights, as Sophie Atherton describes: "With a dark chilli beer you should find chocolate flavours are brought out in the beer and the chilli will be brisk and fresh rather than too hot."
To give you more food for thought, this list features 10 of the best barbecue beers with a grilling choice for each of them. As Chinnery adds: "It may be easy to put a multipack of lager in the fridge for an afternoon BBQ, but in doing so you are missing out on a world of culinary companionships."
For the rest of your BBQ needs, check out our picks of the best charcoal and gas BBQs, as well as the best BBQ food, accessories and books.
1. Signature Brew Roadie All-Night IPA, 4.3%: £2.40 for 330ml, Eebria
This session IPA is crisp and refreshing, with flavours of pine and tropical fruits and a good level of bitterness that, according to Chinnery, is "an all-round perfect beer for the BBQ". It's a modern, full-flavoured beer that doesn't overpower, making it a good match for chicken or pork and a great choice for a fat, juicy burger, slapped in a bun with all the trimmings. And, as Chinnery points out, "with an ABV of 4.3% it will keep you going all day without any food burning mishaps".
Pair with: beef burgers
2. Brew by Numbers Saison Citra 01|01, 5.8%: £3 for 330ml, Eebria
Saisons are Belgian farmhouse beers, brewed to reward and refresh hard-working labourers, so they're an ideal choice for anyone putting in a shift at the face of the grill. Bermondsey's BBNO produces one of the UK's finest interpretations of the style, crackling with spicy yeast and fruity hop flavours. Chinnery picks it out as one "for those who are planning to serve up some sausages that are slightly more adventurous than your average banger. It has a dry and crisp finish which will help cut through herby sausage meat."
Pair with: sausages
3. Orval, 6.2%: £2.69 for 330ml, Beer Hawk
For this beer and food pairing we're introducing the Trappist monks of Belgium's Orval brewery to the sun-loving Australians who like nothing better than to "put another shrimp on the barbie". For anyone with spice on the BBQ menu, strong Belgian ales are a great choice, with this classic brew offering its own spicy notes along with a subtle sweetness and dry bitter bite, while a streak of tart lemon helps it marry up particularly well with seafood.
Pair with: spicy prawns
4. St Peter's Brewery Old Style Porter: £2.39, Beers of Europe
You could play it safe and pick a clean-tasting pilsner to accompany your juicy veggie kebabs, but we're suggesting something that might be a little more surprising: a porter. The smoky caramelisation of BBQ veg standards such as red peppers, onions and courgettes will pair neatly with the roasted flavours of this porter – a blend of old and young beers that adds touches of berry sourness, sweetness and bitterness, all helping to make those veg come alive. Cause even more controversy by serving it ice cold (most folk recommend room temperature for porters) and it'll not only keep you cool but it will hold back the beer's intensity, allowing the individual flavours of your veg medley to shine through in style.
Pair with: vegetable kebabs
5. St Austell Proper Job, 5.5%: £2 for 500ml, Tesco
IPAs were designed to serve under a hot Indian sun so will do a great job of helping you deal with the heat of the barbecue. The strong hop flavours and clean, malty base of modern IPAs, such as St Austell's classic, go well with spicy food and are particularly suited to robust, fatty lamb dishes, with the bitterness helping bring out the unami flavours of the seared meat. So stuff your lamb into pittas, smother with chilli sauce and expect some fruity citrus hop flavours to peek through the meatiness, keeping the refreshment factor high.
Pair with: lamb kebabs
6. Windswept Werewolf, 6%: £2.96 for 330ml, Eebria
Beer and cheese is always a winning combination, with the naturally sweet, malty flavours of almost any beer style complementing the creamy saltiness of cheese. Halloumi is a particularly salty beast which takes on chewy, almost nutty flavours after a session on the grill. Beer sommelier Atherton advises to go down the dark and spicy route with Windswept's Werewolf, a richly malty ale infused with habanero chillis. The grilled cheese isn't just a great match, but it will also accentuate the flavours of the beer which, she says, "makes the chocolate flavours milky but also brings out the heat". A red-hot combination.
Pair with: grilled halloumi
7. Magic Rock Salty Kiss, 4.1%: £2.49 for 330ml, Beer Hawk
Grilled oily fish, such as sardines and mackerel, have strong flavours that allow you be to more daring with your beer choice, so why not try out an adventurous, fruit-flavoured sour beer? An obvious fruit for fish is lemons (try Wild Beer's Sleeping Lemons) but fancy chefs will often be found dabbling with gooseberries on their mackerel dishes, so we're following suit with Magic Rock's gooseberry gose, Salty Kiss, which also contains sea buckthorn for coastal cuisine bonus points. It has a lemon sourness and tart fruit flavours from the gooseberry, but it won't strip your cheeks like more aggressively sour beers. A pinch of salt, a touch of sweetness and a vein of vinous bitterness all help build the complexity making it a fine fishy friend.
Pair with: mackerel
8. Beavertown Smog Rocket, 5.4%: £2.39 for 330ml, Honest Brew
Chinnery is so impressed by the combination of Beavertown's Smog Rocket with BBQ ribs that he even uses the beer to make his barbecue sauce. It's a thickly delicious porter, oozing with chocolatey malt goodness, roasted bitterness and a note or two of liquorice. It would be a meaty enough brew, but subtle peaty smoke drifts through it, raising the savoury levels to new heights and demanding the attention of sticky, chewy ribs. Lip-smackingly good.
Pair with: ribs with BBQ sauce
9. Kloster Andechs Weissbier, 5.5%: £2.49 for 500ml, Beers of Europe
Wheat beers are another great BBQ all-rounder: enough flavour to deal with burnt meat but crisp and light enough to help cool any overheating chefs. When it comes to wheat beer and meat combinations you're best off thinking like a Bavarian: Hefeweisen and pork. Andechs Weissbier, brewed at a Benedictine monastery near Munich, is a particularly full-flavoured beer with some light, fruity, yeasty tartness, good levels of banana flavours, a warming clove spiciness, and a soft mouthfeel. A slight sweetness throughout lends itself to being your pork's boozy pal, pairing particularly well with juicy bangers. But for maximum German-style meatiness, slap on some hefty chops and plate up with mustard and sauerkraut.
Pair with: pork chops
10. Fyne Ales Fynebank, 4.6%: £2.40 for 330ml, Eebria
Chicken is a delicately flavoured meat that tends to adopt more obvious smoky flavours than its grilling cohorts, so we would naturally pair it with a light, golden ale, such as Salopian's Shropshire Gold or Skinners' Cornish Knocker to avoid smothering the flavours of the food. But Atherton has pointed us in the direction of a smoked beer from Fyne Ales, and who are we to argue with one of Britain's best beer sommeliers? It's a golden ale (we agreed with that bit) that has been brewed with lightly peated malt from the brewery's local distillery, Springbank, giving it a mellow, smoky aroma which mingles neatly with the beer's subtle bitterness – characteristics that come alive in the presence of barbecued chicken.
Pair with: chicken
The Verdict: BBQ beers
There are some adventurous choices in this list that should help you look beyond lager when at the helm of a grill. The smoked beers are well worth investigating but to get you started on a BBQ beer discovery, Signature Brew's Roadie is a all-round winner.
Nick Moyle is one half of the Two Thirsty Gardeners. Their book, Brew it Yourself, is out now
Register for free to continue reading
Registration is a free and easy way to support our truly independent journalism
By registering, you will also enjoy limited access to Premium articles, exclusive newsletters, commenting, and virtual events with our leading journalists
Already have an account? sign in
Register for free to continue reading
Registration is a free and easy way to support our truly independent journalism
By registering, you will also enjoy limited access to Premium articles, exclusive newsletters, commenting, and virtual events with our leading journalists
Already have an account? sign in