The Independent's journalism is supported by our readers. When you purchase through links on our site, we may earn commission.
10 best gardening books: Make the most of your outdoor space
Looking to spruce up your backyard? Grow your knowledge with these reads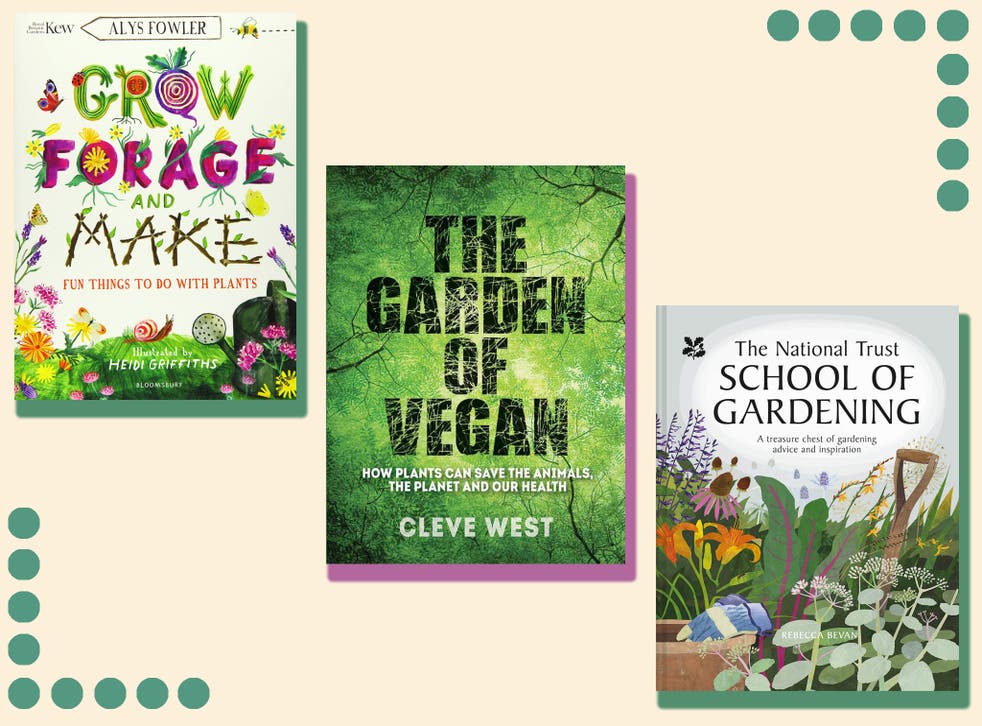 Whether you are new to the joys of gardening or a hardened, green-fingered pro, the chances are you'll need a bit of advice, inspiration and guidance along the way.
It's not always the best tactic to rely on flakey online gardening tips or speculative comments from a know-it-all neighbour – what you really need is sound, professional instruction that has been committed to print.
There are stacks of books out there to leaf through, covering everything from advanced vegetable-growing techniques to creating wildlife-friendly gardens and advanced landscape design.
Gather inspiration while away from your plot, or envision a grand new DIY construction – you'll be spoilt for choice.
We've picked 10 of the best gardening books that deserve planting on your bookshelf, featuring new favourites and a smattering of essential, evergreen classics. There's something here for everyone.
Read more:
You can trust our independent reviews. We may earn commission from some of the retailers, but we never allow this to influence selections. This revenue helps us to fund journalism across The Independent.
'RHS Encyclopedia of Gardening' by Christopher Brickell, published by DK
First published 20 years ago, this perennial favourite has been assembled by a team of specialist gardeners who review and update the content each year to reflect modern gardening methods and techniques. It's a book of two halves – the first section details how to build a garden from the ground up, with the second section focusing on the tricky business of maintaining it. The design may look a bit dated to some, but the info and advice inside is bang on the money, making it the essential reference book for all gardeners, and one which you'll want (and need) to revisit again and again.
'Planting for Wildlife: A Grower's Guide to Rewilding Your Garden' by Jane Moore, published by Quadrille Publishing
Hot on the heels of the fab Planting for Butterflies (£9.18, Amazon.co.uk), head gardener Jane Moore has packed her latest animal-appeasing gardening book with invaluable facts and tips for creating a wildlife haven in your own back garden. There's a lot to love here as it features seasonal advice on what to attract and how to attract them, with chapters covering the best plants for wildlife, organic gardening techniques and how to build the perfect wildlife pond. It's a beautifully written book, and the accompanying illustrations by Holly Astle are a real joy.
'Jekka's Complete Herb Book' By Jekka McVicar, published by Kyle Cathie
Although the newer, more portable A Pocketful of Herbs (£9.20, Blackwells.co.uk) is worth stuffing down the back of your dungarees for quick reference while out and about, this wonderfully comprehensive book deserves to be your ultimate resource for all things herby. Written by Jekka McVicar (creator and custodian of the UK's premier herb farm and holder of no less than 60 RHS medals) it draws from her 30 years of herb-tending experience, featuring practical growing guides, wellbeing guidance and over 250 recipes. Sage advice – and much much more!
'Grow, Forage and Make' by Alys Fowler, published by Bloomsbury Children's Books
If you've been wondering how to uncouple your kids from Cbeebies and get them out into the fresh air, this new book from Kew Gardens's publishing arm might help. Penned by horticultural champ Alys Fowler, with illustrations by Heidi Griffiths, it features 30 joyful, garden-based activities, from foraging for dandelions and making pancakes, to growing parsnip pea-shooters. The projects within cover a broad range, so you should find something for even the most wilful, house-bound child to have a bash at, and the underlying theme of nurture, sustainability and respect for living things should help sow a few organic seeds into aspiring young gardeners' minds.
'Green Home: The Joy of Living with Plants' by Anders Røyneberg, published by Quadrille Publishing
As we can attest by glancing over at our own wilting specimens, keeping houseplants alive and healthy is no mean feat. This beautiful book from Instagrammer Anders Røyneberg should certainly set you on the right path, detailing tips and tricks for keeping them green. Anders refers to November, December and January as the "three months of death" due to the seasonal lack of daylight in his native Norway, and he shows you how to nurse plants through these testing times through feeding and watering regimes, while also suggesting a cornucopia of plants with which to populate your own leafy oasis. It's a lush, inspirational book penned by a plant-pampering pro.
'Allotment Month by Month' by Alan Buckingham, published by DK
There has been a huge demand for allotment spaces over the past year due to folks looking for a peaceful, outdoor pursuit to help keep the blues at bay. Allotment gardening can be great for the soul but is also hard work, time-consuming and doesn't necessarily match up to the imagined, bucolic image. If you've been struggling to tame your own plot, we'd suggest getting your soily fingers on this stone-cold classic to help beat it into shape. It's perfect for both beginners and hoary-handed experts alike, featuring growing guides, planners and allotment garden projects, all delivered clearly and concisely thanks to the photo-driven design.
'National Trust School of Gardening' by Rebecca Bevan, published by National Trust
After more than a year of curtailed countryside trips due to lockdown, anyone with a National Trust membership will probably be looking forlornly at their peeling oak-leaf car sticker and wishing for better times ahead. Fret no more – here's a book that should help satisfy your NT cravings. It's designed to be a practical gardening guide to enlighten and inspire, which it does so in spades, covering basic planting and growing techniques through to more advanced topics such as topiary tending and cut-flower craft. Those wishing to spread a little NT magic on their own gardens will delight in the behind-the-scenes advice imparted by some of the trust's head gardeners – an insightful, fascinating theme that runs throughout the book.
'The Garden of Vegan' by Cleve West, published by Pimpernel Press
Cleve's journey from vegetarian to vegan has seen him champion the rights of animals through his work as one of the nation's top garden designers. This book is absolutely rammed with ideas on how to embrace the principles of a plant-based lifestyle along with compelling visions of how modern agriculture can flourish through sustainable, self-sufficient practices such as rewilding and healthy, organic soil management. Neither preachy nor judgemental, Cleve delivers his compelling arguments for environmentally-friendly vegan practices with warmth, humour and wit. It's not an easy read by any means, but an essential one for anyone who cares for the planet.
'Gardens of the High Line' by Piet Oudolf and Rick Darke, published by Timber Press
The "New Perennial Movement", is a garden design technique defined by the use of plants and grasses arranged in huge, naturalistic drifts to create structure and colour. Designer Piet Oudolf is arguably its greatest exponent and has written a swathe of books on the subject – any of which we would highly recommend – but the stand out is this documentation of the High Line in New York City that demonstrates how it is possible to create incredible urban gardens from the barest of bones. Full-spread photos help give a sense of scale to Oudolf's signature planting (and lend to the book's coffee-table appeal) while the accompanying text adds personal, in-depth insight into his extraordinary procedures, along with ways in which to incorporate the ideas into your own backyard or plot. Essential reading for garden designers and anyone with a passion for plants.
'The Gardens of Arne Maynard' by Arne Maynard, published by Merrell
For the perfect pick-me-up when it's bucketing it down outside, grab yourself a copy of this weighty book and let its lush, photo-rich pages fill you with joy. Featuring 12 eye-popping gardens created by champion garden designer Arne Maynard, this book takes you through a detailed account of the processes involved in the creation of his signature country-garden style, from design brief through to plant selection. The book also focuses on areas that Arne is particularly passionate about – including topiary, border design and kitchen gardens – and is written in an insightful, engaging manner. An inspirational, coffee-table classic.
Register for free to continue reading
Registration is a free and easy way to support our truly independent journalism
By registering, you will also enjoy limited access to Premium articles, exclusive newsletters, commenting, and virtual events with our leading journalists
Already have an account? sign in
Register for free to continue reading
Registration is a free and easy way to support our truly independent journalism
By registering, you will also enjoy limited access to Premium articles, exclusive newsletters, commenting, and virtual events with our leading journalists
Already have an account? sign in