The Independent's journalism is supported by our readers. When you purchase through links on our site, we may earn commission.
9 best kids' lamps that'll brighten up your little one's bedroom
From dinosaurs to rocket ships, with wireless charging and more, there's something for everyone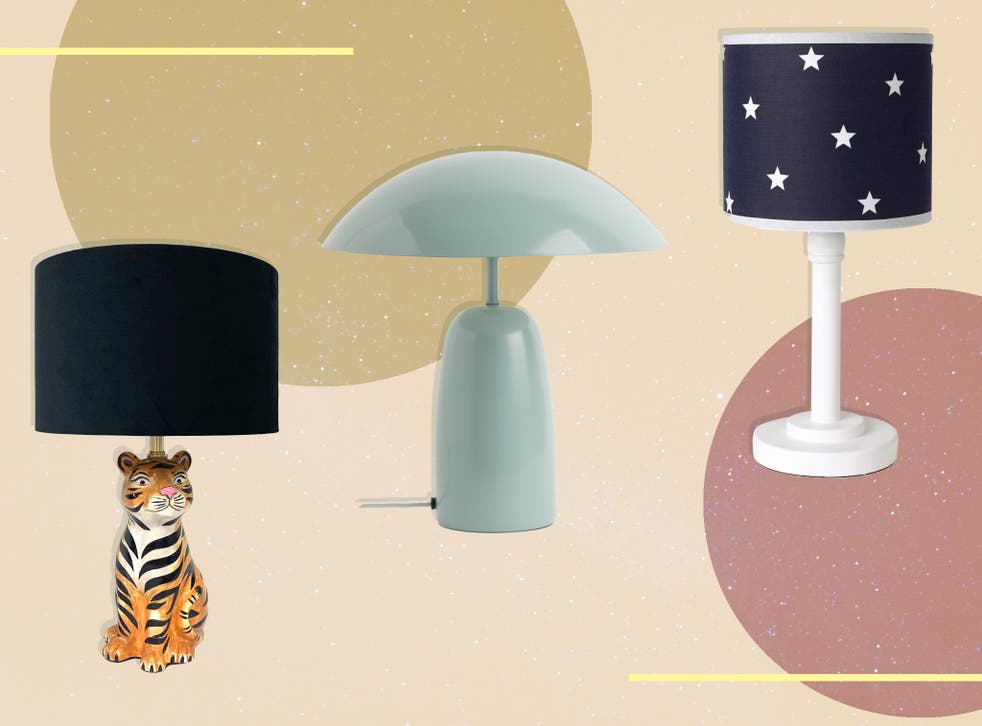 Whether you're looking for a stylish desk lamp for a tech-obsessed teen, or a table lamp that gives off the perfect glow for bedtime stories, the right lamp makes a lovely addition to a child's room.
When you're buying a lamp for a little one, the first factor is likely to be looks, and the great news is there are some brilliantly playful lamps to choose from. Price also plays a big part for parents, and durability is key when it comes to children of any age.
While you're shopping around, it's worth deciding if you'd prefer a mains-powered lamp or one with a USB charger, which comes down to personal preference. Likewise, consider whether you'd like a lamp that takes a standard bulb or an LED. The latter will stay cool to the touch, so it's a good choice for little ones.
How we tested
Our little testers ranged from four- to 14-years-old and picked out their favourite lamps based primarily on appearance. To narrow these down, we then looked for value, durability, and any extra features – like customisation or multiple functions.
Some of the lamps on our list are designed specifically for kids, often with extra safety features built-in. Others are standard lamps that would look great in an older child's room, so bear this in mind when you're buying.
Read more:
The best kids' lamps for 2022 are:
Dunelm tiger table lamp
Best: Overall
Rating: 10/10
This charming table lamp will look fantastic in a jungle-themed nursery or kids' bedroom. It's from Dunelm's main range and the tiger base is stoneware, so it does need to be handled with care. But our nine-year-old tester absolutely loved the fact it had a more grown-up feel than the more cutesy animal lamps we tested, and we love the fact it won't be too "young" for him any time soon.
The black velvet lampshade is metallic gold on the inside, and the light it gives off has a lovely warm glow that's perfect for wind-down time. Elements like the braided flex cable and hand-painted finish give the lamp an upmarket feel at a bargain price, and it and would make a plush but playful statement in any room of the house.
GLTC navy stardust bedside lamp
Best: For space-themed rooms
Rating: 9/10
Designed specifically for kids, GLTC's navy stardust bedside lamp has a fully enclosed LED bulb, so there's no hot object for curious little fingers to touch. It's worth noting that the bulb isn't replaceable, but GLTC gives an estimated lifespan of 17 years, by which time your little person will be on the bigger side.
We liked the fact the lamp perfectly complemented a space-themed bedroom, and it's also available in grey, as well as a dinosaur design and a spotty confetti print. GLTC stocks lots of matching bedroom items for each one – from storage caddies to bedding sets – and the design of the navy stardust lamp is so classic that it's easy to shop around for these, too.
Habitat kids wooden rocket table lamp
Best: For construction fun
Rating: 8/10
Kids will love assembling this rocket-shaped lamp, which comes flat-packed in individual parts that slot together like a model kit. The rocket is made from natural wood, and with the bulb on show in the centre it has a super cool pared-back look once it's built.
The bulb isn't included, and you can choose a halogen LED up to a max of 3W. The lamp is mains-powered with a bright orange braided cable that's nice and long, and really finishes off the look. Plus, at a dinky 23.5cm high by 14.5cm wide, this lamp looks great on a shelf or bedside table without taking up much space at all.
Smyth's Toys Super Mario piranha plant posable lamp
Best: For gamers
Rating: 8/10
Our Super Mario fan was seriously impressed with this lamp, which looks just as good when the bulb is switched off as it does when the lamp is in use. It's a fairly compact 25cm tall, and the stem is flexible so you can move the head around and use it like a reading light to focus on one area. The base is weighted to stop it from falling over when you re-position it, and the LED bulb isn't overly bright. It's more of a novelty lamp to brighten up a kids' desk or gaming area than a lamp to light a room, and it's worth knowing it has a USB cable in place of a traditional plug.
Priormade geo pendant lamp
Best: For older kids
Rating: 9/10
We absolutely love these clever pendant lamps – they're handmade in Bristol and totally customisable. When you order, you can choose the colour of the paint, cord and strap, and pick whether you want the switch on the cable or the lamp itself. Kids will love the fact they get a say in the design, and no two lamps are the same.
The cord itself is 3m long, which means you can move it around the room and make a feature of the coloured flex. Our tester liked the fact he could use the leather strap to hang it from a hook under his cabin bed. Just bear in mind that due to the cord length this one is only suitable for older children and teens.
M&S dinosaur lamp
Best: For dinosaur lovers
Rating: 8/10
This quirky dinosaur lamp was a hit because our tester loved the candy pink colour, but it's also available in dark green if your little dinosaur-lover is a tad more traditional. The matte painted base – modelled on a brachiosaurus, although it looks a lot like a dragon – is solid and heavy. Thankfully it has fabric pads underneath to stop it from marking your surfaces.
The dinosaur's little head screws on above the drum shade, which is a much more muted shade of pink than the body. The bulb is an LED and we liked the fact it was included, while the clear plastic cable is a nice touch.
H&M turquoise metal table lamp
Best: For statement style
Rating: 9/10
Not every kid wants a novelty lamp, and we found this metal version hit the perfect balance between playful style and grown-up glamour for our teen tester. They loved the turquoise-green shade, although there's an equally lovely rust pink available. Either way, the sleek modernist design and lacquered finish make this lamp a real head-turner.
The lamp takes an LED bulb, which isn't included, and the curved shape of the shade gives off a lovely soft light. We like the braided cable, although the black plastic switch would have looked great in a matching colour. Lastly, it measures 37cm x 37cm which is huge – much bigger than we anticipated – so it's perfect if you're looking for a stand-out feature for your kids' room.
Groov-e artemis wireless charging station with LED touch light
Best: For tech heads
Rating: 8/10
Our teen tester loved this sleek lamp, which doubles up as a wireless charger. It's ideal for charging a compatible phone or tech like Apple AirPods – just pop them on the charging pad in the base, and the lamp does the rest.
The wireless charger has a 5W output, and we found it worked best when left to charge all day or overnight. The lamp itself is an LED light and touch-sensitive, so you can tap it through three different modes. We particularly liked the fact it's mains-powered.
Home Essentials Moroccan fretwork table lamp
Best: For grown-up glamour
Rating: 8/10
If you're looking for a Moroccan lantern-style lamp for an older child but don't want to break the bank, this pretty fretwork lamp is just the ticket. It's a lovely way to add a feminine touch to a bedroom without being overly girly, and we were as impressed with the price as our tween tester was with the overall look.
The lamp really comes into its own when it's switched on, as the light filters through the intricate patterns to create gorgeous shadows. The metal frame feels sturdy and the overall finish is great quality, especially considering it's half the price of similar items we found. Just bear in mind it takes a standard bulb, which isn't included, so we'd recommend this as one for older kids.
The verdict: Kids' lamps
Dunelm's tiger table lamp came out top of our list for great quality and statement style at an affordable price. If you're looking for more in the way of safety features for a younger child, we'd recommend GLTC's navy stardust lamp, which has a fully enclosed LED bulb.
Voucher codes
For the latest discounts on home lighting and other furniture offers, try the links below:
Here's a bright idea, why not upgrade your lighting with one of the best smart light bulbs available to buy now?
Register for free to continue reading
Registration is a free and easy way to support our truly independent journalism
By registering, you will also enjoy limited access to Premium articles, exclusive newsletters, commenting, and virtual events with our leading journalists
Already have an account? sign in
Register for free to continue reading
Registration is a free and easy way to support our truly independent journalism
By registering, you will also enjoy limited access to Premium articles, exclusive newsletters, commenting, and virtual events with our leading journalists
Already have an account? sign in