The Independent's journalism is supported by our readers. When you purchase through links on our site, we may earn commission.
8 best dog nail grinders and clippers for pets in need of a pedicure
Tend to your pooch's talons with the best tools for the job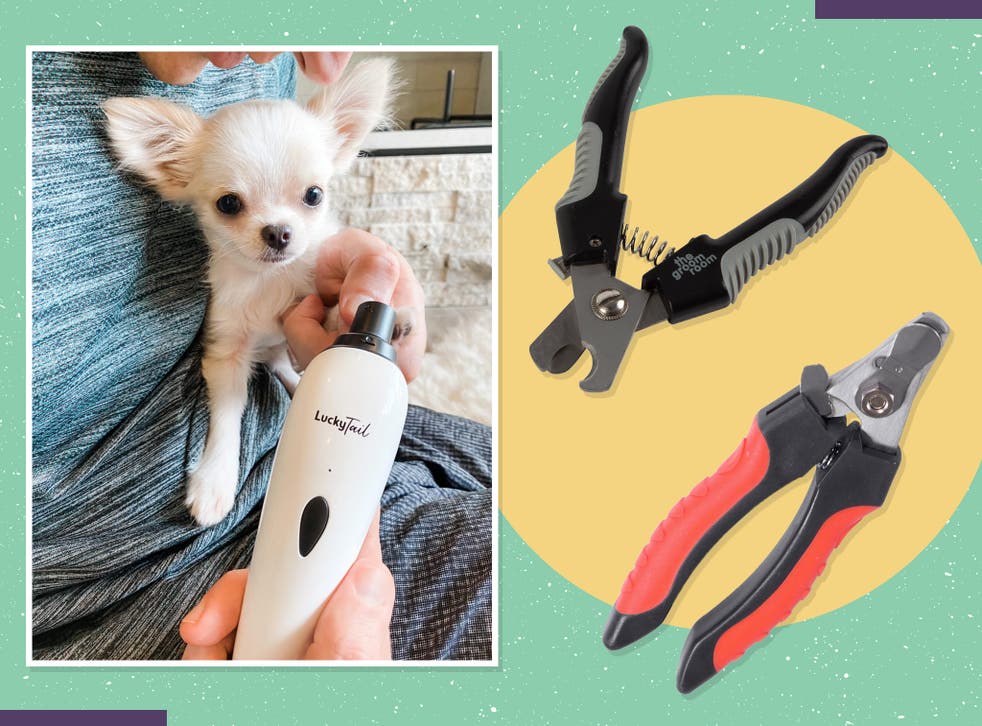 Given the number of people who've recently purchased a dog during lockdown, it's hardly surprising to learn that sales of pet grooming products are through the roof.
Dogs can be high maintenance, and one of the most important elements of dog grooming is the trimming of nails, using either clippers or nail grinders. The best dog clippers are ones which are comfortable in the hand, easy to operate and have a blade which stays sharp with minimal maintenance – blunt blades can often do more harm than sharp ones.
If you'd rather plump for an electronic nail grinder, we recommend one which has interchangeable heads and a safety cap with multiple holes through which the nail can be placed, to make it easier to tackle nails of different sizes.
The most important thing is taking the time to familiarise your dog with your tool of choice. "Get your dog used to having their feet picked up and their nails inspected," says Sean McCormack, head vet at tails.com. "Reward-based training is key – plenty of praise and tasty treats are needed. Next, introduce your dog to the nail clipper or grinder – allow your dog to sniff it and see it before you bring it near their feet.
"Finally, go through the motions of preparing to trim your dog's nails but take it step by step and reward your dog after each stage until you build up to the actually clipping or grinding, taking just the tiniest tip off one nail. If your dog gets worried, go back a step."
Read more:
Should you accidentally cut the quick (the delicate area near the base of the nail which contains lots of blood vessels) on your dog's feet, don't panic. Hold a piece of paper towel over the area, compressing it firmly and this should stem the bleeding.
But if not, use your fingertip to apply styptic powder, which is available from all pet stores. This anti-haemorrhagic powder stops bleeding by sealing blood vessels. Once the bleeding stops, apply a bandage. If the bleeding continues after 30 minutes (which is unlikely), call your vet and ask for advice.
We tested our clippers and grinders on a wide range of dogs boasting everything from regularly-manicured claws to seriously neglected nails in urgent need of trimming. Even after decades of dog-owning, we still get nervous about this particular task, so we know what to look for.
Priorities were ease of use and a sharp blade with a decent safety lock. Bonus points were awarded for tools which could be used on nails of different shapes and sizes, through the use of features such as safety caps with multiple cutting holes.
You can trust our independent reviews. We may earn commission from some of the retailers, but we never allow this to influence selections, which are formed from real-world testing and expert advice. This revenue helps to fund journalism across The Independent.
The verdict: Dog clippers and grinders
Rosewood's guillotine clippers make trimming the toughest of talons a breeze, whether you're a dog grooming guru or a first-time trimmer. They're incredibly comfortable in the hand, and the position of the ultra-sharp blade minimises the chance of accidental nicks.
Mikki's scratch me not scissor claw clippers were much more versatile than the name suggests – they were brilliant for smaller dogs but we'd also recommend them as a great tool for keeping larger dogs' claws in check, too.
Finally, a big shout out has to go to the Lucky Tail claw grinder, which proves that electronic grinders don't have to resemble torture tools. The combination of a low noise level and an ergonomic design makes trimming nails and claws – on dogs of all shapes and sizes – a breeze.
For rough and tumble-prone pooches you should invest in one of these dog first aid kits
Register for free to continue reading
Registration is a free and easy way to support our truly independent journalism
By registering, you will also enjoy limited access to Premium articles, exclusive newsletters, commenting, and virtual events with our leading journalists
Already have an account? sign in