The Independent's journalism is supported by our readers. When you purchase through links on our site, we may earn commission.
11 best kids' party decorations: Balloons, pinatas, games and candles to impress your little guests
Host the perfect event with these fun and functional pieces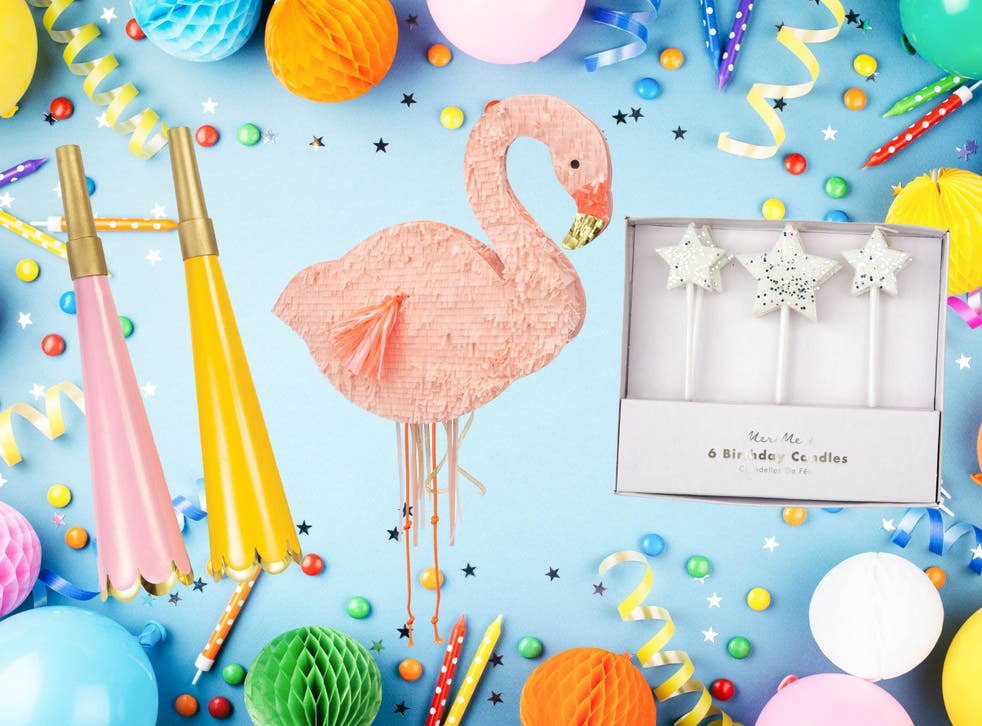 Thanks to Pinterest and Instagram, the aesthetics of children's parties have changed a lot since, say, the 1980s, when a few balloons bobbed on the back of chairs in the function room of the local leisure centre and everyone went home with a plastic party bag filled with dip dabs and Chupa Chups.
Now, it's safe to say that party planning for children is a little more sophisticated – with more variety and choice when it comes to pretty much anything you could want or need for a brilliant bash.
Balloons don't have to be round, candles don't have to be long, and party bags don't even need to be bags.
We've compiled a roundup of the best party decorations on the market. From statement pieces to fun little accents, we've got it covered.
We kept an eye on price – as anyone who has ever hosted one knows how the cost of a child's party can rack up – but also on whether things could be used again, and whether these decorations would appeal to a wide age range.

You can trust our independent reviews. We may earn commission from some of the retailers, but we never allow this to influence selections, which are formed from real-world testing and expert advice. This revenue helps us to fund journalism across The Independent.
Meri Meri flamingo party pinata: £20.50, Meri Meri
While pinatas are a staple for celebrations in Mexico, we Brits have been rather late to the party. However, our enthusiasm for these colourful vessels which hang, ready to be hit open and release all sorts of bounty, is plentiful. This flamingo, made from cardboard and pink tissue paper, is a bit of a masterpiece. You'll find children make a beeline for it, prodding and poking at the fun-filled bird before the whacking commences.
We found it easy to assemble – even at speed, and you don't need to faff about with glue. It doesn't come with a stick, so we found a wooden spoon did the trick. You will need to fill it with sweets and treats yourself, but we're happy to say this pinata survived not one but two parties of overexcited three-year-old revellers. A sturdy showstopper.
Unique Party circus carnival party game: £2.99, Party Pieces
A reworked version of pin-the-tail-on-the-donkey, this game – where peanuts are fed to the circus elephant – is cheap, cheerful and guaranteed to bring an element of healthy competition to any party. The peanuts are numbered so whoever places theirs closest to the elephant's trunk is declared the winner. Simple thrills. And it can be reused again and again. You'll need to find your own blindfold, though.

Hobbycraft hanging paper fans: £3.50, Hobbycraft
Paper decorations add texture and colour to any space. We hung these from an apple tree, much to the delight of a gaggle of three year olds. They serve no purpose other than to look whimsy and jolly – and that's a very important aspect of decking out a party. Very cheap, too.

Bubblegum Balloons set of six foiled leopard inflated balloon wands: £20, Bubblegum Balloons
There are infinite choices when it comes to selecting balloons – but safe to say anything big, shiny and shaped like an exotic animal is likely to go down well at a children's party. We plumped for the leopards but there are also the likes of lions, princesses, tractors and flamingos to choose from. These arrive fully inflated, so you don't need to even think about the stress of helium canisters.
We just popped the end of the stick into the wand head on the balloon, and we were all set. We really liked that these could be used as decorations – they work well as a centrepiece on a table filled with party food – but that could then be shared out and taken home as favours. These balloons come in bunches of six and are attached to wands rather than string. We found these lasted and lasted – five days and counting.

Rex London mini tutti frutti garland: £6.95, Rex London
This garland is simply delightful. It's comprised of seven different paper honeycomb fruits, including cherry, lemon and pineapple measuring approximately 11 x 6cm each. We strung this up above a party table where it was admired for its bright, inviting charm. There are two unexpected bonuses to this garland.
The first is that you have to assemble the fruits yourself and attach them to the string. This proved to be an excellent and absorbing activity for the couple of seven years' olds who were given this task. The second is that once the party is over, the fruits can be neatly folded down flat and stowed away for the next party.

Meri Meri silver star candles: £8.25, Meri Meri
Why have normal candles when they could be star-shaped and glitter encrusted? We loved these beautiful candles which come in a pack of six, two large and four small. They burned evenly, steadily and add a little something extra special to any cake.
Rex London vintage kids cake decorations: £4.95, Rex London
These cake decorations will add a hearty dose of nostalgia to any confection – so long as it doesn't have a diameter any longer than 30cm. The pack includes one cake bunting, four cake toppers and one cake frill – and is absolutely essential if you are in no way akin to Mary Berry when it comes to getting your bake on. All of this colourful paper and wood will hide a multitude of culinary sins including soggy bottoms, burnt edges and lumpy icing. If you're careful, you'll be able to reuse it.
Pretty Little Party Shop party horns: £2.99, Pretty Little Party Shop
Addictive, underrated, slightly annoying and but completely essential. The party horn. Available in packs of four, these horns measure eight inches and are really lovely to look at – with pastel shades with gold accents. We found these to be effortlessly loud – which did the job!

Hobbycraft gold foil polka dot party boxes: £4.50, Hobbycraft
These boxes are really lovely – and very roomy too at 15 x 19 cm. Available in packs of five, they are easy to assemble and are made of quality card, so they feel strong and secure. We really liked how children couldn't easily peer inside them, which added an extra element of surprise.
Pretty Little Party Shop bespoke balloon garland installation kit: £29.99, Pretty Little Party Shop
This looks like the work of professionals, but actually making a balloon garland requires no expertise, or even experience. There are two kits to choose from. One smaller – the 2.5 metre kit which contains 25 11 inch balloons and 40 five inch balloons as well as installation tape. The five metre kit contains double the number of balloons. In terms of colour – you're the boss, and can choose up to six shades.
There are also instructions as how best to arrange your garland, although part of the fun is making it personal. With older children, this proved to be a really fun and bonding activity. We made an arch which actually looked pretty good if we say so ourselves. There were a few popping casualties but thankfully a few spare balloons were provided so it wasn't the end of the world. The hardest part was blowing up the balloons. Word to the wise – get a balloon pump!

Peter Rabbit party kit: £20.99, Party Delights
There are few things more delightful to small children than Peter Rabbit and pals. This all-in-one party kit caters for 12 guests and includes, plates, cups, napkins and a gorgeous hanging garland. Often disposable tableware can look and feel cheap – flimsy and prone to leaks – but we found the quality of this kit to be very good.
The scalloped edges of the plates were lovely and less every day than a simple round plate. The napkins were also thick and absorbent. The illustrations were detailed, clear and the colours deeply saturated. We recommend serving carrots and other produce snaffled from Mr McGregor's garden before everyone tucks into cake.

The verdict: Kids' party decorations
It's kind of like comparing apples and oranges, but we think the flamingo pinata has to win the day. It's beautiful, fun and a real centrepiece.
Register for free to continue reading
Registration is a free and easy way to support our truly independent journalism
By registering, you will also enjoy limited access to Premium articles, exclusive newsletters, commenting, and virtual events with our leading journalists
Already have an account? sign in
Register for free to continue reading
Registration is a free and easy way to support our truly independent journalism
By registering, you will also enjoy limited access to Premium articles, exclusive newsletters, commenting, and virtual events with our leading journalists
Already have an account? sign in