The Independent's journalism is supported by our readers. When you purchase through links on our site, we may earn commission. Why trust us?
10 best personalised children's books to get them reading
Little-tester approved, these bespoke tomes will keep kids turning the page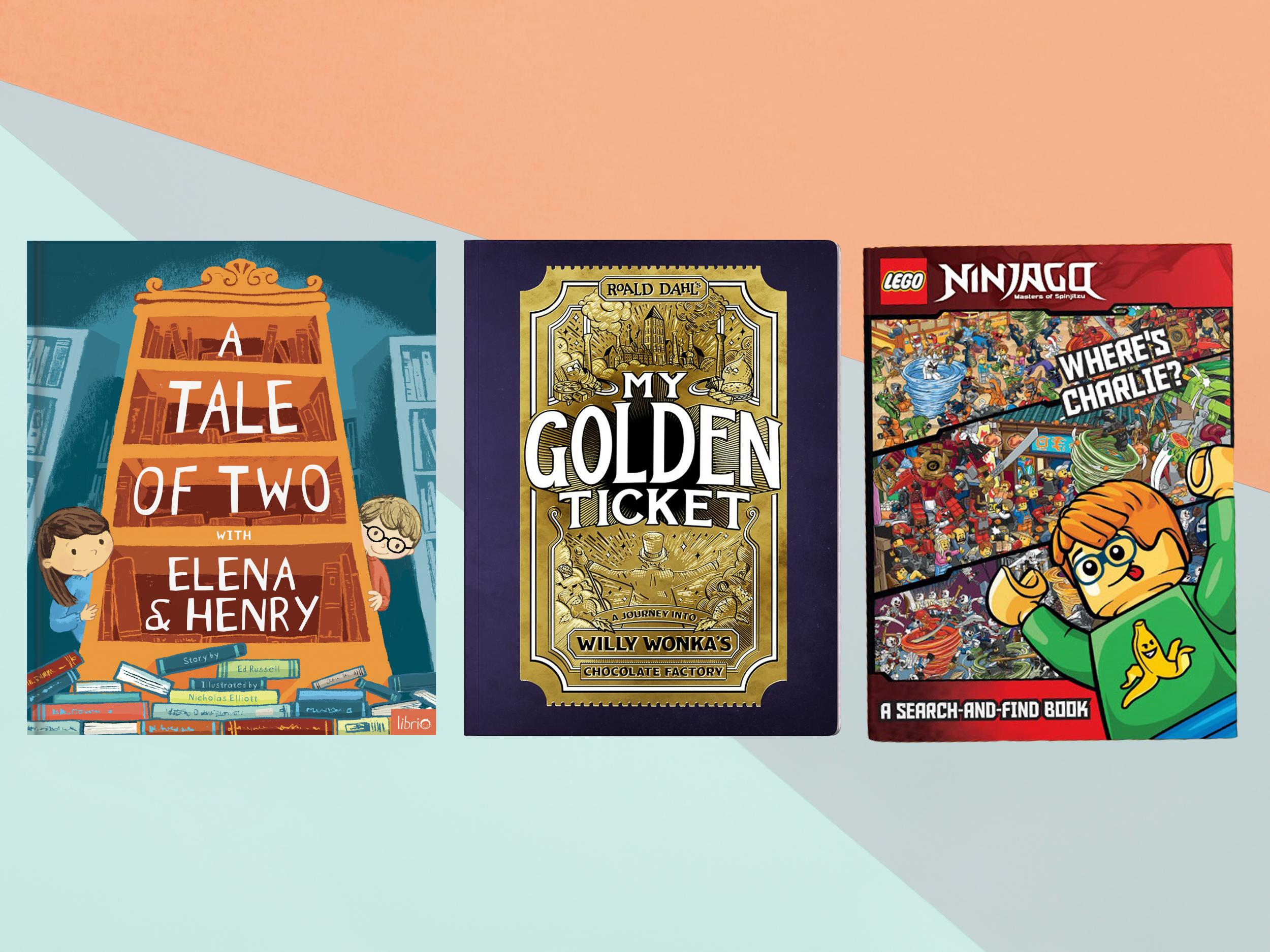 Personalised children's books can sometimes feel like money for old rope.
Stick a child's name on a flimsy volume – easy enough given recent developments in printing technology – and charge four times what anyone would pay for the same text otherwise.
There are undeniably some overpriced and underwhelming options on the market.
A good personalised book, however, can be a lovely keepsake present, and there is no denying that young children in particular get a certain thrill from seeing their name, or even an illustrated or photographic version of themselves, in print.
Below is a selection of personalised books that we think are worthy of gift status. There should be something to suit most tastes, among them.
You can trust our independent reviews. We may earn commission from some of the retailers, but we never allow this to influence selections, which are formed from real-world testing and expert advice. This revenue helps us to fund journalism across The Independent.
'Oi Stop Eating the Roses' (Snapdragon Books): £29, Snapdragon Books
This labour of love from two Devonian entrepreneurs is a lovely gift that our tester has returned to repeatedly since receiving it two years ago. Each handmade copy is personalised, not just with the child's name, but with thoughtful details such as their favourite songs, hobbies and friends, which are woven into the story. A photo on the final page transforms the recipient into a minor celebrity. Best suited to children of around four to six, or any kid who is old enough to have their own favourite things.
'Personalised Roald Dahl Story: My Golden Ticket' (Wonderbly, in collaboration with Roald Dahl): £24.99, Wonderbly
Step inside Willy Wonka's chocolate factory courtesy of Wonderbly, the personalised book juggernaut behind the Little Boy/ Girl Who Lost Their Name and other global best-sellers. It is a coup, even for Wonderbly, to have the rights to Dahl's beloved classic in this way and this gold-embossed book, full of witty details that come into their own as a child ages a bit, has proved a hit with our tester and parents alike. The former loved seeing a confectionery bar based on the letters of their name, and found it positively hilarious that mummy was temporarily transformed into a Cousin Itt-style hairball in one of Wonka's labs. This is suitable for ages five to 12, according to the website, but we'd say it's unlikely to really captivate a child much older than about nine.
'A Tale of Two' (Librio): from £21.99, Librio
This is a charming book and is unusual in that two central protagonists can be personalised, making it a sweet gift for siblings or for a child to give to their best friend. The story is a simple one, involving a magical game of hide-and-seek through the worlds inhabited by various classic tomes, including The Jungle Book and Heidi, with stylish illustrations and a less cloying tone than many personalised kids' books. The front cover features the recipients' names as part of the title, which is relatively rare, and the two central characters can be personalised by name as well as details such as hair and skin colour. Marketed as suitable for children aged two to eight, although it might feel a little beneath some kids of about six upwards.
'Lego Ninjago search and find personalised book' (Penwizard, in collaboration with Lego): from £17.49, Penwizard
Lego Ninjago is a TV phenomenon that children aged around three to five appear obsessed with. This 24-page Where's Wally-style book allows the recipient to hunt for a Lego version of themselves amid a sequence of hectic double-page Ninjago scenes, as well as try other (not particularly difficult) challenges such as spot the difference. Our tester took great delight in shouting: "there I am!" as she raced through the pages, thoroughly enjoying the notion of herself as Lego figurine.
'Wise(ish) Words for Kids' (The Book Of Everyone): from £19.99, The Book Of Everyone
This stylishly-designed book of aphorisms, which features a tip for life on each double page, will not be for everyone. More sardonic parents might find some of the wise words cloying (see: "Good thoughts about happy things will make you shine") and yet there is some good advice in here about being true to yourself and happy with your lot, as well as some pretty cool illustrations. Available in three design schemes (we like "graphic"), and certainly less twee than many other personalised books aimed at younger children.
'The Day You Were Born' (FromLucy): £22.50, Not On The High Street
This is a surprisingly lightweight book given its relatively hefty price tag. But its advantage over many other personalised baby books is that it has far more unique information – the sort that new parents would like to know but are too harassed to collate. Whereas in many cases, book personalisation stops at a child's name, here we have a whole volume of facts about the day of the infant's arrival, such as the exact time of birth, their weight and even the time the sun rose and set.
'Mr Men: You and the Silly Birthday' (Egmont, in collaboration with Mr Men & Little Miss): from £9.99, Egmont
Amid a host of expensive alternatives, this is a good-value birthday present option for fans of Mr Men & Little Miss, which could potentially be a gift for a classmate's birthday. The starring child appears as a Roger Hargreaves-style avatar based on the details you input such as their hair and eye colour, with Mr Happy and Lil Ms Scatterbrain among the guests at a predictably chaotic gathering.
'Personalised Fairy Tales Book' (Oh My Gift): £29.95, Oh My Gift
This is one of the sturdiest options that we've seen, with 107 pages inside a hardback A4-cover featuring the recipient's name in gold as well as the title Once Upon a Time. Inside are 12 standard fairy tales, such as Cinderella, Rapunzel and Three Little Pigs, told in pretty conventional form. The added bonus, though, is that the recipient's name is embedded – whether on a prince's shield or spelt out by Hansel's dropped crumbs – in many of the illustrations throughout. While the text is perhaps not as stylishly formatted as one might expect in a standard book of this price tag, this inventive approach to personalisation means that young children will be too busy spotting their name to care.
'Paw Patrol: Birthday Personalised Book' (Pen Wizard, in collaboration with Nickelodeon): from £17.49, Pen Wizard
This is good value, by the standards of many personalised books, and a likely smash hit with preschool fans of the cartoon series Paw Patrol. Our three-year-old tester was so very taken with his cartoon avatar, and by seeing his name on the front cover, that he insisted on having the story (which, it's fair to say, is not exactly Shakespeare) read to him three times on the day it arrived.
'Personalised Paddington Bear Giftboxed Book' by Michael Bond (Harper Collins): £28.95, Not On The High Street
Not cheap, but here we have great children's literature rather than the cobbled together novelty story that you get in many personalised books. This hardback tome contains the orginal, delightful Paddington story as well as Paddington in the Garden, and has a dedication to its recipient on the front cover as well as their name on every double page. It comes gift boxed and would make a lovely keepsake.
The verdict:
Oi Stop Eating the Roses! is a cut above the rest because of its individuality and attention to detail. We would also give an honourable mention to My Golden Ticket, for its wit and appeal to older kids, and to relative newcomer A Tale of Two, which would be a great choice for anyone trying to please two little people at once.