The Independent's journalism is supported by our readers. When you purchase through links on our site, we may earn commission.
20 best kids' and babies' costumes for Halloween 2018
From cat capes to skeleton onesies, this year's outfits are playful and just a little bit scary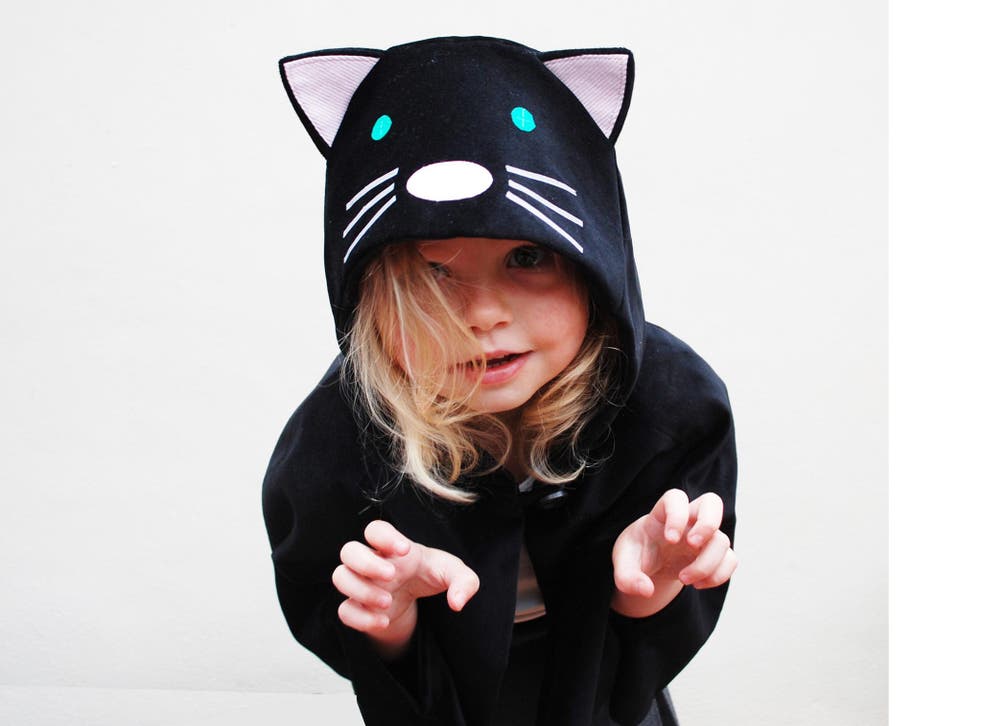 Every year Halloween becomes more popular in the UK, accompanied by an even greater choice of outfits and accessories.
It's not all about dressing up as ghosts and witches. From full-blown ghoulish costumes to less terrifying pieces for younger children, and tasteful nods to Halloween, we have selected the best outfits for parties, trick or treating and some spookiness in the home.
If you're looking for something that's more practical and can be worn all year round or passed on to younger siblings, we have selected some high quality and versatile pieces that children will want to wear again and again.
We've picked separate best buys for babies and children, and then divided our selection into costumes and Halloween touches, from spider T-shirts to cat bags.
Best for babies: Pumpkin Fleece Sleepsuit: £6, Morrisons
This fleece sleep suit is just the ticket if you're heading out for a spot of trick-or-treating – it should raise a few smiles at the same time as keeping your little pumpkin warm and cosy. 'My First Halloween' is embroidered on the foot, for extra cute factor. HS
Best for kids: Cobweb dress: £17.99, H&M
H&M has an impressive range of Halloween themed fancy dress costumes from a skeleton tracksuit to a superhero.
It's the detail of this glossy velour black dress, with its shimmering pastel print spiders and glittery, asymmetric hemmed, multi-layered tutu, that stands out among the witches' dresses on the market.
The shimmering tulle cobweb cape is detachable with a hook and loop fastener at the back.
For ages up to 10 years. EB
Full outfits
Kids Scary Clown Halloween Costume: £9.99, B&M
Remember when clowns were funny rather than terrifying? No, nor do we. Clowning around in this Halloween costume is bound to givegrown-ups a fright. Just don't let your little one look in the mirror if you want them to sleep at night. HS
DC Comics Halloween Batgirl Fancy Dress Costume: £15, Asda
Forget witches; a Batgirl superhero costume is surely the 21st-century girl's go-to Halloween look of choice. This comes with a mask and detachable cape which, of course, so self-respecting superhero leaves home without. HS
Kids Witch Halloween Costume: £6-£7, Matalan
For kids who aren't afraid of ghosts – or witches, for that matter – this classic Halloween costume ticks all the boxes. And it's great value for money. HS
Unicorn Fairy Fancy Dress Costume: £13, George at Asda
Asda goes all out when it comes to Halloween fancy dress costumes. From cat to devil to the obligatory witch's get-up, their George outfits are excellent value starting at just £5.
Unicorns are all the rage this year – last summer 'unicorn' overtook 'mermaid' in popularity as a Google search term for the first time – and little girls who aren't keen on scariness will love dressing up in this pretty, sparkly outfit.
You get lots for your money – a headband, removable wings and a multi-coloured mesh skirt. Its ideal for a Halloween party.
Although the sequinned bodice and shiny wings will also make your child easier to spot as they go trick or treating. EB
Disney Store Hulk Baby Costume: £15.75, Disney Shop
True, there's nothing traditionally Halloween-esque about The Hulk but if you're going to go to the trouble of dressing up a baby, we reckon you might as well go for full funny factor.
We can't stop laughing at the sight of our little tester toddling around in this heroic green get-up. HS
Little Cutie Ghost Costume: £20, Time To Dress Up
Ditch the ghoulish costumes and go for killer cute instead with this adorable ghostly dress. We love the full layered skirt and 'BOO' headpiece. HS
Cat outfit: from £18, Marks & Spencer
As far as fancy dress goes, this cute and effective cat outfit is also practical, given that the three pieces – stretchy bodysuit, pretty tutu and cat ears – are separates that can be a part of your child's everyday wardrobe.
Just paint on some whiskers, and they will be all set to make the perfect companion to a witch. Does not include a tail.
Comes in ages 18 months to 12 years. EB
MOLO Ivory Cotton LUVE Pyjamas: £45, Children Salon
The fun detailed print of black cats, bats, skeletons and witty comic book phrases makes these unisex pyjamas full of the character you would expect from the urban Scandi label for children.
The ivory-coloured pyjamas are also luxuriously comfortable – made from the softest, high quality cotton jersey – so children will want to wear them whatever the time of year. The drawstring waist and tapered legs are stylish details that warrant the price tag. EB
Skeleton Print Onesie: from £22, John Lewis
Worn with its ghoulish hood, this skeleton print onesie is certainly a scary option for treat or treating.
Buy it in a larger size to make space for clothing underneath for extra warmth when outside.
Made from comfortable pure cotton, it is also the ideal outfit for sleepovers and lounging around the house, especially with the matching slippers. Its high quality means it can be passed down to younger siblings.
Available in three to 14 years. EB
Items and accessories
Bang Bang Copenhagen Black and White Spider Grumpy Boy Tee: £24.60, Alex and Alexa
Danish label Bang Bang Copenhagen specialises in modern children's clothing with quirky patterns and an urban vibe.
Its grumpy spider T-shirt, made from comfortable stretchy jersey material, with its fluffy applique spider on the front, is creative and playful. If only they made it above size eight to nine years. EB
My Brother Is A Monster Children's Halloween Sweatshirt: £15.60, Batch1
OK, it's technically a T-shirt rather than a costume. But we couldn't love this snazzy little Halloween-themed number more. It's perfect for kids who just don't like full-scale dressing up but don't want to miss out on all the fancy dress fun. HS
My Sister Is A Witch Children's Halloween Sweatshirt: £15.60, Batch1
If you thought the above tee was cool, picture a brother and sister combo rocking this look together on October 31. We reckon these will win any Halloween costume competition, hands down. HS
Kids' Navy Glow in the Dark Dinosaur Top: £15, JoJo Maman Bebe
For little ones who might not be ready for the full-on fright factor, JoJo Maman's roar-some skeletal dinosaur top is a good alternative.
As ever with this label, children's comfort is a priority: this soft navy top has a cotton lining to prevent the stitching from irritating delicate skin.
Show us a child who doesn't love glow in the dark. EB
Skeleton Hoodie Sweatshirt: £20.97, Gap
For the older child who feels that they've outgrown fancy dress, this stylish zip-up hoodie printed with skateboarding skeletons is a subtle and hip nod to Halloween.
Team it with jeans or wear it as a cosy cover up over a more outlandish costume. EB
Stella McCartney Kids Black Biz Halloween Sweatshirt: £66, Alex and Alexa
If you have a higher budget, the designer Stella McCartney does a range of offbeat Halloween pieces for children.
This year's stylish collection is mainly spider themed, from a T-shirt to pyjamas and sweaters, but this cosy 100 per cent cotton sweatshirt is the most eye-catching with its metallic skeleton graphic on the front and back.
Matching joggers complete the look. EB
Cat Cape: £55, Wild Things Funky Little Dresses
Handmade in luxurious cotton velvet and fully-lined, this gorgeous dress-up cape makes a brilliant Halloween costume, but it's also sure to inspire imaginative play and dressing-up fun all-year-round. HS
Velvet cat weekend bag: £39, Wild & Gorgeous
For the pre-teen girl, this luxurious soft black velvet shoulder zip-up bag, embroidered with a cat's face, will make the perfect trick or treating accessory, storing a haul of sweets and chocolates.
From the label that evolved out of established girlswear brand ilovegorgeous, it's both sizeable and stylish enough to be used for overnight stays afterwards. EB
Spider Dark Denim Soft Sole Shoes: £20, Inch Blue
If you baulk at the idea of dressing your baby up like a pumpkin or clown, check out these soft leather shoes with just the right touch of spookiness. They're handmade ethically in the UK from breathable natural leather so they're cosy in the winter and cool in the summer, too. HS
The Verdict: Best Halloween outfits for kids
For full-on fancy dress for children, we like H&M's diverse range, including everything from spooky outfits to pretty unicorn costumes.
Littlest children will love wearing JoJo Maman Bebe's navy dinosaur top with its glow in the dark print, and older children will get lots of wear out of Gap's skateboarding skeleton hoodie.
For babies, we'd have to go for the Pumpkin Fleece Sleepsuit from Morrisons. It looks so cosy!
Register for free to continue reading
Registration is a free and easy way to support our truly independent journalism
By registering, you will also enjoy limited access to Premium articles, exclusive newsletters, commenting, and virtual events with our leading journalists
Already have an account? sign in