The Independent's journalism is supported by our readers. When you purchase through links on our site, we may earn commission. Why trust us?
12 best baby and parenting subscription boxes delivered directly to your door
Arriving monthly or as a one-off treat, these are the gifts that keep on giving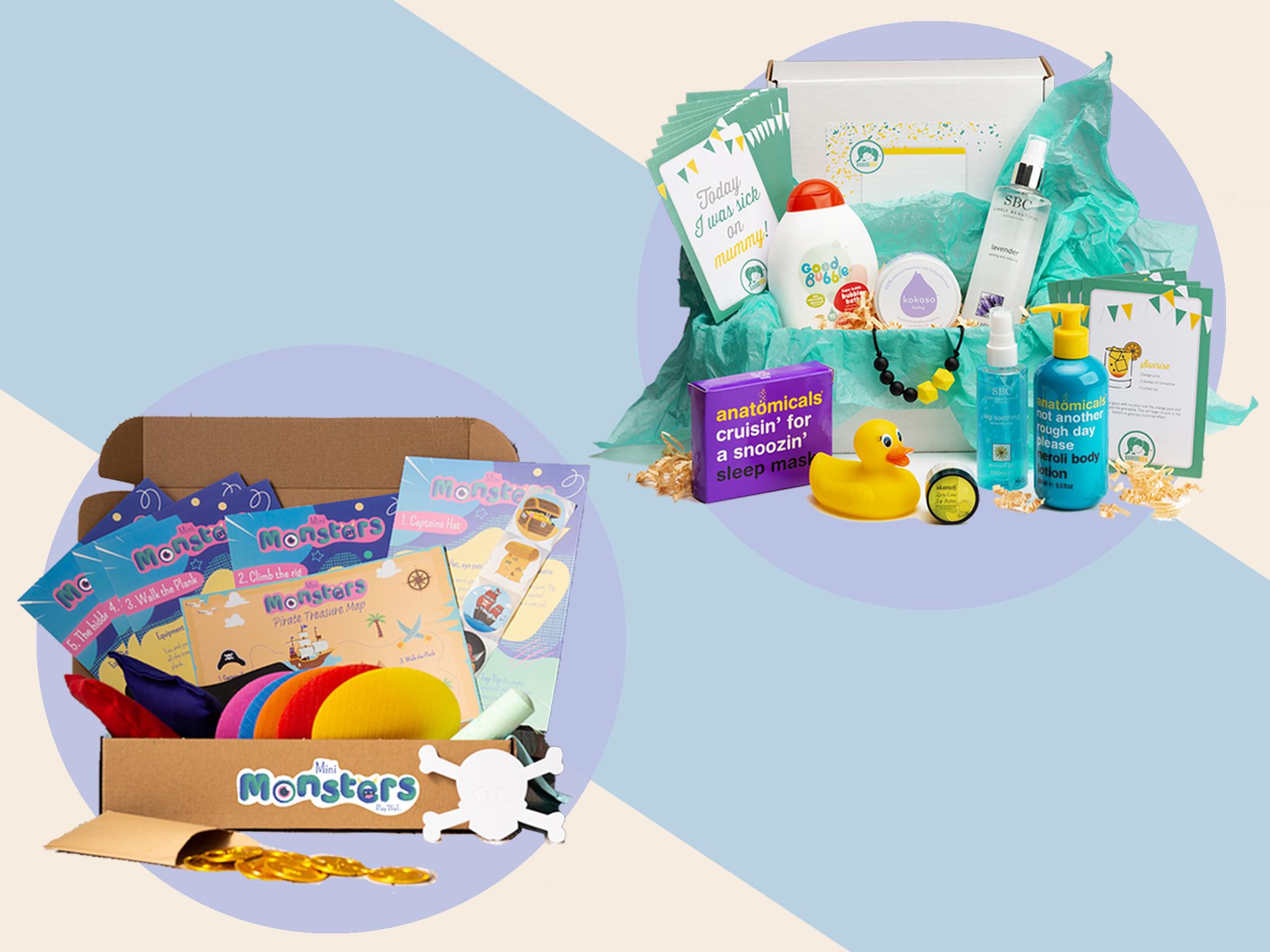 If there is anything parents need right now, it's some well-deserved treats arriving through their letterbox.
And there's no better solution than opting for a subscription box to keep receiving these, month after month.
There's now an array of these on the market; meaning you can sign up to get everything from baby essentials to colourful toys delivered to your door, with plenty of options that ensure parents and carers receive a treat too.
We tested a variety of options on the market to round-up our very best subscription recommendations.
We've covered one-off boxes for occasional gifts to monthly boxes for those who want to commit to something longer term.
We considered a range of factors when testing our boxes: value for money, variety of items, suitability to the age group, and how much use you're likely to get out of them.
With all this in mind, these are the best buys.
You can trust our independent reviews. We may earn commission from some of the retailers, but we never allow this to influence selections, which are formed from real-world and expert advice. This revenue helps us to fund journalism across The Independent.
Little Fawn Box: £12.99 per month, Little Fawn Box
As one of the cheapest boxes in our round-up (it's £12.99 a month for the box, plus £2.99 for delivery, but you can get your first for just £8), we were blown away by just how much value Little Fawn Box provides. There's a real mix of items in this one – treats for mum: a gorgeous rose facial oil from Dr Botanicals, which retails at almost £20 alone, and lavender sachets to support sleep; practical items (a jazzy lunch bag with insulated liner for picnics and piccolo baby stock cubes) and a toy too – we received a bright bead maze. This makes it perfect if you like variety and can't necessarily afford to subscribe to several boxes but want items for both you and baby. As well as subscriptions, Little Fawn Box also does a range of budget friendly mum and baby boxes, which make great gifts. Little Fawn Box delivers on affordability, practicality, and variety, making it our best buy.
Zaza's Storybox monthly subscription: From £18.99 per month, Zaza's Storybox
Zaza's Story Box is inspired by mum Danni and her daughter's incessant love for reading. She set out to create a story time box that is fun and interactive – it certainly delivers. Each month's box is themed (ours was farmyard) and combines unusual books with educational toys to make story time a real experience.
We loved how this box is far more than just receiving a book in the post. Our two books (a black and white, farm themed slide and play board book and a colourful "flippity flaps" handle book titled On the farm) were perfectly matched to our one-year-old, who loves books that can be held and played with. When you subscribe, you enter your child's date of birth and there's 24 different variations of boxes; meaning the subscription grows with your little one (books start with contrasting black and white images and then evolve to themes such as colours and shapes) until their second birthday (when it's automatically cancelled). As well as the books, we also received a whole array of other treats: a peppermint tea bag for parents, a farmyard puppet, wooden pig toy, bathtime bubbles and postcards, and printables (the "tonight I clap for carers" printable was a lovely touch).
The Little Loop the super closet: £50 every three months, The Little Loop
Nothing is more frustrating than children getting one wear out of clothes before they grow out of them. Not only does this create a lot of waste but, as any parent knows, it's also really expensive. Enter The Little Loop; a brand new rental subscription service where you get to shop from some amazing children's clothes brands (such as Boden and Frugi), which arrive in a recycled zip bag to your door. Use them as much as you like before sending them back to be laundered and sent on to the next customer (don't worry, reasonable wear and tear is expected) and then you'll receiev your next bundle of clothes.
For £50 every three months, you get 100 credits; which translates to about £150 worth of items when purchased yourself. We used our credit to rent a pair of Boden shorts, two Frugi T-shirts, a pair of Frugi dungarees, and two pairs of Frugi shorts; all of which arrived the next day, brand new with tags.
The subscription fee includes return postage and laundry and, if you find yourself dealing with a sudden growth spurt before the next three-month cycle, simply pay a small fee to cover the extra postage and washing to make another swap. The Little Loop is a new service so it's likely to grow and adapt. For example, at the moment it just covers the two to three year age range, and brand new clothes, but they expect to cover a wider range of ages in the coming months and offer more "worn before" clothes (which will cost fewer credits, making it even better value for money). It might be in its infancy, but we still think The Little Loop is a really clever idea that makes shopping for children so much easier.
The Little Sensory Box baby's first year subscription package: £31.97, The Little Sensory Box
The Little Sensory box offers both themed monthly subscriptions and a "baby's first year" box; where you can choose to receive four boxes from your baby's arrival, up until their first birthday. While we were wowed by the variety of both boxes, we particularly liked baby's first subscription since we know how tricky it can be to come up with ideas to entertain a newborn. This box is really great for encouraging play and bonding between you and your newborn, with this box providing lots of opportunities for interaction.
The subscription box – containing two black and white blocks, a black and white animal book, ribbons, a silky scarf, lace blanket, and bunny rattle – is great for encouraging sensory activity from day one. Our tester's son loved playing with the texture of the silk scarf, following the sound of the rattle around the room and gazing at the pages of the black and white book. If you're at home with a new arrival and just not sure how to introduce them to sensory activities while not at baby classes, we think subscribing to this box is an excellent alternative.
Grow With Me subscription box: £29.99 per month, Grow With Me
Designed for babies aged from birth to 18 months, it aims to match the sensory needs of your little one's age to a range of fun toys and books to use at home. This box is researched based; so not only did the content of the box (of which there was a mini wooden rainbow stacker, a ladybird pull along toy, pop up animal blocks, a book and colourful stacking blocks) seem to match perfectly with our one-year old's love of stacking and building, but it also included information on the research behind each item and how it can help with development. Another thing we loved was that all the toys were wooden and felt really high quality, which not only means they are likely to last longer but also provides a refreshing change to plastic toys.
Baboo Box pregnancy subscription box: From £35 for one box, Baboo Box
This has been thoughtfully created to take you right from the first trimester to the initial postnatal period (with four boxes in total). The boxes, which can also be purchased as one-offs, contain a mix of pampering and practical treats – we loved that this box covered all bases. There's a few treats for new mums (such as soothing bath salts, a mocktail recipe, and space mask), as well as handy essentials that they may not have thought to pick up (such as alternative milestone cards, coconut oil and a rubber duck that helps you gauge the perfect temperature for the bath).
Mum and You eco nappies and wipes subscription: £40.99, Mum and You
With it not always possible to buy all the essentials you need right now, Mum and You's subscribe and save is an ingenious idea which means you'll never run short on nappies, wipes and other essentials again. The flexibundle means you can choose your subscription term (from 15, 30, or 45 days) as well as the items. It works out 15 per cent cheaper than buying individually.
Your subscription can be customised by selecting essentials from four categories: nappies and wipes (you can then customise the size and quantity); newborn skin products (such as massage oil and nappy cream); body and hair wash for babies six months+ and even some treats for parents (such as eye gel and hand cream). Not only do we think this is such a great way to stay organised but it's worth mentioning some of the impressive credentials of these products too: Mum and You's baby wipes are 100 per cent biodegradable and the skincare is hypoallergenic.
Eco•co•box mummy subscription: £30 per month, Eco•co•box
Being a parent and trying to be as eco-friendly as possible can be a bit of a minefield. There are so many things to be conscious of – from nappies to toys, books and bath products. This brand aims to introduce mums to non-toxic, ethical and sustainable brands each month.
Inside our box, which was made of minimal, recycled packaging, was a vegan and cruelty-free face mist (perfect for looking fresh on three hours sleep!), which is made with biodegradable plant plastic, a Bloom and Blossom pillow spray, which can be used from birth to help your baby drift off, eyeliner from an ethical beauty brand, a stainless steel snack pot, and a full-size body scrub from sustainable British brand Upcircle. We think this is a great way to explore sustainable products that can make being a mum and parenting just that little bit easier.
Mini Monsters box: From £13 per month, Mini Monsters
Mini Monsters box is an activities-based subscription box for children aged two to five years olds and aims to introduce them to physical development activities. Each box is themed – our tester's was zoo themed – and contains a great variety of toys and game ideas to keep energetic little ones entertained for hours. The activity pack, which came full of stickers, masks, balloons, whistles, coloured balls, cones and paddle bat, is also accompanied by great visual aids and cards for parents; something that really improved our tester and her son's playtime.
This is the perfect box if you're looking to entertain toddlers at home, with the play element of the box being a real stand-out element, as well as the fact it gives you inspiration for future activities. Our child tester loved pretending to be the zoo animals from the cards in the box, as well as running in and out of the cones provided, trying to chase the animals.
Nuby birthday bundle: Price varies depending on items selected, Nuby
This is the only box on our list that can't be subscribed to but Nuby's dynamic bundles are still well worth a mention. With three stages of the baby's first year covered (the newborn bundle, the weaning bundle and the first birthday bundle), these boxes offer all the essentials at a great saving. Unlike the rest of the boxes on our round-up, there's an element of customisation to these boxes. Simply log on and select your choice of items (this depends on the age you choose but, when testing the first birthday bundle, we were able to select our own choice of cup, bib, bath toy, cutlery and plate); which then get sent along with three bonus gifts. Not only is it a hassle-free way of getting everything you need in one box, but buying the bundle offers you a 30 per cent saving. We think this is a great idea and the perfect gift full of practical things parents and baby will use time and time again.
Habox: £12 every three months, Habox
Created and run by a dentist, Habox is an ingenious subscription box to inspire great dental hygiene habits right from birth. The premise is simple: pop in your child's date of birth and receive the appropriate dental products to use in one letterbox friendly subscription, which is received every three months. Our box contained information on teething and brushing; along with gum and teeth wipes (which can be used from birth), a bamboo toothbrush and baby toothpaste to introduce once the baby's first teeth have arrived. There's everything you need for three months and, since the products are backed by dentists, you can rest assured that you're using the right dental hygiene products on your baby. We loved this idea; it's incredibly simple and manages to take the stress of one parenting worry off your hands.
Seventeen Minutes seasonal subscription box: £47.95 for two boxes, Seventeen Minutes
Seventeen Minutes provides a seasonal subscription box for parents who just want a minute (or 17!) to themselves. Items are sourced from small British businesses, and the brand donates £1 from each box to PANDAS⁠ Foundation – a charity for pre and postnatal mental illness; giving parents an opportunity to support a great cause and get some much-needed self care. Inside our box was a "mothering it like a boss" mug, which certainly brightened up our 5am cup of tea, a vegan face scrub from Upcircle, and a bar of honeycomb milk chocolate from luxury chocolate brand Love Cocoa.
With lots of boxes offering a mix of baby and mum items, it's nice to see a box devoted to self-care and luxury items you wouldn't ordinarily buy yourself. They make excellent gifts too: if you're looking for a one-off box for you or a loved one, there's a range of gift boxes; from the simple "hug in a box" at only £8 to a sensitive baby loss box; £1 of which is donated to Tommy's – the UK's largest charity funding research into the causes of miscarriage, stillbirth and premature birth.
The verdict: Baby and parenting subscription boxes
We'd be more than happy to receive any of these subscriptions in the post, but our IndyBest best buy goes to Little Fawn Box – it offers variety and fantastic value for money. If you're looking for something just for your little one, we loved Zaza's Storybox, which makes reading fun and interactive. The Sensory Box's baby's first year subscription package is a lovely idea for keeping your newborn entertained in their first year.