The Independent's journalism is supported by our readers. When you purchase through links on our site, we may earn commission. Why trust us?
8 best dive sticks for children that provide hours of fun in the water
Help your kids grow into water babies with our selection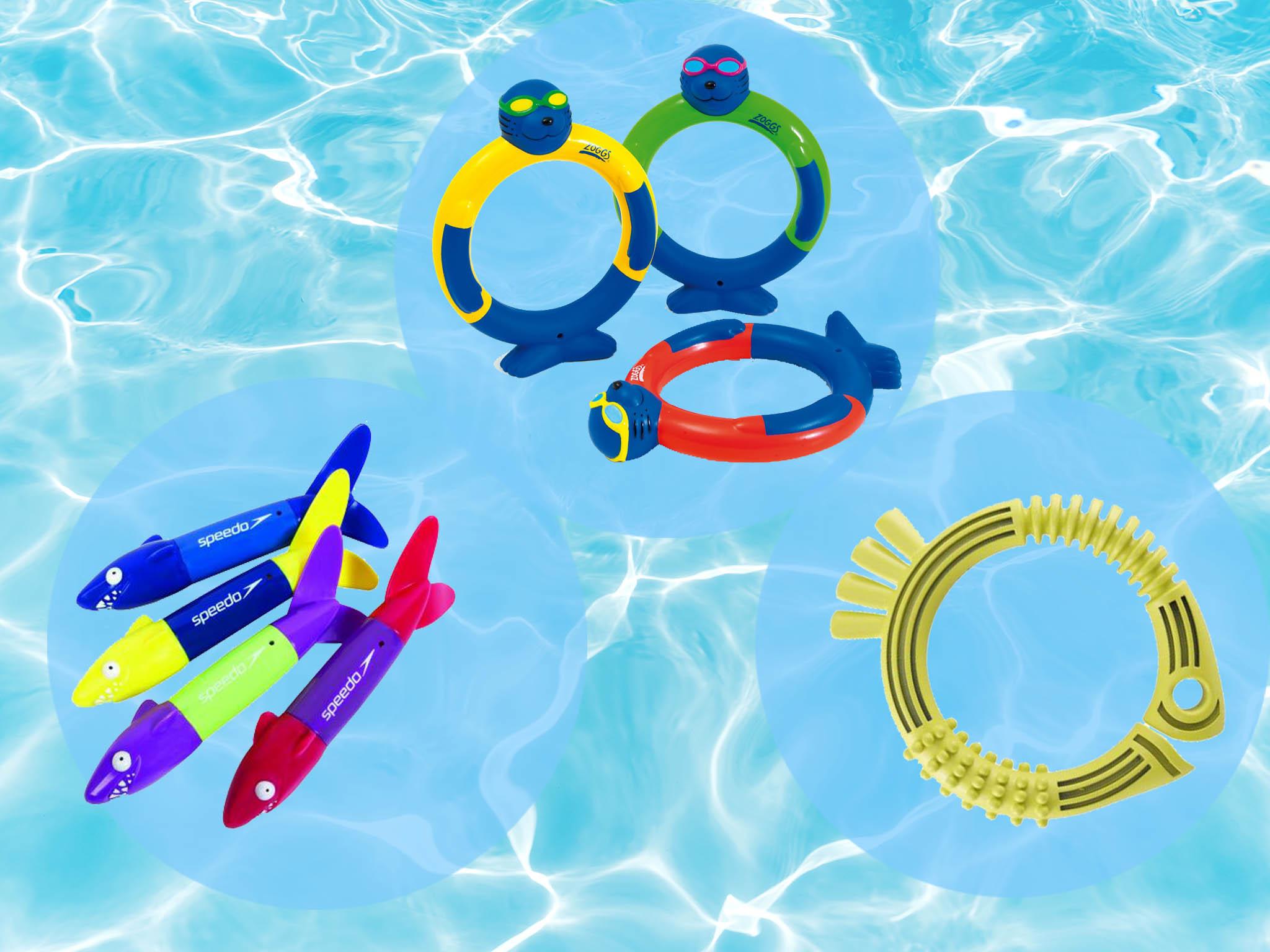 Diving down to fetch items from the bottom of a swimming pool is the perfect way for kids to improve their swimming and build confidence in the water.
Once upon a time, this used to involve collecting heavy black bricks while wearing pyjamas, but things have moved on and today's kids have a range of brightly coloured and ergonomic toys at their disposable.
For those just beginning to get comfortable in the water, dive rings are a good choice, while dive sticks are a better option for more confident swimmers.
Diving for toys are a great way to encourage children to swim without them really noticing they're doing it, while more advanced swimmers can race each other to collect the toys.
They can be used in your local pool, on holiday or even in the bath.
We've also included a swim toy which is specially designed for getting younger, beginner or nervous swimmers to put their faces in the water.
Our round-up of the best dive toys were tested by children aged between three and eight years old.
You can trust our independent reviews. We may earn commission from some of the retailers, but we never allow this to influence selections, which are formed from real-world testing and expert advice. This revenue helps to fund journalism across The Independent.
Zoggy dive sticks: £9.50, Zoggs
Our older testers, who are confident swimmers, really liked these Zoggy dive sticks. They have a good weight to them so can be thrown relatively hard without flying for miles, settle in an upright position and were easy to grasp under water but "not too easy, or that would be boring" according to one tester. There are four different coloured sticks and our testers liked racing each other or timing each other to collect them all. We found them a good value and durable product.
Speedo sea squad spinning dive toys: £17, Speedo
Our six-year-old tester loved the shark design and bright colours of these four Speedo swimming toys and was drawn to them ahead of all the other brands. They dropped slowly and spun through the water, so kids have a chance to grab them before they hit the bottom. When they reach the bottom, they rest upright with their tails up making them easy for kids to hold on to. One tester commented that these toys had "a nice squishy feel." They come with a small, netted bag to carry them in, which was very useful but, on the negative side, they were more expensive than the others we tested.
Edealing five torpedos: £6.99, Amazon
Our testers liked these swim toys, as although they didn't stand up on the bottom of the pool, they did move very quickly through the water, so the kids could pass them between each other underwater, along with diving down to retrieve them. The six-year-old tester really liked the torpedo design. On the down side, the paint did start to come off in the pool on the first use, and they didn't seem as good quality as some of the other brands on test.
Zoggs seal flips: £12, Zoggs
The seal flips from Zoggs are a great little swim toy, designed to get younger and beginner swimmers to put their faces in the water. Unlike most of the other toys featured, they don't sink but instead float on the surface, then if you blow bubbles just where the toy rests on the water, it flips over showing a different coloured face – a feature our testers really liked. Our testers used bubbles and their noses to turn them and generally got their faces wet without even noticing. We found these a good choice for younger kids to practise with in the bath or beginner and nervous swimmers in the pool. They come in a pack of five.
Aqua Sphere Michael Phelps swim method dive rings: £7.99 Simply Swim
These dive rings, made by Aqua Sphere and endorsed by the multi-Olympic gold medallist swimmer Michael Phelps, were super-bright and visible when sitting on the bottom of the pool. The testers found them easy to grasp, and said they felt comfy in their hands, while the younger testers also liked the fact you could connect the rings to each other like a puzzle. They didn't sit perfectly upright on the pool floor, however, and there were only two in the pack, which felt expensive compared to other brands.
Trunki dive sticks: £11.99 Trunki
The younger testers were excited about these new swimming toys from popular kids' luggage brand Trunki. They liked the fish design and colours, though there were only three sticks in the pack, which didn't feel as good value for money as some of the other brands on test. They floated slowly and didn't always rest perfectly upright on the bottom of the pool, but the testers had lots of fun playing with them, and the quality was decent.
Nabaiji 3D wings water game: £7.99 Decathlon
This slightly unusual dive toy set from Nabaiji, Decathlon's swim brand, baffled our testers at first. But they soon worked out that the four toys sink at different speeds, which added a fun element when they played racing games. The toys could also be stacked together, and were lightweight, so the kids found them easy to throw around the pool. A good value for money option.
Zoggy dive rings: £9.50 Zoggs
These were the most popular of the ring-shaped dive toys with our testers. They made a big splash when thrown into the pool, which the younger testers loved, and when they reached the bottom they sat perfectly upright for easy grasping. A top quality, robust product for children who are starting to make their first dives underwater. This product comes in a pack of three.
The Verdict: Dive sticks
Our testers identified the Zoggy Dive Sticks as our best buy, because they functioned really well at a good value price and our testers enjoyed playing with them. We were also impressed with the Speedo sea squad spinning dive toys, although these were more expensive. We also found that the Zoggs seal flips provided a fun, playful way to get younger beginners and nervous swimmers to put their faces in the water