The Independent's journalism is supported by our readers. When you purchase through links on our site, we may earn commission. Why trust us?
6 best fitness balls
Whether you want to get fit, develop your core or are recovering from injury, a fitness ball is a welcome addition to your kit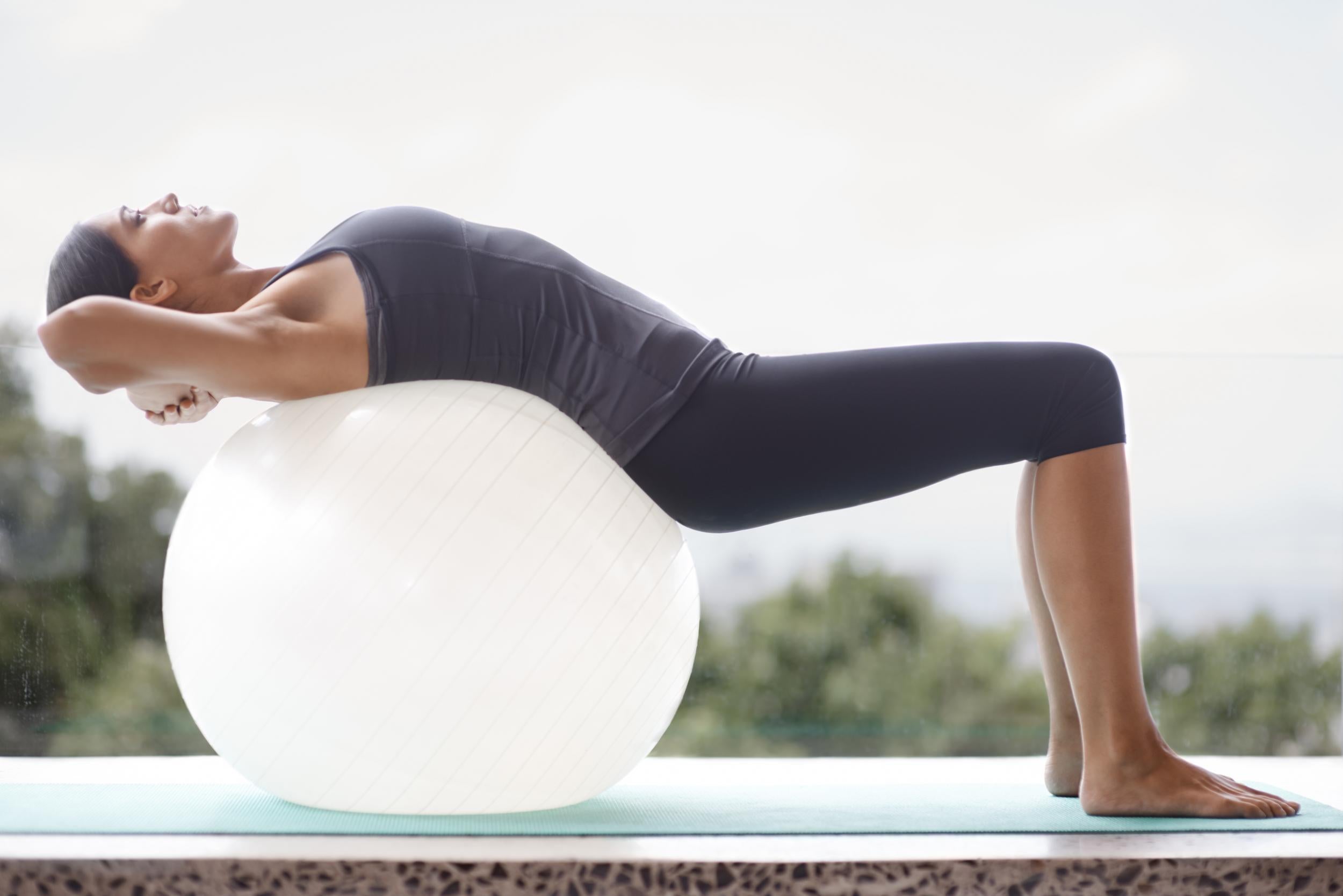 If home is where you're choosing to get fit, fitness balls (also known as Swiss/exercise/stability balls) are a great piece of kit to add to your arsenal. They can be used as part of rehab from injury, for pilates exercises and, according to personal trainer, Julia Buckley, "simply sitting on the ball in place of a chair is enough to activate the core muscles around your mid-section and is a good way to improve your posture and balance."
"Almost any exercise can be intensified by using a fitness ball, such as sit-ups or advanced options such as press-ups with feet elevated on the ball, because you're constantly stabilising yourself while doing it," she says. "Or you can do virtually any exercise you'd normally do on a weights bench to fire up the core (ensuring that you stay within the weight limit of the ball)."
We inflated, sat on and did core exercises on each ball. We tested some with a very strong odour that failed to make the cut, along with those that didn't hold their shape well. All are burst-resistant, meaning that that they deflate slowly if they puncture, rather than popping like a balloon. Look at the size guidelines for each brand, which are based on height.
Swap it in for short periods, rather than using it for the whole day, to prevent fatiguing your postural muscles.
Don't forget to check the weight limits of a ball and read inflation and safety instructions carefully. If you're pregnant, always check that a ball specifies whether it's suitable for pregnancy.
TheraBand Anti-Burst Exercise Ball: From £13.51, Performance Health
TheraBand is a big name in the world of fitness and rehab equipment and this ball confirms their good reputation. It's ridged to give it good grip, held firm during exercises, feels extremely durable and has no odour out of the box. Available in 45cm, 55cm, 65cm, 75cm and 85cm sizes, and pump adapters are included.
M-Life Heritage Eco Fitness Ball: £25, M-Life
A beautiful green ball that reflects its green credentials: the M-Life Heritage Eco Fitness Ball is made from an eco PVC that doesn't contain latex or phthalates (a group of chemicals used to soften and increase the flexibility of plastic). Ridged all the way around, it had good friction during exercises and feels durable. Upon removal from the box, there was a (not unpleasant) odour, but it eventually wore off. It comes in 65cm size and a pump and pump adapters are included.
Domyos Stable Pilates Swiss Ball: From £9.99, Decathlon
This value-for-money ball has a weighted bottom so it rights itself after each use and doesn't disappear off to the other side of the room. It has subtle bumps on the surface for grip with a pleasingly soft, almost squidgy feel. There was a very slight odour upon removal the box, although not unpleasant, and it gradually wore off. It's made from PVC, is phthalate free and it comes in small, medium and large. Pump adapters are included.
BOSU 55cm-65cm Ballast Ball: From £58.14, Physical Company
This ball is translucent and filled with what look like little white stones which are, in fact, made of "a specially formulated mixture of dynamic material" to provide 2.5lb of multi-dimensional load (MDL). This means that it not only stays in place when you're exercising, but you can also pick it up and use the ballast as part of your workout. The tough, sturdy ball has six sets of concentric circles that indicate when it's in neutral position then, as you lift and twist it in your hands, the MDL tilts to provide resistance when the ball is off-centre. It's made from a latex-free material and comes with a manual and DVD of BOSU exercises, plus a pump.
Baola Orbit Edition: £129, Baola
Yes - it's a lot of money, but this is a ball designed to be sat on as a postural aid and a stylish addition to your home or office. This well-made ball comes with a super-soft, zip-on cover with a beautiful print by British artist and illustrator, Mike Lemanski. It's synthetic, so you can wash it when it gets dirty, and the seams are double stitched so it feels as though it will survive without wear and tear when it's rolled around.
he ball rights itself when you stand up, so doesn't roll around the room. If sitting on a ball is your purpose for buying one, this beats having a plastic ball in the room hands down. Ethically produced in Italy and the Czech Republic, it comes with a valve to connect to your pump and it's available in 65cm or 75cm sizes.
Domyos Pilates Peanut Ball: £7.99, Decathlon
If a globe-shaped ball is too unstable for you because of injury, pregnancy or having poor balance, this peanut-shaped ball is a great compromise. Along with the usual core exercises, we knelt on it lengthways and widthways, as suggested in the online video and, while it's more stable than a ball, it still provides the perfect amount of wobbly resistance. It's made from PVC, is phthalate free and pump adapters are included.
The verdict: Fitness balls
The TheraBand ball comes top, combining a friendly price with a sturdy, durable ball that performs well and comes in a good range of sizes. The Domyos Pilates Peanut Ball also offers excellent value for money.