The Independent's journalism is supported by our readers. When you purchase through links on our site, we may earn commission.
9 best bike locks to help keep your wheels safe and secure
From lightweight chains to Bluetooth-enabled products, protect your investment with these designs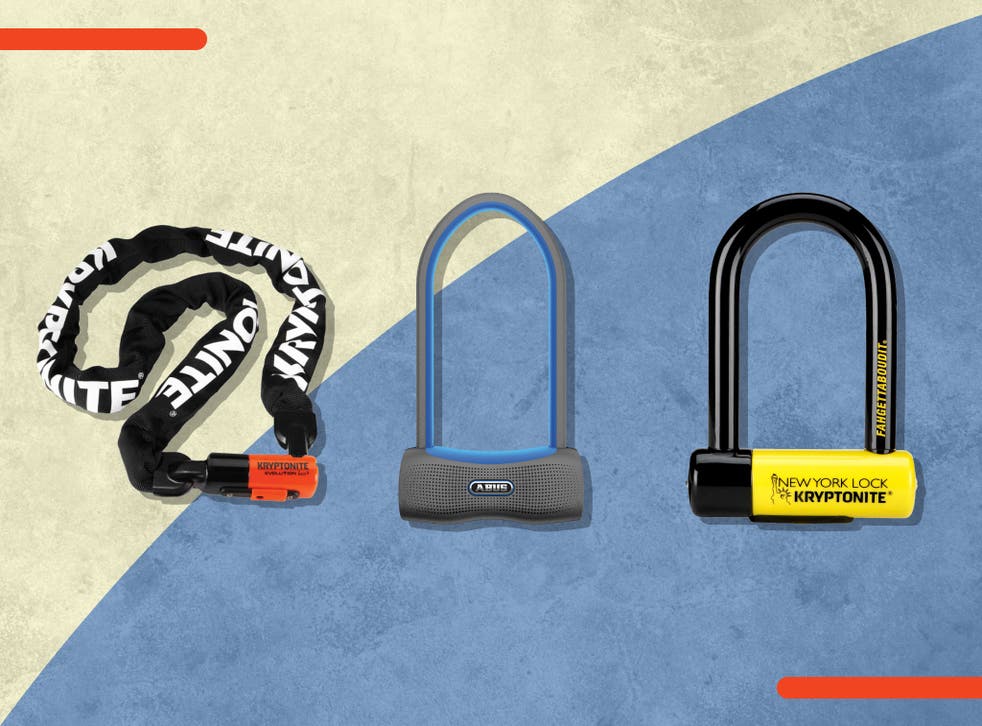 With almost 380,000 bikes stolen in the UK every year and retailer shortages meaning steeds are becoming increasingly sought after, a great-quality bike lock is the best way to protect your investment and stop your bike becoming easy pickings for thieves.
While no lock is impervious to attack, having a decent one can be enough to deter a potential thief and get them to look for an easier target.
Whatever lock you decide to go for, we recommend looking for one that's certified by Sold Secure, a UK-based independent body that tests locks against a variety of attack methods. They then rate them from bronze to diamond, based on the protection offered. Buying a gold- or diamond-rated lock means you'll have good protection against repeated attacks by thieves.
It's always a good idea to lock your bike somewhere in public, in plain sight and to a strong, immovable object. For the best protection, make sure you secure both wheels and the frame. If you've got any accessories such as lights or a device attached, you'll also want to make sure you don't leave them on your bike. You could even invest in locking nuts to secure your wheels or saddle.
U-locks, sometimes known as D-locks, are great for securing the wheel and frame to a railing or lamppost. They're easy to carry in your bag or even on your belt, and often come with mounting brackets so you can carry them on your bike.
Read more:
Chain locks tend to be heavier than U-locks, but they are more flexible and easier to fit around irregularly shaped objects. Some are long enough to fit through several bikes at the same time. You can pair both types of lock with a separate cable to secure all the main areas of your bike (frame and both wheels).
How we tested
A great lock should be easy to fit around many different immovable objects you might encounter in a city. If it's designed to carry around with you, it should be easy to fit in your bag or to your bike frame and lightweight enough that it's not a hindrance while you're riding. If you're locking up outside in Britain, you'll also want something that's resistant to the rain and cold, so we also looked for locks with keyhole covers. 
Although we weren't tempted to attack the locks we tested with angle grinders or other cutting equipment – we went off their security ratings – we tested our locks in a variety of urban areas, trying them out by locking our bikes to a variety of different objects to check out their versatility. We tested how easy they were to carry and how easy they were to lock or unlock – especially from awkward angles.
The best bike locks for 2022 are:
The verdict: Bike locks
You can't really go wrong with Hiplok's DX U-lock. With a Sold Secure gold rating and great portability, it's perfect for taking out and about. You can combine it with a cable and ground anchor for maximum security at home, too.
If you're after a lock for your shed or garage, we'd recommend Kryptonite's hefty evolution 1016 – it's highly rated for security and is likely to deter most opportunist thieves. It's also long enough to fit through two or three bikes. At a penny under £60 for a gold-rated lock, if you're on a budget, the Trelock U4 Plus is a bargain.
Voucher codes
For the latest discounts on bikes and other cycling kit offers, try the links below:
Need help choosing your new two wheels? Read our buying guide
Register for free to continue reading
Registration is a free and easy way to support our truly independent journalism
By registering, you will also enjoy limited access to Premium articles, exclusive newsletters, commenting, and virtual events with our leading journalists
Already have an account? sign in
Register for free to continue reading
Registration is a free and easy way to support our truly independent journalism
By registering, you will also enjoy limited access to Premium articles, exclusive newsletters, commenting, and virtual events with our leading journalists
Already have an account? sign in