The Independent's journalism is supported by our readers. When you purchase through links on our site, we may earn commission.
10 best snowboards for 2018/2019
From boards for beginners to pros, these designs are guaranteed to improve your ride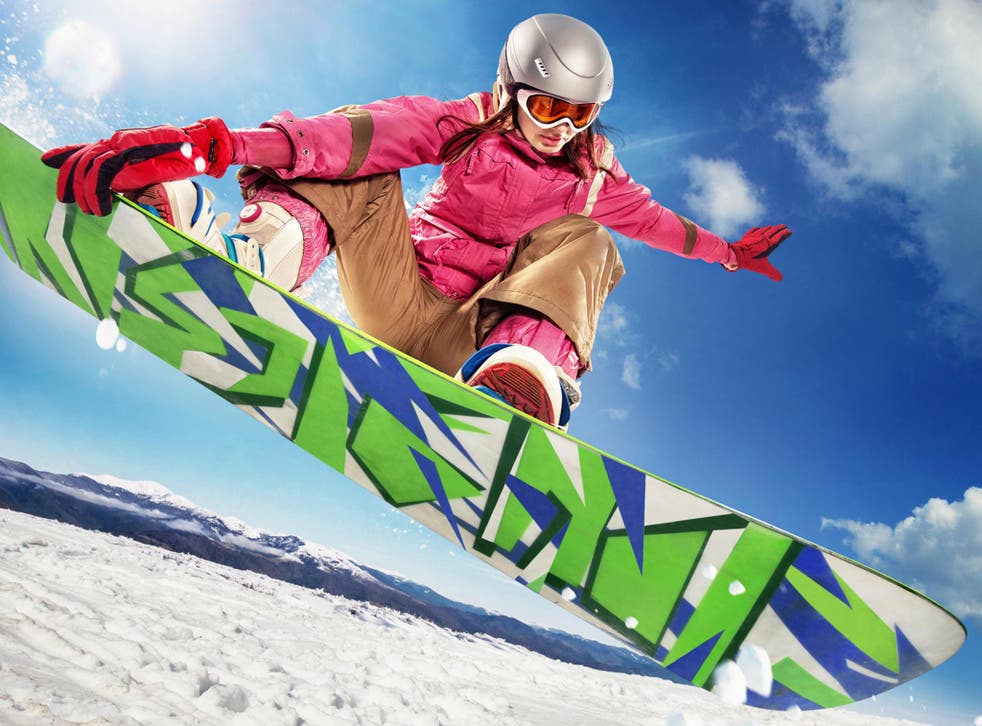 Buying a new snowboard can seem like a confusing business. With a bewildering variety of sizes and shapes on the market, how do you know which snowboard is the best for you? And what about all the various stats and specs – what do they all mean, and how much difference will they actually make to how the board feels to ride?
Given these variables, it's small wonder that many people rent a board instead of buying one when they go on a winter holiday. But although hiring a snowboard is a good option if you're a complete beginner, for intermediates and above we recommend splashing out and buying one.
Unlike skis, rental shops often don't stock boards aimed at anyone above beginner level. Also, if you ride your board regularly, you'll get used to how it feels, and will feel more comfortable pushing yourself.
There are many factors to take into account when buying a board, but the two most important ones (the ones we spent the most time considering for these reviews) are: your level as a rider and the kind of riding you like.
If you're an intermediate, you may well want a shorter board that's easy to turn with a softer flex, and a profile that makes it harder to catch an edge. Advanced riders who need stability at speed tend to prefer stiffer boards with more precise edge control.
Conversely, however, some advanced riders (those who like hitting rails and jumps in the snow park for example) will prefer a softer, shorter board that's easier to bend and manipulate with their feet.
For this reason, you'll sometimes find top pros riding boards that would also suit beginners, and it should never be assumed that just because a board is more expensive, it will be better for you. You have to find what works for your riding, and you as an individual.
Our pick of this year's best snowboards includes a mixture of men's and women's models (albeit fewer women's-specific boards than men's, as many women prefer to ride "men's" boards). They're aimed at different ability levels, and designed for various types of riding.
Ride Burnout 155 2019: £493.68, Blue Tomato
Any Brit who watched the 2018 Winter Olympics will remember Billy Morgan's dramatic bronze medal in the Big Air event. This was the board he did it on.
It's far from the most expensive board on the market, but it's ideal for the kind of freestyle riding that Morgan specialises in.
The mid-stiff flex means it's steady at speed, but it's not so rigid that you can't ride rails on it.
A great all-rounder at a good price, and an excellent choice for anyone with a few weeks riding under their belt who wants to improve.
K2 First Lite Women's Snowboard 2019: £299.95, Freeze Pro Shop
The K2 First Lite is a classic beginner's board. It's designed for female riders, so it's available in shorter lengths (from 138cm up to 154cm) that are better suited to women's lighter bodyweight (getting the correct board length has more to do with a rider's weight than their height).
With a soft flex and a forgiving profile, this is great for improving your turning technique.
The Villain: £420, Salomon.com
The Villain is a great example of a board that works for both beginners and pros. The soft flex and flat profile make it easy to turn and great for improving your technique on easy blue or intermediate red runs.
However, these same characteristics make it ideal for doing "presses" (a trick where the rider balances on the nose or tail) and make the edges harder to catch, which is ideal for riding rails in the snow park.
For that reason, one of the world's best rail riders, the French-Canadian Louis-Felix Paradis rides a Salomon Villain.
Women's Burton Feelgood Flying V Snowboard: £480, Burton.com
The Burton Feelgood is another women's board, and something of a classic – the company has produced a board called the Feelgood every year since 1996, improving it slightly each season. This year's model features their latest wood hybrid core with carbon inserts in the fibreglass, which make it feel more snappy and responsive, and a new graphic.
While the images change every year, this is reliably one of the best-looking models – men's or women's – by any brand.
But the beauty here is more than skin-deep. The Feelgood is an excellent all-rounder that'll make intermediate-to-advanced riders feel… well, good!
Bataleon Storm: £460, The Snowboard Asylum
Dutch brand Bataleon entered snowboarding in 2006 and created quite a splash thanks to their patented 'Triple Base Technology'.
This means the edges of the base are lifted, making them more difficult to catch. Learning to turn is, therefore, easier (and less painful) for beginners, but riders of all ability levels swear by it too, and Bataleon enjoys a cult following among their fans.
The Storm, a new model for the 2018-19 winter season, is a stiff, responsive board aimed at intermediate-to-advanced women riders who enjoy riding a bit of everything, but particularly powder snow.
Men's Burton Custom X Snowboard: £615, Burton.com
Like the Burton Feelgood, the Custom X has been a part of the brand's range for a long time, undergoing continual improvements each year.
This year's model has enjoyed particular distinction however, as it was the board that teen prodigy Red Gerrard of the USA rode to victory in the Winter Olympic Slopestyle event in Pyeongchang.
As you'd expect given that pedigree, it's a stiff flexing model that's better suited to advanced riders than intermediates, but you definitely don't have to be Olympic-level to enjoy this.
If you like riding a bit of everything and charging around the mountain fast, there are very few boards that do it better.
Ride Hellcat Women's Snowboard: £409.95, Freeze Pro Shop
The Ride Hellcat is not a board for the faint-hearted. A women's specific board, it's aimed at advanced riders who like to head off-piste any time there's fresh snow around.
Its stiff flex is bolstered by strips of carbon which run through the wooden core, with extra carbon added into the fibreglass beneath the topsheet for good measure.
The shape, with its pointed nose and snub tail, is designed to make riding in soft snow easier, and helps it carve like a dream on the piste too.
Available from 18 October.
Yes Men's 420 2019/2019 Snowboard: £435, The Snowboard Asylum
When it was launched in 2013, the Yes 420 sparked a revolution in board design.
Previously, as a rule, boards that performed well off-piste tended to be long (sometimes as long as 186cm). The idea was that the extra surface area helped them float in the soft, powdery snow. So when Yes released a powder board that was a mere 146cm long, many thought the brand had lost the plot.
Of course, that stat doesn't tell the full story, and what the 420 (now available in 145, 148 and 152cm models) lacks in length, it more than makes up for in terms of width.
Its surface area is comparable to that of a much longer board and the shorter, fatter shape means the board feel more nimble, making it perfect for riding between trees - which is often where the best powder is found.
Korua Pencil: £405.36, Snow Country
Korua is a small brand based in southern Germany, founded by a group of former pro snowboarders who wanted to create boards that stood out from the crowd. With their dramatic monochromatic colour schemes and strangely shaped tails, Koruas are certainly instantly recognisable.
But it's not just their looks that make them remarkable. If you're into carving (digging your edges in and getting really low on your turns), then boards like the Pencil perform like very little else.
On top of that, if you take this in soft, powdery snow, it floats like a dream, thanks to a waist that's as wide as the Yes 420's and a huge spoon-like nose.
The Pencil won't be for everyone – if you're into tricks for example, it's not that good. But if fast, sweeping turns are your style, then this is a great option.
Jones Men's Explorer Split 2018/2019 Snowboard: £615, The Snowboard Asylum
Jones Snowboards is the brand founded by US snowboarder Jeremy Jones, who specialises in "big mountain" (off-piste) riding. Most of its boards are, therefore, designed with powder in mind, and the Explorer is no exception.
This splitboard version literally splits down the middle to become two skis, which you can use to climb up hill, in the same way ski tourers do. "Splitboarding", as it's known, has become increasingly popular in recent years as adventurous snowboarders venture further and further off-piste.
As it's relatively cheap (for a splitboard), and boasts a relatively soft flex, the Jones Explorer Split provides an excellent introduction to this exciting new discipline.
The Verdict: Best snowboards
Ride's Burnout wins our best buy here. It's a brilliant all-rounder, feeling comfortable on pistes, off-piste, on rails and on jumps. It's also (given the tech under the topsheet) relatively inexpensive.
Another highlight is the Korua Pencil. Visually it's striking, but it's not just about looks. The board carves like a dream, and while its specialist shape won't be for everyone, if you like that style of riding, this will have you grinning from ear to ear.
Register for free to continue reading
Registration is a free and easy way to support our truly independent journalism
By registering, you will also enjoy limited access to Premium articles, exclusive newsletters, commenting, and virtual events with our leading journalists
Already have an account? sign in
Register for free to continue reading
Registration is a free and easy way to support our truly independent journalism
By registering, you will also enjoy limited access to Premium articles, exclusive newsletters, commenting, and virtual events with our leading journalists
Already have an account? sign in