The Independent's journalism is supported by our readers. When you purchase through links on our site, we may earn commission.
9 best women's sports sunglasses
Make sure your eyes are protected while getting active this summer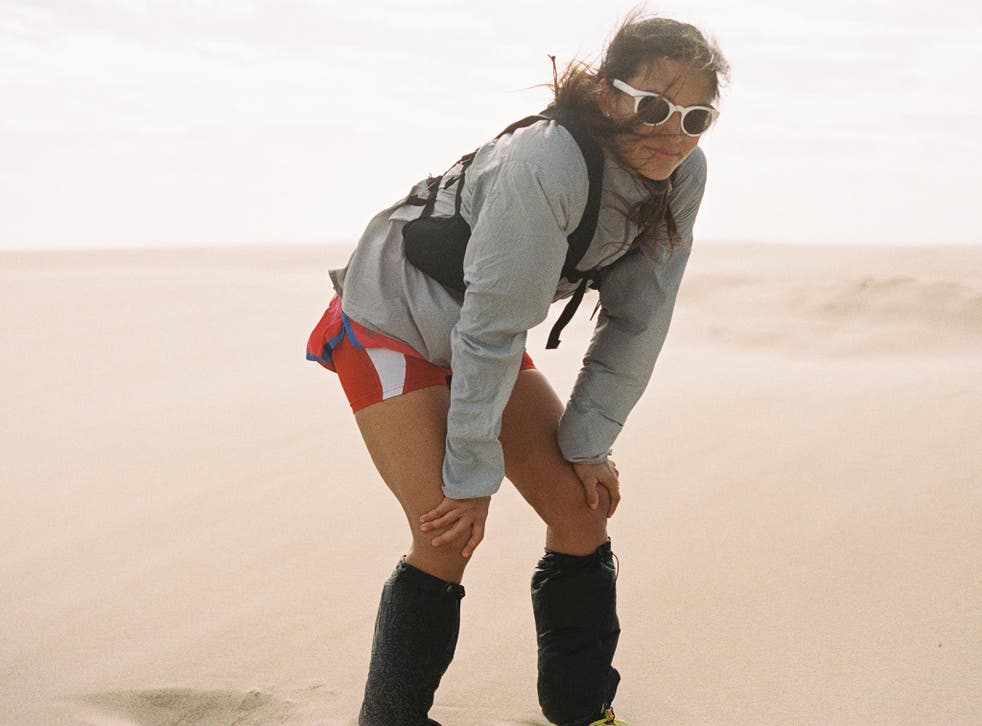 We're getting pretty good at protecting our skin from the sun's harmful rays these days. But are you making sure you look after your eyes just as well when you're getting active outdoors? Long-term exposure to the sun can seriously damage your peepers if they aren't protected, making a good pair of sports sunglasses a must.
The absolute essential when picking a pair of sun-safe sunglasses is to choose one with lenses that filter out UV rays, which are harmful to both skin and eyes – too much exposure can lead to cataracts and even blindness. UVA rays are less damaging than intense UVB rays – the latter are far stronger in the summer months, and their effect is also amplified by snow.
To protect your eyes from both, pick sunglasses that offer 100% UV protection. Avoid any pairs that don't have a safety certification at any cost. It's worth noting that a cheap and cheerful pair of sunnies with a certified UV filter will offer just as much protection as a designer pair – some of the difference in price is usually a higher quality lens, which will offer a sharper and less distorted view, and a better-designed frame.
One common misunderstanding when shopping for shades is that the colour or darkness in tint of a pair of sunglasses correlates to eye protection – it doesn't, and a clear pair with 100% UV protection can protect your eyes just as much as a dark set of lenses. Like ski goggles, there are sunglasses suitable for all weather conditions. Brown and black lenses are good for bright sunlight, and a yellow tint is helpful in hazy or poor light conditions. Many sports models allow you to swap lenses, or have photochromic lenses, which darken on exposure to light. Polarising lenses reduce the glare from water and snow.
Next up, consider the frame and style of the sunnies you buy. Traditional Wayfarer-style sunglasses are absolutely fine for lots of sports, but if you're on snow or water wraparound sunglasses which shied the sides of your eyes as well as the front are the best choice, as they protect you from peripheral glare. Cyclists should also choose large wraparound styles, to protect eyes from dirt and insects on the road or the trail.
Fit is key. Make sure the sunglasses sit snugly on your face with no pinching. Lean forwards to check they don't slide down your nose or immediately fall off. If you have a small face a female-specific pair rather than unisex might be your best bet. Planning on wearing your sunglasses with a helmet? Try them on together to check they feel comfortable.
We tested all of these sunglasses in both bright sun and overcast conditions, often out on bikes and hikes. Our conclusion? If you can afford to, pick a few different pairs of sunglasses for different sports and pursuits to ensure you always have the right shades for the job. If you need one solid all-rounder pair, we'd recommend picking shades with certified 100% UV protection, CAT2 or CAT3 polarised lenses and a solid, comfortable wraparound frame.
Dragon Alliance Endurox, £78.59, Snow Country
A great all-rounder for all active sports, the Endurox's lenses seem on the large side at first glance but look and feel great to wear. The two photochromic lenses available – we tested a light copper and a clear version but other colourways are available – offer crystal-clear views, and the wraparound design protects your peepers fully from the sun. The frame's grippy sidebars and comfy rubber nose rest coupled with a light weight makes the Endurox so comfy you'll quickly forget you're wearing them. Brilliant.
Amevie Bamboo Del Mar, £45.37, Amevie
Bamboo isn't just the latest thing in active wear – it also makes for a great frame material for sunglasses, as it's lightweight and comfortable. Amevie's Del Mar has cheerful blue lenses that are polarised and offer 100% UV protection. We found the blue gave a refreshingly light view of the world compared to dark tinted lenses. Good solid case. Buying a pair of this Canadian designed and made shades does good, too – for each pair sold they give a pair of eyeglasses to a child in need via charity Seva Canada.
Julbo Explorer 2.0, £140, Tiso
Look at retro photos of mountaineering heroes and they'll probably be sporting Julbo sunnies complete with leather panels to protect their noses. Julbo have reimagined their classic designs with the smart Explorer 2.0, which has generously wide, go-anywhere polarised photochromic lenses. The removable side panels offer great protection on glaciers and snow and become a more versatile pair of shades when taken off. Our best shades on test for skiing and mountaineering. If you want the retro Julbo look, pick the Vermont.
BLOC Daytona XRW60, £35, Bloc Eye Wear
On a budget? Look no further than BLOC's offering. And there's a lot of good stuff to say about the Daytona besides the delightfully cheap price. Our tester liked the excellent grippy rubber arms and comfortable nose pieces (they are on the wide side, though, so perhaps not best the best choice for a small face). The XTR Karbon8 lens protects without distorting colours. The Daytona looks great on but does feel a little plasticky, (especially the box, which isn't good quality) but perhaps that's the downside of such a bargainous price tag. Worth owning as a spare pair of versatile sports sunnies.
Smith Attack Squall, £195, Smith Optics
If you're a serious sportswoman keen to splash some cash on top-notch sunglasses, Smith's Attack Squall is for you. Open up the (good and sturdy) box and these shades look like a fiddly bit of kit, but actually the pop in-and-out lenses are beautifully designed – just clip each humbug-striped arm to one of two lenses provided (a versatile red and a rose pink designed for bright sun) and you're ready to hit the road. The rather futuristic-looking lenses really wrap around your face, although the fit is so snug they can brush your eyelashes if you don't position them well on the bridge of your nose. The lenses feel strong and sturdy and offer great clear vision.
Kask Koo Open Cube, £174.99, Condor Cycles
Good quality Italian-made cycling sunglasses. We had beef with the box, which despite being durable is huge and a white shade that gets dirty in seconds. Get past that, though, and you've got a great pair of sports shades, with a flexible frame, the best rubber nose pads we tested, strong arms that fold inwards for portability (great for stuffing in a cycling jersey pocket) and easily interchangeable lenses, which are on the large side (best for bigger faces), fully UV protective, strong and anti-fog.
Sunpocket Performance Vision PSR, £184.70, Sunpocket Original
So small, so mighty. Our favourite sunglasses for versatile wear for sport, travelling and just wearing out and about, we find ourselves reaching for Sunpocket's PSR anytime we don't require wraparound protection. Solid and so-far bombproof, the PSRs fold up tiny and are easy to pop into a pocket or into their hard case. They're comfy and light to wear and also look great, with a slightly retro feel. Top marks.
Sungods Renegades, £65, Sun Gods
Fancy getting creative with your sports sunnies? Sungods lets you customise every part of their high-performing Renegades to suit your needs, from the frame to the lens colour, making them a steal at just £65. Your finished creation will be solid (so solid, in fact, that Sungods will replace them if you break them) but lightweight, and we've found the scratch-resistant polarised lenses great for the glare when sailing and skiing.
Golden Hour Anjuna Bay, £189, Golden Hour Vision
Expect compliments aplenty when wearing the gorgeous Anjuna Bay. This beautiful pair of shades from just-launched brand Golden Hour may look like something from the Talented Mr Ripley, but they also deliver on eye protection, with polarised lenses and 100% UV protection. We also found they offered great clarity. A stylish but sensible choice if you're getting sporty on your travels.
Verdict: Women's sports sunglasses
Dragon Alliance's Endurox is our top pick as it offers fantastic wraparound protection, but Sunpocket's brilliant foldable PSR is also excellent and very versatile for both sport and daily life. Bloc and Sunpocket both offer sunglasses punching well above their weight, while the stylish but sun protection-conscious should go for Golden Hour's beautiful Ajuna Bay frames.
Register for free to continue reading
Registration is a free and easy way to support our truly independent journalism
By registering, you will also enjoy limited access to Premium articles, exclusive newsletters, commenting, and virtual events with our leading journalists
Already have an account? sign in
Register for free to continue reading
Registration is a free and easy way to support our truly independent journalism
By registering, you will also enjoy limited access to Premium articles, exclusive newsletters, commenting, and virtual events with our leading journalists
Already have an account? sign in