The Independent's journalism is supported by our readers. When you purchase through links on our site, we may earn commission.
11 best men's ski and snowboard gloves 2018/2019
Keep your hands warm, dry and comfortable on the slopes this winter with our pick of the best new gloves for skiing and snowboarding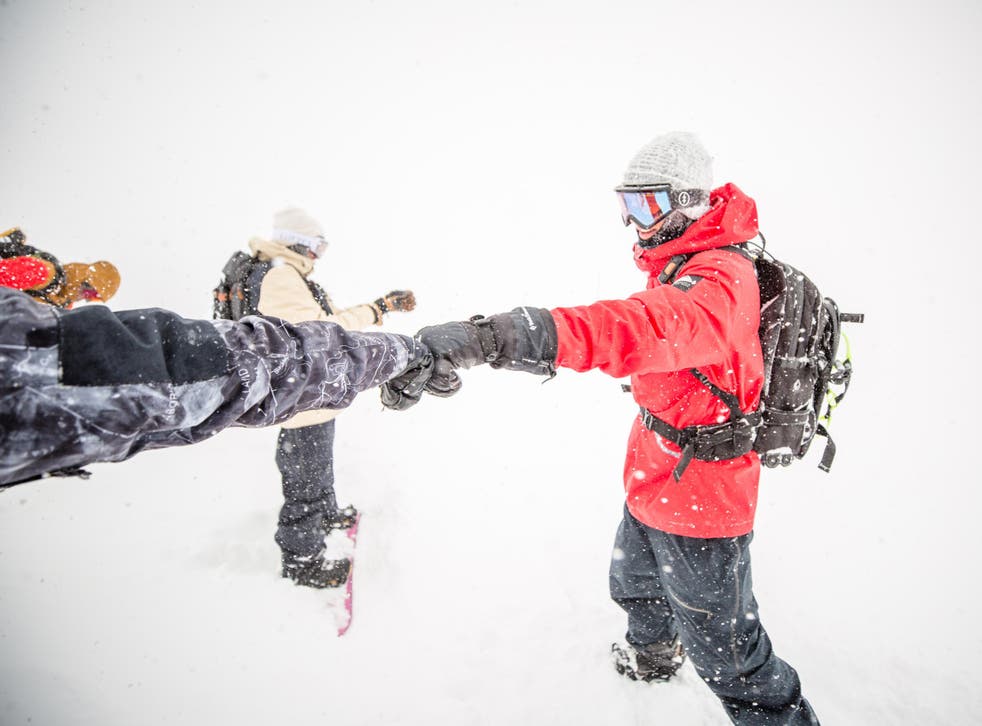 What do you need to think about when buying gloves for your skiing or snowboarding holiday? The most important thing is warmth, as once your hands get cold in freezing temperatures it will be a real struggle to get them warm again. At best this will spoil your day on the slopes, at worst you'll risk frostbite.
It is also essential that your gloves are waterproof, as if you fall, or even just touch the snow while getting your skis or snowboard on, you'll get your gloves wet, which again will lead to freezing hands. Fit is of course important; gloves that are too big won't insulate your fingers properly, while those that are too small will be uncomfortable and may restrict your circulation.
You should also consider how often you plan to take a snow holiday. If you're a first-timer and unsure whether you'll even like it, there's no point buying an expensive top of the range model. Though bear in mind you also won't enjoy that first trip if your gloves don't function properly.
Think about what kind of winter sports you plan to do. Skiers need gloves with good grip for their poles, whereas snowboarders are likely to touch the snow more so top waterproofing is paramount. If you're a snowboarder or skier who likes to hit the snow park, again something lightweight and flexible will suit you better, ditto if you like to go ski touring or splitboarding.
Finally, think about where you're going. Canada or the US in January and you'll need top insulation, whereas a sunny French resort at Easter would require something lighter. Here is our pick of the 11 best gloves for 2018.
Burton Men's Reverb Gore-Tex Gloves: £60, Burton
The US heritage snowboard brand Burton is one of the most reliable technical brands on the market, especially when it comes to gloves, and Reverb is a great value choice. They are warm, waterproof, and windproof – but do have decent enough breathability for milder days.
They are easy to tighten to get a snug fit, and also have touchscreen-compatibility on the fingertips – so you can text and take photos with your phone without taking your gloves off. There is softer leather on the thumbs, so you can wipe your goggles or your nose if you need. Available in sizes S to XL in grey, silver and black.
The North Face Men's Montana Gore-Tex Gloves: £75, The North Face
The North Face may be a popular high street brand but it's also one you can trust when it comes to winter sports clothing. The Montana gloves were the most waterproof on test, and extremely well-insulated too. The wrist leash is a good way to avoid dropping them off a chairlift, and we especially like how this doubles up as a handwarmer, though it is also removable.
We also like the extra grip on the palm for holding your ski poles or phone without it slipping into the snowy abyss. The Montana gloves aren't super-flexible, so we wouldn't recommend them for ski touring or snowboarding in the park. Available in sizes S to XL, also sold in black.
Quiksilver Travis Rice Natural Gore-Tex Ski/Snowboard Gloves for Men: £115, Quiksilver
We like these on-trend blue leather goat skin gloves from Quiksilver, the signature model from their most famous snowboarder Travis Rice. The high-quality leather and insulation were warm with top waterproofing, and it was especially good at keeping the wind out. This was one of the most-comfy pairs on test, and the stretchy neoprene and velcro on the cuffs helped give them an extra snug fit. Available in sizes S to XL.
Wed'ze Adult 500 Downhill Ski Gloves: £24.99, Decathlon
The Wed'ze Adult 500 from Decathlon is by far the cheapest gloves on test, though not actually the cheapest sold by Decathlon. But as good value first-timer options go, these are a decent choice. They were reliably waterproof, and felt warm enough for most winter conditions, though wouldn't be our pick for super-cold windy days. They aren't flexible gloves but felt comfy and soft on. Available in sizes XS to 2XL, also sold in black and pink.
Helly Hansen Men's Ullr Compression Polyester Leather Ski Gloves: £84.36, Outdoor Look
We liked the look and on-trend orange of these Helly Hansen ski gloves. They are wider and less sleek than some of the other models, with something of the gardening glove about them, but we found them comfy, flexible and warm with good waterproofing. They're grippy in the centre, where skiers hold their poles or phones; we also liked the extra padding on the knuckles which could offer protection in a fall. Also available in brown; sold in sizes S to XL.
O'Neill Freestyle Gloves: £55, O'Neill
If you spend most of your day in the snow park or even just skiing and snowboarding in warm spring conditions, these Freestyle gloves from Californian brand O'Neill would be a good choice. They're noticeably more lightweight than all the other gloves we tried, with a far greater flexibility of movement, which is good news if your trick repertoire includes handplants.
They're less warm and windproof, but the waterproofing is solid – so you'd be fine in the spring slush. Available in sizes S-XL and currently just in black – but other colourways will be launched in the next two weeks, so keep your eyes peeled.
Picture Organic Clothing Sparks Gloves: £79.99, Snow Leader
If you want the warmth of a mitten but the flexibility of being able to use your forefinger to adjust your snowboard or use your phone, this glove-mitten hybrid from eco-friendly French brand Picture Organic Clothing could be the answer. We liked the bright colours and original look, and they were one of the warmest pairs on our test. Their water-repellence is PFC-free and felt like one of the more durable fabrics we tried. Available in sizes S-XL.
Arc'Teryx Rush SV Glove: £252.94, Snowcountry EU
Often the warmest gloves aren't the most flexible, but these top of the range gloves from British Columbia-based Arc'teryx manage to do both. Designed with hardcore freeriders in mind – that is those who like to go far from the piste and deep into the backcountry – the Rush gloves are weatherproof, flexible and feel extremely durable. But such high specs do come at a price. Available in sizes S-XL.
Kjus Men's Bluetooth 2.0 Ski Gloves: £299, Kjus
This Kjus gloves are the most expensive in our roundup by some stretch but are also the only glove which let you chat on your phone without actually having to get your phone out of your pocket. They work through Bluetooth; with a clear display and waterproof speakers. The gloves function well, with warm insulation and topwater and windproofing. Available in sizes S- XXL.
Mountain Equipment Men's Randonee Gloves: £59.99, Ellis Brigham
If you mostly spend your time walking up rather than down mountains in winter, you'll need gloves that are water and windproof – but also thin and lightweight enough to stop your hands getting sweaty. These Randonee Gloves from Mountain do just that. They also have good dexterity, so you can keep them on while taking your skins on and off your skis or splitboard and when dealing with any other fiddly winter kit. These gloves would also work for warm skiing in late spring.
The Verdict: Best men's ski and snowboard gloves
We found the Burton Reverb Gloves to be the best reliably technical option, that was also great value for money, though we were also impressed by The North Face Montana Gloves and the originality of the Sparks from Picture Organic Clothing. Those looking for something more lightweight should consider O'Neill's Freestyle Gloves.
Register for free to continue reading
Registration is a free and easy way to support our truly independent journalism
By registering, you will also enjoy limited access to Premium articles, exclusive newsletters, commenting, and virtual events with our leading journalists
Already have an account? sign in
Register for free to continue reading
Registration is a free and easy way to support our truly independent journalism
By registering, you will also enjoy limited access to Premium articles, exclusive newsletters, commenting, and virtual events with our leading journalists
Already have an account? sign in