The Independent's journalism is supported by our readers. When you purchase through links on our site, we may earn commission. Why trust us?
7 best yoga blocks
There's a whole world of possibilities to consider – no matter what your ability level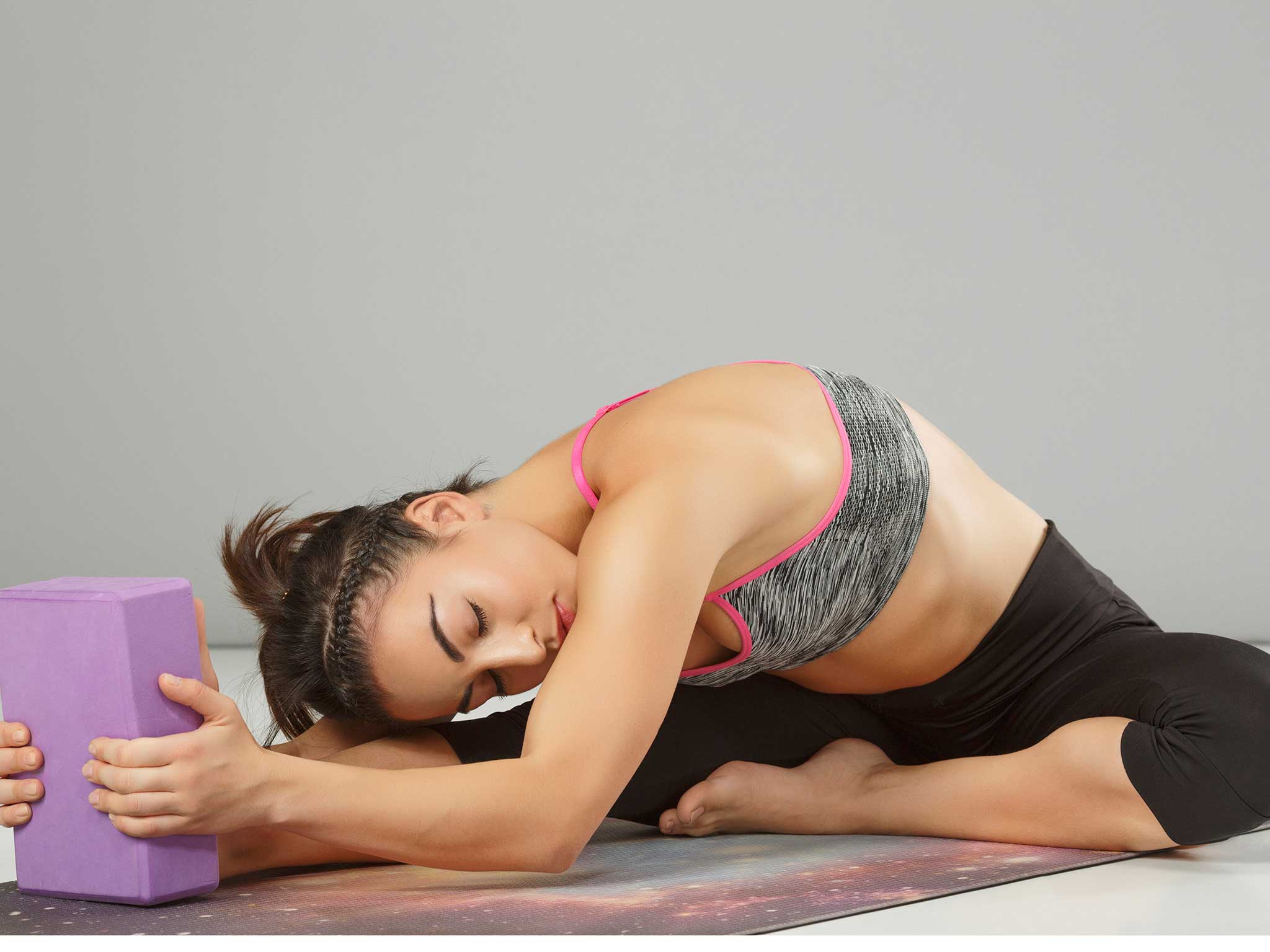 We've all had that moment where we've arrived at our 6pm yoga class, frazzled from the day and desperate for some rest and relaxation, only to find that somehow we've ended up next to the most flexible person in the world. Someone who can not only naturally touch their toes, but also do the perfect Pigeon and get into Dancer without assistance.
Well, fear not. Yoga blocks are a great way to deepen your flexibility and enhance your practice by giving you the support you require. They are also great modifiers when you're not quite ready for a full pose. Can't get your hands on the floor? Doesn't matter – the block can help. Need something to lean on as you practise Warrior 3? The block is your friend.
It's easy to take a look at the market and think all yoga blocks are the same. But there are a number of crucial differences that should be considered, whether you are a seasoned yogi or a beginner. Firstly, the material the blocks are made out of makes a big difference; cork models are great for balancing as they are generally harder and sturdier, while foam blocks tend to have a greater level of "squish", making them better for restorative classes and back bends.
There's also size and weight to consider. If you only want to buy one block, you need to make sure it is tall enough to reach. A foam block, meanwhile, will be lighter (they generally weigh between 200g and 400g) and are therefore perfect to slide into your handbag or rucksack if you're planning to pop to a class after work.
We spent more than 20 hours testing blocks from across the market in dynamic vinyasa and Bikram sessions, as well as in the comfort of our living room. Our checklist included whether the blocks were comfy, whether they provided enough support to give us the confidence to get into tricky or out-of-reach poses and, of course, whether they looked good. We whittled the options down to our seven favourites, including a mix of cork and foam blocks, and a range of sizes. No matter what your ability, we can guarantee there will be a block for you below.
Lift and Lengthen Yoga Block: £15, Lululemon
Lululemon is a staple for many yoga fanatics, so it is unsurprising that the brand has come up with a block that ticks all the right boxes. We loved this model – and scored it 10/10 for its "squish" level – as we found it was comfortable enough for our restorative sessions, while also being sturdy enough for our trickier vinyasa classes.
It's a fairly standard size and can be used in three positions depending on how much you need to extend your reach; our favourite was using it during Bridge. As any yogi knows, however, it's often more about mentality than the perfect physical pose – and that's where Lululemon really does beat its competitors.
The brand not only provides motivational messaging for its customers on its packaging, but there is also encouragement engraved on the block itself (think: "The conscious brain can only hold one thought at a time; choose a positive thought").
It may not be much, but it could help you get that extra inch you need. We were slightly concerned that such a comfy block would be easily damaged from a day rattling about in our rucksack but found it didn't get indentations from pressure. Plus, the tie-dye style of this block means you'll never forget which one is yours.
Yoga Studio EVA Yoga Block: £4.99, Yoga Studio
This Yoga Studio block is much the same as the other products when it comes to support and comfort, but due to its size (it's around 2cm smaller than most products on the market in terms of horizontal height) we found it was one of the most useful for seated poses. We particularly enjoyed using this block in Hero Pose and Child's Pose, as we found it didn't lift us too far off the ground and enabled us to stay in the poses for longer.
The block also has beveled edges for maximum comfort and grip, so it is effective when slowly inching yourself into those harder to reach positions. We wouldn't recommend using this block, however, in balancing classes.
Due to its size, it can be very difficult to use when propped vertically and can lead to a very sore head (trust us!). It is worth noting that Yoga Studio has a huge range of blocks, so if you're looking to buy more than one in order to vary your practice, it is a very reasonable place to do so.
Yogamatters Egg Shape Yoga Block: £10, Yogamatters
When we first turned up to our class with this egg-shaped block, our fellow yogis turned their noses up at it and questioned why they would want to bother hauling round an accessory that they can't use in half the poses. However, as soon as we got to the floor section in the second half of the class, they were begging to give it a go.
Made out of EVA foam like many of the other models, this block is curved, making it particularly good for reclining postures and those all-important back bends. It's also really comfortable to sit on if you want to raise your hips and straighten your spine. Don't neglect it completely when it comes to forward bends, however.
If you're already pretty flexible, this block is great as you can gently move deeper into postures by moving your hands down the curves. We would strongly recommend buying this block alongside a rectangular model to ensure you are getting the most out of your practice.
BlackRoll Block: £27.44, Amazon
This block is the most expensive one we tried and we have to admit, it isn't even made specifically for yoga. BlackRoll does, however, claim its products are the ideal tool for "regeneration and self-massage" so we thought we'd put it through its paces in the yoga studio.
We found it was much harder than the other models on the market and much bigger as well (nearly 8cm longer than a lot of the others), making it difficult to grapple with mid-practice. Its size also made it virtually impossible to use in seated poses, while its pattern may mean you end up with BlackRoll indented on your hand (or head).
While this may not be the model for the seasoned yogi, it is great for beginners or people who are extra tall, as it is virtually impossible to tip over. It's also excellent for aiding stretching if you're a runner who has given it that bit too much at the local parkrun or a cyclist who has just smashed their Strava PB on Box Hill. Plus, it's easy to clean and water resistant so it doesn't matter how sweaty you are when you use it – it will always look as good as new.
Yogi Bare Yoga Block: £5.99, Yogi Bare
This is one of the cheapest blocks we tried but you would be hard pushed to be able to tell. Despite being nearly £10 less (practically a whole yoga class) than Lululemon's, this block was very similar, even featuring a fetching tie-dye design although we did find it was slightly less comfortable.
We would recommend using this block vertically in balancing poses such as Warrior 3 and horizontally under the elbows in poses that help stretch the hip flexors, such as Lizard.
Yogi Bare also prides itself on its eco credentials, meaning this block should be a natural winner for any yogis hoping to do their bit for the planet. The one thing we would say is you need to look after this block; after a couple of days in the bottom of our gym bag, we found that it picked up slightly more damage than some of its competitors.
Yoga Brick: £7, Sweaty Betty
We guarantee that if you turn up to any yoga class with a Sweaty Betty product, you won't be alone. The brand has grown massively in the UK and is known for its quirky prints and high quality products.
While we wish that this block was slightly more Instagram-friendly (the grey marbled effect doesn't really do it for us), we were blown away by how lightweight it was, making it the perfect accessory to shove in your kit bag. We did find, however, that this block had a bit more give than the Lululemon and Yogi Bare products, leading to a few more wobbles in difficult poses.
The Balanced Yogi, Cork Yoga Block: £15, CorkYogis
There are three main reasons why people love cork; its grippiness, its naturalness and the fact it doesn't absorb as much sweat so it doesn't matter how disgusting you get (yes, really).
We think this cork block by CorkYogis is one of the best on the market, providing a great base for anyone hoping to improve their practice. It is denser and studier than all of the foam yoga blocks we tested.
Plus it's made from natural sustainable cork from Portugal, immediately helping with your eco-credentials. The brand also works with the Destiny Foundation, which works to end human trafficking and slavery, and provides a contribution each time a natural CorkYogis mat is purchased. If that doesn't persuade you to use the brand, we don't know what will.
The Verdict: Yoga blocks
Yoga blocks are incredibly personal and the one that is right for you will depend on your practice. But try as we might, we couldn't get away from how much we loved Lululemon's Lift and Lengthen block and that's why it is our Best Buy.
If you're looking for something a bit different, however, we'd also highly recommend CorkYogis' cork block as we found it was superior when it came to helping with balancing poses, while Yogamatters' egg-shaped block was great if you're looking to improve your seated practice.
There really is something out there for everyone – you just need to listen to your body. Namaste.