The Independent's journalism is supported by our readers. When you purchase through links on our site, we may earn commission. Why trust us?
10 best inflight accessories to keep you entertained and comfortable
Bored of the selection of films? Get out your Kindle. Need to sleep and but can't because of the noise? You need noise cancelling headphones. Here's our essentials to ensure travel is made easier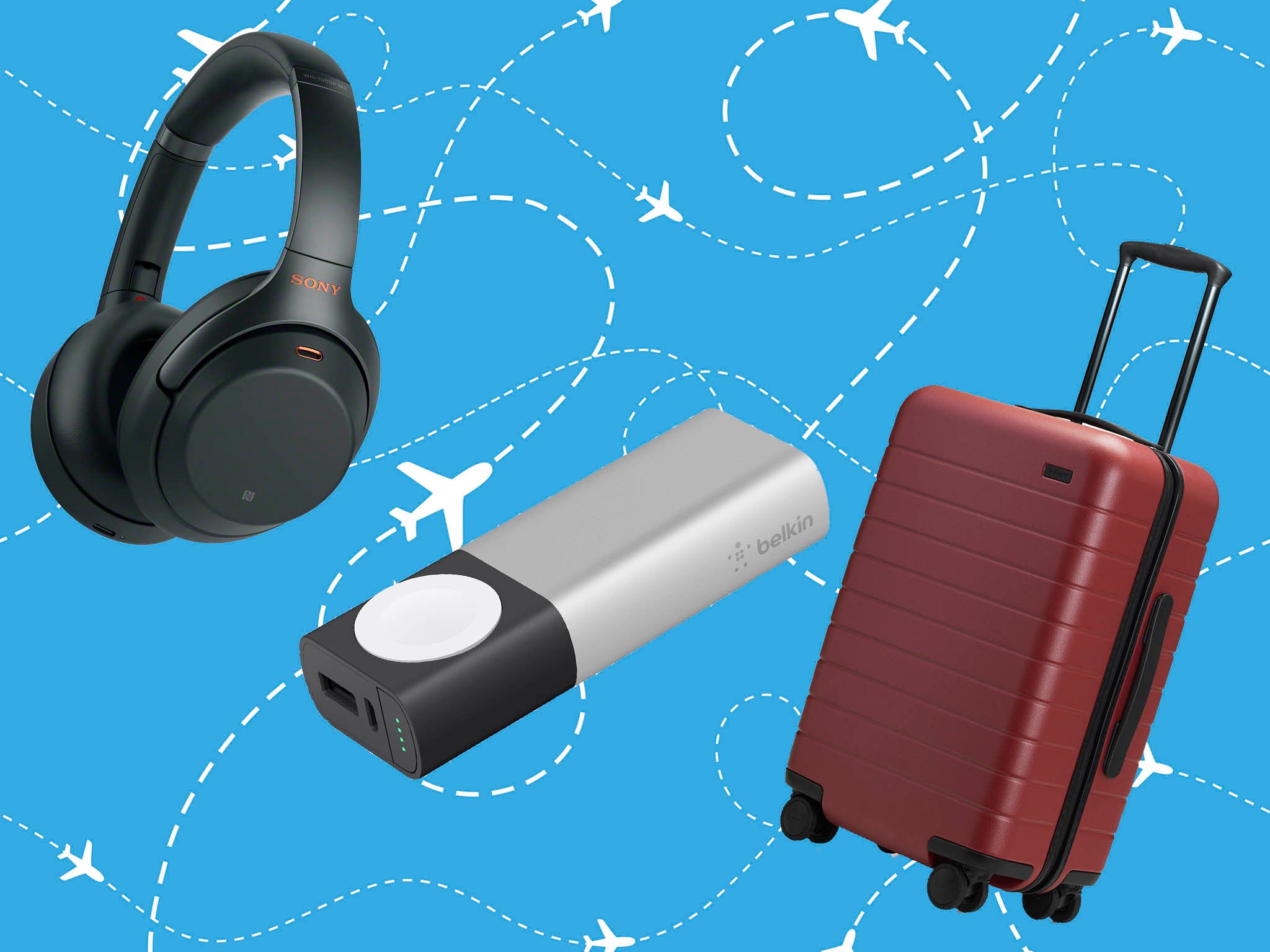 Getting there is half the fun, as they used to say, so if the getting there is done by plane, you might as well ensure you have everything you need to pleasantly while away those airborne hours.
This includes making sure you can hear your own music, or the plane's entertainment system, if appropriate.
It also means bringing your own entertainment in the form of something to read.
And, for peace of mind, a rechargeable battery can ensure your smartphone stays alive to the end of your journey.
These accessories were chosen for their usefulness, practicality and, of course, portability.
All have been taken on several long-haul flights, some so many times they ought to have earned air miles.
Batteries were tested in various states to see how long they could last, though a full charge the night before you travel is certainly recommended.
You can trust our independent reviews. We may earn commission from some of the retailers, but we never allow this to influence selections, which are formed from real-world testing and expert advice. This revenue helps to fund journalism across The Independent.
Sony WH-1000XM3 headphones: £329, Sony
Even the quietest planes are noisy, so to have a chance of hearing your music, you need noise-cancelling headphones. Noise-cancelling works through a microphone in the headphones that listens to the sound outside and creates a sound wave that's the exact opposite, so the two waves cancel each other out. It sounds fanciful but when it works, it's brilliant.
But some headphones with this feature can feel oppressive or uncomfortable. Here, the sound is a revelation: alive and appealing while quelling the noise of the jet engines effectively. Touch the left earcup and it turns on a microphone to let the outside noise in – handy for brief conversations with the air crew, say. Even with noise-cancelling turned off, the sound from these headphones is exceptional. These are wireless headphones – you only need the cable to connect to the inflight entertainment system – and the battery lasts up to 30 hours and although it takes three hours to fully recharge, a 10-minute charge delivers enough power for about five hours' use. And they are comfortable enough to be worn for long periods of time.
TwelveSouth AirFly: £39.99, Amazon
Supposing you want to listen to the inflight entertainment through your AirPods or other wireless headphones? The tiny AirFly will make this happen. A headphone jack plugs into the aircraft's entertainment system as normal and then the AirFly connects to your headphones wirelessly via bluetooth. It's easy to set up and works very well, suddenly meaning you have greater freedom with what headphones you pack. The AirFly battery recharges quickly and lasts for up to eight hours. Once you've landed, you can also use it to connect your wireless cans to the TV system in the gym, for instance.
Away smart suitcase, the carry-on: From £225, Away
Away makes a series of attractive, well-priced suitcases in all sizes, all with superbly crafted wheels that make them glide with zero effort. In its carry-on models, there's a powerful 10,000mAh battery sitting just below the handle. From it you can recharge two gadgets at the same time. On many airlines, batteries are banned from the hold, so Away has thoughtfully made the battery here ejectable, which is more convenient and means if your bag does have to go in the hold, it can. There are 10 colours to choose from, so no more squinting at the rows of black wheelie cases on the carousel. The cases have TSA locks, so if the US authorities need to, they can unlock the case without breaking the combination lock. It comes in two sizes with 39.8l and 47.9l capacity. And there's also a stunning aluminium-finish model.
Amazon Kindle Paperwhite: £119.99, Amazon
Sometimes you want a break from the movies available onboard and a book may suit. But the last thing you want to do is carry a bunch of books in your carry-on. So an ebook reader is a great alternative. Sure, there's nothing to match a real book, but a Kindle lets you carry thousands of books in a light, slim device. The latest Paperwhite is waterproof, so it's ideal for that beach destination as well as onboard. The Paperwhite has a front-lit screen, much more restful on the eyes than the back-lit display found on tablets and smartphones, so you can read for longer – and unlike a tablet the battery lasts for weeks. The light is subtle and even across the screen. It's also adjustable to suit the ambient lighting conditions.
TwelveSouth PlugBug duo: £49.95, Apple
This plug is suitable for onboard use but can also be used when you reach your destination, thanks to the multiple plug connectors built into it. It's also versatile because it has twin USB charging sockets, one for phones, the other more powerful, for tablets. The bottom part slides off so you can attach the power block from an Apple laptop and charge that, too. It also comes with five international adapter plugs so you can use it in most countries.
Belkin valet charger: £89.99, Belkin
Banish battery anxiety with a portable power pack like this one. If you have an Apple Watch this is especially useful, because as well as the USB socket, which will charge whatever you plug into it, there's an Apple Watch charging puck built in, which senses automatically when you put the watch in place. And you can charge both at the same time. Despite this, it's still a reasonably small size and the aluminium case looks classy and feels good to the touch. A row of lights helpfully tells you how much charge is left in the battery.
Bose QuietComfort 35 II headphones: £299.95, Bose
Another pair of noise-cancellers, Bose's headphones are consistently top-flight with excellent noise-cancelling. These are lightweight, wireless headphones with great comfort and a subtle design. A smart button on the left cup can activate Google Assistant or can be configured to adjust noise-cancelling levels. Battery life is 20 hours for wireless use but double that when plugged in. These headphones have recently dropped in price, too, not least because a newer version is coming later in the year. Though that will have to be very special to beat the current model..
Philips Sonicare DiamondClean smart: £259.99, Philips
Dentists say that patients' dental regimes often slip when they're travelling. So it's important to pack a good toothbrush, and the Philips Sonicare range is a real standout. It's sonic, meaning it vibrates so fast it dislodges plaque more easily. This DiamondClean Smart is sensational thanks to multiple modes and brush heads which are recognised automatically as you attach them. The right brush time is chosen accordingly. There's also a smartphone app that gives you instant feedback on how well you're brushing – sticking to this rigorously is a sure way to maintain dental health. The battery lasts long enough that you may not need to charge it on the road, but if you do, the charging cable is handily built into the travel case. This is probably the best toothbrush you can buy, though more affordable brushes in the Philips Sonicare range also do a great job.
Muji clear cosmetic case: £6.95, Muji
If you dread the moment when someone at the airport offers to give you, or worse, sell you, a plastic bag for your cosmetics and toiletries, this simple case is a brilliant option. It's a zip-up transparent case that's the perfect size, matching the flimsy bag but offering durability and an attractive design. It sounds like a small benefit but it's the kind of upgrade investment you'll be happy you made. The same capacity as the plastic bags but much more enjoyable to use. A surprisingly satisfying purchase.
Anker PowerCore+ 26800 portable charger: £89.99, Amazon
This is a big charger designed not just for phones and tablets: you can charge a laptop from it, as well. There are two USB outputs so you can charge two phones at once or plug something bigger like a tablet into the more powerful of the two sockets. The USB-C connector is used for charging the battery itself but can also charge a USB-C device, including the laptop. It's well-built and attractive, and though it's not small, you just know it won't let you down.
The verdict: Inflight accessories
Settle down onboard, safe in the knowledge that you can listen to the movies and not the engine noise with good noise-cancelling headphones such as our favourite, the Sony WH-1000XM3. Yet why stop there, as a portable charger is a great travel companion, and the Belkin valet charger is neat and effective. And the Away smart suitcase carry-on is the perfect place to put everything, including all your travel tech.