The Independent's journalism is supported by our readers. When you purchase through links on our site, we may earn commission. Why trust us?
7 best winter tents
The last thing you want to be when camping outside during these months is cold and wet, so invest somewhere warm and dry to lay your head
Liz Dodd
Monday 04 February 2019 14:34 GMT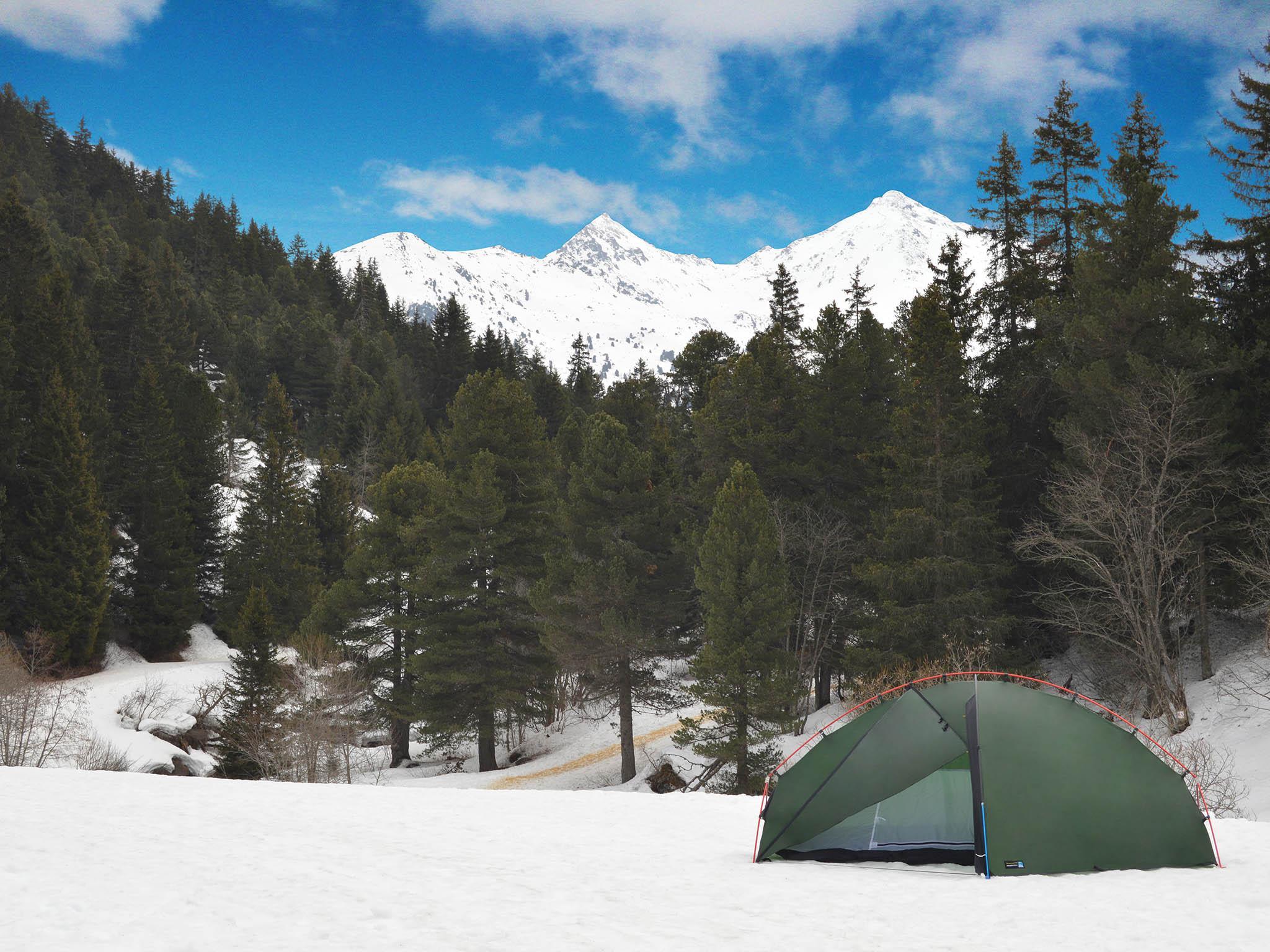 Whether you're waking up above the cloud line on the Cuillin Ridge or ski-touring in the Aiguilles Rouges, camping in winter can be a wonderful experience – with the right kit.
In snow, hail, rain and strong winds a decent shelter can be a lifesaver. Winter tents – also called four-season tents – are typically tougher than their three-season (spring, summer, autumn) counterparts, and are built to withstand the worst conditions.
They tend to have a more rigid exoskeleton and are dome-shaped to shake off snow dumps which, best case scenario, leave you with a leak and, worst-case scenario, cause a cave in.
Good winter tents are also more waterproof than three-season tents, with a higher hydrostatic head, or HH (the waterproof rating, determined by how many millimetres of pooled water the fabric can withstand). Anything above 1,000mm is respectably waterproof – but for winter conditions, where staying dry can literally be a life saver, the higher the better.
As if that weren't enough of an ask, winter tents also have to be breathable to prevent condensation from building up. As our reviewer discovered while cycle touring across Kazakhstan in the -20C central Asian winter, there are few worse ways to wake up than by being gently snowed on by your own breath, condensed and frozen overnight. Finally, space is important: winter activities tend to involve more gear, so a decent, dry space to store your pack is essential.
There are some things a winter tent can't do, like keep you warm. So if you're heading into the backcountry this winter make sure you bring a really good sleeping bag and jacket, filled with a waterproof down or equivalent. Longer nights burn through torch batteries, so bring spares of your spares; and remember to always pitch well away from avalanche terrain but close enough to the approach or climb you're attempting the next day to maximise the amount of daylight.
If weight and water isn't an issue, do yourself a favour and bring a hot water bottle – not only will it help keep you toasty overnight, it'll mean you have some unfrozen water for your morning brew.
Below we've picked the seven best winter tents for 2018/19, tested in conditions that ranged from a windstorm in the Scottish highlands to ski-touring in the Alps and the Canadian wilderness – a mix of expedition-worthy behemoths and budget-friendly tents for a January microadventure.
Terra Nova Southern Cross 2: £690, Terra Nova Equipment
Terra Nova's brilliant, bomb-proof tents are the shelters of choice for BBC Planet Earth's film crews. It's easy to see why: the Southern Cross is a smart, winter-ready evolution of the company's popular Laser range – so it retains lightweight liveability, but an extra pole adds winter durability. It's got a breathtaking 6,000mm HH and is surprisingly lightweight for the specs – at 2.29kg it's not ultralight, but it actually feels quite snug and light when it's packed.
Best of all is the roominess: there's really good head clearance, and a decent-sized porch that you can stake out in a number of different ways to allow for maximum protection for your gear, or maximum space to sit, forlorn, and wonder if it will ever stop raining. All this comes with a hefty price tag, admittedly, but Terra Nova tents have an impeccable reputation: with its two half-mesh doors and the added perk of being completely freestanding, this is a super adaptable tent that could happily carry you into summer, making it our best buy.
Robens Osprey 2EX: £399.95, Camping & Caravan Direct
Danish-run Robens turn out some of the best, consistently tough all-rounder tents on the market. The Osprey 2EX is no exception: it has a mighty HH of 4,000mm, and pitched properly can withstand winds of 160km an hour. For the price, it boasts an exceptional tear-strength of 11kg, and all in a very respectable 2.7kg package. Where it shines is where Robens always shines: liveability. The tent has a massive porch, storage galore – there are pockets everywhere – and an internal clothes-drying line. It's often hard to make tunnel tents feel like anything other than canvas sarcophagi: somehow Robens make them feel like home.
MSR Advance Pro 2: £470, Elite Mountain Supplies
A serious tent that's pitched at climbers and mountaineers, the remarkable Advance Pro 2 clocks in at a science-defying 1.46 kg thanks to MSR's ultralight, ultrastrong poles. One to take on your family camping trip, this is not: the Advance Pro 2 has a tiny footprint (all the better for perching on high mountain ledges) and no porch or vestibule. It goes up very quickly and without fuss, a lifesaver if you get caught in a storm: once inside, its 1,000mm HH fabric will keep you dry.
The Advance Pro 2 isn't a bad choice for ski-touring – the low weight is truly extraordinary, with the packed tent feeling featherlite – but you'd struggle to sleep comfortably with all your kit inside. This is a tent designed for Himalayan winters: best for a short dash on the summit, and a great example of what tech-savvy MSR can accomplish.
The North Face Heyerdahl 3: £250, The North Face
A tent named for Thor Heyerdahl, the Norwegian explorer and ethnographer who sailed 8,000km across the Pacific Ocean in a hand-built raft, has a lot to live up to. Luckily North Face's mountaineering tent delivers: this Tardis-like tunnel feels really spacious, and comes with a generous front vestibule for kit. It pitches quickly, with good ventilation from vents and mesh-covered windows: including, ingeniously, one opposite the door, where your head would be when you sleep – whether you struggle with claustrophobia while camping, find a night in a tent a bit stuffy, or just like a cool breeze while you sleep, this is a brilliant addition. It's also decently priced and, while this won't make a huge difference to you mid-way through a Whistler whiteout, really good-looking.
Jack Wolfskin Yellowstone II: £300, Jack Wolfskin
This lovely tent is the winter camping equivalent of a night in a cosy Alpine lodge. Strictly speaking, it's a three-season tent, but with a 4,000mm HH and a tough 75D (denier) fly and 68D inner, you won't notice much difference. Inside, it feels practically palatial: the domed roof is slightly exaggerated to give you a bit more headroom (and dump snow loads), there are two doors and two vestibules, lamp loops, windows and four pockets. Despite having a generous six guylines and 16 pegs available it pitches quickly and easily, but best of all is its versatility: the tent is completely freestanding, so it doesn't need any of those 16 pegs if the weather's good, and you can pitch it without the fly for warmer nights.
It's also one of the best-ventilated tents this reviewer has ever seen, thanks to the many windows and vents, and, crucially for a winter tent, you can zip them shut when you need to batten down the hatches. It's seriously heavy (4kg) and takes up a fair bit of space packed, but if weight isn't an issue this is a great all-rounder to see you through winter and beyond.
Hilleberg Allak 2: £995, Hilleberg
This, the Rolls Royce of tents, is on many a mountaineer and hiker's wishlist. Hilleberg make, probably, the best tents in the world: their distinct fabric, here the Kerlon 1200, is basically indestructible. Silicon coated, with a tear strength of at least 12kg and a 5,000mm HH head, it would take a really serious snow dump to take down the Allak – there's a good reason it costs so much. Crucially, it's also liveable, with a generous sleeping space (it's 2.25m long) and head clearance, and plenty of vents to prevent condensation – the roof vents come with snow proof panels.
If you're going to spend the best part of a grand on a tent, you want it to be an all-rounder – and the Allak more than achieves that. You can pitch the inner on its own in warm weather, though to do this you also need the optional Allak pitching kit; it's fully freestanding, and pitches quickly when the inner and outer are linked. Hilleberg are very modest about the weight of their tents – stability and longevity are more of a priority for them – but at 3.3kg it's nothing to be embarrassed about. The Allak's big brother, a 3-man version, will be available in spring this year. Often referred to as one of the best tents in the world, you can take this anywhere – except a music festival.
Quechua Quickhiker Ultralight 3: £179.99, Decathlon
A little Decathlon tent may seem out of place on this list, but the ultralight Quickhiker is one of the toughest tents on the market for the price. This humble tent consistently outperforms many of its costlier rivals – our reviewer's survived a night in high winds at Loch Coruisk on Skye that annihilated a pricier neighbour.
With the poles attached to the fly it pitches in under a minute, has plenty of space to keep your gear dry and out of the snow, and boasts an impressive HH of 4,000mm. You have to pitch it pretty perfectly to stop the fly flapping about in high winds – Decathlon says it can survive in up to 70km, which I believe. Admittedly this isn't a tent to take out if the weather looks seriously apocalyptic, but there's no avoiding the incredible pricetag: it's about £200 less than you'd usually pay for a rugged winter tent that can sleep three people and weighs an amazing 2.6kg.
The verdict: Winter tents
They tend to be pricey, so if you're going to splash out on a four-season tent, you want something that will still be usable in spring/summer. The Terra Nova Southern Cross 2 and Robens Osprey 2EX tents are the best all-rounders; while the Jack Wolfskin Yellowstone would be a great option for adventurous families.