The Independent's journalism is supported by our readers. When you purchase through links on our site, we may earn commission.
10 best fitness armbands
Whether you're going for a light jog or training for a marathon, any of these armbands will keep you hands-free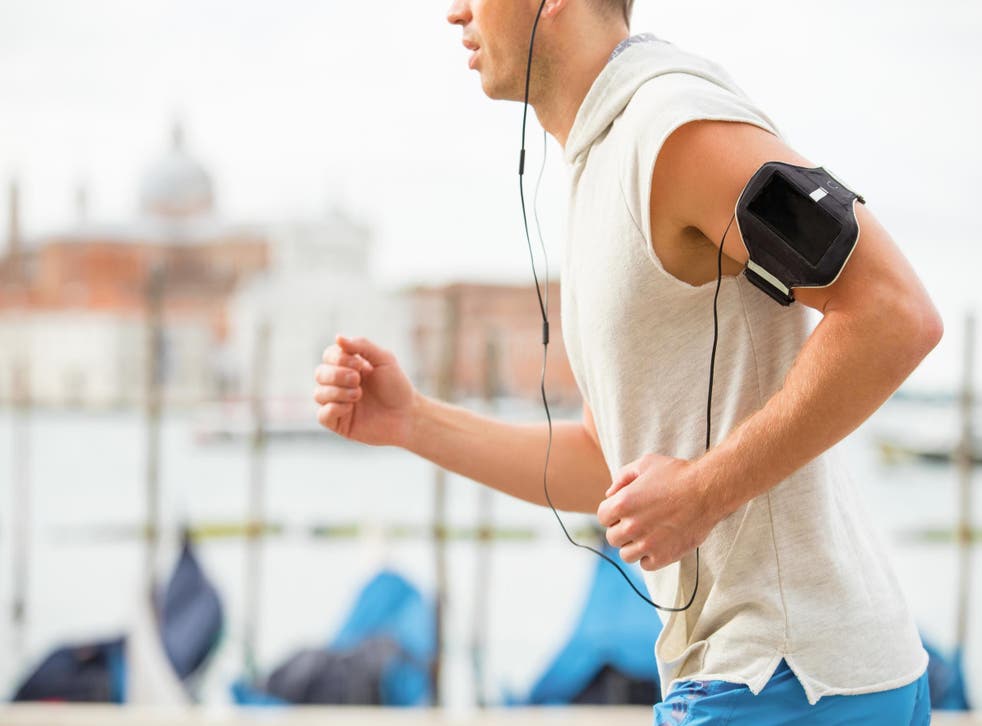 The advent of smartphones quickly led to personal devices becoming indispensable parts of the fitness tool box.
In fact, entire industries quickly popped up with a focus on incorporating smartphones into workouts with as little hassle, inconvenience, and discomfort as possible. The result was the introduction of the modern fitness armband in the early 2000s.
From the first models, which were made of clunky plastic and thick nylon and elastic that soaked up and held sweat, to today's lightweight, wicking products that are barely noticeable when worn, fitness armbands have come a long way. We tested products with a focus on strength, functionality, durability, comfort, and price.
We picked bands that fit most smartphones and most budgets, so there's a product for everyone on our list, from the weekend warriors training for a 5K run to athletes who compete at the highest levels.
The Armtrek Pro made this list—and became our top pick—the hard way. It consistently performed as advertised, enabling us to use the touch screen even under poor conditions, like running in the rain, and showed a heavy-duty durability that far outweighed its lightweight price. It was also remarkably comfortable, even during intense exercise, and stayed snugly in place throughout. The built-in key compartment was a nice feature that we found convenient and helped make this such an appealing piece of equipment.
The Armtrek fits iPhone 6, 6s, 7 Plus, 8, 8x; Samsung Galaxy S9, S9+, S8 Plus; S7 Edge; Note 5, 8 or 9; and even some of their protective cases. But be warned: the one drawback we found with the Armtrek was the inability to use the fingerprint button while your phone is in the case.
This armband is among the most versatile we reviewed. It comes with two strap sizes, so the band fits snugly on bare arms or over clothes, and is made of tough neoprene and nylon that we found durable and rugged. What makes this band stand out though is the comfort. We found it easy to forget we were wearing it, even during strenuous exercise. It also has huge storage space, with extra pockets to hold cash, credit cards, and small personal items.
The V8 fits all protective & battery pack cases of phones up to 165 x 90 x 16mm.
This classic armband provides standard protection for your smartphone while combining the durability and comfort Nike is famous for. We found this band easy to wear, lightweight, and wicked moisture well. The small pocket was convenient, and could fit more than just a key and a few credit cards. The band material is standard neoprene and wicks moisture well. This band is a bit expensive, but you're paying for the Nike name, and all the durability and style that comes with it.
This band delivers more than we expected based on price, but inexpensive equipment like this has its limitations. It advertises "full touch screen functionality" while the phone is in the case, but we found that to be true only some of the time—sometimes it worked and sometimes it didn't. The "no slip design" was, however, as advertised, and we found that the Tribe band stayed snugly in place, even in heat and damp conditions.
The Tribe band is water resistant, but remember that it's not water proof. In heavy rain conditions, your phone will get wet in the case. The Tribe band fits iPhone X, Xs, 8, 7, 6, and 6S; and Samsung Galaxy S9, S8, S7, S6, and A8.
The Run Tie is sleek, light, and flexible. But what this product gives you in portability it takes away in protection for your device. The Run Tie is basically an armband with a board that has four strong, heavy duty elastic bands attached which hold your phone in place when wrapped around the four corners. The bands hold on the phone is surprisingly solid, and we had no problem with our iPhone staying in place. But the phone is completely exposed with no protection and other than the durability of the bands, there really aren't any other special features. The Run Tie is great if protecting your device isn't a priority and you're seeking a minimal profile for your armband.
Fits iPhone XS Max, XR, X, 8, 7Plus; Samsung Galaxy S10, S9, and S8.
This band is more like a pocket worn on the arm. It's advertised as sweat-proof, but the neoprene does a below-average job of keeping the arm dry during use. Functionally, it's good for prolonged activity like distance running, because your phone is secured inside a pocket, inaccessible. It has decent storage, stayed relatively tight during an extended workout, and the earphone hole is a nice, convenient feature.
But it's not very durable, and we noticed some wear and tear after just a few uses. If you're looking for an armband to strap on and forget about for a few hours, this is it. But if you need to interact with your device during activity, look for another model.
This band fits iPhone 5, 6 and 7 models, Samsung 8, S7, S6, S5, S4, S3, S2 and HTC, as well as any phone with a screen up to 5.8 inches.
Armpocket's i-35 is filled with little features that make it worth the high cost. The built-in, multi-mode LED lights are helpful in a pinch, especially during early-morning runs, and the memory foam, no-slip fit is comfortable and reassuring. There are storage compartments for cash, credit cards, keys and other personal items, including interior storage pockets for high-value items and the wicking material helps keep arms dry even during intense workouts.
The i-35 product will fit most smartphone models.
Tune Belt's sweat resistant design really delivers: This was the most moisture-minimizing armband that we tested. Featuring moisture wicking fabric, the design of this band provides protection from sweat but also from the elements. It's comfortable and stays put, a huge plus during strenuous exercise. It's washable, and the touchscreen is easy to use when the phone is in the case. The Tune Belt is compatible with iPhone 6, 6S, 7, 8, X, XS, and Galaxy S9, S8, S7, S6.
If you're looking for an armband on a budget, this band is about as low-cost as you can get without completely sacrificing quality. The Jemache band has a few features—earphone cable storage, a pocket to hold one key, and the material of the band wicks sweat from the arm fairly effectively. But it's the ability to use the touchscreen reliably and the option to use the fingerprint scanner that makes this band worth using. It does lack durability, though, and we noticed significant wear after only a few uses.
This band is compatible with all iPhone 6, 6S Plus, 7, 7 Plus, and 8, 8 Plus.
This armband's touch-sensitive screen cover delivers—it was the most sensitive cover we tested. Using our iPhone through the cover was simple, so much so that we barely noticed it. The sweat-proof protection was good, and our phone stayed dry throughout an hour-long workout. Active Armband also adjusts to fit a broad range of arm sizes and stayed in place with little adjustment needed. The Active band fits all iPhone 7 and 8 models.
The Verdict: Fitness Armbands
We loved Sporteer's Velocity V8, and discovering its durability after we already discovered its other attributes, including huge storage capacity and a comfortable fit, was a bonus. It is a bit pricey for a fitness accessory but we feel it's worth the cost. However, if you're looking for something for more of a budget we recommend Tribe's water-resistant band or Trianium's Armtrek. Both are durable and have some nice features and both are priced under $10.
IndyBest product reviews are unbiased, independent advice you can trust. On some occasions, we earn revenue if you click the links and buy the products, but we never allow this to bias our coverage. The reviews are compiled through a mix of expert opinion and real-world testing.