The Independent's journalism is supported by our readers. When you purchase through links on our site, we may earn commission.
8 best women's gym bags
Stylish, spacious and practical - be prepared to seize the day with these handy gym bags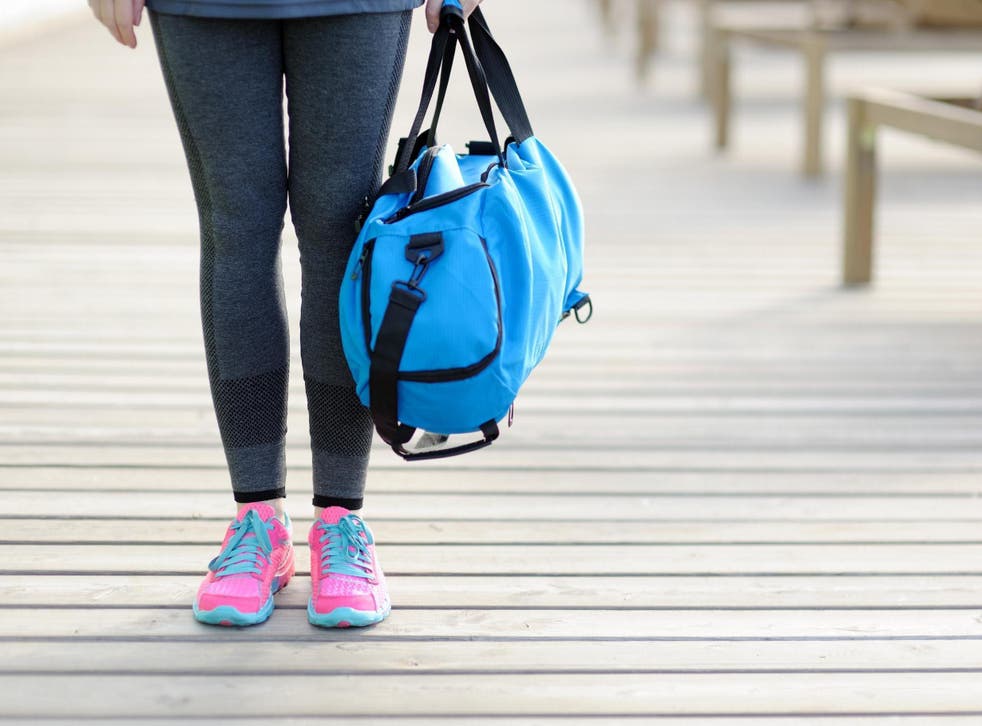 For most women, a gym bag is more than just a carry-on to lug around workout essentials. Gym bags are a sacrosanct space that in addition to gym necessities, can also be home to your laptop and tech accessories, various tchotchke's such as visiting cards and key rings, bento lunch boxes, water bottles, work diary, shoe options, and candy. A gym bag is that workhorse you shouldn't be underestimating. And if you're in the market for a new one, we're here to help you make the best decision possible.
After weeks of testing several gym bags on the market, we narrowed down our list based on three major factors – comfort, space and style. We also factored in fabric and material, since you'll want to frequently give your gym bag a good scrub-down. While the higher-end bags come with several thoughtful design additions that make them worth the price tag, the cheaper options are worth considering too, especially if you're open to using various-sized kits to store your belongings.
Here are eight of our favorite gym bags that help you stay organized and make the most of your day.
There's a reason why this bag is such a popular choice with city-dwellers. And it's got more to do with the bag's function than its aesthetically pleasing form. The thoughtfully designed bag has a specific space for everything. A tiny slip pocket on the exterior is the perfect spot to store your phone, allowing for easy accessibility. The roomy interior has multiple air mesh pockets with sticky Velcro tabs ideal for storing knick-knacks that tend to spill, a padded laptop section that easily fits a 15-inch laptop, and a zippered section for your wallet and other valuables. We love that the bag is also equipped with a tiny detachable case for your keys and credit cards, and a laundry bag that can be used to store your gym shoes or dirty gym clothes. The padded handles are easy on your shoulders and while testing we noticed that the bag tends to get dirty rather quickly but the neoprene exterior can be easily wiped or hand-washed. If you thrive on organization, then this is the bag of your dreams.
Top marks for style and when it comes to function the bag doesn't disappoint either. Sweaty Betty's lux kit bag is thoughtfully divided into three sections. The first one is padded with a plastic layering that can be frequently wiped down making it ideal for dumping dirty gym clothes or shoes. The second is a smaller middle pocket fitted with snap buttons that is perfect for storing your phone, credit cards and train pass, while the third layer is deep enough to fit your laptop and comes with an additional section to tuck in your water bottle and a zip pocket to store valuables. Bonus points for two sets of handles that make transporting easy, although one does miss a longer shoulder strap that would be ideal for those who like to add length to their bags. While testing, we loved that the bag was easy to carry, and despite being stuffed to the brim, the bag retained its shape without looking bulky. If you're a yoga lover, you'll definitely appreciate the adjustable straps at the base of the bags that allows you to easily transport your yoga mat.
If you like the duffel shape, then you'll love this compact option from Adidas. It's tinier compared to many of the other gym bags on this list, but it comes with multiple pockets and compartments that make up for what it lacks in size. The bag is fitted with a top handle, and a longer adjustable strap for those who like wearing their bags across their body or on their shoulders. A front pocket is handy for items you need within reach, while the material is easy to wash and maintain.
For those who are always on the go, this backpack from Lululemon is a great option. It comes in four colors, and the clever design makes it roomy enough to fit all of your everyday essentials. The side pocket is handy to fit keys and your phone, while the bag has a separate sleeve to store your laptop. The main compartment is fitted with a little mesh pocket for your bottle, and has plenty of room to store a change of clothes and other knick-knacks. The clincher though is a separate shoe section at the bottom of the backpack which will come handy for those who need to carry a change of shoes. It's simple, roomy and easy on your shoulders.
With this Tommy Hilfiger Camo-printed tote, you can easily transition from boardroom to barre class in a jiffy. The leather straps and detailing are classy touches, while the camo print gives it a casual, informal air. It's deep enough to hold all your major essentials and comes with an interior zip pocket and an added slip pocket. While testing, we did notice that leather straps tend to bite into your shoulders when the bag is heavy, so we recommend strictly using this to tote around absolute essentials. The zip is a nice touch that prevents things from falling out, but at this price point a few extra pockets would be appreciated. An attractive pick for those looking for a dressier work/gym bag.
Puffer bags are currently all the rage and at this price point, the Puffer Weekender Bag from A New Day is a winner. It comes with two zip closure pockets to store your essentials, while the main compartment of the bag is roomy and deep enough to hold all your gym needs plus your laptop. The straps are soft, backed with stiff faux leather tabs that don't pinch or dig into skin while staying put on your shoulders. If you tend to throw your dirty, sweat-stained clothes directly into your bag fret not, the nylon layering can be easily wiped.
Another crowd pleaser from Lululemon that wins on two major fronts – style and functionality. It looks like a regular work tote from the outside, but take a peek in and the various pockets including a dirty clothes section, water bottle holder and a deep main compartment large enough to hold a laptop will leave you impressed. The fabric is water-repellant while the leather straps are a nice fancy touch, to an otherwise sturdy bag.
You can't go wrong with this classic duffel from Nike. While it's probably not the best choice to double up as a work bag, it's ideal for all your gym needs. It does look tiny, but the classic duffel shape and extra smaller pockets allow you to organize and fill the bag to its very brim. After testing, we noticed that it easily holds shoes, a change of clothes, toiletry kit and a towel. An exterior pocket comes handy to store your phone and gym card. The bag also folds up and can be easily stored in tiny corners or under your bed.
The Verdict: Best Women's Gym Bags
If you're looking for style, functionality and comfort then the Large Landon Caryall from Dagne Dover is definitely worth considering. Although slightly steep for a gym bag, it can easily double up as a work bag which does somehow justify the price tag. The Quilted Luxe Bag from Sweaty Betty is another great option that takes you from work to the gym stylishly. Finally, for those on a tight-budget and strictly looking for a Gym Bag, Nike's Club Duffel Bag is a great option. Now, go shopping and gear up to seize the day!
Register for free to continue reading
Registration is a free and easy way to support our truly independent journalism
By registering, you will also enjoy limited access to Premium articles, exclusive newsletters, commenting, and virtual events with our leading journalists
Already have an account? sign in