The Independent's journalism is supported by our readers. When you purchase through links on our site, we may earn commission. Why trust us?
6 best hand blenders
Blend anything in a matter of minutes with one of these convenient blenders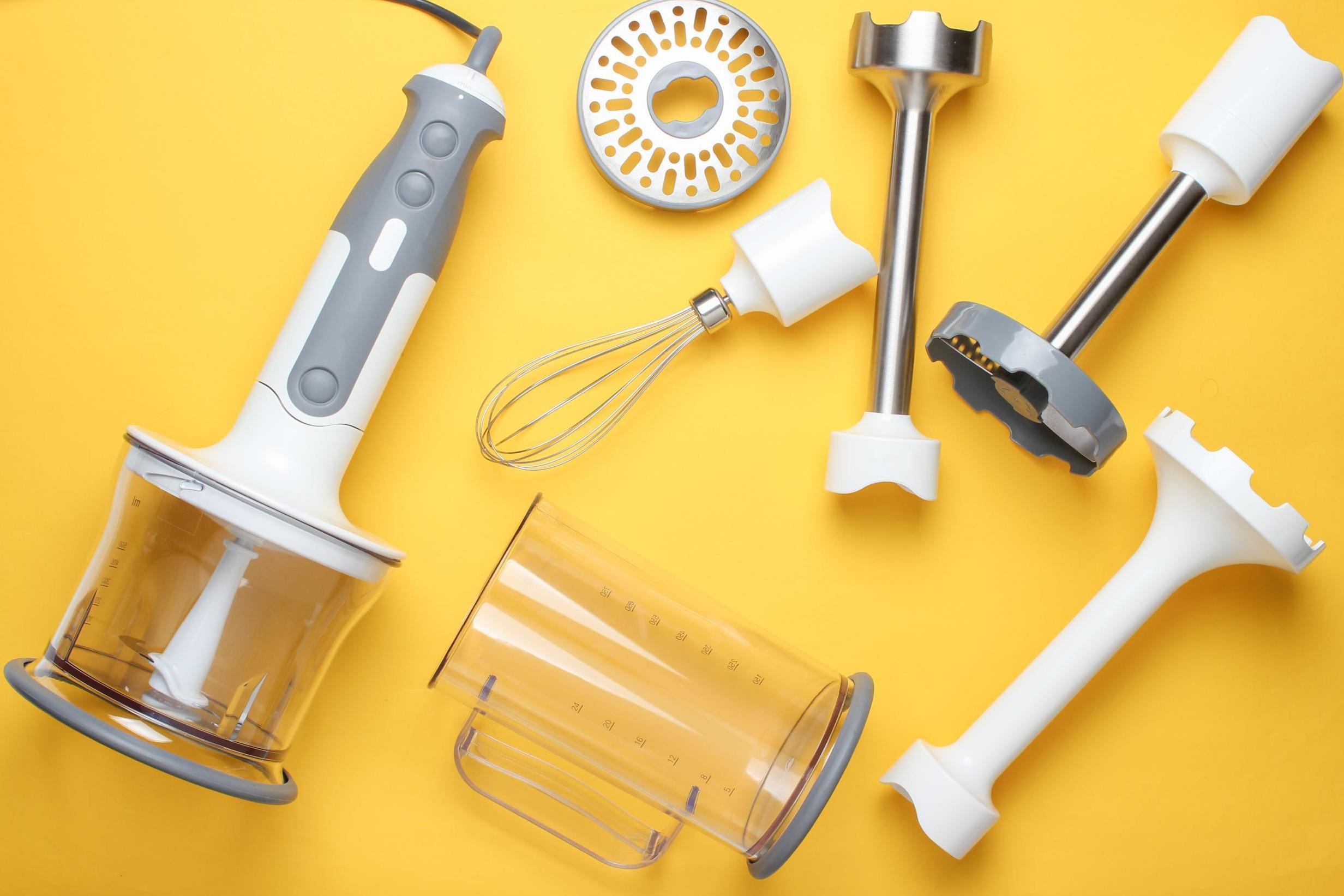 In today's age of juice cleanses and smoothie diets, immersion blenders have become an essential kitchen tool. However, they're not just for the health nuts, they're also a handy tool for pureeing soups, mixing milkshakes and blending ingredients for all manner of pastes, sauces and dips.
As opposed to stand blenders, the advantage of an immersion blender is that it can handle large quantities and minimize mess by blending straight in the pot, making it a great tool for meal preppers and dinner party proprietors.
While the immersion blenders of yesteryear may have been little more than a short pole with a bladed propeller on the end, today's models come with a variety of attachments, from whisks and electric knives to potato mashers and chopping containers, which basically turn the immersion blender into a stand blender in its own right.
To test these items we whipped up a bevy of smoothies, soups, mashed potatoes and even an olive tapenade.
While a few of the models we tested advertised their wattage and even horse power, we found that that had little effect on their actual performance. The features we specifically looked out for were range of speed settings, comfort, ease of use and variety of attachments.
Without further ado, here are our six top picks and their pluses and minuses.
The Braun Multi Quick 7 comes with a variety of accessories and attachments, including a whisk, beaker, chopping container and safety lock, but what excited us the most about was a feature that Braun terms "smart speed" control.
Unlike other models which have a set number of speeds, the Multi Quick 7's trigger adjusts the blade's speed based how tightly you grip it, making the blender a joy to handle while allowing for very precise speed control.
Over all, the Braun Multi Quick 7's sturdy yet comfortable design, wide range of accessories, unique speed control mechanism and middle-of-the-road price earned it our pick for IndyBest best buy.
At a price of $59.99, the Cuisinart Smart Stick Variable Speed Hand Blender is on the lower end of the spectrum and performs admirably for that price. It also gets points from us for including the same full package of attachments and accessories that more expensive blenders come with.
However, it lost points for some questionable design choices. While we liked its largely stainless steel body, especially when most other models we tested were majority plastic, we found the control scheme to be byzantine and unwieldy. The inclusion of a safety lock that needs to be constantly held down while in use made it very difficult to adjust the speed dial while blending and left us feeling like it was designed for a creature with an extra hand.
That said, most uses don't require fine control of the speed mid-blend. Though the design is little uncomfortable, it will save you a couple dollars while still performing admirably.
Kitchenaid's low-priced option is fairly simple. While the blender boasts a sturdy and attractive construction, including a rubber grip, plastic body and metal arm, as well as plastic jar with a three-cup capacity to blend in, it lacked the accessories and speed ranges that are available in the more expensive devices.
Offering only two speeds, while testing on a few smoothie recipes, we found the low speed had trouble getting through frozen fruits. However, the high speed got the job done with ease.
All that said, if you only expect the blender to see occasional use in your kitchen, the Kitchenaid 2-speed's low price and sturdy construction still make it an attractive option. On the other hand, for the smoothie aficionados and soup junkies, it may be worth your while to invest in a more expensive option.
The main thing to know about this model is right there in the name, it's cordless. It's a great asset for a kitchen with sparsely placed or over-filled outlets, but it does come with a few setbacks.
One thing we weren't enamored with was the 2-2.5 hours of charging required for 20 minutes of blending. To be fair, 20 minutes of blending is a lot of time. Most of the recipes we tested didn't require more than two minutes of blending, but if you are mid-recipe and find yourself out charge, there's not much you can do. At minimum it will be a half hour to "quick charge" the device for only five minutes of use.
Another thing to note about the Smart Stick Cordless is that it is big, with the blending rod attached it's about 25 per cent taller than most of the other models we looked at. That, of course, makes it harder to store but also makes it great for deep pots and large batches.
Something we really liked about the smart stick cordless though were the unique accessories it came with. In addition to the usual, (whisk, beaker and chopping container) it also comes with a storage bag made of high quality material and an electric knife attachment. While an electric knife isn't something ever expected in a blender, it's basically two appliances in one. So if that was something you were also in the market for, it might help allay your trepidation at this model's higher price.
Overall, the Smart stick cordless can be a great option for a kitchen that finds itself tight on outlet space, but if that's not a problem for you we feel that Cuisinart still has a few kinks to work out with their cordless technology before this model is worth the high price of $149.99.
What we particularly liked about the Breville Control grip was the thick plastic material of its accessories such as the chopping bowl and extra-large 42-ounce jug, which comes with an air-tight rubber lid. Breville's materiel left us feeling confident in it compared to those that came in similar priced models, which we feared were easily breakable.
As for the blender itself, while the box advertises a 15-speed range, in reality we found the control dial, which is on top of the blender's handle, to be so small that it's almost impossible to accurately select all 15 options. In fact the dial only lists even digits as there's not even enough space for all 15 integers.
All in all, it still has more than enough speed settings and it's sturdy materials as well as variety of attachments leaves it as a great option.
As Cuisinart's mid-priced model, the Hurricane hand blender offers a whopping 750 watts of power. It certainly gets the job done, it blended smoothies an soups with ease.
However, in our opinion, Cuisinart made an odd choice in regards to the attachments included in this model. Instead of a chopping container, included is a potato masher.
The potato masher works great. While the conventionally wisdom is that blenders, immersion or stand are too powerful to be used for mashed potatoes and will result in a gummy mess, the potato masher attachment's gentler plastic blades created perfectly fluffy mashed potatoes.
In general we prefer more versatile attachments over hyperspecialized ones and if the immersion blender is your only blending tool we would recommend one with a chopping container over the hurricane's potato masher. However, if you already own a stand blender, the potato masher can be a great extra tool, while a chopping container would be redundant.
Verdict: Best hand blenders
At the end of the day, the Braun Multi Quick 7 won our Indy best pick for best buy due to it's impressive comfort and ease of use while offering top performance. Though the cheaper Cuisinart models also performed well, their designs made them uncomfortable and tedious to handle, usually requiring both hands.
While we found Breville's The Control Grip to be equally comfortable and equivalent in price to the Braun, the Mutli-Quick 7's unique speed control mechanism put it in the lead.