The Independent's journalism is supported by our readers. When you purchase through links on our site, we may earn commission.
10 best in-flight accessories
With these in-flight accessories, flying will be just as convenient as being on the ground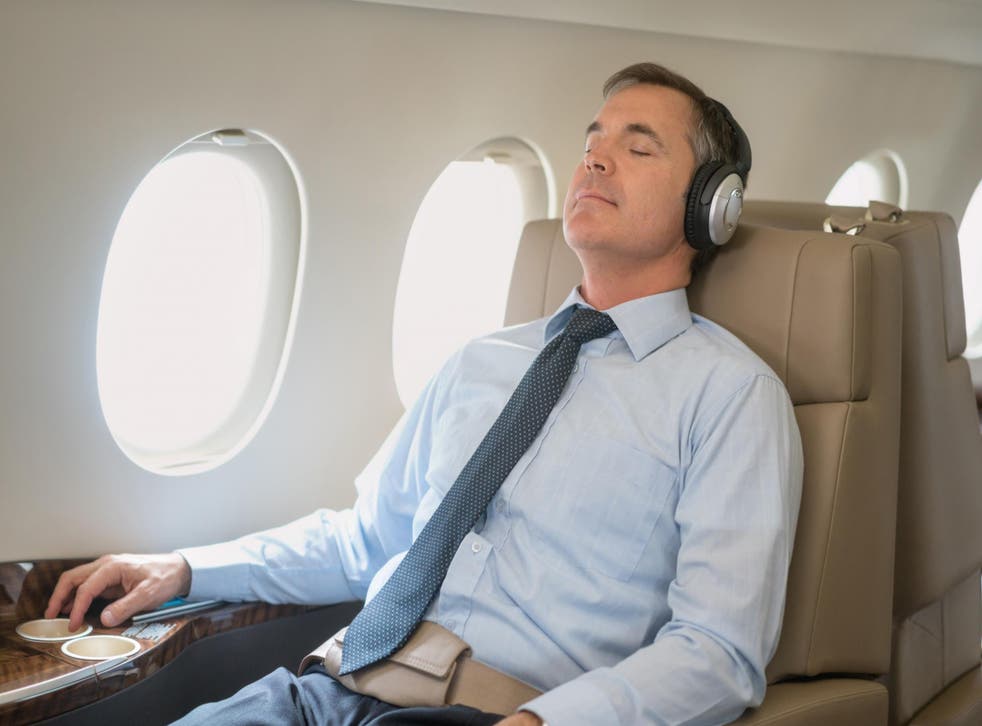 You've made sure your toiletries are in containers smaller than 3.4ounces (100ml) so you can take them in the cabin. You've checked you have your passport (though now I've said that you will probably want to just make sure one more time) and you have your Kindle easily accessible so you can read wherever you are. So, what else do you need? How about headphones you can hear over the roar of the jets, a discreet gadget to recharge your phone or a smart suitcase to travel with, or even a toothbrush to make sure travel doesn't ruin your dental health regime?
These are the 10 best in-flight accessories.
1. Bose QuietComfort 35 II noise-canceling headphones: $349.99, Best Buy
Bose continues to make the best noise-cancelers around, ideal to subdue jet engine noise and make whatever you're listening to at lower volumes - which is good all around. The sound is clear and interference-free. These headphones are also high-enough quality to work well in everyday use, too. Although these are wireless, there's a supplied cable to plug into the plane headphone socket. This new version has a microphone designed to let you talk to your phone's voice assistant and indeed Google Assistant is built in. If you don't need this, the earlier QuietComfort 35 model is still available for $20 less. Well-built and neatly designed, these headphones look good and feel comfortable even for extended use. Available in black or silver finishes.
2. TwelveSouth AirFly: $39.99, Amazon
This is a brilliant idea. Wireless headphones are convenient and liberating thanks to the lack of cables, but most are useless on an airplane when you want to listen to the in-flight entertainment. The AirFly plugs into the plane's headphone jack as normal but then connects wirelessly to your Bluetooth headphones. The instructions helpfully include specific details on how to link Apple AirPods to the AirFly. Once paired, the AirFly remembers the headphones next time. The AirFly is tiny and almost weightless. It comes with a micro-USB cable to charge it. The battery lasts up to eight hours - so no good for that super-long transatlantic flight, but then again, it's good to get some sleep as well, right? It also works when you're not in the air, if you want to plug your wireless earphones into your health club's TV audio, say.
3. Amazon Kindle Oasis: From $249.99, Amazon
Sometimes even the best in-flight entertainment isn't quite what you want. Books are hard to beat, except that when you're flying you want to keep the weight and size of your bag to a minimum. So, an electronic book reader is a great alternative as you can carry literally thousands of titles. The Oasis is the best ebook reader Amazon (or anyone else has made) thanks to its premium build, super-light weight, strong battery life and exceptionally good screen, which is easy to read. There are physical buttons to turn the pages and Amazon's navigation system is now better than ever, so it's easy to flip to a note on another page and back again without losing your place. The screen is larger than most other readers (seven inches instead of the more conventional six inches) and because it isn't backlit, you can read it in bright sunlight through sunglasses, which may be useful when you've disembarked. There is also a light on board so you can read it in dim light, too. Any book you've bought on Kindle can also be read on most tablets, smartphones and computers using the Kindle app. The Oasis comes in graphite or champagne-gold finishes and if you want something more basic, Amazon has a range of great readers. Read about them here.
4. Away Aluminum Edition smart suitcase: From $475, Away
Away is a slickly-attractive travel brand with smart extras. Note that many US airlines now prohibit cases in the hold if they have built-in batteries. Away has a useful battery pack so you can plug in your phone to recharge it - it'll recharge a phone up to five times. However, crucially, it remains airline-compliant because the battery can be ejected if you need to check your case in. There are several finishes but the new aluminum edition is the most sumptuous. Away cases run on super-smooth Hinomoto wheels that makes them enjoyable to stroll with. There are TSA-approved locks so if the authorities want to check inside, they can do so without busting the locks. The interiors are carefully thought through and are highly usable. The price is for the carry-on size, if you want something a little less expensive than aluminum, the regular carry-on costs $225 and comes in nine colors.
5. Moshi IonBank 3K battery: $64.95, Moshi
Moshi is a superbly stylish company whose website is worth checking out for everything from batteries to travel bags. This is a tiny battery for Apple users only as it has a Lightning charging cable built in. The battery is small but enough to fully recharge an iPhone and then some. All contained in a tactile vegan leather sleeve. It also has a USB cable integrated, so you can charge the IonBank and your iPhone at the same time. It's designed to be slim enough to be used with most iPhone cases. A slightly larger version, IonBank 5K is available in two versions: Lightning cable or USB-C cable built in.
6. Philips Sonicare DiamondClean Smart 9300 rechargeable toothbrush: $189.99, Best Buy
Dentists say that their patients' dental regime often slips when they're travelling. So, it's important to pack a really good toothbrush and the Philips Sonicare range is a real standout. It's sonic, meaning it vibrates so fast it dislodges plaque more easily. This DiamondClean Smart is sensational thanks to multiple modes and brush heads which are recognised automatically as you attach them. The right brush time is chosen accordingly. There's also a smartphone app which gives you instant feedback to show how well you're brushing - a light flashes if you're brushing too hard as well. The battery lasts long enough that you may not need to charge it on the road, but if you do, the charging cable is handily built into the travel case. This is probably the best toothbrush you can buy, though more affordable brushes in the Philips Sonicare range also do a great job.
7. OneAdaptr Twist+ World Charging Station: $42.99, Amazon
This is a clever adapter that will work in most countries in the world. Twist the device to reveal plugs for US, UK, Europe and Australia (though it works in many more countries than that). There are four USB sockets so you can charge your phone, tablet, camera and one more gadget at the same time. Plus, there's a connector for an Apple MacBook, for instance. It's versatile and easy to use and takes up very little space in your bag.
8. Apple AirPods: $159, Apple
Many think the AirPods are Apple's best product in years. They are tiny, wireless headphones with tremendous sound quality. They work with any smartphone but are best with iPhone or iPad. You can summon the voice assistant Siri by tapping one AirPod and speaking. The microphones are cleverly directional so they work brilliantly as a wireless phone headset. If you're playing music from your iPhone and someone asks you a question ("Chicken or beef?" for instance), when you remove one AirPod, it will pause what you're listening to and restart it when you put it back. Brilliant.
9. Tylt Smart Charger 3X: $59.99, Tylt
Wall prongs mean you can plug this directly into the wall in the US, but they fold away to save space. You can then charge your device directly from the wall but, because there's a 6700mAh battery built in as well, you can also charge it when you're on the plane. Two versions are available, each with the relevant charging cable, Lightning or MicroUSB built in. Smaller and larger versions are also available in the Tylt range, covering devices from a smartphone up to a laptop.
10. Fitbit Versa: $199.95, Fitbit
Traveling can be the enemy of your regular fitness habits, so wearing a watch that's also a fitness tracker can gently remind you not to slack too much. The latest watch from Fitbit is great at personalized reminders to encourage you to stay hydrated, make sure you are active and remind you to sleep. The sleep tracking is excellent, which can be revealing when you're crossing time zones. And the guided breathing sessions can help you stay calm (you might do this at take-off or landing, for instance). You can also use it as a wireless wallet or to check your heart rate. When you're not in the air, it'll track your run, swim or cycling, too.
Best accessories verdict:
There are some accessories here you won't need on a short flight, perhaps, but if you're flying long-haul, the Bose QC35 headphones are a real godsend. Team them with the TwelveSouth AirFly and you can have the benefit of great audio and the freedom of no cables. Battery anxiety is the twenty-first-century malady, so the chargers and batteries here can take that worry off the pile, especially the versatile Tylt charger.
Register for free to continue reading
Registration is a free and easy way to support our truly independent journalism
By registering, you will also enjoy limited access to Premium articles, exclusive newsletters, commenting, and virtual events with our leading journalists
Already have an account? sign in