The Independent's journalism is supported by our readers. When you purchase through links on our site, we may earn commission.
Best lingerie sets for Valentines Day
From sexy one-piece, two-piece to seductive cover-up, velvet, lace or mesh, these will guarantee a perfect match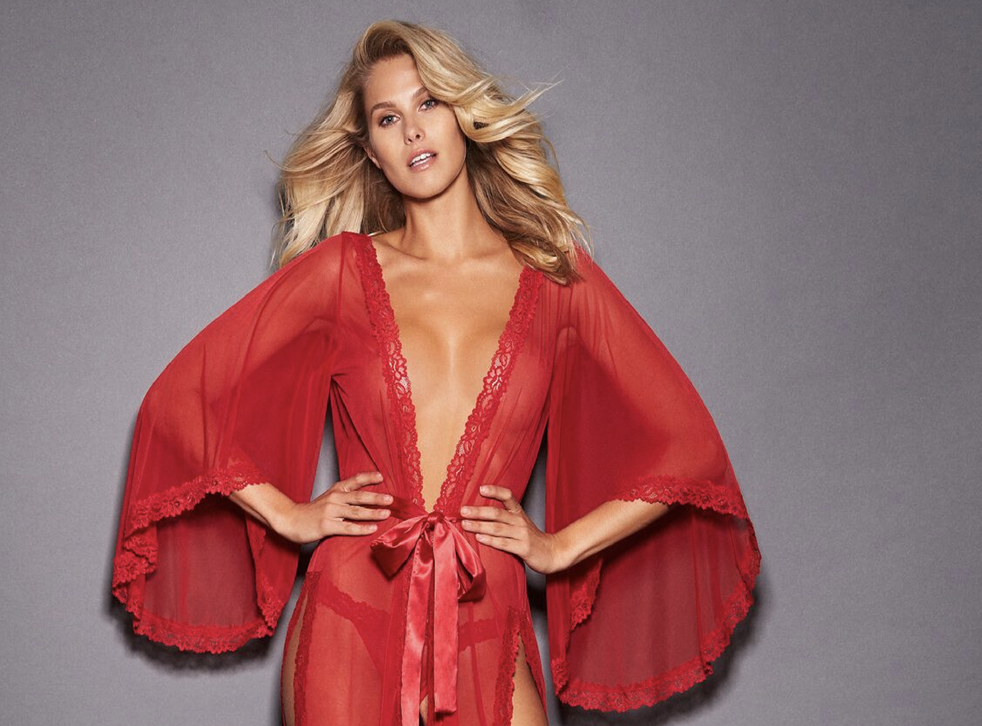 If you love feeling good about yourself, you don't need to wait for a reason to buy a new set of lingerie.
We all have our favorite undies and bras, some might not even match, and we all have that set our partner goes crazy for. But you wouldn't be telling the truth if you said there isn't room for more. Especially with the long list of choices and endless styles you can choose from.
There are a few things to consider, however, when it comes to purchasing a new set of lingerie. Different brands size their products differently, so we'd recommend that you always check the size guide and read into some reviews — so you'll know if the brand might size up or down.
Also, keep in mind, that every bra manufacturer has variations in their underwire sizing too, which can get very uncomfortable if you wear the wrong size. If you've experienced that the wire would poke your side, then it's better to try those on in person as oppose to ordering online. There're also many wire-free bras that will provide support and lift too.
We did some testing for you and looked at sets from the best brands, so you can save yourself the trouble of buying those that are uncomfortable, give your breasts a strange shape, make your skin itchy or poke you where they shouldn't.
Wolf & Whistle Hollie Red Strappy Bra, $36.40; Wolf & Whistle Hollie Red Strappy Brazilian Brief, $16.90, Playful Promises
It's the season of red and wearing this Wolf & Whistle set, you'll feel like an irresistible Christmas present. The front harness straps of the bra are adjustable, so you don't have to worry about them being too loose or pressing in your skin. And, the red lace applique and light beige mesh add an elegant touch to it. Pair it with the matching red lace Brazilian bottom with a cage detail on the side that comes in sizes 2 through 12.
Jill Bra In Dream Vanilla, $198 & Susie Thong In Dream Vanilla, $88, Morgan Lane
If you're thinking about investing in good quality and don't mind a higher price, look no further. Established by Morgan Curtis, the daughter of famous womenswear designer Jill Stuart, Morgan Lane will sneak a piece of luxury into your bra and panty collection. This classic lingerie set is made from high-quality French lace with additional Italian lycra in the bottom. The bra has a very comfortable feel to it, and although it doesn't have padding, it gives a very nice shape to the girls. Both the bottom and the bra are available in sizes from petite to large.
Scalloped Lace Babydoll, $45, Victoria's Secret
You'll feel like an angel wearing this one. It's a very delicate yet flattering piece with mesh and lace along with silver flower-pattern details. The back has an opening which makes is different from other chemises. The skirt area isn't as flowy as it would be if it was silk, but the mesh has its beauty too. It comes with a matching v-string panty, four different colors and sizes from extra-small to extra-large.
Wolf & Whistle Abi Peach High Apex Lace Bra, $36.40 & Wolf & Whistle Abi Peach Lace Cut Out Brief, $18.20, Playful Promises
This bra and matching brief both have a beautiful lace detail and the bra is very comfortable providing the necessary support. The straps in the front are also adjustable and add a cheeky complement to a V-cut shirt. The straps on the briefs are a bit a too far from each other, and if you have even a little bit of extra weight around your waist, those straps will press in and will show through a tight dress or leggings, so it could get uncomfortable. It comes in colors of peach or black and the bra has sizes from 32B to 36G, while the brief sizes go from 2 to 12.
The Long-Lined Lace Bralette, $35 & All Day Bikini $10, Lively
This set is a perfect combo of playful sexy and comfortable. When you feel like wearing a sports bra but with a stylist twist, this triangle bralette is the way to go. The wide bottom band provides great support, while the pretty lace pattern gives it a cheeky boost.
Although the bikini-style undie is rather simple, it's made of mostly rayon which gives it a nice and cozy feel for everyday use.
Wolf & Whistle Tanja black lace strappy soft cup bra, $26 & Wolf & Whistle Tanja black lace strappy brief, $18.20, Playful Promises
This black floral lace set will be your go-to lingerie if you don't want your partner to take their eyes off of you. Its soft cup and extra lace material that goes underneath the cups give it a beautiful detail. Both the lace brief and the bra have extra straps that might seem too much at first, but when you put them on, they fit right in with the complete look. This set is also available in white. The bra comes in sizes 32B through 36G and the brief is from 2 to 12.
Eabha Push Up, $59.95, Adore Me
Whether you have a smaller or bigger bust, this push-up longline balconette will add a size or two to your night-out look. And it's not only the plunge that's grabbing our attention. The golden sparkle velvet and stretch lace material gives it an elegant touch, and you'll feel like you are wearing a plush set underneath your little black dress. Match it with either a hipster or bikini panty with the same velvet and lace details. It comes in jet black and ponderosa pine green colors and sizes 30C through 38D.
Charlotte McKinney x Wolf & Whistle Siena Lace Trim Vest and Short Set, $45.50, Playful Promises
Looking for something more comfortable, cute yet sexy? Designed in collaboration with the American bombshell model and actress Charlotte McKinney, this luscious loungewear set will be your next favorite top and short combo. The soft style crop top with eyelash lace trim and elasticated waist shorts make it comfortable to wear all night. And, because it's not sized by the cup and the short has an elastic waist band, it's an easy buy for a gift too. It comes in sizes 2 to 12.
Pearl Lace Trim Sheer Robe, $29, Frederick's of Hollywood
Slip into this robe and manifest your Hollywood celebrity goddess. The sheer mesh plunging down the torso and draping down the back is a unique design, while the wide flowing sleeves beautifully contrast the look with the robe tied at the waist. Each side has an opening below the waist to leave room for flaunting your legs. Adding extra detail, the scalloped lace edges give it an exquisite finishing touch. Wear it on its own or draped over your favorite sexy set. It comes in sizes small/medium or large/extra-large, but also has plus size options with two additional colors: pristine white and black.
Kaye teddy, $49.95, Adore me
Lace and more lace as far as the eyes can see. Try something unconventional and go a little extra with this teddy featuring a low-cut open back and all over lace detail. It's soft and stretchy around the neck, so it's easy to put on and stays on comfortably. In the front, the V-cut opens upward below your bellybutton, so it covers that lower-belly pooch. Wear it confidently in the bedroom, or underneath an off-the-shoulder dress for a flattering look. It comes in purple as well and sizes from extra-small to extra-large.
Verdict: The one that checked all the boxes — sexy, comfortable, affordable, unique, good quality — was the Wolf & Whistle Tanja Black Lace Strappy Bra and Brief. It was refreshing to try something different without breaking the bank or giving up on comfort. Pair with the red Sheer Robe for a complete seductive look. But if you're looking for something different than a bra and a panty combo, then the Kaye Teddy from Adore Me was our favorite.
Register for free to continue reading
Registration is a free and easy way to support our truly independent journalism
By registering, you will also enjoy limited access to Premium articles, exclusive newsletters, commenting, and virtual events with our leading journalists
Already have an account? sign in