The Independent's journalism is supported by our readers. When you purchase through links on our site, we may earn commission.
10 best sleeping bags
Keep cozy on camping and backpacking trips with the right sleeping bag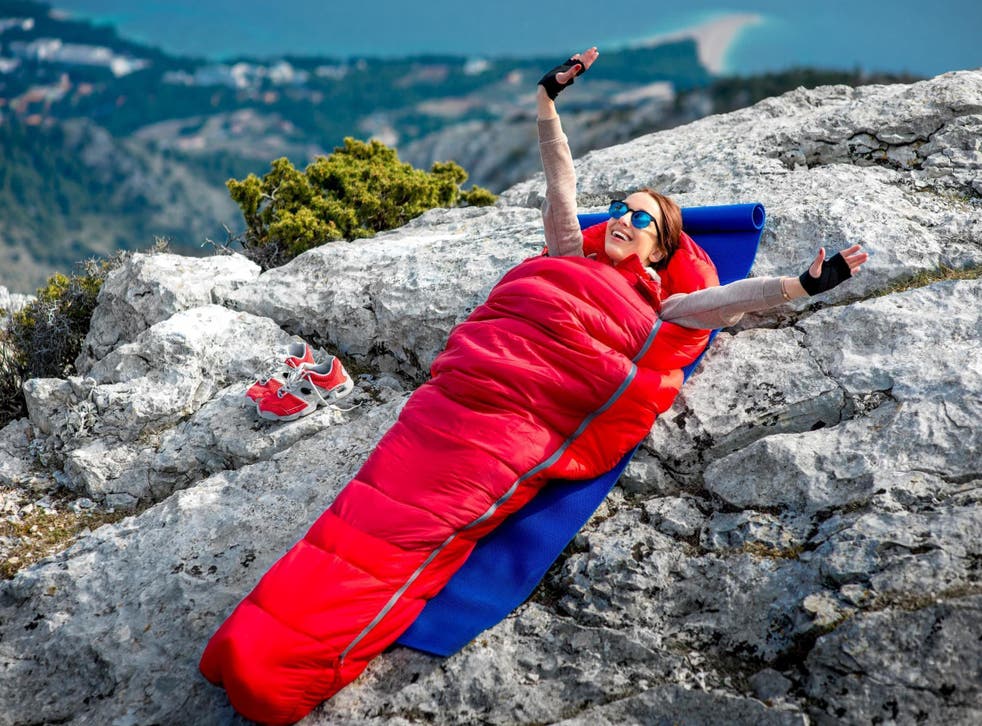 Sleep should never be an afterthought, even when you are away from home. The necessity of deep sleep to keep us both mentally and physically healthy is often underestimated and this makes finding the right sleeping bag all the more essential.
In all environments, restful sleep is possible with the right gear. Whether you are recovering after a long day of hiking through the mountains on the Appalachian Trail or just camping out of your car for a night at a music festival, there are a number of bags to choose from. No matter the occasion, it is important to know what you want out of a sleeping bag and what you are willing to compromise for the right price. Do you need the fluffy warmth of goose down plumes or are you okay saving some money and going with a synthetic fill? Is your preference leaning towards the snug fit of mummy sleeping bags or do you prefer the rectangular variety so you can swing out your legs?
No matter what your needs are, whether you are looking to invest in an ultra-light-weight backpacking bag that will keep you warm for years to come or if you need a budget-friendly option that just gets the job done, we have evaluated every type of sleeping bag imaginable and have selected the most versatile bags that are bound to please even the most finicky travelers.
The feeling of a feathered comforter is a luxury usually reserved for bedrooms, but when you slip inside the Thylacine down sleeping bag you will recognize that the lovely sensation of getting into your own bed can be replicated even at the campsite.
Unlike most backpacking sleeping bags, it is roomy enough to stretch out. This 1.9-pound bag can accommodate people who like to sleep on their sides or those who have a tendency to stretch out their legs at night. For those who prefer a more cozy fit, it also comes with adjustable elastic straps around the width of the bag that can cinch the material tighter around your body.
Overall, this bag easily accommodates any sleeping position and wins the prize for versatility. Despite its weightlessness, it feels plenty warm in all seasons with a 20-degree comfort rating. If you need more protection from the cold, there is an optional liner that really keeps it toasty, adding 15 degrees of warmth.
The down fill that gives this sleeping bag its fluffy feeling has a water-resistant coating, so keeping you and the sleeping bag dry through the night is never a problem.
The Zenbivy Bed is a newcomer to the sleeping bag scene and is quite innovative.
It is silky soft. The nylon fabric doesn't feel like any other sleeping bag we tested. An added bonus is that the material doesn't make any unpleasant crinkling noises that many of us who toss and turn at night might have come to expect from other sleeping bags.
The bag unzips into two pieces. The back is designed like a fitted sheet, so you won't slide off your sleeping pad in the middle of the night. The second piece is a top quilt.
One feature that our testers particularly liked is the quilt's ability to fully unzip into a freestanding blanket for those summer months when you might need more ventilation.
We recommend pairing this bag with an inflatable Therm-a-Rest sleeping pad, which can be adjusted to your desired firmness.
This is a classic mummy bag with a funky style. We love the colorful design of the Sueño.
Its lofty, yet compact silhouette holds 800-fill down that packs into the size of a small watermelon and easily fits on any backpack. This one is a nice option for sleeping outside during the fall, spring and summer months.
The outer nylon fabric shell is both durable and breathable. A right-side zipper is paired with a half-length zipper on the left side, allowing you to fold down just the top flap of the bag, or entirely unfold it into a quilt.
The generously sized hood comes with a drawstring that will protect your head from cold drafts. If you need neck support, there is a large pocket in the hood where you can slide in a rolled up sweater as a makeshift pillow.
This bag weighs 2 pounds and 13 ounces, so it is not necessarily the lightest piece of equipment, but it still stands out as a worthy backpacking bag.
This bag is in a classic mummy shape and impressively low-weight, yet is a reasonable price for camping in freezing temperatures.
Icy conditions are no problem if you have the Therm-a-Rest Questar to keep you comfortable. The toe box has a hidden pocket where you can tuck your feet inside an extra layer of down. If needed, you can also slip in some warmers.
The bag comes with straps that attach to a sleeping pad and prevent you from rolling off during the night.
It's hard to imagine winter camping without the Nitro. This bag will encase your body in a cocoon of 800-fill down. It's generously cut to provide a little more room than traditional ultra-light sleeping bags.
We especially loved the zipperless foot vent that allows you to poke your toes out of the bag if you are getting too warm without allowing cold airflow back in. A padded collar around the opening also helps you avoid drafty air.
The regular size is just 2 pounds 8 ounces, which is not bad for a sleeping bag that is built to withstand zero-degree temperatures.
This ultra-light bag has a heat reflective lining that captures the power of your body's natural warmth. This one packs down to roughly the size of a loaf of bread, but still manages to feel lofty when you pull it out of your compression sack. It weighs just 16 ounces.
This is a thoughtfully designed bag. When you lay down in some feathered sleeping bags, the plumes get compressed and lose insulation power. You'll find that high-quality down sleeping bags like this one strategically distribute the down fill on the top of the bag, minimizing the loss of insulation.
You won't be in a hurry to get out of this L.L.Bean flannel-lined sleeping bag. This is the quintessential rectangular sleepover bag from your childhood, except fit for a grown person.
This bag is cozy and warm with a breathable cotton flannel lining. The bag is filled with synthetic fibers with a durable outer nylon shell ready to endure all your outdoor adventures.
Its biggest downside is the extra weight. This bag is 6.75 pounds, so you might reserve it for camping trips that involve a car.
This is our pick for the best three-season backpacking synthetic bag. This one is incredibly compact for a synthetic bag and can be condensed down to the size of a volleyball. It also provides incredible warmth, but the real magic of this extra snug mummy bag is in the attention to detail.
If your head is getting chilly at night, you can pull a cord to tighten the hood and keep in the heat. This small adjustment can be done easily in the dark from inside the bag and can make all the difference in regulating your body temperature.
There's an inside stash pocket to keep anything that you need to have handy. The oversize zipper works smoothly from inside or out of the bag and doesn't snag, and a glow-in-the-dark pull cord makes it easy to see even without a flashlight.
No one wants to feel the cold ground under their sleeping bag. This Big Agnes mummy-style bag makes it simple to secure a sleeping pad by including an attachable sleeve that the pad can slip inside. The sleeve also doubles as a storage sack for the bag.
This is one of the roomier mummy bags that we tested, but some may still find it restrictive. The 650-down fill succeeded at trapping the heat through the cold night and for couples who want to snuggle up for warmth, two of these bags can be zipped together.
We like the price of the Blue Jay. For car camping on a budget, this is one that stands out. A cotton blend flannel lining and polyester fill protects you from the elements and patched baffling keeps the fill in place, so there are no cold spots.
This is one of the most spacious bags we tested with plenty of legroom. This bag is 38 inches wide, almost the size of a twin mattress and is long enough that, depending on your height, you may be able to fold down the top to use as a pillow.
The Verdict: Best sleeping bags
You can't beat a lightweight sleeping bag that is both easy to pack and able to accommodate almost any sleeping position. This is why we love the Kammok Thylacine, a reliable down sleeping bag for temperate to chilly weather. This bag is by far the most impressive and versatile of all the ones we tested with the option to add an extra thermal layer.
For a more budget friendly bag, it is worth checking out the Zenbivy Bed, which is just as compact. The Zenbivy will need to be used with a sleeping pad since the back is designed like a fitted sheet without any down fill, but once you have it set up, it is so comfy that you might not want to get up.
IndyBest product reviews are unbiased, independent advice you can trust. On some occasions, we earn revenue if you click the links and buy the products, but we never allow this to bias our coverage. The reviews are compiled through a mix of expert opinion and real-world testing.