The Independent's journalism is supported by our readers. When you purchase through links on our site, we may earn commission. Why trust us?
Best slow cooking appliances available on Amazon
From families to college students, there's a cooking appliance out there for your needs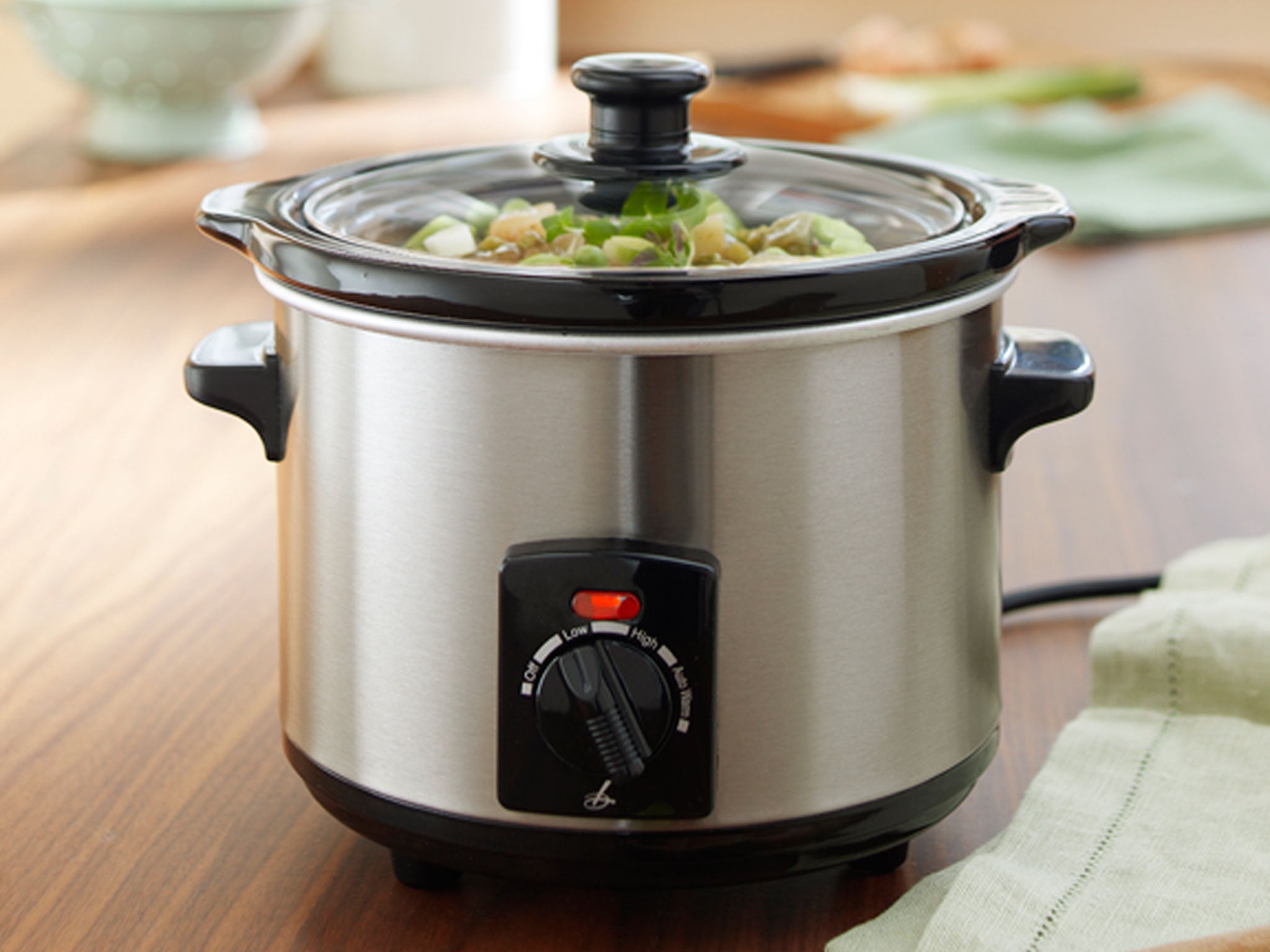 After long days of work, school, or taking care of the kids, cooking a meal is the last thing on many people's minds. Slow cookers, pressure cookers, and rice cookers make it easier to prepare and cook a meal for yourself or for a family. With so many new convenient cooking items on the market, it can be challenging to know which device you should purchase, so The Independent consulted real world reviews to find the best possible products for you.
CrockPot is a tried and true brand, their reputation as the best slow cooker on the market speaks for itself. This CrockPot model is dishwasher safe and comes equipped with two cooking settings and a keep warm setting. The stoneware insert is also oven and microwave safe. Some reviewers had issues with "exploding lids", but it seems that stemmed from users locking the lids on during cooking, which is not the intended use. One reviewer said "This is a good slow cooker. No problems, no exploding lid and I'm still using it a few times a week-heats up like it should, cooks thoroughly, easy-ish to clean. I've even transported it with the lid locked and it hasn't shattered, but I only lock the lid when transporting and unlock when I plug it back in."
The Instant Pot Duo 7 in 1 is a great multifunction cooking product. Functioning as a pressure cooker, slow cooker, rice cooker, steamer, saute pan, yogurt maker and warmer, there's almost nothing the Instant Pot can't do. With the inner components being dishwasher safe, it's remarkably easy to clean. Safety features prevent the device from being opened while pressure cooking and overheating, making it a plus for those who like to slow cook while at work or are concerned about pressure cooking. Reviewers recommend this product for those with smaller homes or even college students, calling it the "perfect tiny living appliance".
If you're looking for a budget cooking appliance, it doesn't get better than this Proctor Silex Rice Cooker and Food Steamer. It might lack fancy settings, but it cooks up to 8 cups of rice and has an automatic keep warm setting. This cooker is great for college students and apartment living as it takes up minimal space and performs multiple functions. One very happy, rice loving reviewer said "This device is the easiest, quickest and most hassle free way to get the most majestic food on the planet. I would strongly recommend not to go for fancy expensive ones. This is one of those cases where sophistication is unnecessary and simple means better. I eat rice everyday and almost everybody I know who eats it everyday tends to have simple rice-cookers."
Another fantastic product for those on a budget, the Elite Gourmet Slow Cooker does nothing more than what it claims to. With three settings, high, low, and warm, it's an effective small slow cooker, perfect to keep in the office to warm up a healthy lunch for one or to cook a small dinner at home. Reviewers describe it as the "perfect size for if you live alone".
The Ninja Foodi is much more than just a slow cooker, it steams, pressure cooks "tender crisps", air frying, baking and so much more. For those without a traditional kitchen, this device does practically anything a stove or oven can, including cooking a whole small chicken, which makes the price point worth it. Equipped with safety features and a manufacturer's warranty, it's an investment piece that reviewers claim is well worth it.
This device is similar to the Proctor Silex one, its functions are just to cook rice and steam vegetables. It holds up to 8 cups of cooked rice, making this a perfect rice cooker for a family or 4 or so. It comes equipped with a few special settings like a delay timer, so you can set it to start while you're away and come home to a nice, hot pot of rice. With a non-stick inner pot, cleaning is quick and easy. Reviewers claim it makes "a perfect pot of rice", so it seems to fill its purpose and more.