The Independent's journalism is supported by our readers. When you purchase through links on our site, we may earn commission.
10 best women's bathrobes
For those mornings where you don't want to get dressed yet, any of these bathrobes are the perfect alternative
Friday 16 November 2018 19:05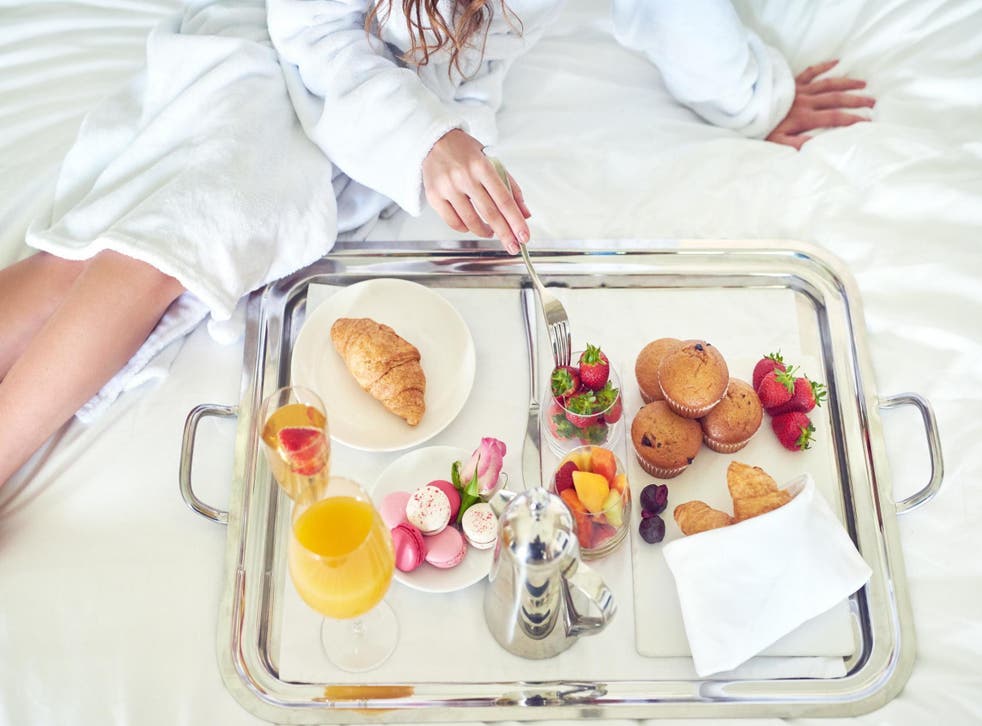 Bathrobes are one of those everyday luxuries that you don't truly appreciate until it slips seamlessly into your daily routine. Sure, you could use a towel after the shower or throw on a sweater if you get a little cold - but you'd be missing out. Whether you're looking for post-shower comfort or an extra layer on chilly mornings; a deliciously plush cotton or a lightweight silk, we've found a bathrobe to fit your needs.
There are a few important factors to consider when making your choice. How much are you willing to spend, both on purchase point and maintenance? Higher quality fabrics might cost more upfront but will often reward you with longer lifespans, resulting in a cheaper cost-per-wear. However, a "dry-clean only" label will mean sufficiently higher cost to you throughout the robe's usage. Most simply: cottons should be safe in the washing machine but silk or cashmere will require dry-cleaning.
Next, consider how you want to use your robe. Do you have very cold winters, during which an extra thick layer will become your best friend? If so, look to plush fabric and fleece linings. Is your robe primarily going to be used after bathing, in which case absorbency and quick-drying is paramount? Or this is something you'd like to slip on for lazy mornings or indulgent evenings, something to make you feel good and pulled-together even in your pajamas?
Our list includes a pick for each of these scenarios. All robes were worn several times and washed at home (where appropriate), to be sure they stand up to regular use, so these are choices that you can trust will last you day in, day out. Although if you wanted to buy multiple, for different occasions, we wouldn't blame you.
Coyuchi Mediterranean Organic Robe: $148, Coyuchi
This unassuming robe has a lot more than meets the eye; slip it on and you'll immediately notice how surprisingly soft it is. The smooth cotton has been woven into an almost quilted design, which gives the fabric both subtle texture and a pleasant structure. The silhouette is flattering yet expansive – shorter arms might require cuffed sleeves – and the front pockets are equally generous. Made from the same fabric as Coyuchi's popular Mediterranean towels, the robe is fast-drying and a perfect choice after bathing.
Restoration Hardware Cashmere Spa Robe: $329, Restoration Hardware
This is a robe of pure indulgence. Premium cashmere was loomed into a jersey knit, rendering a robe that is unbelievably soft and warm yet still lightweight. This is an expensive purchase, there is no getting around that, but it's the kind of robe that you'd get a lot of mileage out of. The two patch pockets, knee-length style and soft neutral tones make this suitable for all times of day, for all ages, for all tastes. This would make a particularly special gift for a family member or friend who deserves a daily dose of luxury.
Susannah Cotton Kimono Robe: $74.95, Susannah Cotton
Made of 100% cotton and hand-printed in Jaipur, India, these kimonos are sold from a small independent store in England that ships internationally. Extremely light and smooth on the skin, the fabric comes in multiple limited-edition prints in rich blues, reds and neutrals so that they'll look good all year round. This isn't for post-shower but rather for extra comfort and style around the home – actually it would look as great over a white Tee and jeans as it would first thing in the morning, thanks to the slightly starched drape. They only come in one size but the longer length and loose style means that they accommodate US sizes 6-14.
HANRO Robe Selection Long Plush Robe with Hood: $219-295, HANRO​
Everyone knows their ideal hotel bathrobe: soft fleece on the inside but lightweight toweling on the outside; a generous fit for relaxed lounging but still a flattering cut for when you open the door for room service. HANRO's option provides the best of this, with their Long Plush Robe with Hood. The shape is classic and sophisticated over the body, while the addition of a hood manages to achieve both added comfort and a sense of playfulness – without looking like the kid's choice.
L.L. Bean Winter Fleece Robe, Wrap-Front: $79.99, L.L. Bean
Brutal winters be gone: the winter fleece robe by L.L. Bean is here. Extra thick and extra plush, you'll be wearing this from the first flurry of winter through to spring's first blooms. This robe comes in bright red and blue shades, as well as subtler navy and gray tones, and comes with two large front pockets and an inside tie for maximum practicality. Not only is this the softest of options in this category, but it's machine-washable and frequently on sale – it might be your most durable and smart winter purchase this year.
Parachute Classic Robe: $99, Parachute
When you can't choose between maximum comfort and effective absorbency, look to the Parachute Classic Robe. There's a reason that this product had a waiting list; it works and then some. The fabric is made from especially plush, 100% Turkish cotton that's as suitable right after the shower as it is for cold temperatures. It comes only in pure white but the fit is generous – both in length and on the sleeves, even the pockets are large and slouchy! Don't worry if you anticipate envy from your partner; the four sizes are all unisex.
L.L. Bean Scotch Plaid Flannel Robe: $64.95, L.L. Bean
If you're more the type to wear a flannel shirt than a silky robe, then this Scotch Plaid robe by L.L. Bean is the ideal choice. So lightweight that it doesn't even feel like you're wearing an extra layer, the soft Portuguese flannel and plaid prints make for a perfect casual vibe. Cozy yet cool, this is the kind of thing you'll throw on first thing in the morning and somehow find yourself still wearing hours later. The flannel robe also has a relaxed fit and long length that actually makes it the perfect unisex choice (although there are men's and women's sizes available).
Josie Natori Key Kimono Robe: $277-395, Natori​
The plain black silk robe is a classic for a reason; the fabric is sumptuous and dreamily slippery, while the silhouette is a great blend of sophisticated and sexy. However, pure silk means a hefty price tag and dry clean-only maintenance, so consider this an investment. For those willing to spend though, you can't go wrong with this piece by Josie Natori, Natori's luxury range. The wide, cropped sleeves are a nice modern twist but otherwise the robe has all the fundamentals: flattering shawl collar, dramatic full-length and a sleek tie waist.
Snowe Classic Bathrobe: $98, Snowe
For many, a bathrobe serves a specific function: post-shower comfort. For that, you can't do better than Snowe's terry cloth offering. Soft and plush without being too heavy, the fabric absorbs quickly and dries nearly as fast, ensuring it's ready for every bathing occasion. It's no-fuss, available only in three white unisex sizes, but this robe will keep you warm and dry without breaking the bank. Hitting between knee and mid-calf depending on your height, you might find yourself lingering in this robe long after you step out of the shower… If you want hotel-style comfort in your own home, Snowe is where to look.
Natori Shangri-La Robe: $69.98, Natori
If you're looking for the smoothness of silk but the price and maintenance of cotton, then go for jersey; specifically, Natori's Shangri-La robe. One of the brand's bestsellers, it comes in multiple neutral and pastel shades and from size XS-2X, making it the most versatile option on our list. Although the fabric is thin, it doesn't cling unflatteringly to the body and the cropped sleeves ensure maximum mobility. While this won't keep out freezing temperatures, it's a great year-round option for a little extra warmth and style.
The Verdict: Best bathrobes
You can't go wrong with any of the robes on this list, but if you are looking for a robe that combines comfort, durability and style, the Coyuchi Mediterranean robe is your best choice. The fast-drying technology is also a great bonus.
Register for free to continue reading
Registration is a free and easy way to support our truly independent journalism
By registering, you will also enjoy limited access to Premium articles, exclusive newsletters, commenting, and virtual events with our leading journalists
Already have an account? sign in