If you don't want to choose between your baby and exercise, it may be time to invest in a jogging stroller. Designed for parents who want to get or stay fit, these purpose-built running buggies might not come cheap, but many (although not all) are made for walking as well as running – it's also worth remembering that you'll save on the cost of both an exercise class and childcare.
Your first consideration should be whether you need the stroller only for running. Most joggers that double up for everyday urban use have a front wheel that can either be locked into the straight-ahead position (best for running) or set free to swivel (best for walking). Also think about the handle height – most have adjustable handles, but those that don't tend to suit people of average or taller height. The best jogging strollers have a hand brake – particularly good for hilly areas – and you'll need a decent sized sun canopy for summer days. Folding is another consideration – not just in terms of how easy it is, but how small the stroller is when folded, particularly if you need to fit it in a small car boot. Look out for the age suitability too – some are suitable from birth (although often only in regular mode) and others, from six months.
It's worth noting that, under EU law, two of the buggies in our round-up – the Baby Jogger Summit X3 and Graco Fast Action Fold – cannot be promoted as jogging buggies. Rather, they are 'strollers for active people'. But given that laws in other countries hold no such restrictions on these models, which we think are great for joggers, we have decided to include them with a promise to the two manufacturers that we would make the legal situation clear.
1. Bugaboo Runner: £516, Mothercare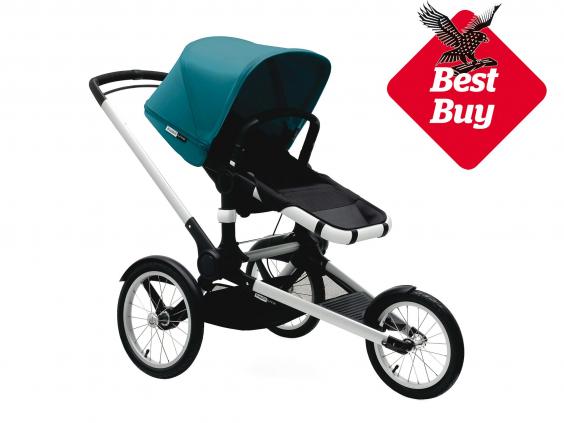 At over £500, this is a lot to spend (although it will cost you less if you have an existing Bugaboo as you can use your original seat and just buy the chassis). But it's a dream to run with, thanks to the excellent suspension system, secure storage and parent-facing seat option. We also love the distinctive handlebar, which make long strides much more doable and which features a second brake that enables you to adjust your speed on the run. It's comfy, safe, practical and stylish, but it is not designed for more general use. Suitable for babies from nine months. 
2. Britax BOB Revolution Pro: £555, Kiddicare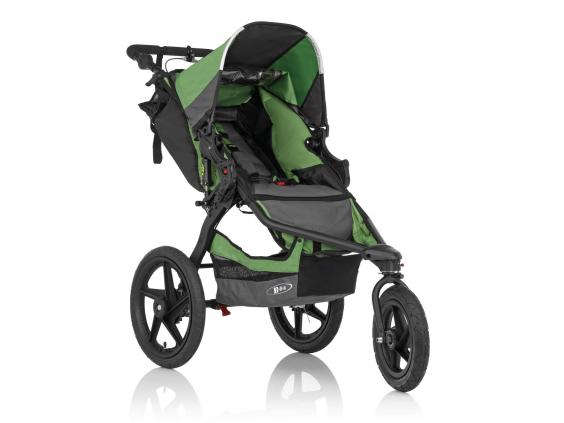 The smooth-action front swivel wheel on this rugged-yet-cool looking pushchair makes it incredibly versatile. No landscape seems to be too much of a challenge for the high-impact tyres and it's even approved for skating. It folds easily and is robust – and although the basket is tricky to reach and there's a limited range of reclining seat positions, neither of these niggles are deal-breakers. Suitable from six months. 
3. Joie Crosster: £299.99, Very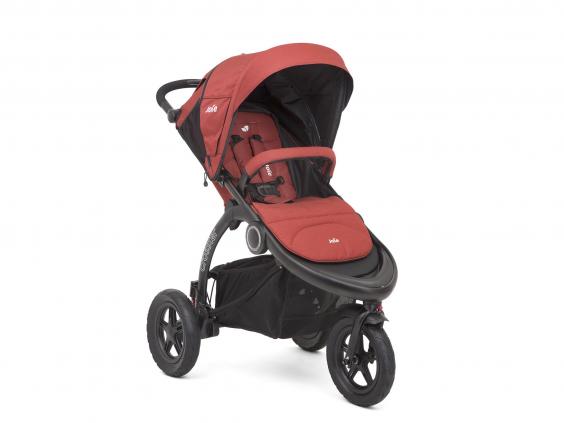 This the newest kid on the block in the world of jogging strollers, which we found to provide a smooth ride for little ones on all types of terrain, thanks to the foam-filled 12-inch tyres. The one-hand quick fold works well and the push bar is height adjustable, including a hand brake, while the hood is a generous size. It's a fabulous all-rounder for everything from country walks to serious runs, but it's a shame it's only available in one colour. Suitable from birth.
4. Out N About Nipper Sport V4: £299, Kiddies Kingdom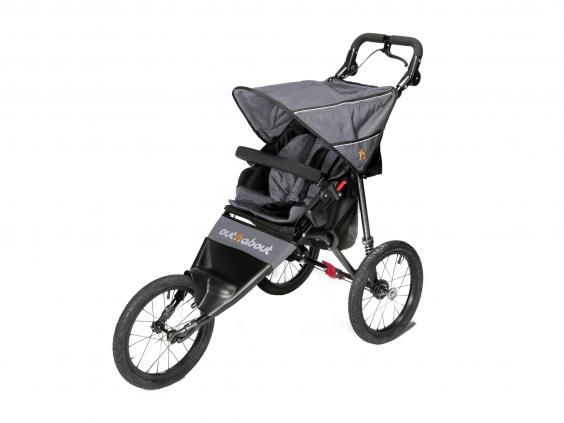 This is a great, lightweight hybrid option, weighing just 9.8kg, which is less than many regular strollers. We also give it the thumbs up for having a lie-flat seat, making it suitable for newborns when used as a normal buggy. It's easy to fold and boasts large pneumatic wheels, as well as a huge hood, handbrake and gated bumper bar to help children get in the seat. Comfort levels are high, thanks to the extra padding and smooth ride, and it's good value. The storage pouch is rather stingy, but you can buy a basket for an extra £23.95. Suitable from birth.
5. iCandy Peach All-Terrain: £608, John Lewis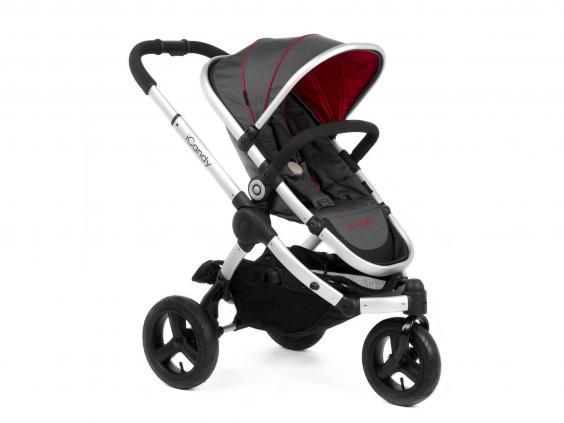 Everything about this top-notch stroller is very well made, giving you a real feeling of luxury, from the ease of the fold to the quality of the raincover, and from the smooth action handle to the pneumatic tyres. The large seat and carrycot (sold separately) are a real boon, especially when you consider how compact the actual stroller is, and it doubles up for everyday urban use, so no need to buy a separate one. The only thing we could fault is the two-handed recline, which can be fiddly. Suitable from six months.
6. Mountain Buggy Terrain Stroller: £499, Kiddicare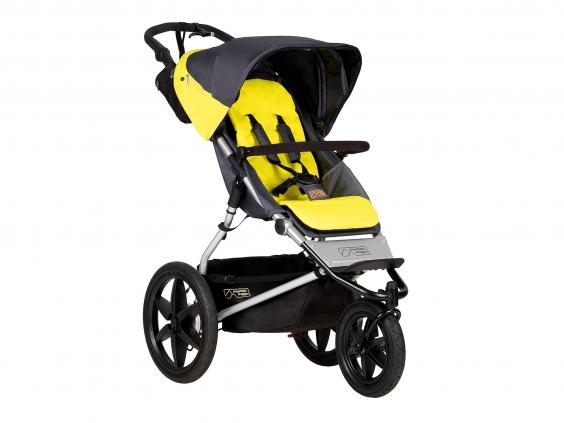 This versatile buggy has loads of great features, including a big basket, pleasing aesthetics, great manoeuvrability and suspension even on sand, stones and mud. Plus, it includes urban wheels so you can easily use it to pop to the shops with. It folds more easily than many of its contemporaries and it's suitable for newborns upwards when used in non-jogging mode. But watch out for the awkward-to-use harness, and be wary that the jogger brake needs a very firm pull to work. Suitable from birth.
7. Joovy Zoom360 Ultralight: £177, Amazon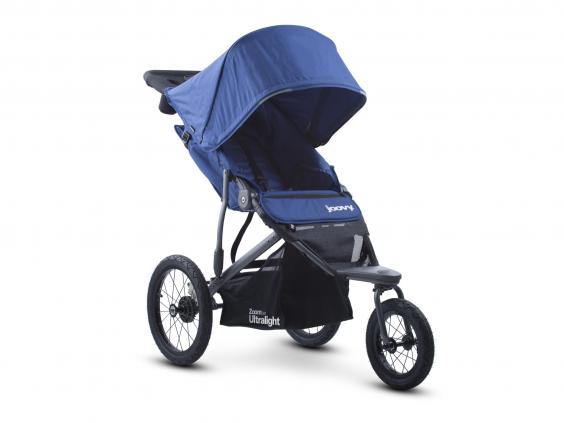 We wouldn't usually recommend a product only available from the States (with inevitable astronomical shipping costs) but this hybrid stroller comes up at such a good price that even with the extra amount, it's still worth a look. Good for both walking and running, there are plenty of things that make it stand out, including the extra-wide, easy-to-recline seat and excellent viewing, which makes it a particularly pleasant ride for your little one. We were also wowed by the full-swivel front wheel, huge canopy for complete sun protection and generous amount of storage. It's also easy to fold and is lightweight. Suitable from birth.
8. Thule Urban Glide: £385, Kiddicare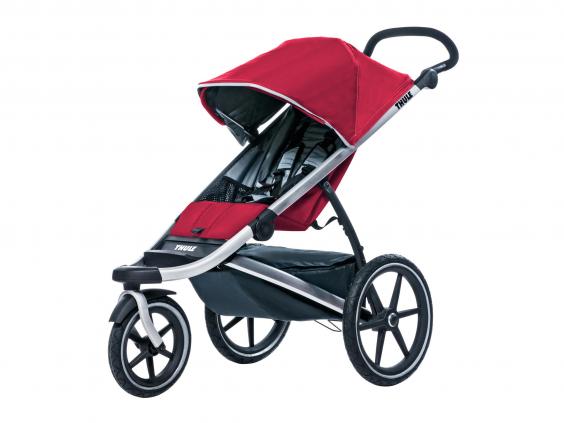 This whizzy offering from outdoor gear specialist Thule has a weight capacity of 34kg, making it a really long-lasting option. It's a dream to steer and the storage stays secure, no matter how fast you run. It looks good too, with its minimalist design. It's cumbersome when folded, however, and it's a pity it doesn't come with a rain cover. Suitable from six months. 
9. Graco Fast Action Fold DLX: £103, Pushchairs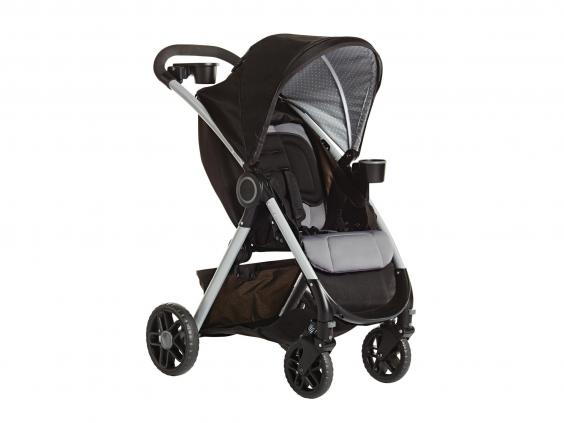 Under EU law, this can only be promoted as a stroller for 'active' people – a bit daft, in our opinion, as we think it's great for people who take jogging seriously and want a stroller to handle demanding terrain, something it's promoted for in countries including the USA, where no such restrictions exist. We found that it shares a lot of great features with other strollers we reviewed – including fully-rotating front wheel and an seat which reclines easily – yet it's cheaper. It's easy to clean and has a decent-sized sun canopy, but it is heavy and the handlebar is set a bit high for shorter people. Suitable from birth.
10. Baby Jogger Summit X3: £489.99, Very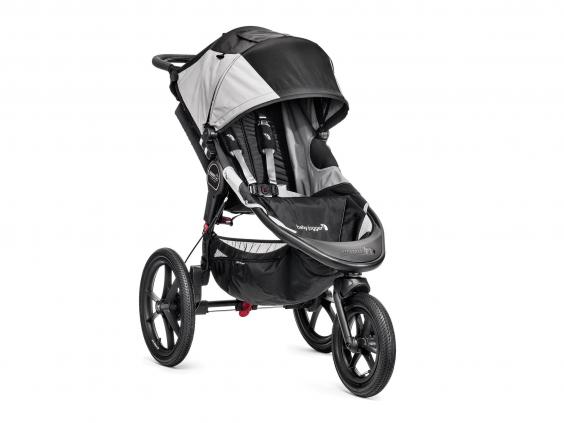 Here's another one where EU law states it has to be promoted as an 'active' stroller rather than a full-on jogging one, although we think it's a great companion for runners and it's worth pointing out that it's described on the website as an 'exercise stroller'. It is highly manoeuvrable for those on the run, and it's easy to switch over to everyday use using the remote wheel lock on the handlebar. There's good storage and it's stylish too. Suitable from birth.
The Verdict: Jogging strollers 
If money is no object, then the iCandy Peach All-Terrain is excellent, as is the Britax BOB Revolution Pro.
But our Best Buy goes to the Bugaboo Runner, which ticks all the boxes, for comfort, safety, practicality and style.
Still too expensive? The Graco Fast Action Fold DLX is a bargain for a stroller with such good features.
IndyBest product reviews are unbiased, independent advice you can trust. On some occasions, we earn revenue if you click the links and buy the products, but we never allow this to bias our coverage. The reviews are compiled through a mix of expert opinion and real-world testing
Reuse content