While the best protection for an infant's delicate skin is to avoid sun exposure completely - particularly those under six months - this is not always practical. The NHS advises that babies wear sunscreen between March and October in the UK and that particularly vulnerable areas such as shoulders, head and neck are covered. 
Children's skin is likely to be too sensitive for the chemicals in conventional sun blocks, so opt for those that use minerals - namely titanium dioxide and zinc oxide - to create a physical barrier, rather than absorbing and dissipating rays in the skin. Choose a minimum SPF15 to protect against damaging UVA and UVB radiation; the former contributes to premature ageing while the latter burns the top layers of skin and can be a cause of skin cancer. 
If on holiday, look for waterproof sunscreens with at least a four-star UVA rating. Note that most creams are not advised for babies under six months when exposure should be completely avoided, though there are a couple on the list that have been specially formulated for newborns. 
1. Organic Children Sun Lotion SPF30: £18.50 for 150ml, Green People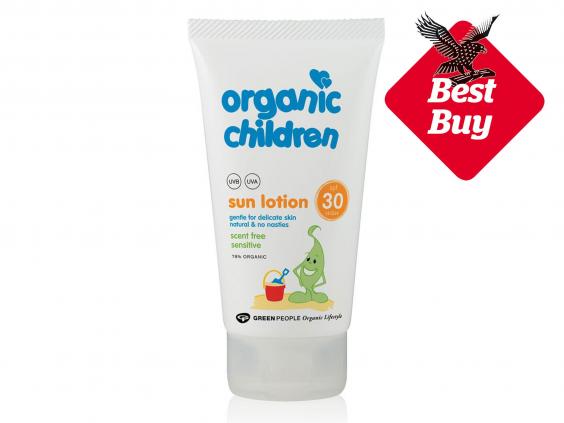 The downside of a high SPF is that there may be a tendency not to re-apply the cream as frequently as is recommended. This lotion offers 97 per cent UVB protection compared to an SPF50's 98 per cent. Its natural ingredients include avocado, sunflower and olive oil, beeswax, aloe vera, edelweiss and rosemary extract and the lotion is gentle on eczema and psoriasis. Like most natural sunscreens, it's thicker than some cheaper products but rubs in well. 30 pence from each sale is donated to the Marine Conservation Society, boosting the feel-good factor of this lotion that the other children in the family can also use. 
2. Coola Organic SPF50 Baby Mineral Sunscreen: £30 for 90ml, Marks and Spencer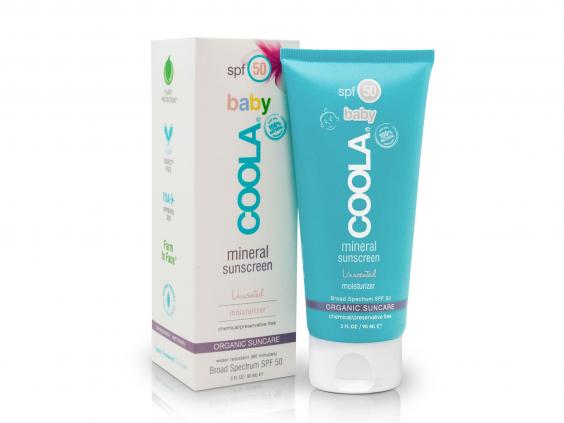 This is a natural, unscented mineral screen free of parabens and preservatives that also contains no nano-sized particles (there is growing concern that these could produce free radicals that harm DNA and accumulate in tissues leading to disease). The thick sunscreen also includes over 70 per cent organic ingredients, including sesame seed, avocado and coconut oil. 
3. The Organic Pharmacy Cellular Protection Sun Cream SPF50: £39 for 100ml, Selfridges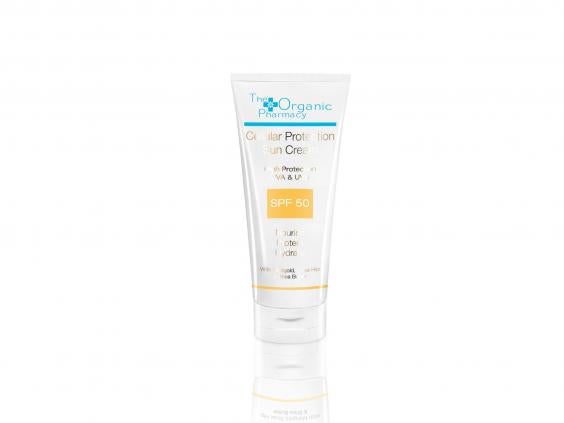 Suitable for children over 12 months, this easily-absorbed mineral cream filters UVA and UVB rays. Organic aloe vera, rosehip, shea butter and calendula are gentle on the skin and help prevent it drying out, as well as offering soothing properties. There are also no artificial colours, fragrances or preservatives. 
4. Organii Sun Milk SPF50: £19.90 for 125ml, Big Green Smile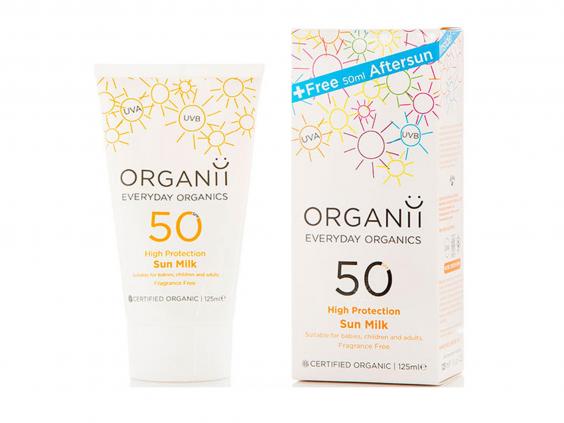 Organii's mineral sun milk is fragrance, colour and paraben-free and is also water resistant while natural moisturising ingredients include calendula extract, argan and jojoba oil. The bottle size means that it can't be taken in hand luggage, although the lotion does come with a free 50ml bottle of after sun.
5. Mustela Very High Protection Sun Lotion SPF50: £16.95 for 100ml, Escentual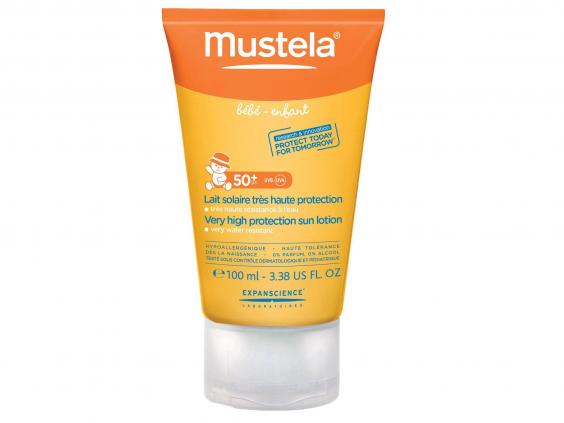 French skincare brand Mustela specialises in natural products that are gentle on skin prone to atopic conditions such as eczema and psoriasis. Its SPF50 sun screen comes in three sizes: 100ml, a travel-friendly 40ml and a large 300ml lotion. It uses a patented active ingredient extracted from avocados to encourage the skin's natural barrier and preserve its cells. It's also water resistant and suitable from birth. 
6. Solait Moisturising Baby Lotion SPF50: £4.99 for 100ml, Superdrug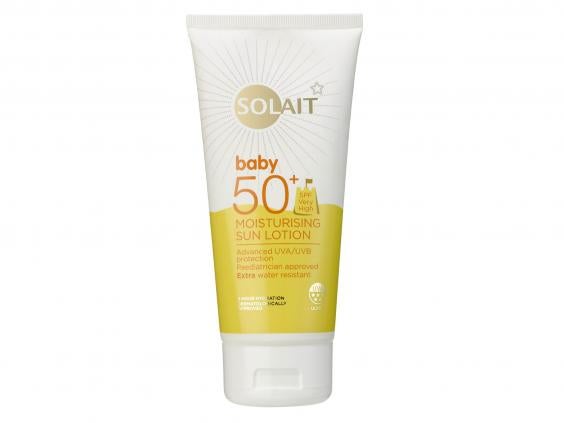 Superdrug's Solait suncare range represents good value and comes in a bottle small enough to take as airline hand luggage. While it doesn't contain as many natural ingredients as some of the other sun creams in this selection, it has been dermatologically tested for its hypoallergenic properties and is suitable for sensitive skin. The brand's patented Radicare antioxidant complex claims to combat free radicals and enhance the skin's tolerance to ultraviolet radiation. 
7. SunSense Kids SPF50: £10 for 50ml, JoJo Maman Bebe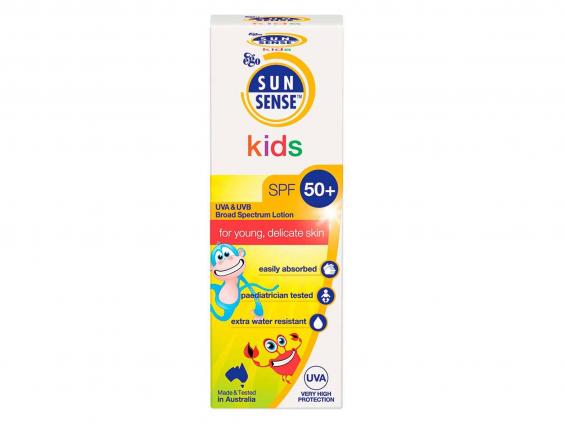 Getting suncream rubbed into a baby's skin can be a logistical challenge. However, SunSense's easily-absorbed, unscented roll-on makes application easier. There was some slight sticky residue when we tried it, though that's a small price to pay for good protection. The Australian brand's lotion is water resistant for up to four hours and is suitable for babies aged six months and above. The size also makes it a good everyday companion - one to keep in the change bag.
8. UltraSun SPF50 Extreme Sun Lotion Once a Day: £20 for 100ml, Marks and Spencer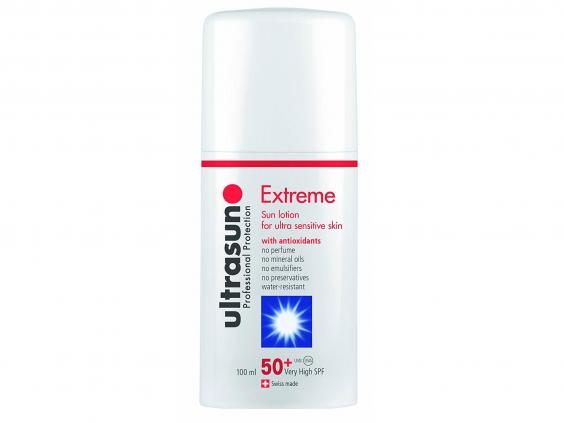 A good choice for wriggly children that don't take kindly to being rubbed down regularly with sun cream, UltraSun's Extreme lotion requires just one application in the morning (although reapplication is recommended for complete protection, particularly if your child is likely to spend the day in and out of water). The thick consistency is good for humid, tropical climates although it can take a while to rub into the skin. The pump dispenser is easy to use and will avoid messy leakages as well as giving the cream a long shelf life. 
9. Nivea Sun Kids Pure & Sensitive Sun Spray SPF50: £11 for 200ml, Tesco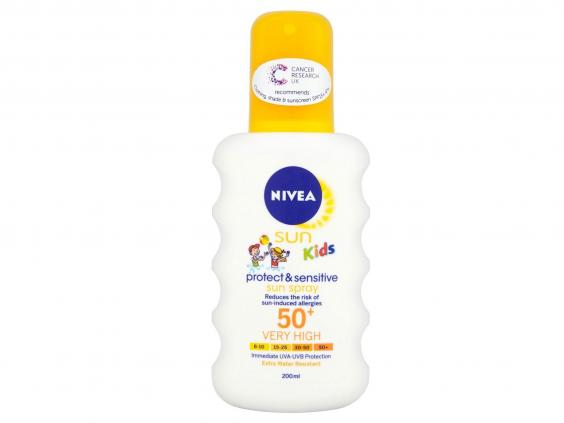 The skincare giant's baby-friendly lotion is fragrance, preservative and colour free and therefore suitable for babies' skin. As with its adult range, the spray is easy to apply and absorbs quickly. 
10. Banana Boat Mini Kids Sun Protection Lotion SPF 50: £5.98 for 60ml, Amazon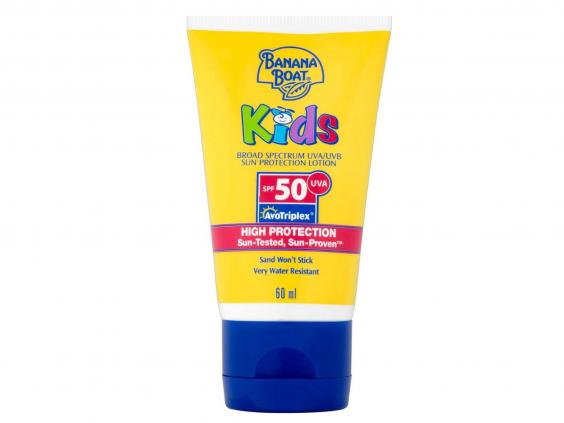 This compact tube is another handy one to keep with you during the summer months. The lotion is hypoallergenic, water-resistant and fragrance free and is suitable for babies. Its milky consistency means that it won't leave skin sticky after application. We choose this one as you can use it on the whole family, but there is also an SPF 50 sunblock specifically for babies. 
The Verdict: Sunscreens for babies 
If you're after a natural product you can use on all the kids, try Organic Children's lotion. For a compact, on-the-go option, Banana Boat's Mini Kids Sun Protection lotion offers both convenience and good value. Mustela is the top pick for newborns and anyone with skin conditions. Organii's free after sun is a welcome bonus. 
IndyBest product reviews are unbiased, independent advice you can trust. On some occasions, we earn revenue if you click the links and buy the products, but we never allow this to bias our coverage. The reviews are compiled through a mix of expert opinion and real-world testing
Reuse content