Jeremy Renner's helping hand to neighbours landed him in the path of a snowplow. What happened?
The Marvel star is on a 'long road to recovery' after being crushed by a seven-tonne PistenBully near his estate. Joe Sommerlad explains what we know about the tragic accident
Thursday 05 January 2023 15:32 GMT
Comments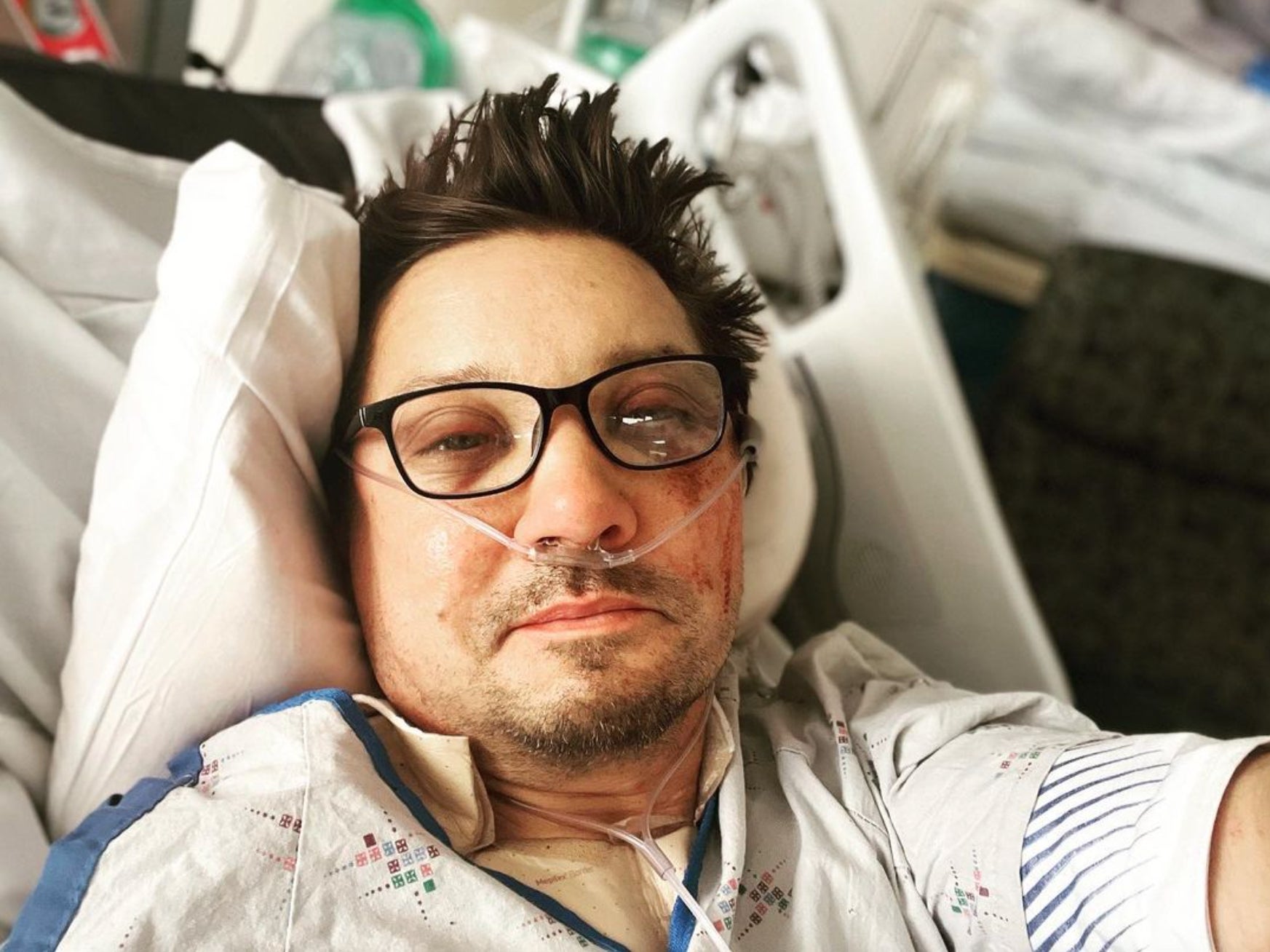 Hollywood actor Jeremy Renner spent his New Year's Day in an unexpected way: helping neighbours around his Lake Tahoe home clear snow from their driveways.
But his act of kindness took a horror turn when he landed in the path of a seven-tonne snowplow, causing serious injuries that have thus far taken two surgeries to fix.
The action star, 51, best known for The Hurt Locker (2009), The Bourne Legacy (2012), Arrival (2016), Wind River (2017) and for his recurring roles in the Mission: Impossible franchise and as Hawkeye in the Marvel Cinematic Universe, is reportedly "conscious, stable and speaking" and on the "long road to recovery".
"We can confirm that Jeremy has suffered blunt chest trauma and orthopaedic injuries and has undergone surgery today," a statement issued by his family on Monday read.
"He has returned from surgery and remains in the intensive care unit in critical but stable condition."
Renner's sister Kym has since told CBS 13: "We are so thrilled with his progress.
"If anyone knows Jeremy, he is a fighter and doesn't mess around. He is crushing all the progress goals. We couldn't feel more positive about the road ahead."
Renner shared a selfie from his Nevada hospital bed on Instagram on Tuesday – in which he appeared to be sporting a black eye – in order to reassure his fans as to his well-being, writing: "Thank you all for your kind words. I'm too messed up now to type. But I send love to you all."
Jeremy Renner was run over by unmanned PistenBully as he helped stuck family member
His plight has attracted well wishes from across the entertainment world, including from his Marvel co-stars Chris Hemsworth and Chris Pratt, Mark Ruffalo and Paul Bettany and directors Taiki Waititi, James Gunn and Anthony and Joe Russo.
Other stars including Kate Beckinsale, Orlando Bloom, Heidi Klum, Josh Gad, Marlee Matlin and Jimmy Fallon have all likewise wished him a speedy recovery.
Access unlimited streaming of movies and TV shows with Amazon Prime Video
Sign up now for a 30-day free trial
Sign up
Access unlimited streaming of movies and TV shows with Amazon Prime Video
Sign up now for a 30-day free trial
Sign up
The incident is understood to have taken place on New Year's Eve near Renner's private estate off Mount Rose Highway between Reno and Lake Tahoe when the actor attempted to move a vehicle caught up in a three-foot snowdrift using a huge piece of snow-moving equipment said to weigh 14,000-pounds, or three times as much as a car.
Reno Mayor Hillary Schieve told a local newspaper on Monday that the star had been "helping someone stranded in the snow", adding: "He is always helping others."
But speaking at a press conference on Tuesday afternoon, Sheriff Darin Balaam of Washoe County gave the official account of what happened.
"Mr Renner's personal vehicle, which was being driven by a family member, had become stuck in the snow near his home," he said.
"He went to retrieve his PistenBully or SnowCat – an extremely large piece of snow-moving equipment – to get his vehicle moving.
"After moving the vehicle from the stuck location, Mr Renner got out of the PistenBully to speak to his family member and it started to roll.
"He attempted to try and get into the driver's seat of the PistenBully, it was at this point that he was run over by the PistenBully."
He continued: "We do not believe that Mr Renner was impaired at all and this was just a tragic accident. We do not suspect any foul play.
"It was on a private road, he was being a great neighbour and ploughing the roads for his neighbours up there."
The sheriff said they received a 911 call at 8.55am on Sunday for a "Snowcat versus a pedestrian" crash and that an emergency helicopter arrived near the scene at 9.37am and took off for a Reno hospital at 9.56am.
The sheriff said that Renner was conscious when help arrived following a 911 call being placed, stating: "He was speaking to first responders when they arrived at the scene."
Neighbours rushed out with towels to staunch the blood running from his legs, Sheriff Balaam said, denying earlier reports that a local doctor had attended to Renner's injuries at the scene, before the actor could be flown by helicopter to hospital.
On Thursday, the 911 call log of the incident was released detailing the extent of the actor's injuries.
It revealed that the right side of Renner's chest had collapsed under pressure from the plow, that his upper torso had been crushed and that he had suffered heavy blood loss and had "extreme difficulty" breathing.
Bruised but unbeaten, Renner has since returned to Instagram with a video of Kym giving him a shampoo from his hospital bed, a kindness he labels "an ICU spa moment to lift my spirits".
"We so sexy," his sister jokes in the short clip as she massages his scalp, observing: "Look at all the blood!"
"First shower, definitely in a week or so," Renner tells the camera. "Gross!"
Law enforcement is meanwhile reported to have seized the PistenBully in question in order to assess whether a "mechanical failure" played any part in Renner's accident.
You can follow the very latest updates on the star's recovery via The Independent's dedicated liveblog.
Join our commenting forum
Join thought-provoking conversations, follow other Independent readers and see their replies