The Independent's journalism is supported by our readers. When you purchase through links on our site, we may earn commission.
20 best new cookbooks of 2018
Rustle up a dish from one of this year's biggest recipe books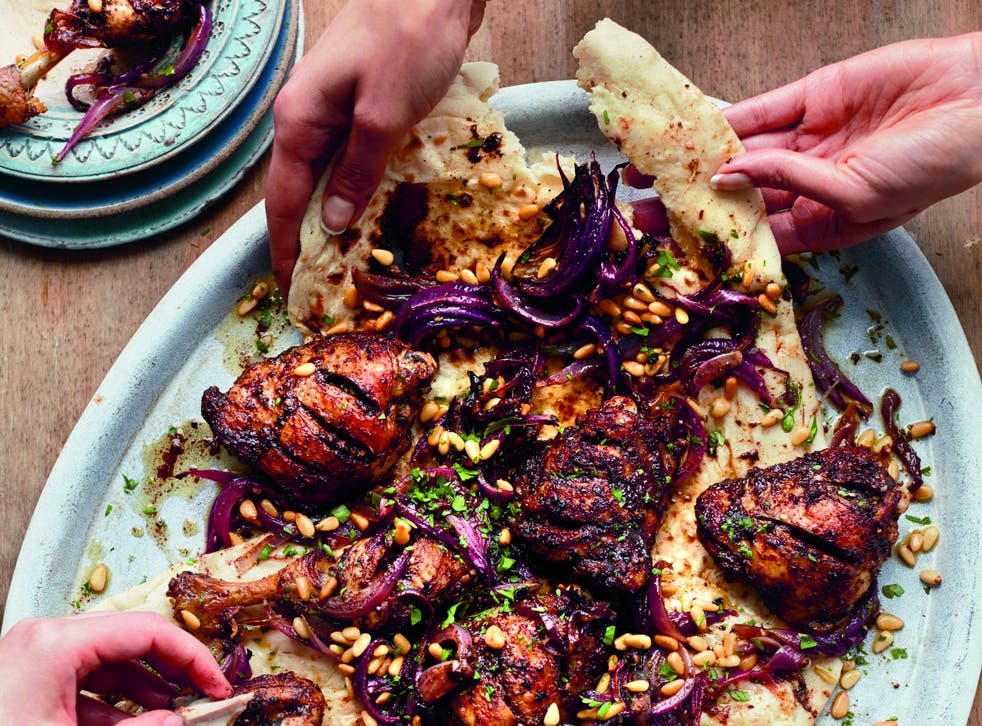 Whether you're on the hunt for beautiful stories interwoven with whimsical recipes or need fast, feel-good food for the whole family, these are some of our favourite cookbooks published in 2018 so far.
We've grouped books by cuisine, dipping into the big, bold flavours of the Middle East, the comfort food qualities of Italy and the explosive spice sensations from our Indian-inspired titles. Authors include restaurateurs and established chefs, as well as some newer names you may not have come across yet.
These books are bound to inspire elaborate dinner parties, revitalise mid-week meal planning and shake up your shopping trolley, so what are you waiting for? Ready, steady...cook!
You can trust our independent reviews. We may earn commission from some of the retailers, but we never allow this to influence selections, which are formed from real-world testing and expert advice. This revenue helps to fund journalism across The Independent.
Middle Eastern
Ottolenghi Simple by Yotam Ottolenghi, Tara Wigley and Esme Howarth: £15.98, Wordery
He's inspired a whole new wave of chefs and restaurateurs while firmly put Middle Eastern cuisine on the map, but when it comes to an Ottolenghi recipe, it's fair to say they are both feared and revered in equal measure.
Well-known for their challenging components and hard-to-find ingredients, they certainly weren't undertaken lightly. Well, not anymore. Simple is, as the name suggests, a 130-strong collection of recipes, with all of Yotam's signature bold flavours and inventive vegetable-focused dishes, but finally in a more manageable package.
Honey & Co: At Home - Middle Eastern Recipes From Our Kitchen by Sarit Packer and Itamar Srulovich: £16.33, Wordery
Husband and wife duo Itamar and Sarit bring us this intimate collection of middle eastern recipes aimed at any home cooking situation life could throw at you.
Whether you're looking for inspiration for a romantic night in for two (try the hedgehog meatballs!), or feeding a crowd (smoked haddock doughnuts should do it), you simply can't help but fall for this power couple, thanks to their warm and humorous introductions which start each chapter.
The tahini cake with lemon and white chocolate sounds delicious, too.
Zaitoun Recipes and Stories from the Palestinian Kitchen: £23.40, Bloomsbury Publishing
After Khan's debut book The Saffron Tales, comes Zaitoun, a joyous celebration of Palestinian cuisine. The book contains more than 80 modern recipes, alongside awe-inspiring travel photography and the stories that go with them.
Perhaps this approach is unsurprising from the human rights campaigner turned food and travel writer, but by the end of the book we had learned more about this part of the world, as well as adding a few new recipes to our repertoire.
Named after the olive, so often found in Palestinian cuisine, Zaitoun offers chapters on mazzeh (or mezze) designed to be shared, vibrant fresh salads and replenishing soups. Proof, if ever it was needed, that food has the innate power to unite us.
Berber & Q by Josh Katz: £15.93, Amazon
Another cook inspired by Ottolenghi, these recipes don't claim to be authentic. Instead they're a delicious mash up of middle eastern and America flavours - a barbecue bible all of its own.
If you've had the pleasure of eating at Josh's east London restaurant, from trays piled high with perfectly charred ingredients, you'll know what to expect from this book. Big, bold flavours, unpretentious and generous.
Of course, there are plenty of meat recipes – from steaks to koftes, ribs and brisket – but with whole chapters on fish, vegetables and mezze it appears there's not much that can't be improved from the right grilling action.
We'll be replacing the ubiquitous bangers and burgers for skewered monkfish and ember-burnt leeks with coriander dressing and saffron aioli at our next barbecue.
Italian
Jamie Cooks Italy by Jamie Oliver: £11.99, Amazon
If you've been following along with Jamie's Channel 4 series Jamie Cooks Italy (currently on every Monday at 8.30pm) you'll want to buy this book which features all the recipes you've seen demonstrated and more.
In true Jamie Oliver style, recipes are easy to follow and are a mixture of faster dishes and slow-cooking better suited to lazy weekend's when you have time to create a feast for the whole family.
It's not all just pasta (although there is plenty of that!), you'll also find Italian twists for your Sunday roast – like the stuffed leg of lamb with mint, anchovies, bread, garlic and capers.
Venice: Four Seasons of Home Cooking by Russell Norman: £18.39, Hive
This is a love letter to Venice, pure and simple, from Russell Norman, the man behind popular Italian restaurant group Polpo. Wanting to get a real insiders understanding of Venetian home cooking, Norman moved into a scruffy apartment for 14 months, making daily trips to local food markets to do as the locals do.
Part diary, part travel memoir, each chapter takes you on a journey through the seasons, but the key to all of these recipes is simply to buy the very best ingredients you can get your hands on. Expect the likes of venetian rice and peas in spring or authentic saltimbocca come winter.
A Table in Venice: Recipes from my Home by Skye McAlpine: £15.45, Amazon
This is the debut cookbook from Venice-based blogger Skye McAlpine, offering yet another view of Venetian home cooking. McAlpine combines her own photography with musings about her Italian home, bringing it to life for readers, whether you've had the pleasure of visiting or not.
You'll find new twists on old pasta dishes, such as the pheasant and radicchio lasagne as well as a section on Venetian baked goods, such as the apple, honey and walnut cake or the zabione and meringue semifreddo.
Indian
Gunpowder: Explosive Flavours from Modern India by Devina Seth, Harneet Baweja, Nirmal Save: £16.40, Amazon
When Gunpowder opened its doors in Spitalfields in 2014 it bought something new to Brick Lane – an area famed for its curries – and in the process garnered a legion of fans.
Devina, Harneet and Nirmal have recently opened their second Gunpowder site (named after the aromatic spice mix) in London's Tower Bridge, to cope with some of the demand.
This book contains all of the family recipes which have made the restaurants so popular, including the chutney cheese sandwich and maa's Kashmiri lamb chops. Far more than curries, the book offers recipes for bhuna aubergine and crispy kale salad through to party-friendly kadhi paneer parcels.
Asma's Indian Kitchen: Home-cooked food brought to you by Darjeeling Express by Asma Khan: £15.99, Amazon
It's pretty hard to believe that Asma Khan went from not being able to boil an egg, to heading up the all-female kitchen at her award-winning restaurant Darjeeling Express.
We're thankful she decided to put her law degree to one side though, as otherwise we might not have this beautiful book. Alongside vibrant recipes which pay homage to her royal Mughlai ancestry, Khan tells her fascinating story so far.
Vegetarians are well catered for here, with chapters spanning 'Feasts for Friends' and 'Celebratory Feasts' for feeding a crowd.
Masala: Indian Cooking for Modern Living by Mallika Basu: £17.23, Amazon
Indian cooking can often feel overwhelming, especially if you haven't grown up surrounded by spice. Mallika makes things more accessible with clever shortcuts and hacks, and modern takes on dishes handed down over the years. Lighter on the sugar, salt and fat, portions are large and wholesome, perfect for the way we cook today.
The classic curries chapter features core recipes for the dishes we know and love, whilst the brunch section is set to revitalise our Sunday mornings. We can't wait to whip up the easy and healthy 'Anda Bhurji' – masala scrambled eggs with kale.
The Healthy Ones
Deliciously Ella The Plant-Based Cookbook: The fastest selling vegan cookbook of all time by Ella Mills (Woodward): £7.99, Amazon
This is the fourth cookbook from Ella Mills, better known as Deliciously Ella, and she's using it to set the record straight when it comes to her views on healthy eating.
Ultimately, Ella and the team want to make fruit and veg more appealing and with studies showing that just 27 per cent of the UK is eating their five-a-day (let alone their ten-a-day) we think it's a pretty worthy goal.
A collection of the most popular recipes from her successful delis, recipes are interspersed with diary-style musings on the Deliciously Ella journey thus far. The book ends with recipes from some of her most successful supper clubs.
Joe's 30 Minute Meals: 100 Quick and Healthy Recipes by Joe Wicks: £10, Amazon
In typical no-nonsense Wick's fashion, recipes are designed with real life in mind – but this book acknowledges you can do a lot more in 30 minutes than you can in the original 15 that shot him to fame.
Recipes are helpfully labelled as carb-refuel, for when you've been hitting the gym, or reduced carb for when you've been more of a couch potato. Although Joe does suggest that you should be working out at least four to five days a week, with his recommendation being a daily 20 minute HIIT session.
Whilst there's no dedicated veggie section, the book is peppered with helpful switches such as replacing chorizo for a handful of pine nuts in his rather delicious tahini and yoghurt eggs recipe from the all-day breakfast chapter.
Eat Happy: 30-minute Feelgood Food by Melissa Hemsley: £13.50, Wordery
Eat Happy is the first solo book from this half of the Hemsley sisters and focuses on eliminating food waste, encouraging substitutes and swaps to use up what you have to hand.
Recipes are inspired by flavours from all over the world which keeps things fresh and interesting, but all are packed with as many veggies as possible.
With a focus on simple, faff-free cooking using easy to find, inexpensive ingredients, we'll be turning to the bowl food section for mid-week, healthy comfort food inspiration, such as the Tuscan bean soup with parmesan bites.
Family
Nadiya's Family Favourites: Easy, beautiful and show-stopping recipes for every day by Nadiya Hussain: £13.21, Amazon
Since winning The Great British Bake Off back in 2015, Nadiya has become something of a national treasure. This, the official companion to the BBC series of the same name, features crow-pleasing dishes that the whole family really will want to eat.
Expect the likes of smoky spinach shakshuka, grapefruit chicken stew, and of course, a dedicated cake section, where you'll learn how to make your very own show-stoppers.
Cooking on a Bootstrap: Over 100 simple, budget recipes by Jack Monroe: £10.50, Amazon
With chapters such as 'Spuds', 'A Bag of Pasta' and 'A Packet of Rice', this is a down to earth collection of realistic recipes for real life families. A campaigner, food writer and activist, Jack knows first-hand what it's like to try and feed a small family whilst on the bread line.
Written before she herself turned vegan, she's included a chapter called 'contraband' which contains meat recipes, but naturally the 118 new recipes do focus on veg-packed dishes to help the pennies go further.
With money-saving tips peppered throughout, recipes include fluffy berry pancakes, self-love stew, marmite mac 'n' cheese and hot sardines with herby sauce. Whilst there are often barriers to cooking tasty, healthy food, Jack shows here that budget needn't be one of them.
Donal's Meals in Minutes: 90 suppers from scratch/15 minutes prep by Donal Skehan: £16.44, Amazon
Back in 2016, Donal (along with his wife Sophie and dog Max) packed up his life and moved from Ireland to LA. Living between homes, this book was created out of the necessity to get recipes (albeit, ones packed with flavour) on the table in no time at all and with limited equipment.
Something we can surely all relate to. Since then his first baby has been born, so uncomplicated cooking has never been more important. ​Donal tells us meal-planning is the answer and along with helpful chapters like one pan, six ingredients or grocery-store suppers, you'll be able to knock up dishes such as parsley cream cod with spring veg or cheat's chicken laksa with just 15 minutes of prep.
How to Eat a Peach: Menus, Stories and Places by Diana Henry: £25, Waterstones
A beautifully nostalgic collection of recipes that have made it through the years, written down on scraps of paper, only to finally find a more permanent home in this heartfelt book.
This is a celebration of dinner parties, an ode to having people over. If you ever find yourself settled on a main course, only to find yourself stumped as to what should be the starter or dessert, you'll love this book of menus.
For example, Diana's 'perfect lunch' consists of asparagus, peas & radishes with pistachio pesto, crab, tomato and saffron tart for main and gooseberry & almond cake with lemon thyme syrup to finish.
Who are we to disagree? For the hostess with the most-ess, to the home cooks that just can't resist cooking that one extra dish, you'll treasure this cookbook.
The Sweet Ones
#BakeForSyria Recipe Book by Lily Vanilli, with Clerkenwell Boy and Serena Guen: £25, UNICEF
Compiled by cake baking maestro Lily Vanilli along with Serena Guen and Instagrammer, Clerkenwell Boy, #BakeforSyria is the sweeter follow up to the hugely successful charity book #CookForSyria.
Raising money for Syrian children, displaced by war, recipes are inspired by traditional Syrian and Middle Eastern recipes, and generously donated by Syrian families and refugees, as well as some of the biggest names in the food world today.
Incredibly inspiring, you'll also find tips on how you can host your own #BakeForSyria bake sale event. We'll be making Lily's turmeric shredded coconut cake for the occasion.
Three Ingredient Baking by Sarah Rainey: £9.85, Hive
Each of these nifty recipes uses literally just three ingredients – no, really. We couldn't quite believe it either until we put the Oreo Fudge recipe to the test.
Author Sarah Rainey somehow managed to turn a packet of the biscuits, white chocolate chips and a tin of sweetened condensed milk into the ultimate afternoon indulgence. The paired back recipes make this a great one for kids and keeps costs down in the process.
A bit of everything
Completely Perfect: 120 Essential Recipes for Every Cook by Felicity Cloake: £11.34, Amazon
At Indy Best HQ, we adore a 'best of' list. We always want to know that what we're eating, cooking and buying is the very best it can be. So of course this new book from newspaper columnist Felicity Cloake went straight in our shopping basket.
Over the years, she's put various recipes to the test – from Nigella Lawson and Delia Smith to Nigel Slater and Heston Blumenthal – to see who's version of any given dish is the best of the best.
The result is this ultimate manual of 120 of the absolute best versions of classic recipes. From the basic (but surprisingly difficult) perfect poached egg, to the more challenging beef wellington, this paperback will save you the work of trawling through countless cookbooks.
The Verdict: Best new cookbooks of 2018
Ottolenghi's Simple is the cookbook we've been waiting for. Although we wouldn't recommend to the complete beginner, it will delight his diehard fans. Long overdue.
Stacey Smith is the founder of food & drink website Crummbs
Register for free to continue reading
Registration is a free and easy way to support our truly independent journalism
By registering, you will also enjoy limited access to Premium articles, exclusive newsletters, commenting, and virtual events with our leading journalists
Already have an account? sign in
Register for free to continue reading
Registration is a free and easy way to support our truly independent journalism
By registering, you will also enjoy limited access to Premium articles, exclusive newsletters, commenting, and virtual events with our leading journalists
Already have an account? sign in