The Independent's journalism is supported by our readers. When you purchase through links on our site, we may earn commission.
7 best books about money: Advice on personal finance, saving and investing
Get clued up on how to manage your funds with these top titles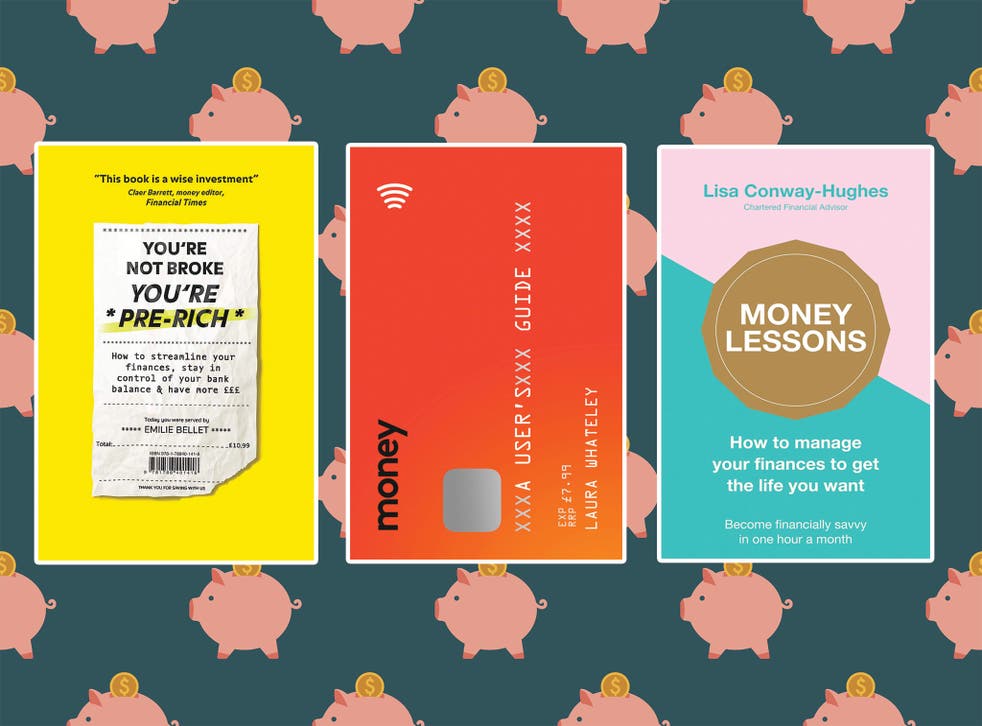 Whether it's something you spend plenty of time thinking about, or try to avoid at all costs, being in control of your personal finances will make you feel in control of your life.
Today we're coping with a very different financial landscape to that of our parents' generation, one that's only got more precarious with the recent Covid-19 pandemic and all of its implications.
But rather than feeling helpless, these books promise to help us make sense of it all. Desperate to ditch the debt? Haven't got a clue how to go about sticking to a budget? Want help getting your head around investing in stocks and shares? There's a title here to show you the way without resorting to any confusing jargon.
Facing your finances probably isn't the most enticing use of your time, but once you've got your head around the basics, it's sure as hell empowering.
Having read these books cover to cover, it's interesting to see how many were written by women (the gender pay gap has a lot to answer for), with millennials in mind.
Forget trying to get rich quick, these books include practical, realistic advice for average earners (if you're looking at how to invest your trust fund you're probably in the wrong place).
They also look at our attitudes and relationships towards money which, for many, can be a bigger factor than where the decimal point is on our statement.
All of these titles left us feeling motivated and many of the tips and tricks really did save us money or make our money work harder for us.
We know that talking about money has often been seen as vulgar. The problem with this is, we're not really taught about personal finance at school and what little we do know has probably been gleaned from how our parents treated money – whether they're aware of this or not.
This information gap can have a profound impact on how we approach our cash today, leading us to think everyone else has got it all figured out, when the truth is probably far from it.
Of course, situations change as we go through life, with priorities shifting along the way but by grasping the fundamentals, you'll make informed choices and maximise your money's potential at every turn.
Recurring themes to come up throughout all the titles we read were that it's always better to tackle problems head on rather than bury your head in the sand – the sooner you get started the easier it will be.
With many people's situation having changed recently, now is the perfect time to really get to grips with what we're dealing with and start moving in the right direction.
Andrew Johnson, money expert at the Money and Pensions Service said: "People have lots of things on their mind at the moment, with financial wellbeing likely to be high up the list. Whether you talk to friends, family or seek impartial guidance, talking about money issues can help you to make better financial decisions and feel less stressed or anxious.
"You can call the Money Advice Service helpline for free on 0800 138 7777 or go to moneyadviceservice.org.uk for help."
You can trust our independent reviews. We may earn commission from some of the retailers, but we never allow this to influence selections, which are formed from real-world and expert advice. This revenue helps us to fund journalism across The Independent.
The verdict: Books about money
We're awarding our IndyBest Best Buy to Money by Laura Whateley thanks to the real cash it managed to unearth for us and the deeper understanding of some essential banking terms we gained. If you're looking for something a little more conversational, we loved Open Up by Alex Holder for telling it like it really is for the average millennial today.
Register for free to continue reading
Registration is a free and easy way to support our truly independent journalism
By registering, you will also enjoy limited access to Premium articles, exclusive newsletters, commenting, and virtual events with our leading journalists
Already have an account? sign in