The Independent's journalism is supported by our readers. When you purchase through links on our site, we may earn commission. Why trust us?
Barbie movie merchandise: From Barbie dolls to a Zara collaboration
If you want to be a Barbie girl, here are the pink-themed products you need to know about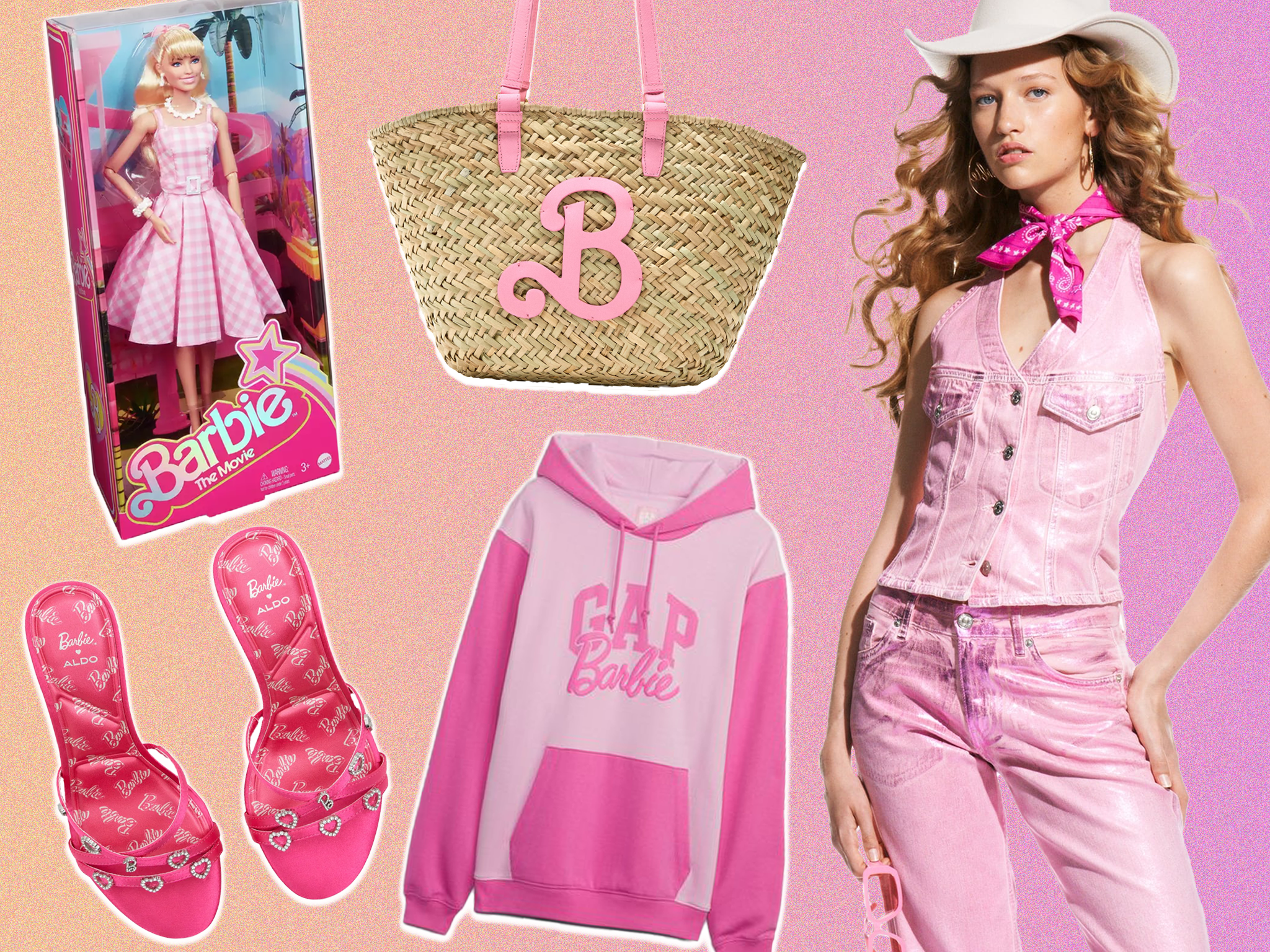 The Barbie movie is finally out in cinemas but the hysteria has been underway for months now. Everyone wants to party with Ken and live in a Barbie world, which means pink-themed merchandise is the only way to go.
Whether you have always loved Barbie dolls or are obsessed with the colour pink, there is something for everyone who wants to be a Barbie girl or channel their 'kenergy'.
The wide range of items on sale allows fans to immerse themselves in the enchanting stories and characters from Barbie world. From dolls and playsets to clothing and accessories, there is something for everyone to enjoy.
From pink bags and shoes to collaborations with haircare and beauty brands, the world has turned pink ahead of this movie release, and we totally understand if you want a piece of the action.
If you're eager to add some Barbie pink to your wardrobe and home, we've got the best Barbiecore has to offer below, ready for you to peruse.
Read more: Create a Barbie-approved blowdry with these hair tools
While most of the Barbie x Aldo collection has sold out, you can still pick up a couple of pairs of cute heels if you're looking to channel your inner Barbie girl. We love this pair of silver slingbacks, which feature a monogram design, with little 'B's all over the shoe. The heels also encompass Aldo's pillow walk technology – a double layer of cushion comfort – so you won't have any issues striding about in style.
Get the little ones involved in all things Barbiecore, too, with this oversized T-shirt, available from Primark. Featuring a crew neck and short sleeves, the charcoal grey comes in a subtle tie-dye design, with the signature hot-pink Barbie branding text across the front.
Whether you want to don this after a dip in the sea or simply use it around the house, this Barbie-themed wearable towel and hair wrap will help you dry off in style. The towel features two straps, so you can wrap and fasten it around you to wear as you get ready, while the matching headband also features Barbie-pink stripes and embroidery.
Even Barbie is jumping on the western trend that is making the rounds right now. This sugar-pink halter top is made of metallic denim and has an adjustable neckline. With patch pockets with flaps on the chest, it front fastens with metal button detailing.
This hot-pink dress is the perfect thing to wear if you're going for an 'evening-gown Barbie' look. Short and strapless, it features draped fabric detailing and a maxi bow made of the same fabric. Feel stylish, as well as secure, thanks to an invisible fastening.
While not Barbie-branded merchandise, it appears as though sportswear brands Sweaty Betty and Merrell have caught the Barbie bug themselves, with a pink-themed capsule collection. This includes these hot pink Antora 3 trainers which, in addition to being cute in colour, are made from recycled EVA foam, laces, webbing and mesh, as well as featuring rockplate for under-foot protection, super rebound compound midsoles and exclusive vibram TV5+ technology for grip, traction and durability. Only limited sizes remain so act fast!
Adding pink accessories to your wardrobe for the movie release is a must, and this signature pink crossbody bag from Fossil is just the ticket. Featuring shiny statement hardware, an internal pocket for your phone and an extra-wide, 1990s-inspired athleisure-style strap, this bag ticks all the Barbie boxes.
You don't want to be late for the start of the film, when it comes out in cinemas, and this limited edition watch is the perfect accessory to help you keep track of time. The collaboration between Barbie and Fossil includes this three-hand, black leather strap watch, with a rectaglar white satin dial, Barbie logo and a variety of Barbie-inspired charms, so you can customise your wristwear to your liking.
It's not just new merchandise that's catching our eyes, we're throwing it back to our Barbie dolls era with new and improved figures emulating the characters from the new movie. This Barbie doll depicts Margot Robbie in a pink gingham dress, daisy necklace and earrings and pastel pumps – ready to live a fantastic life in Barbie Land.
This Ken doll figure matches the calm and cool attitude of his film counterpart. Inspired by Barbie The Movie, this Ken doll dons a beachy look, rocking a pastel pink and mint green striped co-ord set. He's even got his surfboard in tow, as it's all sunshine in Barbie Land.
A pricier piece of merchandise, the iconic Barbie Dream House has had a serious upgrade, as your kids can now host the ultimate pool party with this deluxe model. Featuring the tallest slide the doll house has had to date, along with a three-storey spiral design and 10 indoor and outdoor living areas. There's even a puppy slide, elevator and pool for Barbie's furry friends.
Available to pre-order, prepare to give your home a Barbie makeover with this LED sign. Light up the iconic Barbie logo with this freestanding LED light, measuring 15cm. Turn it on to change the Barbie logo from white to a vibrant, hot pink and add a fun pop of colour to any room. Power your sign with a USB cable.
The best thing about Barbie is that we get to fully delve into pink make-up, and this liquid lipstick will certainly make a statement. There are two limited edition shades inspired by the Barbie movie but we love this creamy matte version with a vibrant colour. Touted as offering full coverage, you can wear the smooth formula from day to night, too.
Live your best Barbie girl fantasies with the Barbie mini cheek palette play from NYX. Featuring two blushes and one highlighter, the shades are inspired by Barbie Land, making it a great item to add to any Barbie girl's make-up bag.
This crop top and shorts co-ord set comes in a soft and stretchy material, meaning it's made for comfort as well as being fashion-forward. The top features a scoop neck, is sleeveless and has the Barbie logo printed across it. Both the top and shorts are elasticated, with the latter also including two side slip pockets, drawstring detail and a short-cut leg. Both items are in an acid wash colour and available to purchase separately.
Every Barbie doll needs her chic mode of transport, of course, and this convertible toy from Selfridges is just the sweet ride she's after. The toy car comes in the classic hot pink that we all know and love, and measures 34.3cm x 14cm x 18.4cm. It is suitable for children over the age of three.
Nothing says Barbie movie like a bag of pink popcorn. OK, so it's just regular sweet popcorn with Barbie branded packaging but it's still super cool. While we can't officially tell you to take this when you watch the movie, you can still munch on this tasty snack as you watch other films from the comfort of your home.
Why not throw a Barbie-themed party this summer? We feel it's going to be a popular theme for months to come. Whether hosting a birthday or just a summer celebration, this is the cake of the moment with which to do it. The sponge cake features a design of Barbie and her friends and the tasty bake can feed up to 16 Barbie besties. It's free from artificial colours and flavourings, too.
The Barbie buzz does not die down and if you're still totally obsessed with all things pink, the Barbie x Mermade collaboration is one to be on your radar. The limited edition blowout kit features a custom zebra print Mermade x Barbie blow dry brush, a zebra head scarf, a set of 50 silver and pink hair gems and pink no-crease clips – so your hair can be as fabulous as Barbie's.
Lush is another brand to jump on the Barbie bandwagon – and we must say, who can blame them? Transform your bath into a pretty pink soak, thanks to this monogrammed bath bomb from Lush. Not only can you bathe in sparkling pink waters but your skin should feel softer, courtesy of cocoa butter, shea butter and coconut cream hidden inside this iconic B shape.
Get skin as smooth as Barbie's, thanks to this sugary pink scrub with swirls of lemon-lime to exfoliate and moisturise your body all in one. The caster sugar is balanced by organic cocoa butter and extra virgin coconut oil to cleanse and hydrate your skin, while the citrusy scent is made up of lemon myrtle and Persian lime oils – plus there's a dash of glitter to really add to your bath.
For discounts on fashion, hair, beauty and more, try the links below:
Want to experiment with pink palettes? Here are the best eyeshadows for everyday glam