The Independent's journalism is supported by our readers. When you purchase through links on our site, we may earn commission. Why trust us?
Best statement tops to wear to Houseparty drinks at the weekend
Whether it's a classic satin blouse or a slinky bold cami, dress up during lockdown for a feel good Friday, and beyond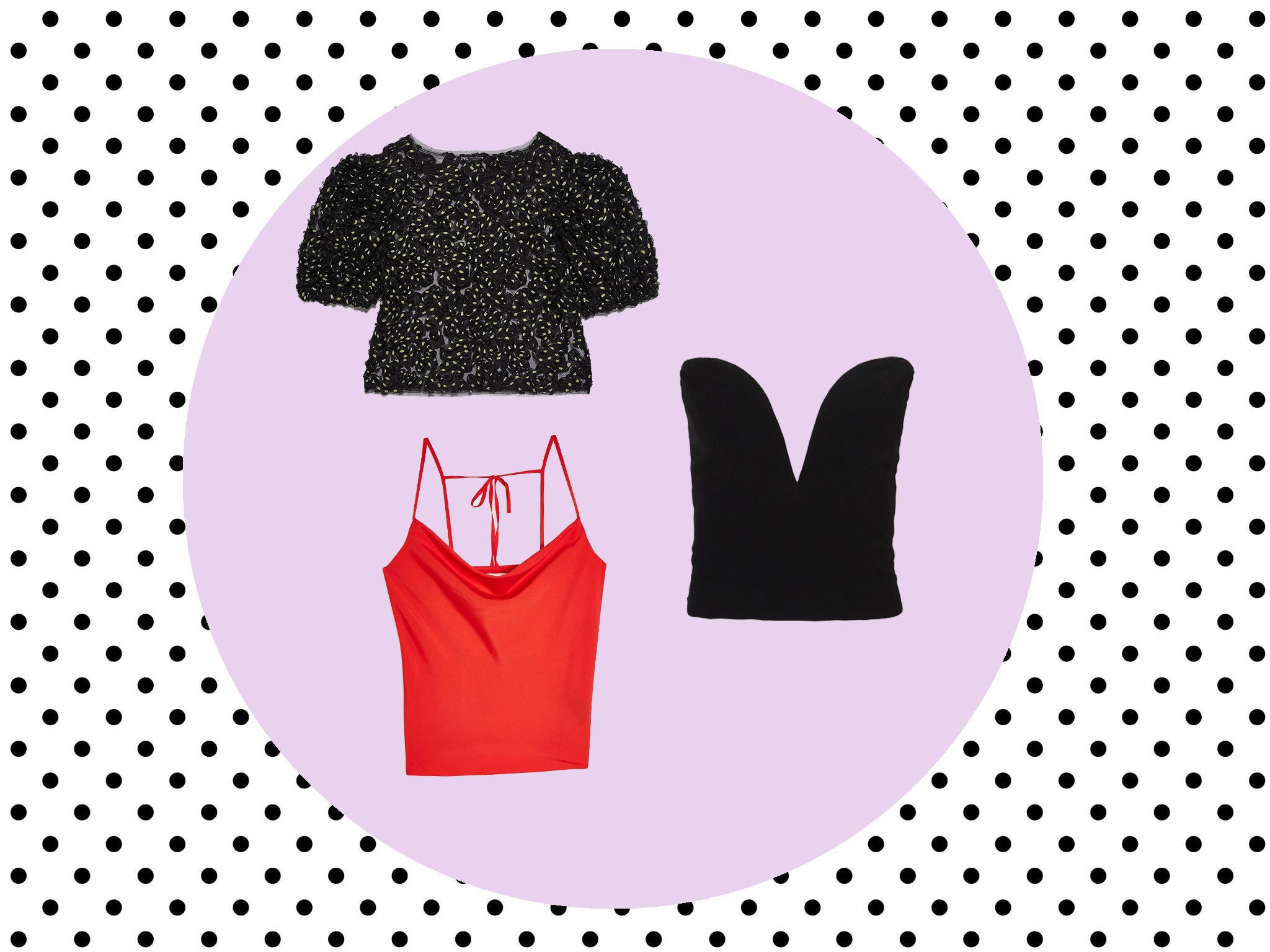 Never has the phrase "all dressed up and nowhere to go" proven to be so true.
In the current coronavirus climate, with bars and restaurants closed and social distancing in full force, none of us have anywhere to go. And that means virtual drinks apps like Houseparty have become the new going out.
With living, working and socialising all happening within the confines of our own home, it's easy to forget the importance of making an effort. But, research suggests if you look good, you feel good.
With the hashtag #dressUPFriday trending on Twitter, people have been putting on their finery to celebrate the end of the week.
And if like us, you've forgotten all about the joy of getting dressed up, this weekend is the time to reignite the flame.
The great thing about staying in and catching up with your friends (via a video call) is that dressing from the waist up is the new "jeans and a nice top" combo. Wear your best going out top with your best staying in trousers and you've nailed it.
While a trip to the pub remains a distant dream, for the time being, your fashionable reputation needn't suffer. Whether it's opting for a pop of colour, sparkle or a barely there number, there's plenty of tops you can order online to keep you looking on point and most importantly feeling good during lockdown.
You can trust our independent roundups. We may earn commission from some of the retailers, but we never allow this to influence selections. This revenue helps us to fund journalism across The Independent.
Dr Carolyn Mair, author of Psychology of Fashion, tells The Independent how to ensure that your going out top is not only Houseparty ready, but also a mood booster. Her first top tip? "Make sure you wear something that makes you feel great, this comes through when you interact with people."
She also advises that you wear things that remind you of previous good times, perhaps your cropped number from your university days will lend itself well to this weekend's (indoor) social activities.
"Colour, be it yellow for sunshine and happiness, and orange of joy" says Mair, works by boosting your mood because of how it makes you feel. She also suggests that you chose colours that are flattering against your skin tone.
We love the idea of adding accents of colour into our collection of statement tops, Ganni's green silk stretch satin v-neck blouse is flattering, and the puffed sleeves are on point.
But, if you're looking for something even more eye-catching we love Stefania Vadani's organza shirt in purple, which taps into the spring/summer 2020 sheer trend.
In a similar vein Color Psychology, a website dedicated to exploring the psychology and meaning behind colours, has noted that "red is associated with energy, passion, and action."
Mair's other piece of advice is that if you wear red you can actually feel more attractive. If it's a virtual Hinge date you're staying in for, Topshop's red plain cowl cami is elegant, as well as eye-catching.
Freelance fashion stylist, Nicole Sweet, said that wearing your favourite colours can also help to improve your mood.
For us, nothing beats a great black top when we're going out (or staying in).
We love Reformation's Remy top, the plunging neckline is flattering and the corset back is bang on trend. But, if you prefer adding a touch of sparkle and this Zara metallic thread tulle top is likely to get you in the weekend spirit.
After you're dressed to the nines, these are the best products to ensure your hair and face are on fleek for that all important Zoom date:
Cloud Nine the touch iron: £109, Cloud Nine – Buy now
The unique technology featured in these straighteners allows them to heat up to as high as 195C instantly. Not only does this eliminate the time you usually spend waiting, but it's adaptable – if you tap the plates together three times, the temperature will reduce to 165C, a friendlier temperature for finer hair. The plates are ceramic and mineral-infused, which we found left our hair feeling conditioned rather than dried out. While they're wide enough to speed up styling time, they're not so wide that you can't use them to create waves or curls. The effects of these straighteners were long-lasting, surviving a few days of a humid holiday and even the tube during rush hour. They also come with a heat mat and a useful carry bag.
ghd glide professional hot brush: £119, Amazon – Buy now
This heated brush gives the appearance of blow dried locks in a matter of minutes. Designed to tame and smooth hair while adding shine, we wouldn't normally associate a heated tool with healthy looking hair, but a quick brush with this immediately makes hair appear glossier, giving your ends the sleek, just blow dried effect we all want. The varied sizes of the heated bristles means the brush can tackle both long and short styles, staying at an optimum 185C as you use it. We love this brush for revitalising second day hair as it's a real game changer for when you can't be bothered to wash it, bringing shine and smoothness back to unruly locks.​
Charlotte Tilbury starry eyes to hypnotise eyeshadow palette, 12 shades: £60, Charlotte Tilbury – Buy now
World renowned make-up artist and master of the perfect palette, Charlotte Tilbury takes the thinking out of a smokey eye and has grouped 12 shades into four different looks, each containing three step-by-step shades: prime (all over the lid), enhance (nestle the colour into the socket) and smoke (add definition along the crease and lash line). "Happy glow" is all made up of bronze tones and pale golds, "love glow" is the pink hued option with rose gold tones, "dream glow" has olive khaki metallic shades, while "seduce glow" is your classic midnight blue smokey eye, with an antique gold.
You don't have to stick with her suggested trios – the combinations are endless if you mix them up. The pigmentation and colour payoff is excellent and we love the molten texture formula of the jewel tones – not quite a pressed powder shadow, but not entirely creamy either. This makes them easy to blend and gives great longevity. Probably at the upper end of our acceptable palette price bracket, but carefully chosen colours to suit all skin tones combined with beautiful textures ensures there isn't a wasted shade here.
IT Cosmetics your skin but better CC+ cream: £31, Cult Beauty – Buy now
IT Cosmetics has a range of CC creams, with some containing highlighter or others without oil, but the original is our favourite. It gives great coverage with a smoothing, blurring finish and also contains collagen, peptides, niacin, hyaluronic acid and vitamins, so it's a real skincare boost. It comes in a phenomenal 12 shades.